Much like Queen Elizabeth declared in 1992, 2022 has been an "annus horribilis" for England. There's the ongoing tussle over Brexit, the resignation of Prime Minister Boris Johnson after one scandal too many, and the death of the beloved queen in the same week that a new prime minister was sworn in. Former Prime Minister Liz Truss put forth an ill-conceived tax-cut-for-the-rich plan that had one British tabloid pitting her tenure against the decay of a head of lettuce — which rang true after her resignation last Thursday. She was replaced on Monday by Rishi Sunak, a former chancellor of the Exchequer who is expected to promote more mainstream economic policies.
As a result of all these factors and more, British currency hit its lowest mark in 40 years: One pound sterling buys $1.15 at this writing. It's all enough to set one's stiff upper lip aquiver, and one can't help but wonder how the British and British-ish businesses in Sacramento are faring. Are they able to keep calm and carry on?
A Touch of Britain in North Highlands
When you step into North Highlands' Touch of Britain, which is a combination of a small shop for British foodstuffs (sourced from multiple U.S.-based distributors) and a cafe, you sense nary a hint of strain. You will be greeted by the cheerful English lilt of longtime (since 1985) proprietor Lilian Monceaux, with her signature sweep of blue eyeshadow and bright pastel clothes, and can expect teasing from her daughter, Tamara, who also staffs the combination shop and cafe.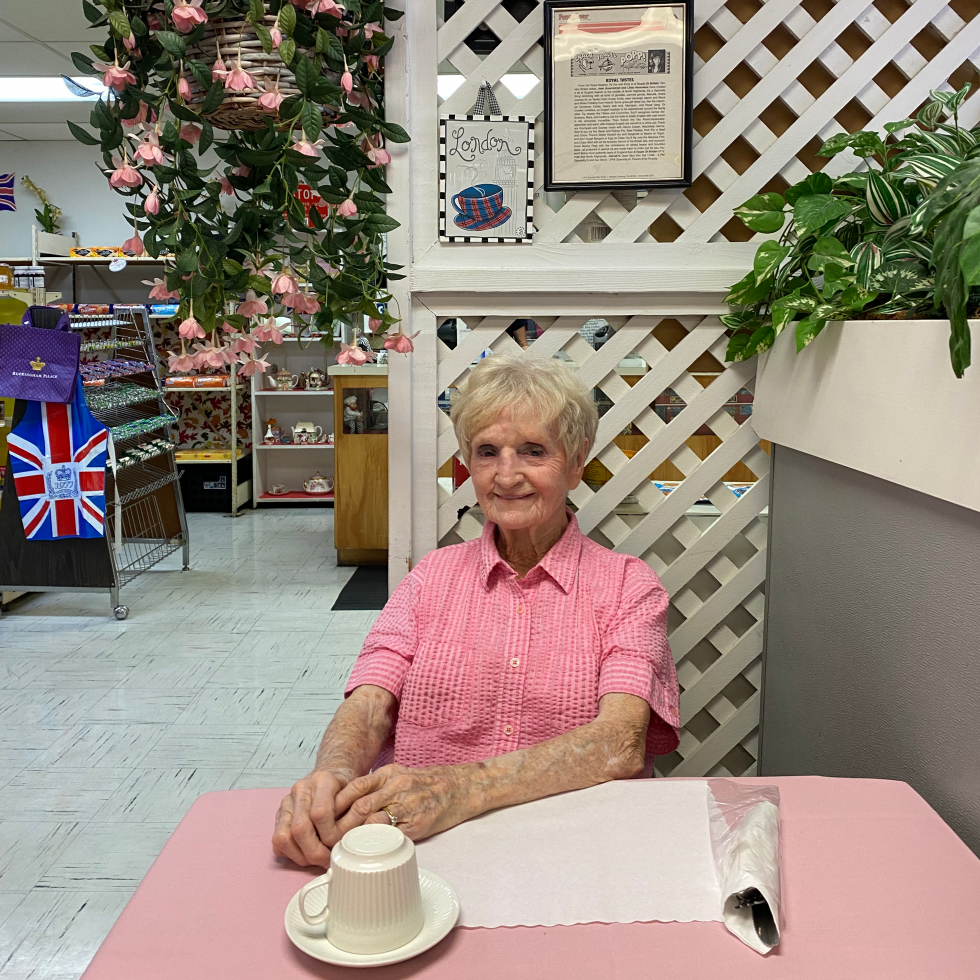 They bill the cafe as a tea room, and the menu declares "tea time is anytime" under a Union Jack. In addition to tea for one, two or three (available with crumpets or scones), the tea room also offers a full range of lunch fare, from fish and chips to spaghetti on toast. Other bevies range from Boddington and Bass beers to the whimsically named Vimto, Tizer and Lilt sodas.
At a recent lunch, the crisped plank of flaky, mild cod rests beside a side of authentic-as-heck mushy peas (for the unfamiliar, mushy peas have the vibe of thick split pea soup) and of course malt vinegar is on hand to douse the fish and the chips. Tamara swans by to urge the table to wrap the remaining chips in accompanying buttered white bread to create a "chip butty."
Tamara says all supplies have "skyrocketed" in price — the 35 gallon container of peanut oil (only enough to fill the fryer two times) has gone up $15, but they've only raised their menu prices, "a dollar or two," she says. "My mom believes in keeping the prices as low as she can so that people will buy. Sometimes we are lucky to even break even on some items."
Lilian adds, "It's not only COVID, it's the weather, the fires, the gasoline, we can't win!" But she says she loves the work, and can't imagine retiring. The Christmas crackers, made in China by the brand Pudding Lane, are already in stock for the holidays.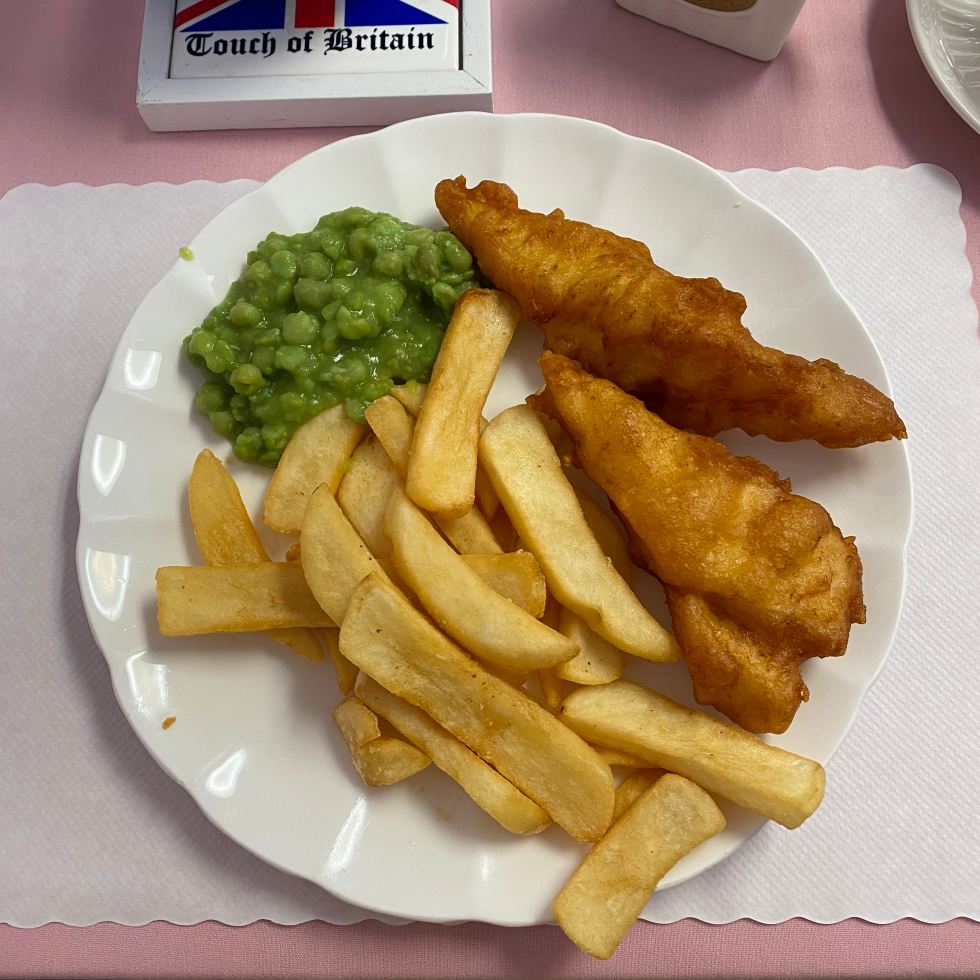 Two pubs that keep it real
Two longtime Sacramento British-style pubs are both keeping it real, but in different ways. The Fox and Goose Public House on R Street has the space and airy high ceilings of a metropolitan London boozer, and the full liquor license to match. The Bonn Lair in East Sacramento is dim and close, with the comfortingly fusty smell of gran's parlor.
The Fox and Goose, open since 1975, still rivals The Tower Café as the one of the most popular brunch spots in town, but weekday lunch yields a table right away, no wait. The lunch menu has a small "British standards" section, and an order of the bangers and mash is served with one large banger crowning a heap of chunky, peel-on mashed potatoes, properly gravied. The Brits are virtuosos of gravy; in country, sometimes a dish (such as grouse) might be served with two kinds. A few other typically English dishes such as a shepherd's pie are on the menu, and the fish and chips are ordered by more tables than not.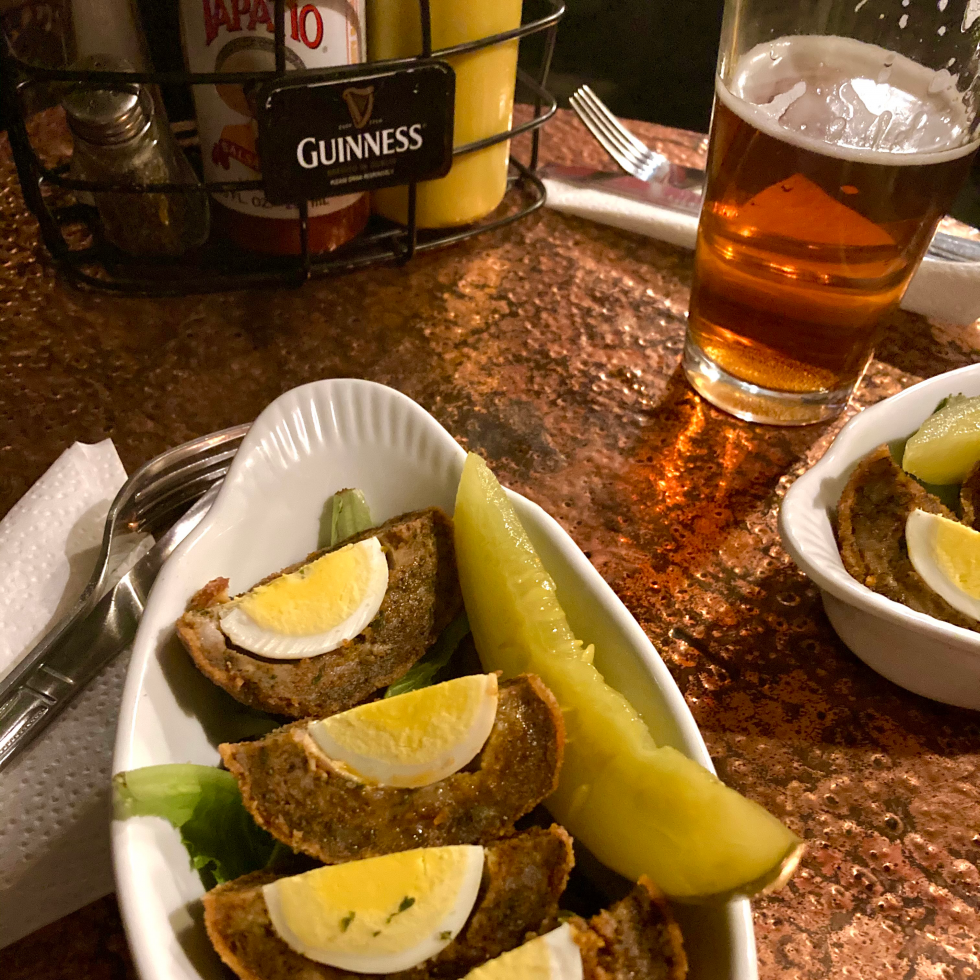 Fish and chips, fried up at the next-door kitchen of La Trattoria Bohemia, can also be had at The Bonn Lair, as well as pasties made by "Ladybird"-famous Pasty Shack (its neon sign flashes for a few seconds in the film), and "lighter" fare, such as a Scotch egg, that uniquely English treat of a hard-boiled egg wrapped in sausage and deep fried, here served quartered with a pickle on the side. (Despite the Scottish name, department store chain Fortnum & Mason claims that Scotch eggs were invented at its original London shop in 1738.)
As for the all-important pints, Fox and Goose and The Bonn Lair both have a solid selection of mainstream British brews, such as Fuller's, but Bonn Lair also adds a focus on interesting Belgian beers. Bartender and Brighton native Paige Thomas said that she hasn't noticed the recent British upheaval affect day-to-day business, but says that "imports have been harder to get since COVID." She points out that the bar also has local, American beers, such as Urban Roots' Festbier, on draft, because "Americans like variety!"
An expat opines
Comstock's next tapped noted local gourmet, Baconfest supporter and British expatriate Steve Allcock, COO and creative director of Propaganda Design Studio, for advice on what the above list lacks. Allcock, who grew up in a rural area south of Birmingham and then lived in various neighborhoods in London before settling in Sacramento, painted a lovely picture of a cuisine based on seasonal wild game and fresh seafood, French-inflected vegetable dishes, and leisurely Sunday roasts (a British tradition which Sacramento very sadly lacks).
Mourning the loss of De Vere's Irish pub, Allcock names Camden Spit and Larder as the new king of local UK food. "If I'm looking for something marginally English, or totally English — depending on his menu — Camden is definitely right at the top of my list," he says. "He has a meat pie that's to die for."
And so a sturdy, massive meat pie was had, stuffed with tangles of shredded rabbit meat, which does indeed taste like chicken. It's served accompanied by a precious mini Le Creuset of silky mash and yes, a teeny boat of umami-rich gravy.
So raise a Camden "Churchill G&T" and enjoy your amuse bouche of Yorkshire pudding, and you could almost be in England. Let's hope their 2023 is an annus mirabilis.
–
Stay up to date on business in the Capital Region: Subscribe to the Comstock's newsletter today.