Daniel Fink says he decided to move to California and become a regenerative cannabis farmer on his first night in Nevada City. In 2008, he came to visit some friends who took him to a memorial service for a man who had been farming organically in the area for 40 years. He says more than 300 people showed up to honor the old farmer, many of whom had apprenticed with him decades earlier and now ran their own farms.
"I just knew that I was in a new kind of community — a different kind of place than I had been in before," Fink recalls. "And immediately I knew I had to live here. I felt called to the area because of the culture and community and the heritage of organic farming."
Although he had never grown cannabis commercially, Fink was not new to horticulture when he launched his business in 2019. He worked in a flower shop as a young man, where, he says, he quickly graduated from floor sweeper to commercial orchid cultivator. He says he immediately fell in love with orchid growing and has always enjoyed growing plants. "I grew a little bit of pot as a kid," he says, "but I didn't apply any kind of scientific method. It was just for fun."
These days, there is a lot of science and complex horticultural methodology being undertaken at Fink's Down Om Farms outside Nevada City, where he grows cannabis that is available at The Sanctuary and WEEDCo Delivery in Sacramento and at various locations in Nevada County and Lake Tahoe.
For starters, his 1-acre cultivated field looks like a pot garden planted in a vegetable patch because he is cultivating microbes in his soil, and plant variation is good for microbial diversity. Fink's cannabis plants grow amid flowers and strawberries and alongside tomatoes, squash, corn, peppers and dozens of other crops. There is also a flock of chickens and a small herd of alpacas, whose manure contributes to the compost that helps bring Fink's soil to life. Ultimately, to Fink and other farmers engaged in the regenerative agriculture movement, it's the soil that matters most.
Cultivating His Soil
Regenerative agriculture is a global effort to fight climate change by utilizing growing practices that sequester carbon in the soil. These include fairly common practices such as crop rotation and cover cropping, and also more ambitious techniques such as no-till farming and permaculture. The most important thing to these farmers is regenerating the soil. The best way a small cannabis farmer can contribute to this movement, Fink says, is by cultivating a polyculture rather than growing just one crop.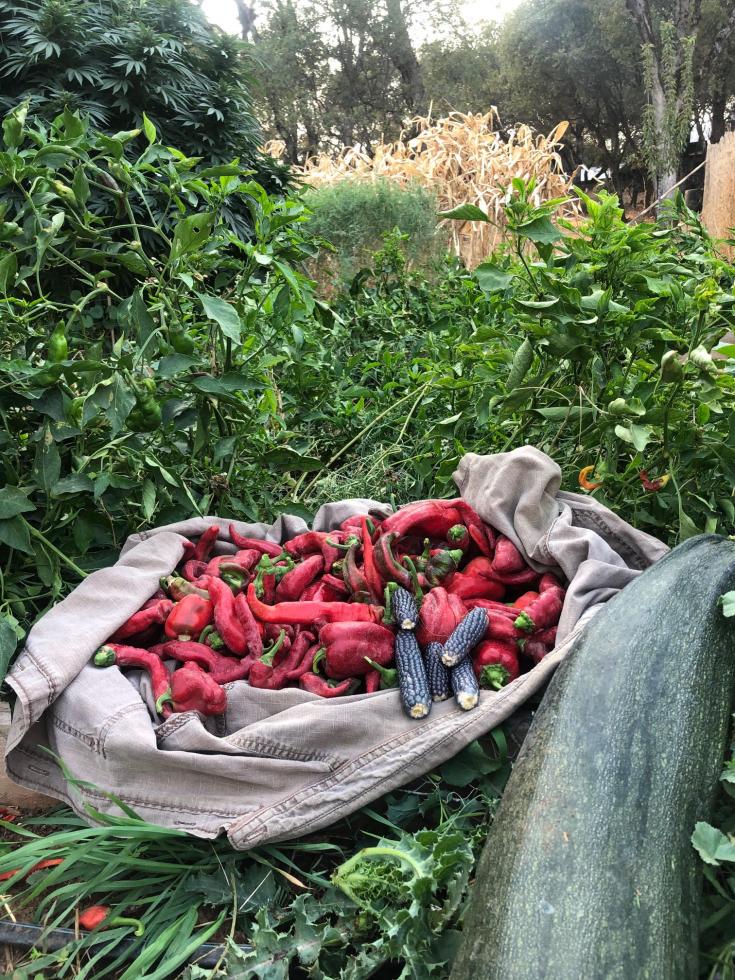 Polyculture means having many species of plants coexisting in the same garden space, ideally in the same soil, Fink says. The practice is based on ideas developed over four decades by Elaine Ingham, a microbiologist who coined "soil food web," and showed that plants' roots interact with microbes in the soil in a complex exchange that delivers nutrients efficiently. In a polyculture environment, whether it be a wilderness forest or a diverse garden, the roots intermingle, creating a higher degree of microbial diversity in the soil itself.
"In a lot of ways," Fink says, "farmers like me think of ourselves as microbe farmers. We're cultivating a microbial population in the soil that keeps everything healthy." He does speak of cultivating his soil, which he builds with compost that includes the alpaca dung, wood chips harvested from his 7-acre property and various fungi, including oyster mushrooms. He says putting in the effort to create living soil eliminates the need for fertilizers or pesticides.
"It really does take a lot of the guesswork out of the plant cultivation" he says, "because everything is available to the plant in perfect proportions. The plant asks the soil for what it needs, and it's readily available."
From a purely business point of view, Fink says, the fact that he imports less than 50 pounds of fertilizers and other inputs per year saves him lots of money. And as his soil continues to improve, those inputs will diminish: "In a matter of years, I will be producing the highest quality cannabis in the most sustainable way for almost nothing."
Now, he says, the two greenhouses in which he cultivates his cannabis starts cost him $1,000 to reset each spring. He says that number would be $5,000-$8,000 for a conventional organic farmer who uses bottled organic fertilizer. (A practice which, Fink points out, creates a lot of plastic waste.)
Fink has evidence that his methods are effective — his Sour Limon flower, which he markets through the Grass Valley Growers Cannabis Cooperative and under the Farm Cut label, was awarded an Emerald Cup at Northern California's premier cannabis competition in December 2019, competing in the the sun-grown category with about 1,000 other farmers and placing 11th. "I grow good weed," he says. "I grow really good weed."
Building a Regenerative Movement
Gretchen Giles sits on the board of the Garberville-based International Cannabis Farmers Association in Humboldt County, a group of growers and scientists working to promote the benefits of sun-grown herb. She agrees that regenerative practices produce a superior product. "The purity of it is extraordinary," she says.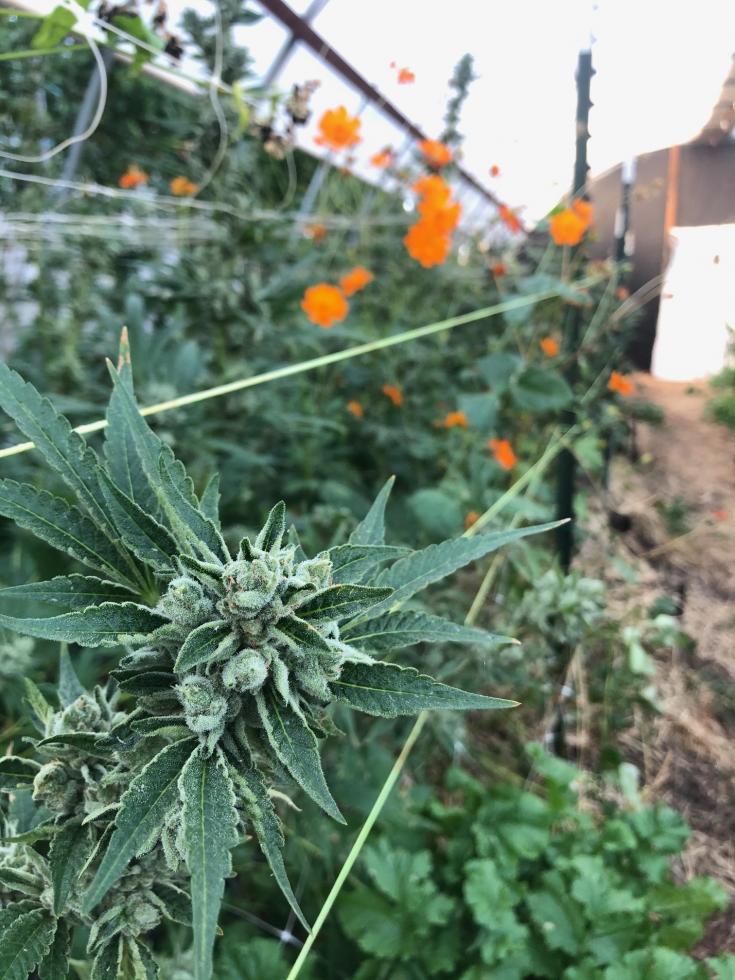 "Indoor growing is an unfortunate outgrowth of prohibition and the need to hide the flower," Giles says. "And because indoor grows are heavy users of electricity and water, it helps the more we can grow outdoors, in the ground and in the sun."
She says she has visited dozens of outdoor cannabis farms, mostly in the Emerald Triangle region (Humboldt, Mendocino and Trinity counties) that are in various phases of movement toward regeneration. "Once you get into that world and see the beautiful cannabis growing outdoors, enjoying its full cycle in the ground, it's hard not to get absolutely obsessed with it," she says.
The regenerative movement has received a big boost in recent years through the work of Michael Steinmetz and his company Flow Kana, which he founded in 2015. Working exclusively with a network of sustainable farmers, as does the Grass Valley Farmers Cannabis Cooperative, Flow Kana is a privately-held company operating at a much larger scale. The company worked with 75 farms last year, handling all of the post-harvest logistics: testing, drying, trimming, processing, packing and distribution. The company's products are widely available and can be found throughout the Capital Region.
In 2017, Flow Kana bought the original Fetzer winery and vineyard in Mendocino County for $3.6 million, where it plans to open the Flow Cannabis Institute, which houses the operation and will welcome tourists. Steinmetz says regeneration is at the heart of his company's mission, and all of his farmers are committed to regenerative farming and are somewhere along the journey: 100 percent grow organically under the sun, up to 70 percent grow vegetables that they consume themselves and another 30 percent are producing vegetables for the market.
"Our farmers are people who unplugged from the matrix and moved to Northern California and are living off the grid," he says, "and they are doing so because they want to help make a better planet."
Correction: Flow Kana is a company founded by Michael Steinmetz, not a cooperative as originally reported.
–
Get all our web exclusives in your mailbox every week: Sign up for the Comstock's newsletter today!