Maybe you were in the midst of a pandemic rewatch of Mad Men and you did a double take when smarmy ad exec Pete oozes to Don that he's signed H. Salt Fish & Chips as a client on one of their trips to groovy California.
"Wait," you might have thought, "doesn't Sacramento have one of those? How long has this company been around?"
Or maybe you were in Tokyo, or Manila, and you saw a Shakey's Pizza — a chain which has its roots in Sacramento but which is long gone in the area.
Or you were driving in a slightly seedy area of Los Angeles and thought you glimpsed a Sam's Hof Brau, just like the one in Arden Arcade, but you blinked, missed it and thought perhaps it was a mirage.
Franchises that make it tend to go through a period of explosive growth, followed by a contraction. The contraction can become an eventual withering, especially if corporate ownership changes hands many times. Eventually, just a few lonely outposts are left standing, often with no corporate parent to provide updated decor or menus. Many still-thriving chains, such as Taco Bell, McDonald's and In-N-Out originated in California, but so did some that are dwindling year-by-year, and Sacramento is home to a few of the latter.
A fishy beginning
H. Salt Esq. Fish & Chips at 16th and E streets has been operated by the current owners (who declined to be interviewed) since 1990, but it has been at that location since 1969. The small building has a jaunty red-and-yellow color scheme and is one of the very few restaurants on the grid to feature a drive-thru.
The chain was founded by Haddon Salt in Sausalito in 1965. Salt is a British American entrepreneur and was the third generation in his family to go into the fish and chips business. The chain quickly grew in California and beyond, and Haddon realized he needed a partner if he wanted to grow in a smart way.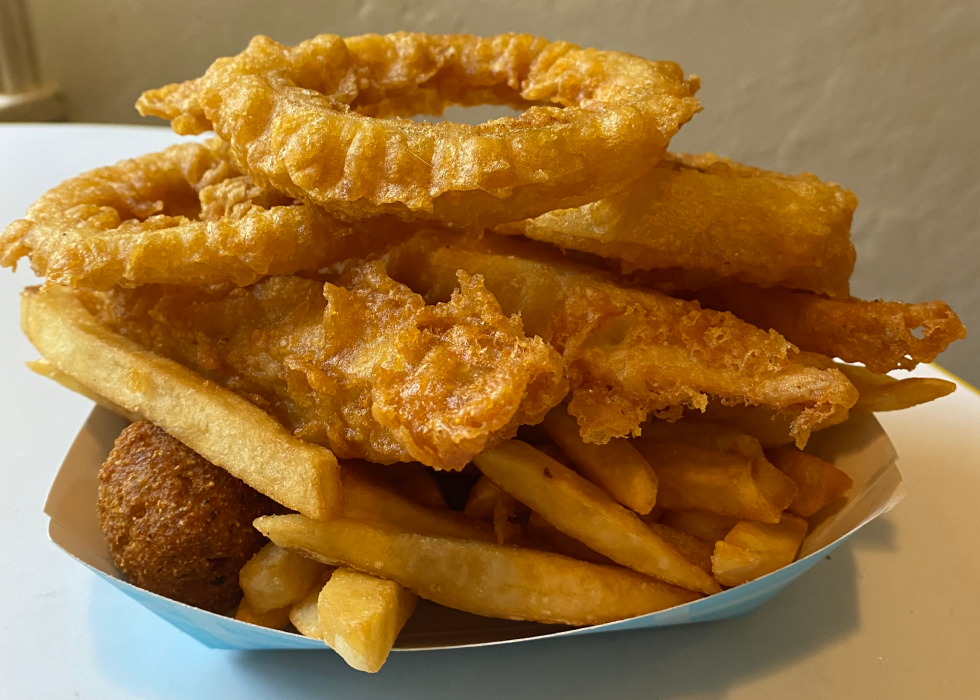 He sold out to an upstart chicken chain called Kentucky Fried Chicken in 1968, but was unhappy because he felt the quality rapidly declined, and that they tried to make the bowler-hatted and handsome Salt into a mascot like they did with Colonel Sanders.
KFC continued the expansion to 500 stores. At least three were in Sacramento, the first of which opened on Freeport in 1968. Only the one on 16th Street is left standing. As for all the others, there is a lone Bay Area H. Salt in Richmond, and a few in Southern California.
The English-style decor in H. Salt is still in place, if a bit faded, including a sign for the Charing Cross tube station and crests decorated with dragons and rams. A framed sign offers suggestions for the H. Salt branded malt vinegar, including "sprinkle on avocados" and the cheeky "use your imagination." The menu provides a good value for fish and chips meals with sides such as coleslaw and hush puppies, with a steady stream of customers at lunch.
Shakey's still on firm ground
In contrast to H. Salt, Sac-originated Shakey's Pizza is still thriving — in the Philippines. The corporate website claims the chain has over 220 stores in the Philippines "and still growing!" This makes up the majority of the world's Shakey's, but the brand exists in several other countries, including Mexico and Japan. (This author swears she ordered a Sacramento Pizza in a Tokyo Shakey's long ago but can find no proof of the existence of this pie, so perhaps it was just jet lag.) There are also almost 50 in SoCal, but the only remaining Northern California Shakey's is in Oroville.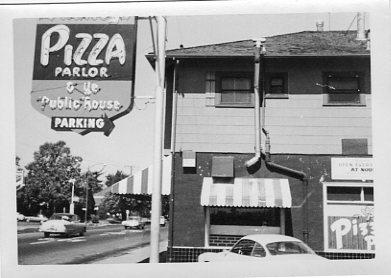 The first Shakey's opened at 57th and J street in 1954, advertising itself as "Sacramento's newest taste treat" with Bavarian beer at 10 cents per "schooner." The name came from co-owner Sherwood Johnson's nickname stemming from malnutrition he suffered during service in the South Pacific in WWII. A fan of jazz, Johnson frequently booked musicians at the Sacramento location and was named "Emperor of Jazz" at the first Sacramento Jazz Jubilee in 1974.
A second Shakey's opened in Oregon in 1956, and in 1957 they started franchising — the first franchise pizza restaurant, and also the first to advertise itself as a "pizza parlor," if Johnson is to be believed. At its height in the 1970s, Shakey's had 11 franchises in the Sacramento area and controlled 25 percent of the American pizza market.
The original Shakey's on J lasted until a fire in 1996. (As an homage to the historic haunt, its original neon sign is currently displayed in the concourse of Golden 1 Center.) At that point, the company had gone through a series of partial and full buyouts from companies, both foreign and domestic. More domestic franchises were closing than opening in the '90s, in contrast to their expansion in Asia, which still continues. In 2016, Shakey's Philippines even generated a stock that is still traded today in their national stock market.
Chris Macias, former Sacramento Bee culture writer, penned a 2015 column headlined a "Love letter topped with love, extra cheese" in which he entreated Shakey's to consider reopening at the original J street location.
"I haven't eaten a Shakey's pie in decades, but it still ranks among my strongest food memories," says Macias in a recent email conversation. "I can still taste a slice now, that zesty tomato sauce with a hit of sweetness, the generously topped pepperoni and gooey cheese on a crispy textured crust. … A bite of Shakey's pizza was a simple pleasure that didn't skimp on flavor."
Macias grew up in Greenhaven, about a mile from the nearest Shakey's, and says it was a neighborhood gathering place to fuel up for BMX rides and celebrate soccer wins. He notes, "I'll always keep a slice of Shakey's in my heart."
Sausage fest
Of these three attenuating chains, Sam's Hof Brau has had the most surprising journey. But you wouldn't know it if you grabbed an early-bird dinner at the German comfort food outpost on Watt Avenue and observed the expected crowd of very mature adults queuing up for a smorgasbord of fresh-carved, steaming meats.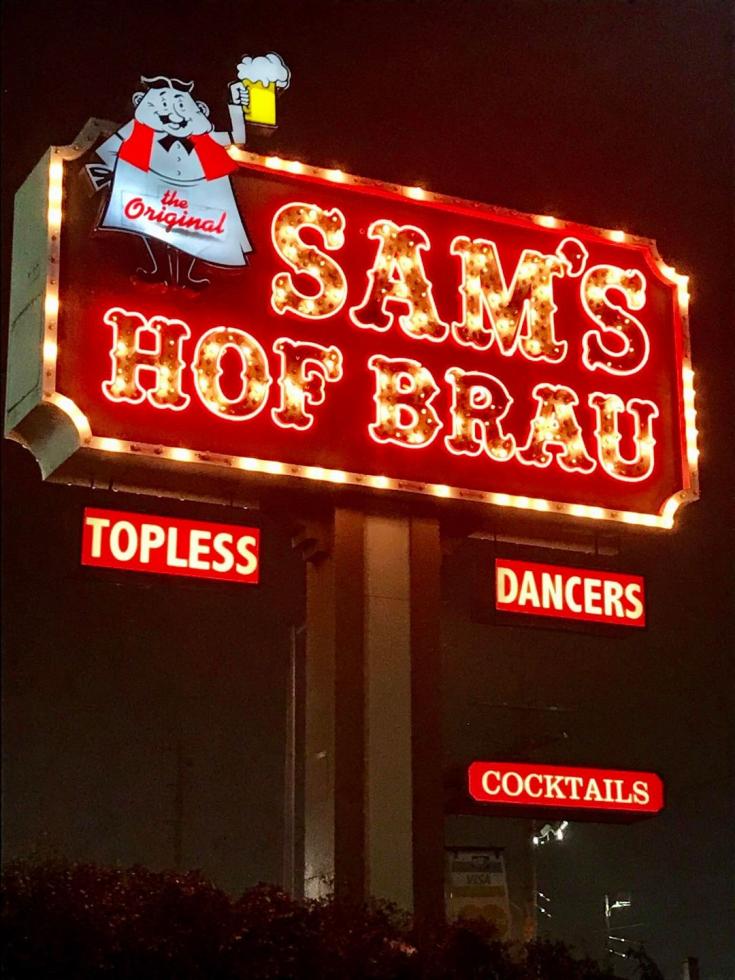 Someone's sweet grandma may be in for a shock if she wants to check on the opening hour of our Sam's and goes to samshofbrau.com, where she'll be treated to a lurid, red-hued video clip of bikini-clad booties sliding down poles and young men "making it rain" greenbacks on said behinds.
For you see, innocent reader, the only other remaining Sam's Hof Brau is a topless bar in downtown Los Angeles. There are still German sausages on the menu, but they're better known for their knockers than their knockwurst.
The very first Sam's Hof Brau was opened by Sam Gordon in Sacramento in 1955 at 1630 J Street. The second was on L Street, and the third, opened in 1959, is the one in Arden Arcade that retains the 1950s feel despite the recent, lamentable loss of the self-serve pickle barrel.
Saying Gordon was a colorful and savvy businessman is an understatement, and a whole essay could be written about his travails. Some key info is that by 1968 he had seven restaurants, three of which were Hof Braus. He sold them all to Denny's for stock options whose worth varied in local reporting, but which was the equivalent of at least 20 million today.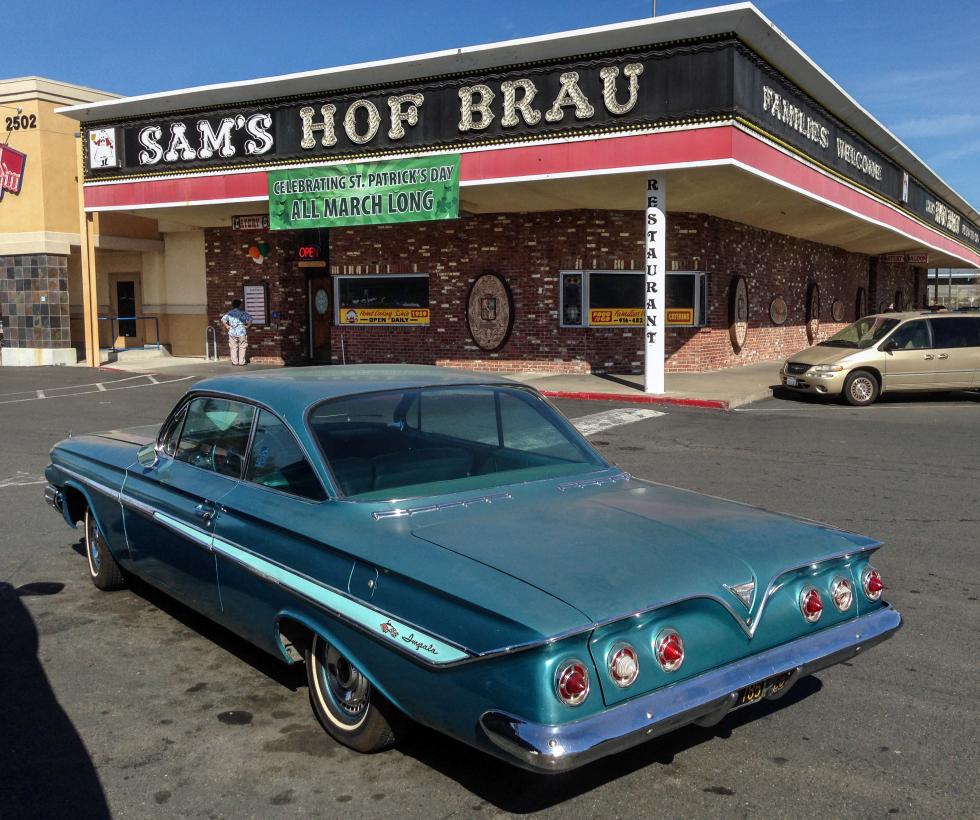 Denny's opened the Hof Braus in additional cities, including the remaining one in L.A. For reasons lost to time, the company eventually sold or closed all their Hof Braus, allowing the new owners to stray from the former franchise guidelines.
The Watt outpost went through a series of owners, and in 2017 ownership of the restaurant was resumed by Gordon's grandson, Ken Schlesinger, and operated by his great-grandson Mickey. Manager Richard Kroger asserts that Sam's business is picking up from the pandemic slump. "It's gotten better, it's starting to improve in the current conditions," he says.
How does the "adult" Sam's view their place in Hof Brau history? After at least five calls, with rap blaring in the background each time, this reporter found them to be rather circumspect. A floor manager, who declined to give his name, asserted that it became an adult club in 1995. He said nothing remains of the original Hof Brau inside (the exterior, featured in Quentin Tarantino's 1997 movie "Jackie Brown," is largely unchanged) save for the chandeliers and the "huge assortment of beers" they offer.
Kroger, from the Sac Sam's, is aware of the "stripper joint" version in L.A., but laughs and simply says, "It's not part of us!"
–
Stay up to date on business in the Capital Region: Subscribe to the Comstock's newsletter today.