The Jade apartments are empty. The demolition crews are ready. But before the low-rent apartment building is razed to make way for a downtown Hyatt Place hotel, this 95-year-old will have one last chance to shake off a little rust. The Art Hotel is coming.
The brainchild of a new downtown arts organization, M5Arts, this temporary exhibition is drawing a long list of artists for a very short run.
"The Jade is a blank slate," says artist William Ishmael. "People can do whatever they want — take out walls, tear up floors — and they don't even have to clean up after themselves. When do you get the chance to do that?"
When Ishmael registered for the Art Hotel last fall, he was one of the first to join the planned art makeover. The original concept called for 14 artists to transform each apartment, creating an experimental, multi-discipline art show. After an initial site visit in early November, the M5Arts project team more than doubled the number of artists, with an open call for 30 installations. Two months later, that number had increased again.
When the Art Hotel debuts on Feb. 5, Ishmael will have one of 50 installations. There will be a total of more than 90 artists represented during the show's eight-day run, according to Scott Eggert, a spokesperson for M5Arts. Artwork will fill abandoned living rooms, kitchens, baths, hallways and even the stairwell in the five-story apartment building adjacent to the new Golden 1 Center.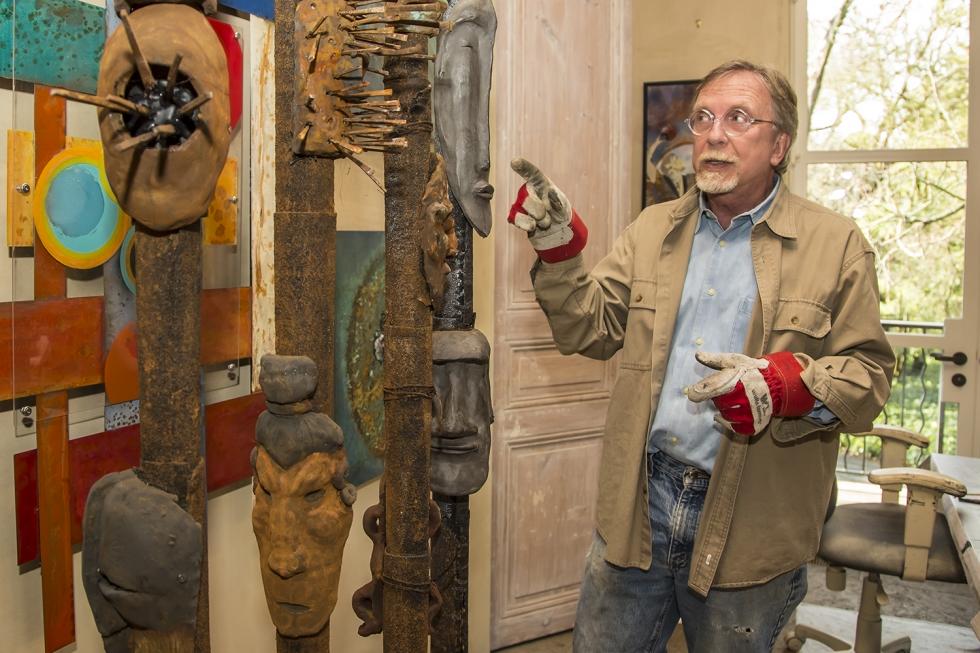 "The project's scope kept expanding, because we realized not everybody wanted an entire apartment," says Ishmael, who chose a niche tucked into the four-story stairwell banister. His piece features 20 ceramic tribal masks affixed to four rusted totem poles. Each mask is carefully positioned at angles around the pole to be viewed as visitors circle the stairwell.
Although Ishmael is best known for his abstract paintings on rusted metal panels, he decided to focus on ceramics for this installation.
"I've been doing ceramics for several years but never exhibited them because I didn't think I was there yet," he says.
But much of Ishmael's signature look remains, including a focus on rust, oxidation and the transformation of materials. During an interview at his studio, he holds up a bucket and explains, "I even made my own rust." He also used various treatments to age the ceramic masks, including painting with iron or copper paint, and then rubbing the masks with salts.
Ishmael took his inspiration from art around the world — Africa, Easter Island, New Guinea — and was attracted to the organic spirituality he found in each mask.
Like Ishmael, artist Shaun Burner signed on early and serves on the M5Arts project team. For his installation, Burner is using the same technique he employed in the lobby of the Warehouse Artist Lofts on R Street, assembling scrap wood and found objects to create a free-form sculpture. His dinosaur sculpture emerges — head in one room, tail in another — through torn-out floorboards in a corner apartment.
The Art Hotel at 1118 7th Street is scheduled to open to the public on Friday, Feb. 5, and run through Saturday, Feb. 13, with free admission.
In addition to sculpture and paintings, the exhibition will feature photography, projection art, film screenings, lectures, poetry and live performances. Other participants include Diane Ruhkala Bell, Paul Benavidez, Matt Brown, Jake Castro, Chris Daubert, Jose Di Gregorio, Darlene Engellenner, Gioia Fonda, Eric Hongisto, Kaz Huette, Lisa Jettone, Amanda Prince-Lubawy, Arielle Robbins, Andrew Taggart and Vera Ximenes.
The Art Hotel has been funded primarily through a Kickstarter campaign, which raised $11,000, and through the support of business sponsors. A VIP preview is planned for for Thursday, Feb. 4, with VIP tickets priced at $75 and individual sponsorships starting at $250