For five years, Jupiter Lockett was in the background. He was a backup singer when he lived in Texas and Georgia, but he found the music industry to be fickle, so he left it behind. "Its lack of empathy and kindness — everyone's just out for themselves," he says. "So I came back to my roots, back to California." Lockett still craved a creative outlet, though, so three-and-a-half years ago, he began to paint. Now he and his art are in the foreground.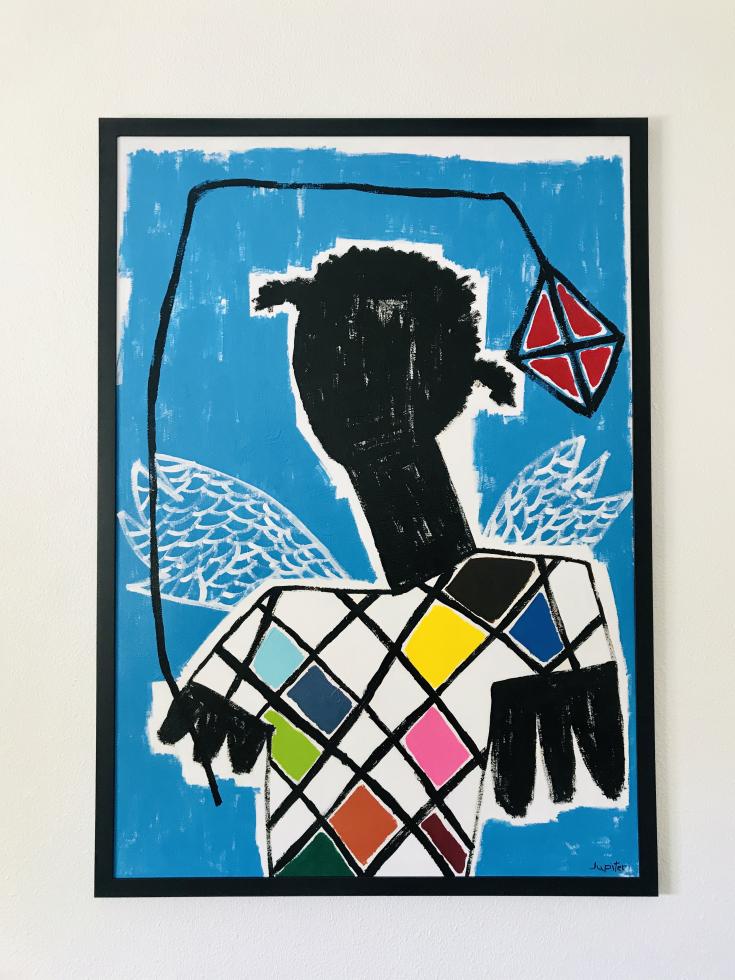 Lockett grew up in Delano near Bakersfield and has been in Sacramento for about seven years now. He calls himself a contemporary abstract artist, and his palette often includes stark blacks, whites, blues and golden tones — and sometimes actual gold (gold leaf) — and bold houndstooth patterns. He paints abstracted, disproportionate figures: blocky bodies with exaggerated long limbs or widened short ones. He began taking painting seriously after he met an artist while working at a restaurant in Sacramento; she saw his work and encouraged him to pursue painting as a career.
At the time, "I was basically doing stick figures," he says. "I was just interested in reverting back to being a kid, like how I used to draw as a child." While his stylistic approach is to paint in a free and childlike manner, the subject matter focuses on the Black experience and is intended to make the viewer uncomfortable.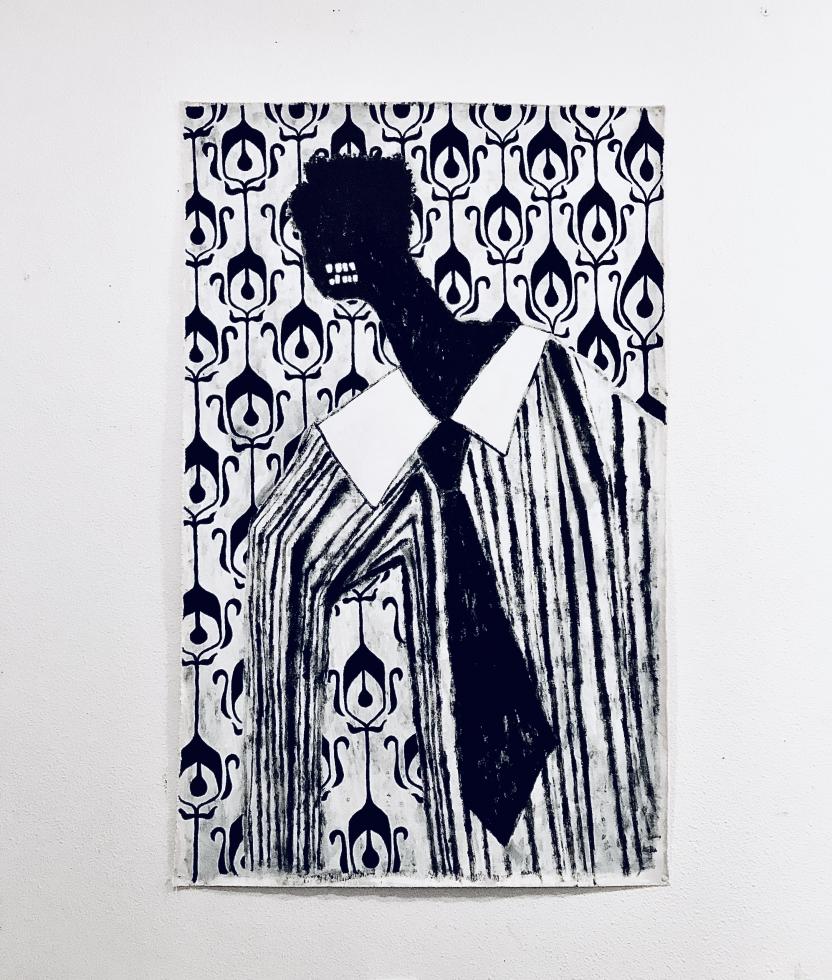 Although Lockett is relatively new to the art world, he has already participated in a group show at B. Sakata Garo in Sacramento and has had his work in the Crocker Art Museum's annual auction (both in 2020), and his work was displayed on the screens outside of the Golden 1 Center in February for Black History Month. He also has done a few art residencies — France in November 2019, Joshua Tree in July 2020 — with ones in Greece and Bulgaria scheduled for fall of this year.
What brought you to Sacramento?
I needed a change of scenery. And my family was out here, my mother's side of the family. So I wanted to get back in touch with them. … (There's been) a lot of growth spiritually, mentally, physically … because two years ago, my mother passed away. … It's hard to put into words when it comes to her or her absence. …
I love Sacramento. It's a big town, but it's small. And it allows the artists to grow and just evolve.
I'd like to hear more about your experience on that.
The community (here) is really into supporting the artists. … There's so many murals in Sacramento, which is crazy when you think about it. It's not just crappy little street murals. No, like these artists were paid and commissioned to do this. … And since I've been here, the city has really looked out, as far as putting my work on the Golden 1 arena at (Downtown Commons), being in the 42nd annual Crocker Art Auction and the Verge Center for the Arts auction. …
It's a sense of family. Out here in the art community, they really do appreciate you. It took me a while. … People weren't just automatically handing me stuff, you know? But they're like, "Oh, you can paint. OK, well, show us what you got, and let's talk about your work."
Has the art industry or community provided any disappointment in similar ways that the music industry did?
Oh, yes. Artists who don't play it safe aren't really given the red-carpet treatment. So if you're playing it safe, if you paint landscapes and fields and whatnot, or geometrical shapes, people like that stuff. When you start painting Black people, specifically — not even paintings of Black people being lynched or shot or anything like that, just Black people — it makes folks uncomfortable and makes the art world uncomfortable.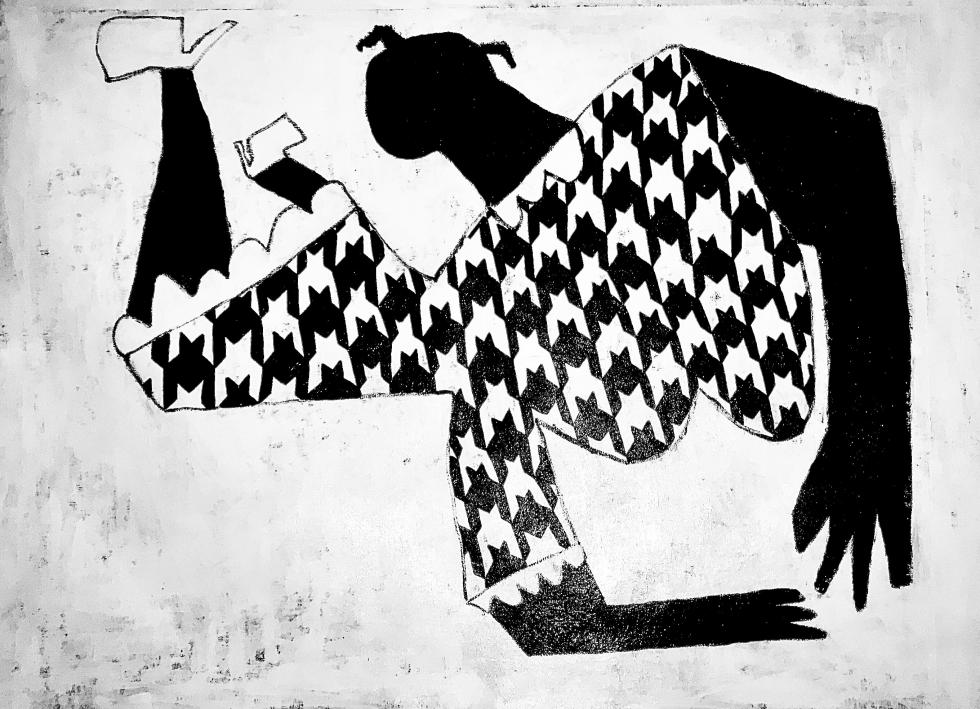 I've been into galleries, different places, and, I won't name any of them, but one of the galleries that I went into … (to) show the guy my work. And I showed him my abstract work, and then I showed him my work with Black bodies … and he was flipping right past the ones with the Black bodies. "Oh, I love your abstract stuff. You know, you should really stick to that." … Just that … little microaggression. … I've gotten that … quite a few times from certain people around here. Even clients who want to commission me to do work. … "We love your work, but can you not color in the bodies? Just outline in black? Because we have friends that come over, and they may question us, and we're not trying to appropriate Black art." But I'm like, your husband's wearing a pair of Michael Jordans, and you have a Beyonce CD, this Toni Braxton CD over here, but you don't want any Black art on your wall, but you (already have) Blackness in your house? …
With that, I had to learn how to be steadfast in who I am and have a strong knowing in self. I can't help those people if they're stuck on that lower frequency or that unevolved frame of mind. … Now it's turned around, because I wasn't trying to play by the rules or listen to what these galleries were saying.
So it's still happening but on a different frequency?
Yeah, I would say a different frequency. Since Black Lives Matter is hot, and people are wanting to be woke and evolved, they're trying to show some form of solidarity with working with Black artists. So they'll give us opportunities but may not pay us the same amount that they will pay our white artist brothers and sisters. …
Recently, a lot of us Black artists out here have gotten together, and we talk weekly or biweekly, and we check in on each other. If we get opportunities or have ideas, we share them with each other … to help each other make money. …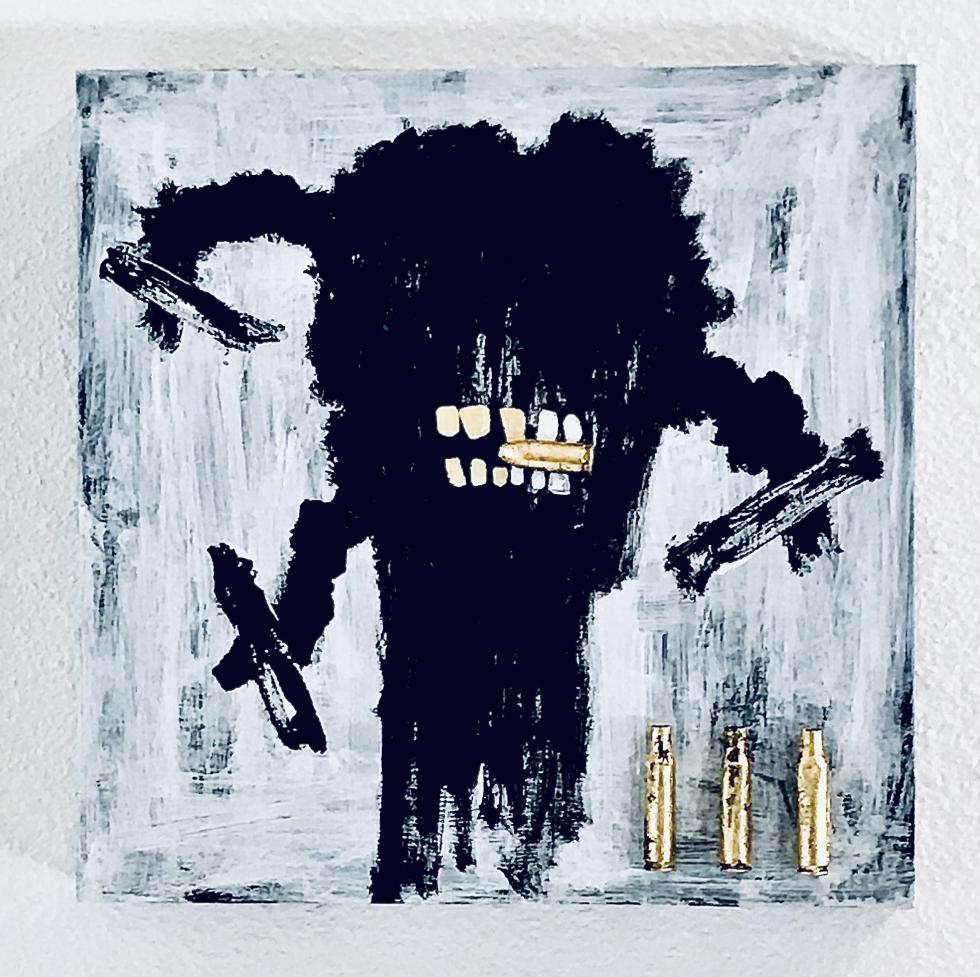 We have a real good pillar in the art community by the name of Faith J. McKinney (founding director of Black Artists Fund), and she looks out for a lot of us. She makes sure we have food on our tables, you know, clothes on our backs, like, "Hey, there's an opportunity." …
Don't just use a Black artist — don't just reach out to us now just because of all the Blackness that's going on. … How are you going to contribute to the Black lives and Black art after this year, after next year, after Black History Month? … We want to be in these spaces in the right institutions. … Black folks want to see new, edgy art. We want to see stuff that makes us uncomfortable. … How are you going to be an ally after what you say you're going to do?
Do you discuss with other artists, Black or non-Black, the types of compensation that you get? Do you disclose what you are offered in hopes to push the scale to be more equal?
Oh, yes. When we're together in our support group, we definitely talk about how much we all make. We talked about what our bases are for commissions now as opposed to what they were when we first started painting. We talk about the inequalities in pay when non-Black artists get opportunities to do murals out here, and the same non-Black artists keep getting murals every single go-round. …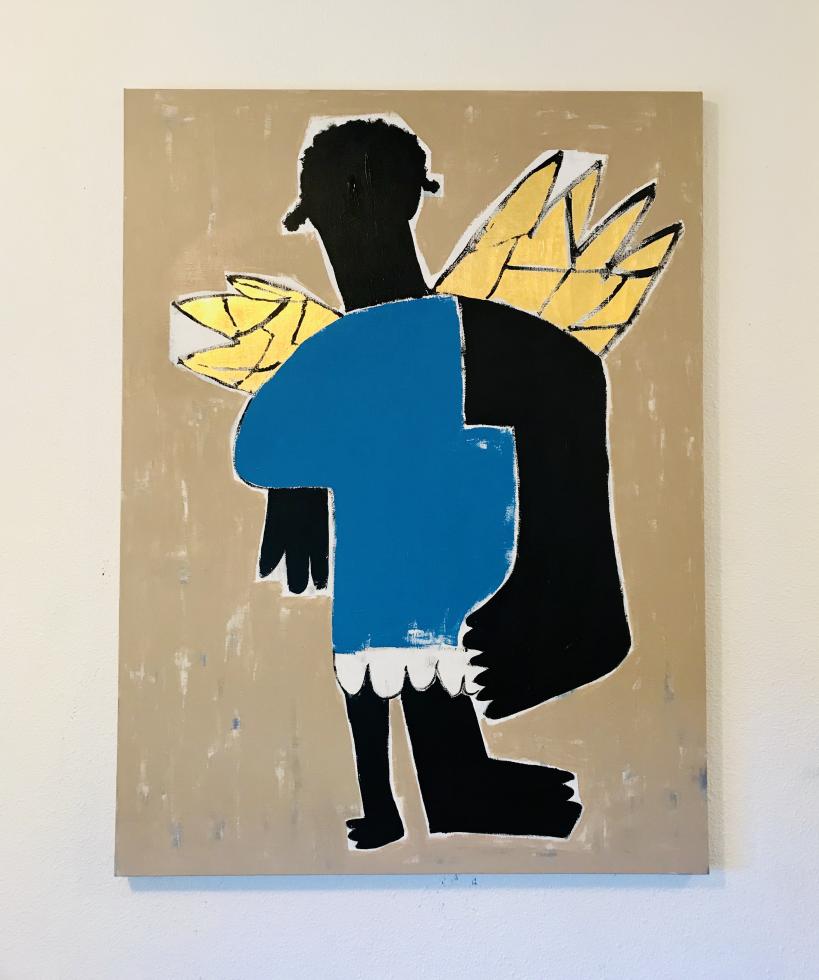 My friend, he did (a mural). … All of his check for the mural went all into funding the people that helped him … the lifts, the rollers, paint. … When I found that out, that just really pissed us and the support group off. … That check could have been a lot nicer. … These organizations … we're not going to (work with them) because we know our worth. We're big in other cities, in other countries. … The lack of acceptance for Black art in Sac has forced us Black artists to make our own ways and open our own doors.
How have the artist residencies changed affected you in terms of what you're producing, your exposure and your clients?
It's challenged me to really be patient, to really be still. That's the main thing: Take everything in, all your new surroundings, and then hone in on that and start to create. …
I learned when I went over to France to live life more beautifully. I've learned the art of living a beautiful life, a luxurious, lavish life, you know, and … letting my art create that lavish life for me. Meeting those people out there, my clientele, my friends have changed. … You get (an) upper echelon of clientele. So talking with museum directors who were there, arts writers, photographers who shoot for Vogue and Neiman Marcus … there's a whole life of abundance out there. … I'm going to these residencies, and my mind changes, my thought process has changed, and it's going to change even more when I go to these other countries.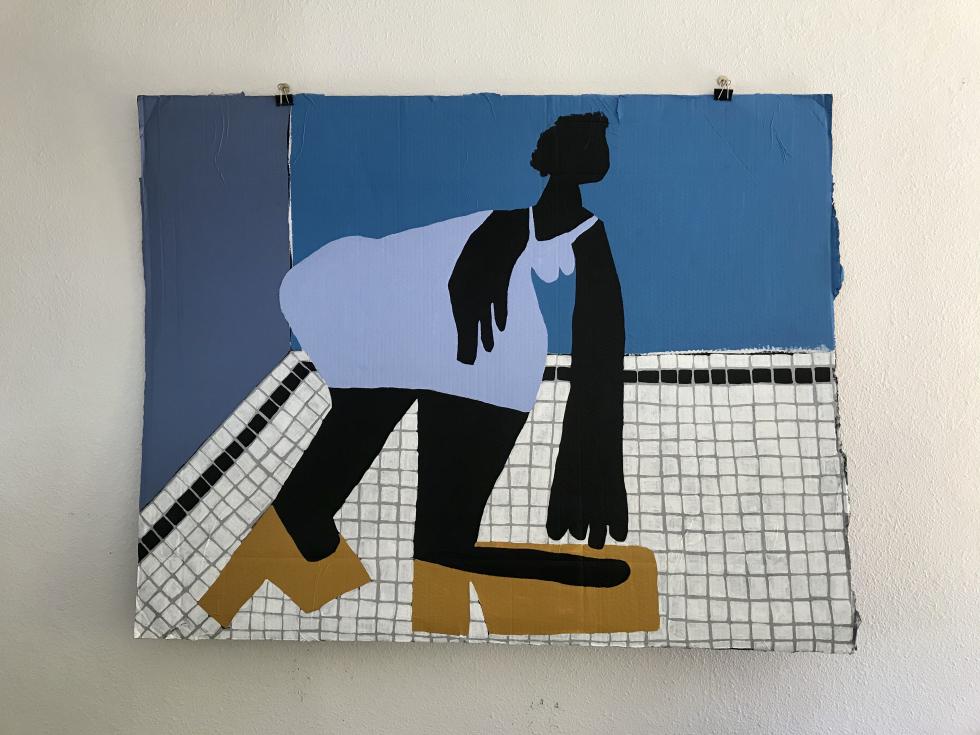 Has it made a difference in your clientele?
It has. My clientele is no longer people who want art because I'm Jupiter the artist. My clientele has changed to people who have been in Art Basel (art fair in Miami) and who are giving me opportunities and putting me in their art books. It's just different. Inviting me to different dinners that I would never be at before if I was still selling $50, $60 art. … Once you change your price point, it brings in a higher price point of people. It brings in people with actual money who actually want to spend money on art. … You have to grow with it. I would say all my friends, all my immediate people (around me) right now, are all artists or in some type of art form. …
Once one collector has a piece, and their other collector friends don't have one, they're like, "Who is that? I want that! How do I get in touch?" … (They ask me) "Do you have any more?" "I don't have anything right now, but you're on the list." That sets up our whole year.
One of the materials you paint on is cardboard, and that is for symbolic as well aesthetic reasons. Can you tell me more about that?
I just love the aesthetic. I love the texture, I love how when you put paint on it, it folds up and turns. Just like with Black people … we're put in situations — we have to adapt to what you put onto to it. … You can send gifts in cardboard. There's so much you can do with it, and like us, we have gifts inside of us, and we're destroyed, we're kicked, whatever, and then those gifts are (bled) out. It's very strong but also … sensitive. … If your work isn't on canvas, they look at you differently.
Last year, you received a grant from the Black Artists Fund. How did that grant help you?
It all went to framing my pieces for my show at B. Sakata Garo. … I didn't even have the money to get my pieces framed, and I was like, thank you for that ($1,000) grant. … And that Black Artists Fund grant has introduced me to a whole slew of other Black artists that I didn't know of. Now we all can pool off of each other if we have any questions.
At the B. Sakata Garo show, how many pieces were sold?
None. But then, a month after, they all (10) sold. … A few were local (buyers), two were overseas and one was in New York.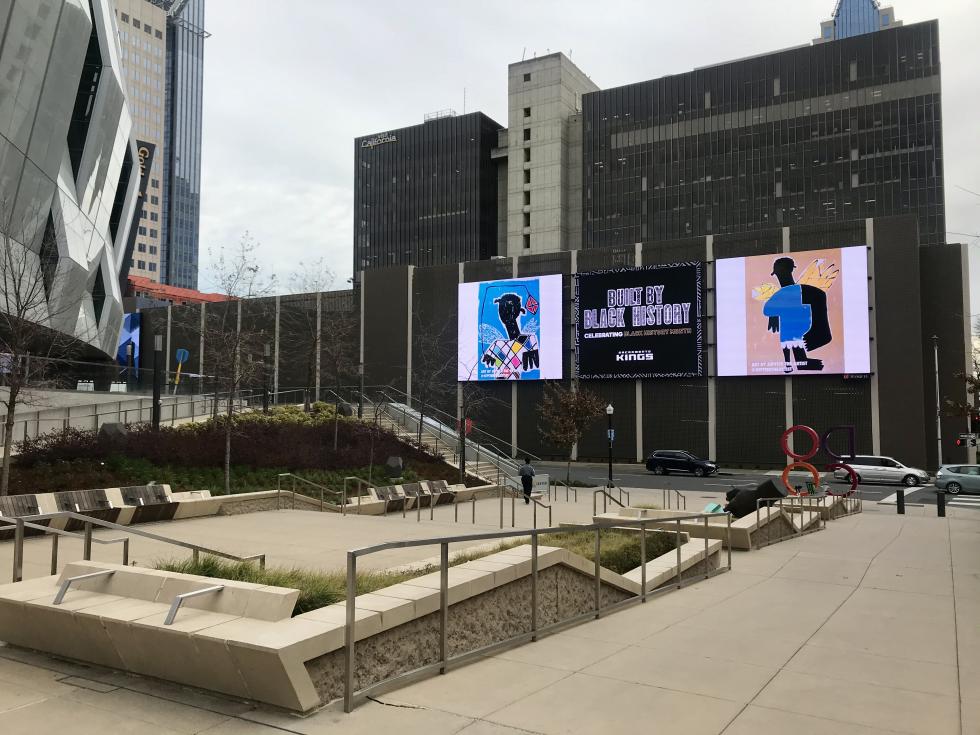 With all of the challenges, individual and collective trauma that happened in 2020, how did it affect your art?
I paint when I want to now. I don't paint every day like I used to. … I'm not interested in short-term art opportunities or opportunities for exposure. It needs to come with not just exposure, but with a nice check (laughs) and some longevity after this. I need to be able to get some clientele along with the opportunity. …
When I was in France, Oak Park (Brewing) reached out to me and wanted to collab on a beer, and so I designed a label and designed the flavor profile of the beer and everything. So now I have my own beer at Oak Park (Brewing) now called Stout Kang. Which is good, and from that, that had dominoed into (Slim & Husky's Pizza Beeria) reaching out … to do a piece for this wall in the restaurant. So from that, this other person … (asked to buy) a piece.
Edited for length and clarity.
–
Stay up to date on art and culture in the Capital Region: Follow @comstocksmag on Instagram!