In the spring of 2019, Gioia Fonda, an art professor at Sacramento City College since 2006, was commissioned by the art consultant firm Dyson and Womack to create a piece in the California Health and Human Services building. She took the commission as an opportunity to combine art with teaching.
Fonda picked 10 eager and capable students and got to work. Over the course of two years, and in the midst of the pandemic, Fonda developed a team proficient enough to assemble ceramic tile into a quilt that disrupts a white wall in the hall opposite of the building's entrance.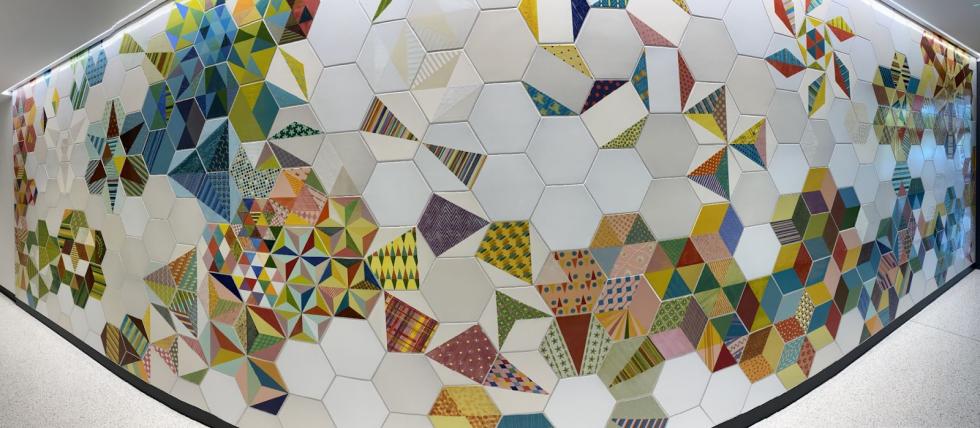 "Being able to work with students on that was awesome. Teaching them through the process… and then seeing the final product was so rewarding," said Fonda.
Fonda, an active studio resident at Verge Center for the Arts, primarily works in two-dimensional media. Her focus ranges from painting and drawing, to sewing and photography, with a vibrant palette willing to express her colorful perspective. Some of her work has explored the dark aspects of political turmoil, including during the Great Recession, the Trump administration and the pandemic, while others explore the bright and enduring nature of same-sex love.
Born and raised in Northern California, Fonda has been an artist for as long as she can remember. Her mother was a painter and also expressed her creativity by making costumes and designing holiday displays. With an artist for a mother, art was always around the house and within the realm of possibility for her future.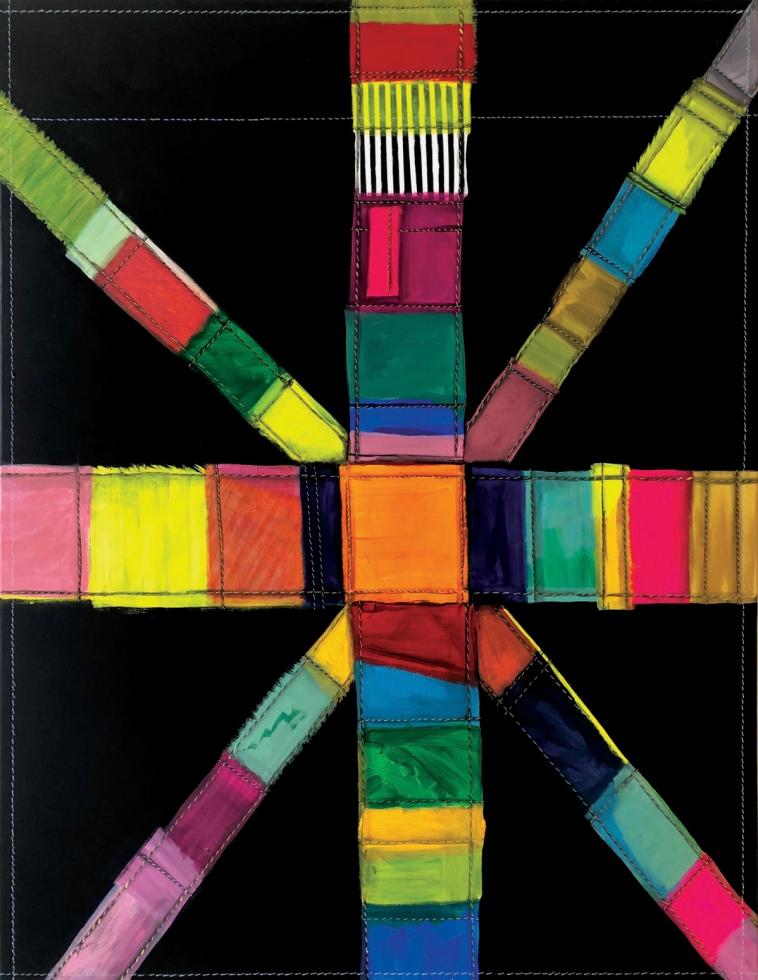 Once she got to art school, everything began to fall into place. "Here's my escape hatch, move to Oakland and go to art school," she says. "As soon as I got there, I felt like I found my people. I always tell people it's like Hogwarts. … Art is like magic, and we live in a muggle world." Now she looks to give that experience to the next generation.
What would you say are your professions?
I am an art professor. That's how I exist and I'm happy, excited and love everything about that. Then, I'm an artist-slash-designer. I guess maybe those two are kind of a Venn diagram of skill sets. … I could give myself all sorts of titles, but the two that are probably the easiest are artist-slash-teacher in whatever order.
How long have you been an artist and where did you find that passion?
I don't remember not being an artist. My mom is an artist and I'm just kind of a big kid. When there's other people that might want to go play ball, I'm gonna go draw or make a thing out of clay. I was told from a young age "you're going to college" … and I was definitely going to do that. But I knew about art school and I knew that depictions of regular college didn't appeal to me.
How would you say your professions intertwine?
You can't teach art unless you make art … so teaching, to me, is the best possible day job because I get to talk about what I love all the time, I can see people grow and I get to help build meaningful relationships with people. That's all very validating in a way that making art in your studio can sometimes not.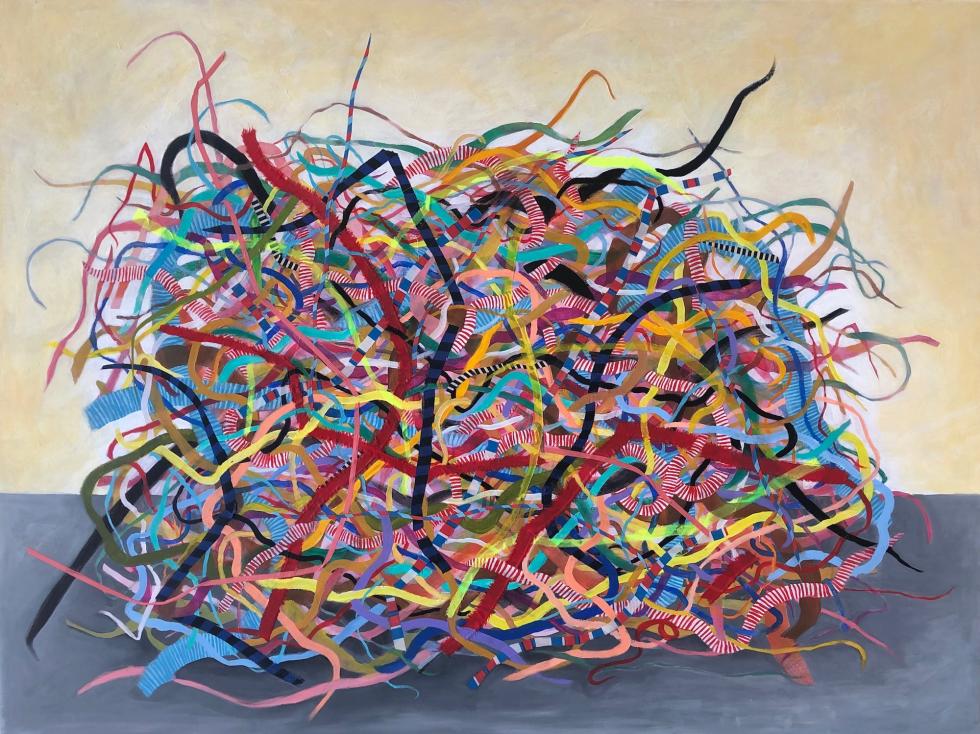 How has the pandemic affected your professions?
I hated it. I hated teaching online. I've never worked so hard to be so ineffective. That was humbling and frustrating. … I thought oh, we're in this pandemic, so the day I got sent home, I went to the art supply store and bought a whole bunch of paint thinking I'm going to have time to paint, but no. No painting happened. …
I've come to regard students that were living in very rural areas that never had an opportunity to take an art class. The first couple weeks I was like, absolutely not; we should never do this (remote teaching). But after two years of it, my heart has opened up a little bit like, what about them?
There's a growing sentiment that it is easier than ever to get into art school because of technology. How do you view the digital direction of art?
I just got a new iPad and have been designing things with Adobe Suite and it's crazy… I think the iPad is like a weird pencil and I am trying to get around to it. There was a time, maybe ten years ago, where I thought, 'that's not real art, that's digital', but that is the same thing painters said to photographers years ago… I love the undo button, I get it. But part of what makes painting and drawing fun is that there is no undo button; you just have to keep moving forward. You cannot just keep undoing, you have to cope and revise and learn to be okay with mistakes.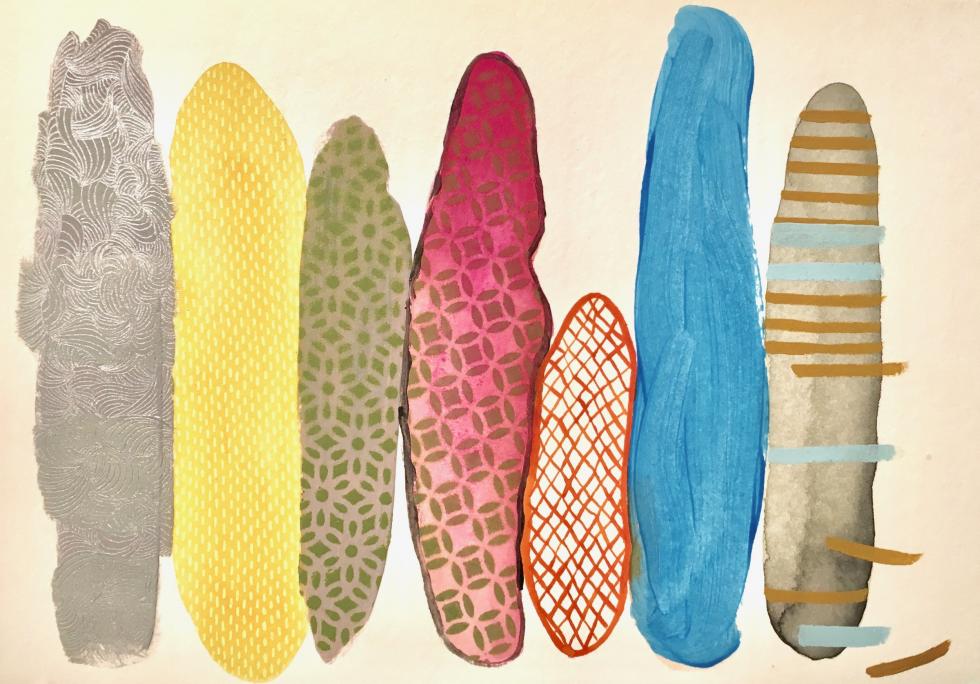 What is your favorite part about being an art teacher?
I just wake up everyday and I have no idea what is going to happen. I love that. Not that I don't have any idea but, there's so many surprises, especially a place like a community college. … I really believe that it is just a utopia. … We need to preserve it. It is so good when so many people can interact with each other. …
I love seeing young people find their people at school because that was such a profound thing for me. I can see it happen: I can see them be shy and feel alone, and then I can see chairs moving together with little conversations in hallways, then I see them go hang out outside of school and realize these might be people who are now friends for the rest of their lives. That feels good to be the catalyst for that. …
I just want to give them what my instructors gave me. A place to figure out who you are, a place to look them in the eye and tell them they will be ok, and also teach them the skills that will make them competitive in a very competitive field.
Edited for length and clarity.
–
Stay up to date on art and culture in the Capital Region: Follow @comstocksmag on Instagram!