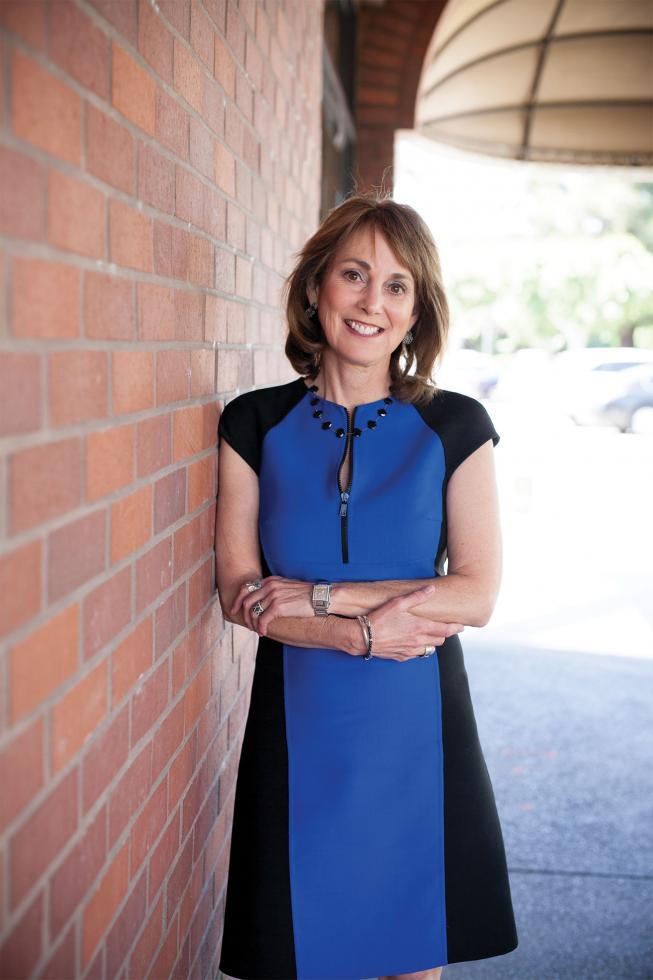 Jeannine English assumed the office of AARP president in June 2014. Previously, she chaired the AARP National Policy Council and served as president of AARP California. She was a founding partner of a government relations and legislative advocacy firm in California, where she represented a broad spectrum of clients, including AARP. This year, she'll be directing the organization in advocating on behalf of its 37 million members.
Of all the challenges facing aging Americans, what issue is at the top?
Financial resilience. Most employers don't provide an opportunity for people to save. We are working on work/save initiatives where small and medium-sized businesses could opt-in to programs and have all of their employees participate. We know that if people are automatically put in a savings program, 85 percent of them stay in that savings program. But if you have to opt-in, only 15 percent do so. So if we really want people to save, we have to make it easy for them right when they start working. People need to save; 10 percent is the minimum.
In regard to financial security, what issues will the AARP be most focused on as we head into the 2016 elections?
We need to fix social security. The urgency is that in the past, the disability insurance portion of social security was a separate fund. When someone's disability insurance became too low, they could borrow from social security. Congress has now changed the rule and says you cannot borrow from social security for social security disability. That will have a huge impact on people, and we think that needs to be adjusted. There aren't a lot of options, but there are some.
Right now we have a cap. The cap is about $118,000, so you pay into social security up to that cap. And that cap has been controlled, so the amount of income being paid into social security has decreased over the years. So do you raise the cap? Do you eliminate the cap? Do you do something about the cap? The other area (of consideration) is the payroll tax.
What are the other major policy issues you're addressing?
We have a bill that didn't get through in California this year. We're working on it in a number of states. The Caregiving Act. The thing is so simple. It's a requirement that if you go into the hospital, your caregiver is notified of when you are going to be released, and your caregiver is trained on how to take care of you once you've been released. Sounds pretty simple, right? It couldn't get through. Think about that. One of the reasons we have so many hospital readmissions is because people don't get proper wound care or they don't take their medications. To just have the caregiver notified and trained was not able to pass the Legislature; it was a cost issue for the hospitals. But we're working on it again.
So what can businesses do to make an impact?
In the United States, we have 42 million family caregivers that are helping their families stay in their homes. We need to support those caregivers because without them, many people would be institutionalized when they really shouldn't be and when they really don't want to be. A lot of mothers need flexible work schedules because they need to pick up their children from child care or school or whatever. Family caregivers need that flexibility as well. It's crucial.
Are there additional lifestyle issues that private industry could be addressing?
I was recently at the American Society for Aging Conference in Chicago, and there was a chart presented on the growth in new homes. It's all — 100 percent — in the 60+ market. So if developers don't understand that that's where the growth is, they'll still be designing homes for the entry market, and we have enough of that stock. We don't have enough of homes for seniors.
There will always be people who want to live on a golf course, but a lot of people want to live in the city. AARP is working with the World Health Organization to set up an age-friendly network of communities. Our office here in California is starting to work with Sacramento and West Sacramento to get their commitment. What that does is, as you are redeveloping a community, you listen to the senior community about what it will take for them to live and age in place. You shouldnt have to be an olympic sprinter to get across the street before the light changes. Little things like that.
In Arlington, Virg., for instance, they were developing their downtown area and they put these beautiful brick sidewalks in the plan. And they found out that for seniors it was really difficult, they would trip on the bricks. So they changed their plan. They put the bricks on the outside and concrete down the middle where the path was. You wouldn't normally think of that.
We are working with the mayors to get a commitment that as they redevelop their community, they will go through a process to make sure that the redevelopment projects are age-friendly. And then we bring all of those cities and communities together periodically to talk about best practices.