Make a stop halfway between Sacramento and Lake Tahoe at The Pour Choice in Auburn, and you just might delay your trip a bit. Because it's definitely worth the stop — and it's definitely worth staying a while. Owners Jordan and Melinda Minyard created the stylish, sun-filled cafe so you'd do just that: gather and hang out living room-style.
The Pour Choice is decidedly trend-forward, but with the goods to back it up. With a seasonal menu, beautifully arranged florals, and a patio and mural for that OK-I-have-to-Instagram-this moment, it's clear the owners are all about combining their passions to provide a special experience for Auburn and all who visit.
Jordan, previously a contractor of custom homes and remodels for 12 years, is a "hound" for being intentional and doing things the right way. Melinda, who once worked in human resources and operations, is a whiz at nailing the behind-the-scenes necessities that make a business function. Read on for Jordan's take on what led these Auburn natives to jump in and make the choice that changed their lives.
How I would describe The Pour Choice: We really try (to) provide unique craft beverages and unique food to try to draw people together. The whole concept is that if we have amazing items that people want to enjoy, we provide a space for them that is comfortable and aesthetic, and all the things that people need to come and just sit and relax. We get to serve third wave coffee, craft beers, a unique, old-world wine list and really cool food.
The moment that inspired us to start our business: We started two years ago, almost to the day. We were inspired by looking at an old space in downtown Auburn called the The Auburn Drug Co. It had been there many, many years. My wife and I were both born and raised in Auburn, and spent many years going (to the drugstore). It was up for sale, and we were standing in front of it, looked inside, and we started to banter back and forth things that would be awesome for the space. We came up with that very idea of The Pour Choice in about five minutes, and we decided to go for it, and decided to offer to buy the building the next day. We're certainly impulsive people. We decided to do something that fit our passion. All the things we serve in our cafe are something we're very passionate about. It's not like we said let's just build a place for community; it's like, no, let's do stuff we absolutely love, and we think the community can be built around it. And that was the concept. It really was on a total whim, we impulsively decided to jump, and never really looked back.
My approach to business: My business approach has always been the same: build real relationships with people, so you can actually enjoy the people you're with and that you rely on. When it comes to employees, (they function like) owners, they're an extension of me. There's no separation of ownership or management. We don't have management. We're just committed to, as a group, running our business together, and hopefully being like-minded from the top down so we can create a system of uniformity and consistency, where each one of us feels they are as important as the next when it comes to the way we run things. It's called Motivation 2.0, and it's flipping motivation in the workplace on its head from top-down management and climbing the ladder of success that we all grew up hearing, to more of an intrinsic value. Showing up to work and feeling like you're a part of something and enjoying something, and being able to do what you love. Not taking orders, but being a self-starter and stepping up and doing what you know is necessary to make a business run.
My thought on the essential piece of entrepreneurship and starting a new venture: The thing I tell people a lot is: I don't think you plan a business. That's not to say that you're not going to be smart in the way you set up a business. I'm saying, when it comes to this idea of: I'm going to plan everything out to the nth degree … it just never plays out in the way that you expect. And that's just how life is. You can't plan for the craziness that's to come. So I would say, put in parameters and guidelines for a business you think can be successful. Be wise in the way you structure a business, and then when you know it's a winning system and you know it's something you're passionate about, I would say go! Just do it. Step out. Because you're going to plan for all of these things that ultimately won't come to fruition and then you're going to look back and say, "Why did I do all that?" I think there's such an important trait of being willing to spontaneously jump because you know it's right. I see so many people stagnant for years, because they want to make sure the timing is right. … You just have to step out and do it.
"The coffee we buy is grown on the equator, it's grown between 3,000 and 10,000 feet. We're talking about a very limited amount of countries that even grow the coffee that we serve." Jordan Minyard, Co-Owner, The Pour Choice
Why it's so important to have an aesthetic space: I think it's essential to have aesthetics with craft. I think it's missed most often. We've all experienced (visiting a business), and there's either something beautiful that tastes terrific or vice versa. I think it's a tragedy to not care as much about your space as you do your product. How can we care so much for one and have zero regard for the other? It's baffling to me. In our area, we've had a lack of that for our entire lives. Much to our frustration, we feel like there's almost a hobby mentality when it comes to business. Business is not intended to be a hobby. I think Auburn has been filled with that for many years. Business should be people who are energetic and passionate and have all of the tools necessary to make sure the business will be successful. I just care greatly about trying to promote and help more entrepreneurs start in our area businesses that are thoughtful and passionate and humbly crafted.
Our main clientele: On weekends, we're dominated by people from (San Francisco who) are coming through. But 30 percent of our clientele is Sacramento folks just to get out of Sac and have a bit of a destination. And Auburn has charm, especially in Old Town Auburn — it allows a breath of fresh air for people.
The way we work with our growers: Thinking about how sourcing is done, it makes perfect sense that that would be an expensive product. The coffee we buy is grown on the equator, it's grown between 3,000 and 10,000 feet. We're talking about a very limited amount of countries that even grow the coffee that we serve. So it's a very limited product that we get to enjoy, and very often these people live in poverty and get paid less per pound than what it costs them to grow it. So we're trying to change entirely this mentality of: Now we're going to direct purchase from growers, paying them far beyond what their growing costs are so we can ensure it's grown right, it's processed naturally, and it tastes amazing.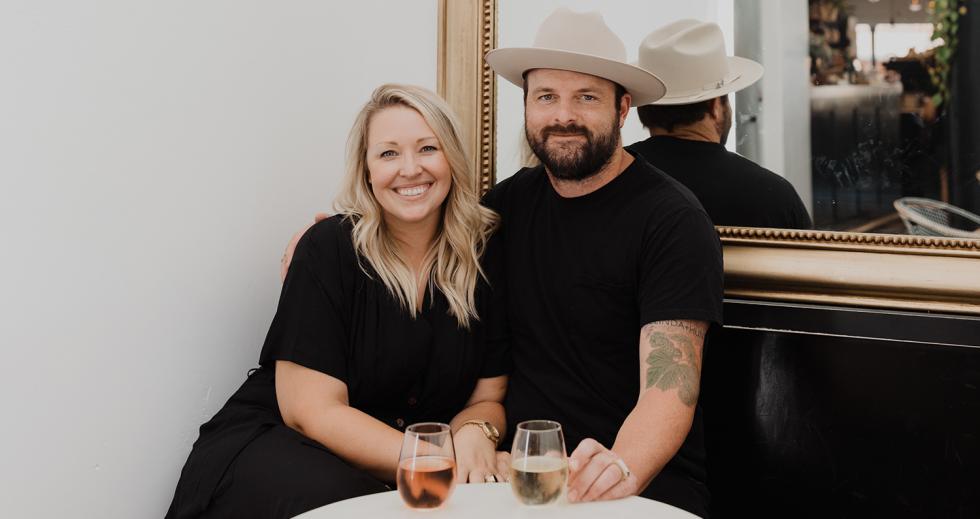 How my wife (and business partner) and I break down our separate roles: We do entirely different things; our strengths are so different that it's pretty awesome that we get to benefit from (that). She does absolutely everything that is necessary in making a business run — all of the payroll, taxes, bills, the entire back-end business from building new hire packets to making sure we're in compliance with state regulations. And then, of course, using her incredible artistic side to curate our shop in a way that's entirely unique. She gets wholesale flowers each week and builds all the bouquets, she takes care of all of our retail shelving, and she brings an energy to our staff and customers that puts everyone at ease.
And then I get to be in the shop having relationships with employees, with customers, the face of The Pour Choice, if you will. We're both big vision people, so we're constantly dreaming new stuff for our space. I do all of the construction, repairs and covering shifts filling in with whatever's necessary. And then we both get to design and dream together, which is what drives us — constantly redoing and dreaming about new stuff.
My favorite wellness tip: For me, I overthink and overanalyze, so running allows me to have a clear mind. There's something about the physicality of running that creates a resting space for my mind.
My drink of choice at The Pour Choice: A cortado, which is even parts espresso, even parts milk, in a 4.5 ounce drink. I love espresso, but I do love just a little bit of milk.
My take on how we shouldn't necessarily have coffee every day: I don't drink coffee every day, similar to wine and beer, where I don't think it's supposed to be enjoyed every day. It shouldn't be cheap, and it shouldn't be as available as it is. So, trying to change people's mentality of what coffee is, from a gas station drink to a craft, well-made, well-sourced drink — that's what I'm passionate about doing. As I get more educated, it allows me to come to grips with the fact that I'm probably not going to have coffee every day. I don't think our bodies are made to have an abundance of caffeine, either.
—
Discuss this story and others on our LinkedIn page; follow Comstock's on LinkedIn by clicking or tapping here.