Johnny Flores takes podcasting seriously — though you might not know it from the vibe of his show. The self-made host and producer of "Serious Talk. Seriously." has interviewed local comedians, business owners, journalists (ahem, yours truly), artists, winemakers, you name it. Never without an idiosyncratic story to disarm his guests, the show has become known for its conversational tone and laid back, maybe-we'll-introduce-the-guest-20-minutes-in attitude.
After 25 years of working 9-5 jobs, Flores has gone all in on his podcast business, Flores Podcast Consulting, and as a result says he is "happier and more peaceful" than ever.
Over the years, his show has maintained the same informal chit-chat charm, but has grown more professional, polished and focused. Much how podcast legend Marc Maron eventually moved his show out of his dusty garage and into his cushy abode, Flores has upgraded his show from living room recordings and brewery chats to a professional sound studio in Sacramento. You may no longer hear ice cubes clinking from the ice water he's served his guests in his home on a hot day, but you'll still hear every guffaw.
The podcast medium has ballooned into an ancillary, sometimes even vital, content stream for brands and publishers, and has become a mainstream entertainment source for consumers. Listening to podcasts, of course, is much easier than creating one. Recognizing local businesses' need for help in creating their own, Flores has assumed the role of consultant and producer for local brands, movements and institutions wanting to tell their story through the spoken word. He helped shape the Visit Sacramento Podcast, the Healthy Mouth Podcast, even Comstock's own Action Items Podcast in 2017. Read on to get to know the man behind the mic.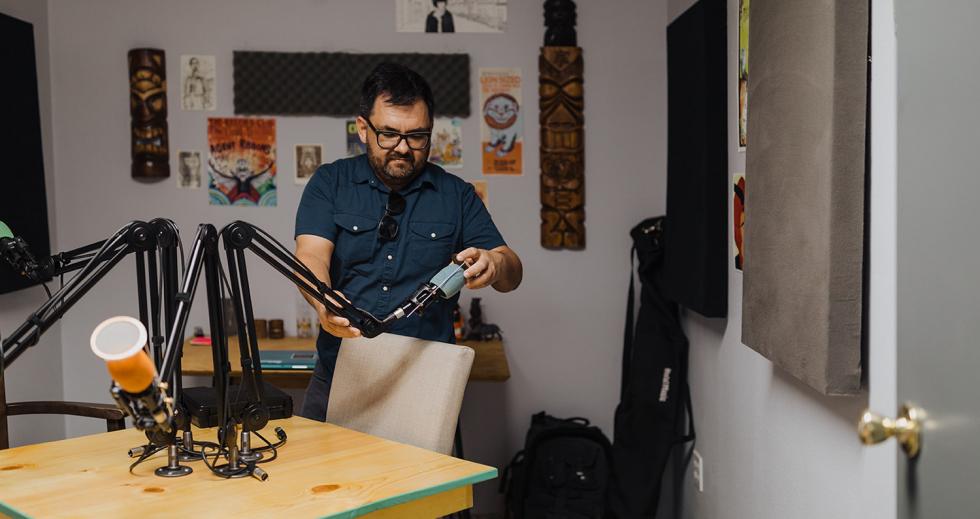 How long I've been doing my podcast: I started "Serious Talk. Seriously." in 2014. And as of this interview, episode 195 just went up. I just recorded the 200th episode, which will be the last episode (available to download Oct. 22). I feel like the podcast has run its course. It's nearly six years old and I'm ready to dedicate more time to my other podcast, the Graphic Novel Explorers Club. I also think someone younger than me should start a show like mine, so there are some fresh eyes on Sacramento. For the final episode of "Serious Talk. Seriously.," I had Anthony Siino, one of the people I befriended through the podcast, ask me questions. That's one of the things people have always asked me is to be a guest on my own show.
How I got into the podcast medium: I used to want to be on the radio when I was a kid, or be a talk show host. My heroes growing up were Johnny Carson and David Letterman. I failed at a lot of artistic endeavors over the years, and podcasting was just something that felt like, oh, this is my thing. I just kind of innately knew I was going to do OK in it.
Some of my favorite podcasts: My favorite podcast right now is "Conan O'Brien Needs a Friend." It's really funny, it's all improvised. … But then he talks to people who are performers or comedians, and they just riff and tell stories. And I really like that; it's like an inside view of how a professional comedian's career goes. And then "Unspooled," with Paul Scheer and Amy Nicholson. It's a limited series podcast and they're going through the (American Film Institute's) "100 Movies," taking a look at them and seeing if they should actually be on the list or not. I really like Amy — she's a film critic — she brings a lot of insight into how male-dominated especially the '70s were. There were a lot of hateful movies, like incel movies, and I never realized that until she pointed it out.
How I moved from producing my own podcast to advising others on how to create their own: Funnily enough, it was Comstock's magazine that was my first foray into producing content for other people. I had worked with (former Editor in Chief) Allison Joy in the past at Sac Press and had pitched to (her) that we should have a podcast … I thought it would be a perfect medium for a digital newspaper to have a (digital storytelling) component. Once (Allison) was at Comstock's, that was the dawn of it. Then other people would find out what I did, they would start asking me about podcasting, and how do I do it. Then my girlfriend had been telling me for a year prior to me leaving (my full-time job with Sacramento County) that I should be doing this full time. And it was like, "Yeah, of course I should be, but like, how do you do that?"
The one element or quality I think makes for a strong podcast: One thing I tell my clients is: You have to care about your show. And how you show an audience you care is being consistent. Successful podcasts are consistent when they're posting episodes, and kind of the format of the show. It might vary a little bit, but there's a consistency to the show so that it's easy for an audience to get into it and then run with it. From a producing standpoint and as a listener, I'm attuned to: Does it sound good consistently, do they post on a regular basis, do I know a new episode is going to be there on certain days.
The element of podcasting I enjoy most: On the producing and consulting side, my two favorite things are having someone come to me with a broad idea of what they want to do and sitting down with them and letting them talk about their podcast. And, all of a sudden, they'll say one thing, and a lightbulb will go off in my head, and I'm like, "That's your show." Because a lot of times they're getting close to what it should be, but they're not quite there. Sometimes even if they don't work with me, I'll just be like, "Here's your idea."
My advice for local creatives with full time jobs and a demanding side hustle: I think you have to decide which one is more important to you, and pick that one and do it. It can be long, it can be hard, but it's way more rewarding when you're finally like, "I'm gonna do this." I was so much happier and more peaceful turning my side hustle into my main thing. It's brought about a level of happiness I didn't ever expect to have in my life. …
I really sat and evaluated, what can I offer people as a consultant? If it's an individual that talks to me, it's helping them figure out their idea, like who's your audience. If it's a business, are you trying to bolster membership benefits, or get in front of a new audience? Like, what are you doing? And that's the thing I bring through my business: I'm going to help you turn this (podcast) into a thing that can help you. As opposed to just being a cost, let's turn it into a benefit and make the money you're spending worth it.
"You have to care about your show. And how you show an audience you care is being consistent."
Johnny Flores, Podcaster
My morning routine: My girlfriend's a librarian with the Sac Public Library, so usually I get up with her before she goes to work. Then I usually take the dogs over to Tahoe Park, and then I come back and start editing right away. If I have a client meeting or a recording session, I usually work out a little bit beforehand, pack a lunch and head over to my studio, Sacramento Media Center, and spend a couple hours there.
What makes Sacramento special, and how I've seen it change in recent years: We're a big city, but there's still a lot of community of people you can turn to that know someone you might want to connect with. It's a good way to build community, friendships, working partnerships. There's a connectedness here that I've never experienced in other cities that I've lived in. I've lived in Portland and L.A. and San Diego. … So I really appreciate it and love it.
As far as how Sacramento's changed, I think there's a lot more self-love in the community than there used to be. People used to be kind of ashamed of being from here, or "I'm just doing this now so I can move to Austin or L.A. or San Francisco." I think people realize that there's a lot of good reasons to say you're from here and stay here. The whole point of "Serious Talk" is, hey, there's a lot to love here. Not that "Serious Talk" made that happen, but I just feel like OK, I was a little bit ahead of the curve with, like, people saying they like being from here and staying here. With the food renaissance and the breweries that popped up over the last decade, people started to find more and more reasons to love living here.
—
Discuss this story and others on our Facebook page; "like" Comstock's on Facebook by clicking or tapping here.