Admittedly, Colleen Sidey lives in a storybook setting. Originally from Los Angeles, she's been in the woods in South Lake Tahoe for 10 years with her family. "It's like living in a fairytale landscape," she says. And the charming effect of the forest finds its way into her ceramic sculpture, along with her greatest inspirations, her two children, ages 11 and 7, and her formative years being surrounded by the urban environment in Southern California.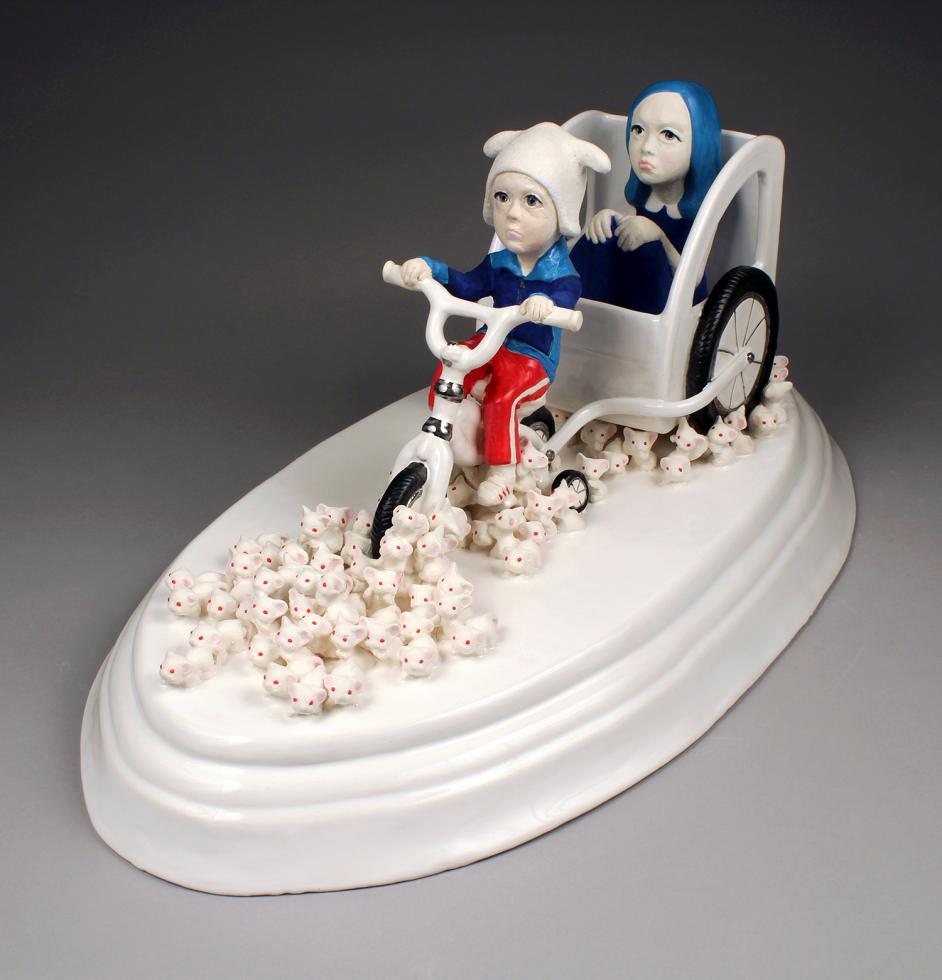 Sidey's sculptures are often young figures with big anime-like eyes and small downturned mouths. Their faces suggest inexperience and innocence, and she adds dark or mythological components to the piece — like a solemn wide-eyed girl embracing a white fawn on top of a black barrel that's spilling a green, possibly toxic, substance.
Sidey and her ceramicist husband Bryan Yerian met in a ceramics class as undergrads at Humboldt State University. They both teach sculpture at Lake Tahoe Community College and have been sharing their converted two-car garage as their home studio for the past decade. In March, the couple opened Compass Clay Studio just off of Highway 50 in a midcentury-modern building that they bought and remodeled. Sidey calls it a "community learning ceramics studio," where she and Yerian teach classes and workshops for adults and children. They have electric kilns and potters wheels, and offer open studio time and firing services. "It's a really nice way to open up the ceramic experience to the community," Sidey says.
Your work has a childlike innocence and darkness. Why were you drawn to the Grimm brothers and Disney?
Motherhood. As a mom, I am constantly reading to the kids, and, you know, also watching cartoons and Disney movies — I love the Studio Ghibli films. … I use my children as models for the work, and so I think that's why the work has really shifted to being mostly children, because they're such a focus in my life.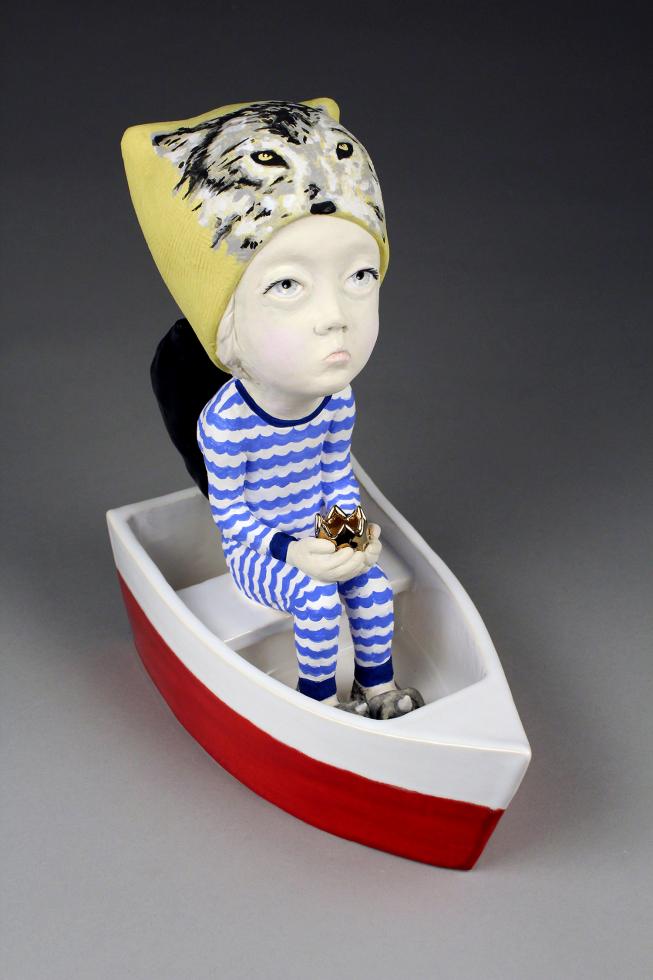 What got you initially interested in pursuing art as a career?
I always drew portraits, and I loved drawing portraits of my mom. … I never tried ceramics until my second semester at Humboldt. … I can remember my father saying, "If you're going to be an art major, you need to have a real career to fall back on," so that scared me. So actually I dropped out after one semester at Humboldt State and went and got my massage therapy certification, because I thought … then I'll have a job to fall back on, and I can go back to school and study what I want to study. The interesting thing about that is it gave me tactile understanding of the human body, so when I took an interest in figure sculpture, I had that understanding with my hands how the human body felt. … I took my first ceramics class, and it was hard, and I was terrible at it. and I took that as a challenge that I really wanted to master the material, and so I stuck with it.
Where do you sell your work?
I show my work mostly in California. I am hoping, now that we have the gallery space and the studio, to sell more work out of my own studio. I work with the (Roscoe Ceramic Gallery) in Oakland, John Natsoulas (Gallery) in Davis; my work was exhibited at the Pence Gallery in Davis and … Benko Art Gallery (in South Lake Tahoe). … We are participating in the Tahoe Art League Open Studio tours (in July and August), and so we'll be showing our work at Compass Clay Studio for that.
How do you market and brand your work?
I market my work basically through the studio, through Instagram, you know, applying for shows. To be honest with you, I don't do as much marketing as I probably should. I think a lot of artists are using Instagram as a way of getting our artwork out. I think it's a challenge living in this sort of a rural community, sort of how you get your imagery out there, and I think Instagram has been great for that just in terms of being able to connect to a broader audience.
Why did you decide to open Compass Clay Studio?
We were volunteering and also working as art instructors at the local elementary school, and I just adored working with the kids, but it was a lot of work transporting clay back and forth from the school to our home studio to fire the work in the kiln, and then bringing it back to the school for the kids to glaze, and back to the kiln. … So we found the building, and we fell in love with the building, and we really wanted to expand our own studio space, and so it was a perfect marriage between our desire to make work and then also share that experience with kids and also the community. … We're hoping as we expand … we'll start offering more visiting artists workshops and bringing up people from out of the area.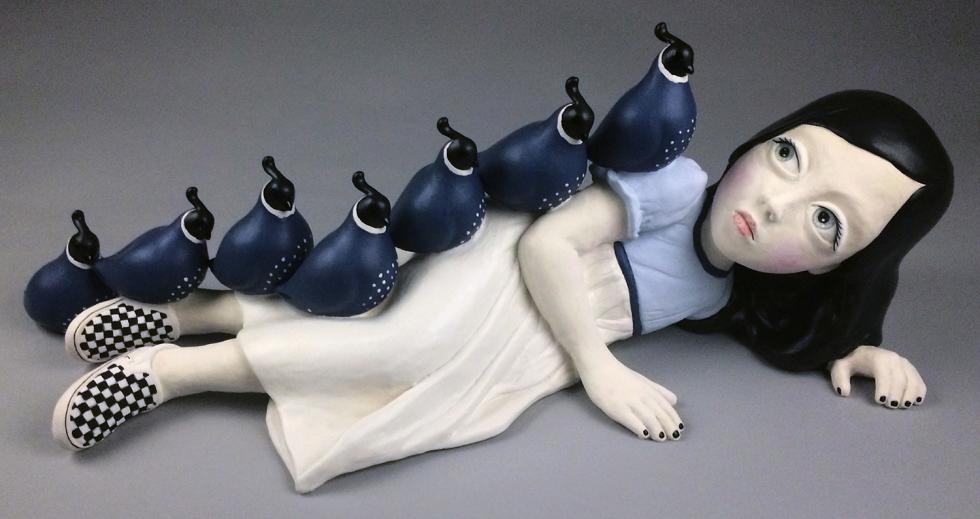 What brought you to South Lake Tahoe?
I did the artist in residence program (at San Jose State University), and then I was accepted into the MFA program. I was in the MFA program for a year when I surprisingly got pregnant with my daughter. I was pregnant with my daughter my last semester at San Jose State, and Bryan applied to the full-time tenure track position at Lake Tahoe Community College just on a lark. … Then he got the position, and we had to make the decision of me finishing my MFA or him having a tenure track career. With our daughter coming into our life, it just seemed like the right move for us to come to Lake Tahoe. And, fortunately, when we got here, because Bryan and I had worked with all the same faculty at San Jose State and at Humboldt State, when they were recommending Bryan, they also recommended me to the administration. … Even though I didn't have my master's degree, I had experience with teaching, and I was covered under (the school's equivalency program), so that's why I got to teach.
How do you engage with the arts community? What kind of arts community have you found where you are?
I'm involved with the Tahoe Art Alliance. We volunteer — we go into the elementary school and do projects, especially with my children's classes' ceramics projects — and obviously through the college, constantly interacting with the college-level communities through teaching. … And the studio has been a great way to bring people into my art-making space and kind of share the ceramic medium with more than just the college students. I have a lot of retired community members who take classes.
What were your landmark moments in becoming a professional artist?
Moving to Lake Tahoe and having to figure out how to become an artist outside of the academic arena and branch out and have a studio practice that was committed. I think that's a challenge for a lot of artists. If it's not your 9-to-5 job, how do you make that commitment to your practice? … The birth of both of my children has been probably the greatest two landmark moments in making me the artist that I am, because they're my greatest inspiration. And it's funny, because I remember getting pregnant with my daughter and being told by a number of people, "Your art career is over. You can't do it all." And what I discovered through motherhood is that I have this abundance of inspiration through the experiences that I share with them, and so whereas before I was a mom, I would struggle with, "Well, what am I going to make work about?" … And ever since I had my kids, I don't have that struggle. … Motherhood has actually fed my art.
How do you feel about the art market in your region?
I wish that there was more of an art market. I wish that there were more collectors. I do think that there is a vibrant art scene, especially in the Sacramento area.
At Compass Clay, are you planning to show other artists, like students or national or international artists? What's the vision?
We're in a tourist destination, so the idea of having people even travel here to come for weekend workshops where we're inviting visiting artists into the space, I love that idea. So, I think, yeah, long-term goals for expanding it to not only support ourselves as instructors in the space, but also open it up to propel the careers of other artists.
Is there anything you would like to see the community do to support the arts and to shine a light on the arts?
I would love it if there was more public art installations. I think there's a lot of groups in the South Lake Tahoe area that are really working hard right now, and it's really exciting, the energy. There's the Tahoe Art Alliance, there's the Tahoe Art League, and so there's a strong sense … of banding together to highlight what's happening creatively in this little area, and it would be great if the local community would come out and see what everyone's doing, take classes and engage, and sign their kids up for classes.
With what is being offered now, why do you think people aren't participating?
I think people are. We have vibrant enrollment at the college, and I have been really surprised at how much support we've had in only two months at Compass Clay. I've already started to develop a sense of family and community with a small group of artists who are participating in the classes and the open studio there. … The Tahoe Art Alliance just did an event called ArtFest on Ski Run Boulevard, and they offered booths to local artists. Compass Clay did a booth there, and we were really surprised at the turnout and the support that we had.
Comstock's sat down with Tony Natsoulas to talk about creating and collecting in the Capital Region.