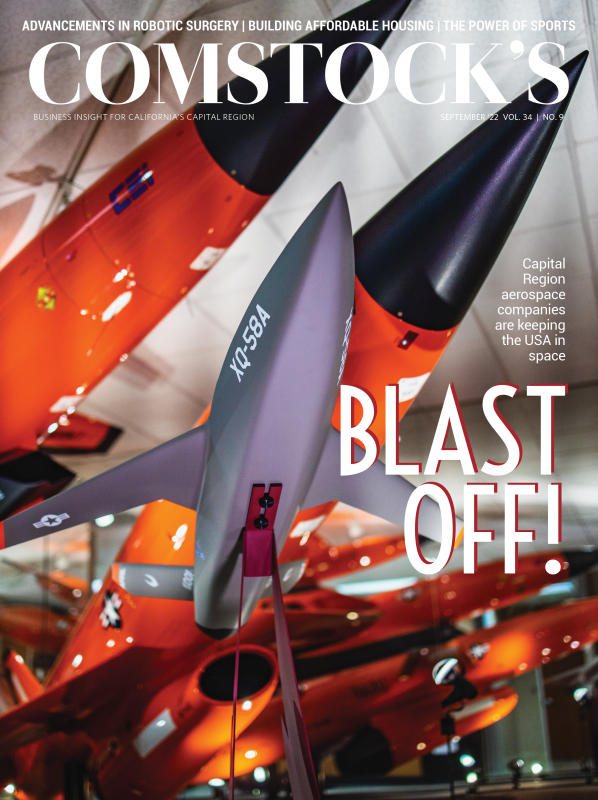 This story is part of our September 2022 print issue. To subscribe, click here.
A group of Boeing employees and others walk across the tarmac at McClellan Business Park.
Once, it was McClellan Air Force Base, one of the region's major aerospace concerns. Now, aside from the thriving business park, it houses an aviation museum hosting California Aerospace Day 2022 on this hot Wednesday in early August.
This group doesn't really seem to be local, with an executive from Seal Beach and a California State Assemblyman from Palmdale among the contingent heading toward Boeing's ecoDemonstrator, a Boeing 777-200ER plane which is testing reductions in fuel use and cleaner air emissions. None of the major aerospace players are local anymore. But they're here, for one day at least, in a place where there's opportunity, infrastructure and experienced personnel for the aerospace industry.
If they look hard enough, the major players will find one of the Sacramento business community's better secrets: While the local aerospace industry might never again be the major hub it once was, there are a number of local companies drawing the interest of the industry's major players and doing innovative work that's keeping the USA in space.
War games
California's aerospace, aviation and defense industries support more than 511,000 high-paying jobs and generate more than $66 billion in annual economic activity, larger than the agriculture and entertainment industry combined, according to the California Manufacturers & Technology Association.
Longtime Sacramento residents can remember hearing the loud booms when rockets were tested at Aerojet in Rancho Cordova or seeing military planes flying out of McClellan and Mather air force bases. Aerospace companies in the Capital Region these days aren't employing thousands like in the past, but they do some wild stuff.
Take perhaps the region's largest aerospace operator, Kratos Defense & Security Solutions, which is headquartered in San Diego but has offices in Roseville and Sacramento where around 600 employees support a division that manufactures and provides aerial unmanned drones that resemble smaller fighter jets to the military for target practice.
Kratos received a $50.9 million contract from the U.S. Navy for its realistic jet-powered target drones in December and recently secured a $34 million contract from an unnamed buyer for its drone aircraft. (Kratos also sells to foreign countries and may not name the buyer for security reasons.) The jet-powered drones are used to train the military how to shoot down enemy aircraft.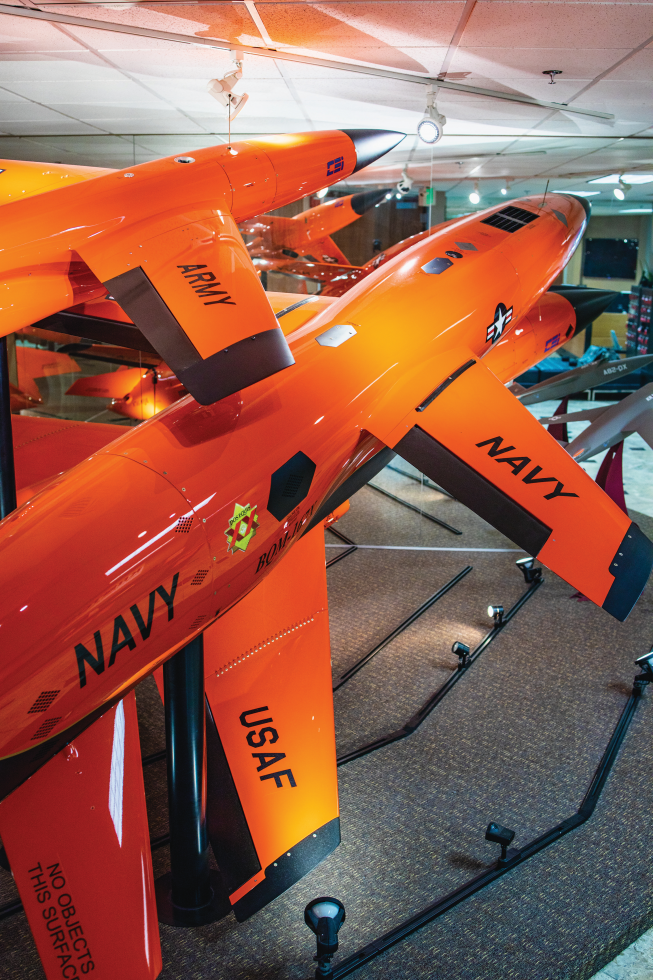 "We're making a difference for the war fighter," says Jeff Herro, senior vice president of business development and strategy for Kratos. "If what we can do can improve the likelihood of success and of their safety, then that's a very rewarding thing for we in management."
JP Aerospace, a Rancho Cordova-based research and development company, does high-altitude work, much of it around 100,000 feet, flying items for students and conducting research for airships. The company has also become known as a place where a company can go if it wants something photographed in space. The weirdest request? A chair in space, via Toshiba, says President John Powell, explaining that the company was thinking it might help them sell big-screen televisions.
"The check cleared so we didn't argue," Powell says. "But they were right. They sold a giant pile of TVs and it was really great. I don't know why. I still don't understand it, but I learned not to question it."
Russ Carlson, founder and aerospace chief technology officer and strategy for Folsom-based Valley Tech Systems, which does rocket propulsion, as well as intelligence, surveillance and reconnaissance work, says things have been changing since Voyager Space acquired controlling interest in his company in September 2021. "We are being challenged to transition our technologies to advanced space applications," Carlson says.
Sacramento-based Vacuum Process Engineering of Sacramento does applications engineering and contract manufacturing for fabrication of aerospace parts. The company has worked with Raytheon Technologies, Lockheed Martin and Northrop Grumman among others, according to Chief Engineer Aaron Wildberger.
"We have parts in space, we've put parts on Mars," Wildberger says.
Sacramento-based TECMA is working on NASA's Artemis program that plans to put a woman and person of color on the moon by 2025, says Sonia Susac, president and owner. On a project that includes Aerojet Rocketdyne, Boeing and Blue Origin, Susac says her company is making parts for the power head section of liftoff rockets. "The power head is what essentially ignites the whole thing."
Christopher Belle is chief executive officer of Tri Tool Technologies in Rancho Cordova, which helps with precision cutting on rockets, among other things. Belle sits on the board of the California Manufacturing and Technology Association, whose President and CEO Lance Hastings says, "They make things that are on probably every single rocket that goes up into space and they certainly supply the major companies in the defense industry with their product."
Elon Musk's Space X and Jeff Bezos's Blue Origin relies on UC Davis' McClellan Nuclear Research Center. Dr. Wesley Frey directs the center, which houses a nuclear reactor at McClellan that takes micro X-rays of parts to test them before a rocket is launched.
"We've only gotten more busy as the years have gone on. We're doing work now with pretty much all the major aerospace companies, from Blue Origin, Space X, some stuff directly with NASA, to all the Lockheed Martin, Northrop Grumman. All those folks have pretty much come through at this point."

Dr. Wesley Frey, Director, UC Davis' McClellan Nuclear Research Center
"We've only gotten more busy as the years have gone on," Frey says. "We're doing work now with pretty much all the major aerospace companies, from Blue Origin, Space X, some stuff directly with NASA, to all the Lockheed Martin, Northrop Grumman. All those folks have pretty much come through at this point."
Powell's worked with big players like Lockheed Martin, too. "When they're over budget they come to us and (say), 'Here, can you fly some of our stuff?'" he says. "It's a bargain for them but good money for us kind of deal."
Aerospace companies in the region often work for the U.S. Department of Defense, which might be another reason these companies receive less recognition than they should. The defense industry isn't exactly known for transparency, with Susac saying the government keeps things on a need-to-know basis. Its vendors sometimes only know part of a project and never see assembly all put together.
A rich history
When John Powell was 17, he and some high school friends bid on a NASA contract, getting down to a selection round of three bidders. When Powell and his friends met with national officials, their age and the fact that they couldn't legally sign a contract was discovered and "we were told on no uncertain terms not to be bidding again." That's how Powell's Rancho Cordova-based research and development company, JP Aerospace, was born.
For some of his early personnel, Powell turned to an unusual source: the pipeline of retired Apollo workers who lived in the Sacramento region in the late 1970s. Some of these men had worked locally for Douglas Aircraft Company building the second stage of the Saturn rockets for the Apollo missions, but were now at a looser end with that program having wound down.
"You could literally get a guy that worked, you know, the primary engine developer on the Saturn V rocket, take him out to lunch and have him take a look at your engines, see what he thought about it," Powell says. "You can't pay for an experience like that, and that was commonplace in Sacramento."
Sonia Susac of TECMA remembers the work her father Fred Schwarz did after founding her company in 1957. TECMA made blades and casings for the guillotine cutter that cut communication cords between the first and second stage of the lunar lander. "My dad would always point to the moon and say, 'Our part's up there,'" Susac says.
California has long been a hub for aerospace
"I grew up in the Midwest and I went to school on the East Coast and it was kind of obvious that you had to come out here if you really wanted to do cutting-edge aerospace and engineering," says Samantha Edgington, a systems architect based in Palo Alto for Lockheed Martin.
At some point, though, the industry got away from Sacramento. Michelle Willard, chief public affairs officer for the Greater Sacramento Economic Council, says the region only has about 1,000 jobs in aerospace today. "The industry peaked in the 1960s in Sacramento and then left the region once the Cold War ended," she says.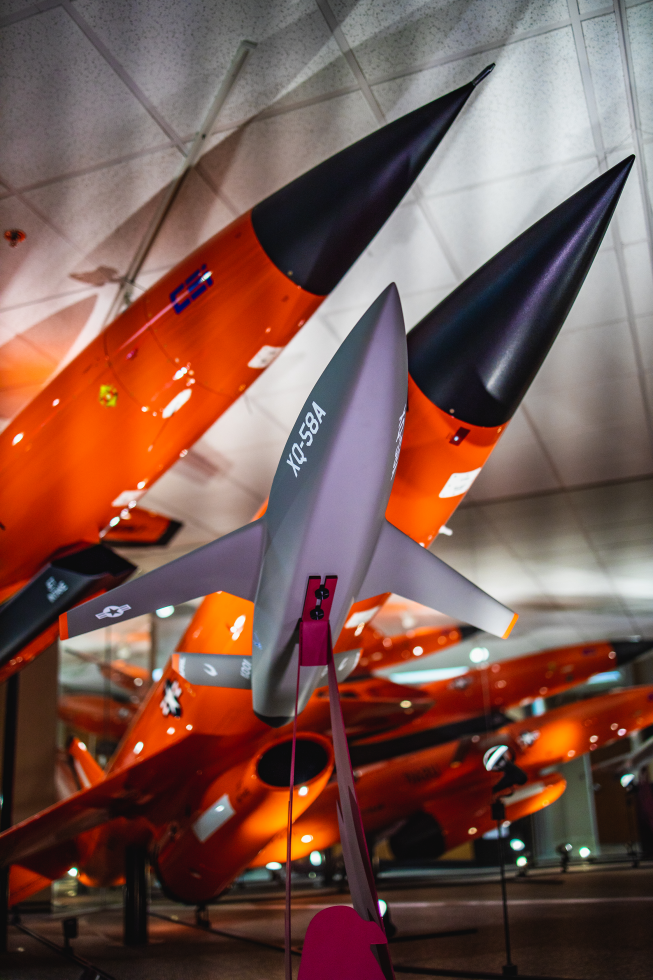 Other factors fueled the transition, too. Powell says JP Aerospace functioned as a traditional company through 1985, raising venture capital and having employees. The Space Shuttle Challenger disaster that killed seven crew members in January 1986, including teacher Christa McAuliffe, helped spur a shift for both the industry and Powell's company.
In more recent years, Aerojet Rocketdyne moved much of its operations from Rancho Cordova to Huntsville, Alabama. While the company declined an interview request for this article, CBS News reported in 2017 that the company claimed the relocation would save it $85 million. The company maintains a small presence in Rancho Cordova.
"The Aerojet site gets a lot of looks from high-end companies," says Barry Broome, president and CEO of GSEC. "The problem is Aerojet is not really ready to do a real estate deal over there. So there's enough infrastructure and assets at Aerojet in Rancho where there's a possibility we could land a Space X or a Blue Origin, but the company controls the real estate and hasn't been willing to be that aggressive."
A future in Sacramento
Dean Peckham, executive director of the Sacramento Valley Manufacturing Alliance, says his nonprofit has about 50 member companies, but that only two of them are in aerospace. He hesitates when asked if the Sacramento area can be competitive again for aerospace manufacturing. "I think our region's specialization is as a supplier, not as a headquarters," Peckham says.
Lorie Symon is president and CEO of Aerometals, a helicopter and aircraft parts manufacturer based in El Dorado Hills. Asked if she sees Sacramento becoming an aerospace hub again or staying small but mighty, she points to the latter. "I don't see us attracting a large organization back in," Symon says. "I think we're going to continue to be the small but innovative, new products, new processes kind of deal."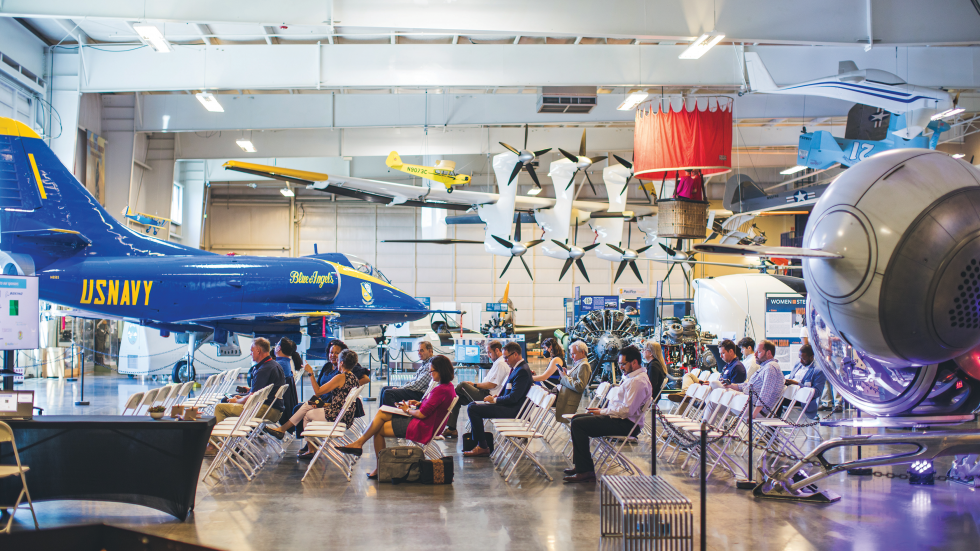 There remain pipelines locally for both entry-level and mid-career talent. Some ex-Aerojet employees have wound up at other companies around the region, since the company decamped to Alabama. "The people who did stay had to go find other jobs," says Symon, who notes her company has a couple of ex-Aerojet employees.
Rich Corsi, dean of the UC Davis College of Engineering, says his school has around 280 students enrolled in aerospace engineering. Dr. Kevan Shafizadeh, dean of Sac State's College of Engineering and Computer Science, says his school sends students to work for companies like Kratos.
A lot of local aerospace companies might be able to go elsewhere if they wanted to.
"I get calls every day and I get letters every day from pretty much every other state asking if we're looking at simplifying our operations, simplifying our taxes, simplifying the legal structure, reducing our costs," Belle says. "You can name every stereotype about doing business in California and every other state and every other economic development community … (they) use that and send advertisements to us."
But with many of Tri Tool's customers overseas, Belle doesn't see a need to relocate, saying, "I think as long as we can meet the needs of our customers, we don't need to disrupt our business."
Herro says other states court Kratos all the time, though he says it's not easy logistically for the company to pick up and leave California. Herro won't comment if Kratos would leave the state if it were easy to do so, though he says, "It's not all just columns and rows and decimal points. There's humans involved in this and we take that personal side very seriously."
Symon says she receives at least three calls weekly "from other states and cities around the country trying to recruit us into their territories," with attractive incentives. She doesn't think there's a serious chance of her company relocating.
"We all love living here and we're small enough that we can do what we need to do, still grow a company, be good," Symon says. "But everyone that works for us, they pretty much have grown up here. So this is home."
–
Stay up to date on business in the Capital Region: Subscribe to the Comstock's newsletter today.