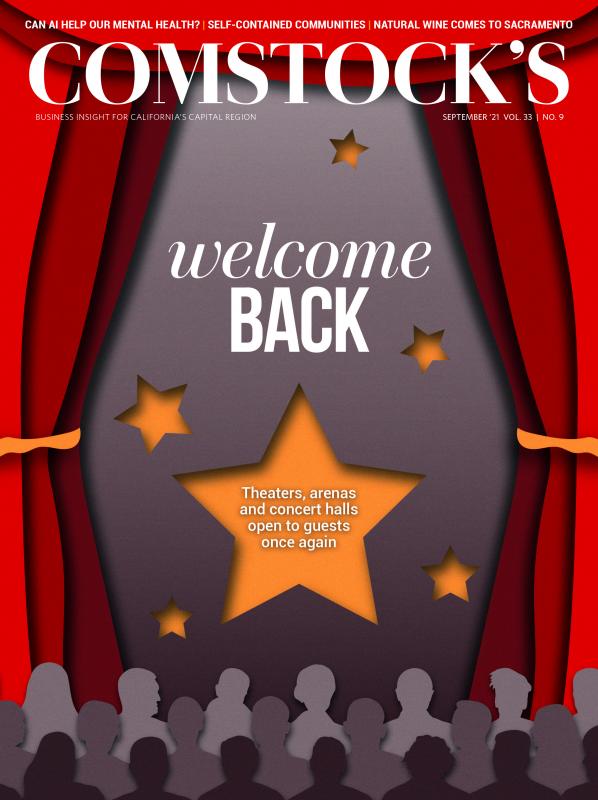 This story is part of our September 2021 issue. To subscribe, click here.
The lights are finally back on.
After a lengthy delay, the SAFE Credit Union Performing Arts Center will finally open its doors, just in time for the award-winning Broadway smash "Hamilton" to make its local debut Sept. 15.
The venue, formerly known as the Sacramento Community Center Theater, was originally scheduled to open in fall 2020. The coronavirus pandemic put a halt to those plans. Now, after a $120 million renovation that improved its acoustics and accessibility and added new seating, fans are set to arrive, pricey tickets in hand, to celebrate not just the acclaimed musical about America's founding fathers, but a rebirth that signals a significant artistic turning point in the Capital Region.
For Richard Lewis, president and CEO of Broadway Sacramento, it's a milestone many are excited to reach. The organization was forced to cancel its summer "Broadway at Music Circus" two summers running, but the reopening has put it back on track with "Hamilton," as well as "An Officer and a Gentleman," and "Charlie and the Chocolate Factory," both delayed because of the lockdown. "We are very much looking forward to returning to the stage to bring some terrific musical theater," Lewis says.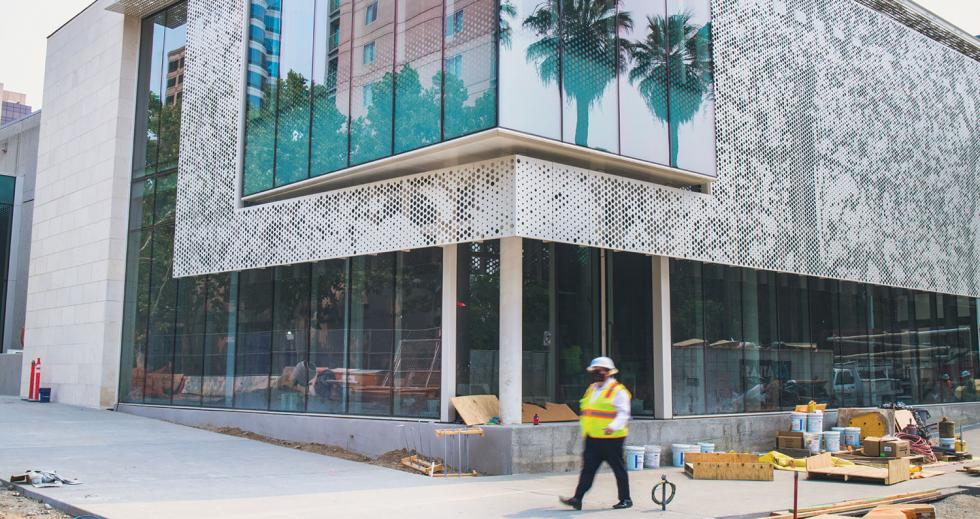 It's been a long time coming. For months, such diversions have been on hold. No singing or dancing. No soul-stirring monologues or dramatic guitar solos. No 3-pointers, game-saving goals or other inspiring feats of athletic prowess. On March 19, 2020, as the COVID-19 virus spread and California Gov. Gavin Newsom issued a stay-at-home order mandating all nonessential businesses shut down, the sports and entertainment industry came to a sudden halt. Initially, many believed it would be a brief hiatus — a notion that now seems almost laughable in hindsight.
Just days before the shutdown order, at the Mondavi Center for the Performing Arts in Davis, for example, jazz vocalist Cécile McLorin Salvant performed an ambitious concert of her fairytale-rich album, "Ogresse." Don Roth, the Mondavi's director, was looking forward to the rest of the center's season. Instead, it was abruptly canceled. "It was an amazing concert," Roth remembers. "Who knew that night would be our last show?" Such a lengthy closure is something Roth says he could have never anticipated in all his years working in the arts. "(Twenty) months of having a theater dark is unusual."
Now, things are returning to normal. Well, normalish. In April, when Newsom announced that California would fully reopen on June 15, performers, athletes, bookers and directors set plans in motion. But, after months of isolation, it's not business as usual. Necessity — and creativity — is the mother of invention, after all. Some say the pandemic pushed them into long-needed updates and improvements they may not have anticipated, pre-COVID.
Many outlets plan to adopt permanent changes with an eye toward enhanced public health measures, increased accessibility and convenience — and they must continue to be on the lookout for changes in guidelines. In mid-August, the California Department of Public Health announced that indoor gatherings of 1,000 or more participants or fans would require proof of vaccination or a negative COVID test within 72 hours of the event. This rule will be in effect until Nov. 1, 2021.
Whatever the return looks like, it's clear the economic impact will be great. In addition to the loss of jobs and ticket sales, the economic impact of each canceled or postponed event reverberates deeply throughout the Capital Region. Whether it's a Tony Award-winning musical at Broadway Sacramento, a Sacramento Kings game at the Golden 1 Center or a popular heavy metal festival near the Sacramento River, revenue has been considerably impacted by the loss of dollars spent at restaurants, tourism and hotels.
"If the Golden 1 Center books Paul McCartney, for example, that's 50-75 rooms booked right there. These are our huge revenue makers."

Mike Testa, president and CEO, Visit Sacramento
"If the Golden 1 Center books Paul McCartney, for example, that's 50-75 rooms booked right there," says Mike Testa, president and CEO for Visit Sacramento. "These are our huge revenue makers."
In 2019, for example, people spent about $940 million on entertainment fees and admission in the region, according to data provided by the Greater Sacramento Economic Council.
Although pandemic-related data is not yet available, Testa says it's sure to equate to a significant decline. "These events create a critical demand," Testa says. "And now all those missing events means that, obviously, there's (been) no demand for anything."
While demand is returning, in many ways, the regional business of entertainment, arts and sports is reemerging with new structures and outlooks in place.
Mark Your Calendars
Most entertainment outlets in the Capital Region have reopened or have something in the works. The following are 10 options to check out.
1. Davis Musical Theatre Company This fall's lineup includes the family-friendly "Disney and Cameron Mackintosh's Mary Poppins," Sept. 17-Oct. 10, and the Tony Award-winning musical "Titanic," Nov. 12-Dec. 5. dmtc.org
2. Sacramento Philharmonic & Opera The company relaunched this summer with a Fourth of July performance at Sutter Health Park. Its regular season commences Sept. 10 with Camille Saint-Saëns' Thundering Organ Symphony at the Memorial Auditorium. Other dates include a performance with Andrea Bocelli, Oct. 23 at Golden 1 Center. sacphilopera.org
3. Toyota Amphitheatre Concerts under the night sky are back at this Wheatland venue. Kiss performs on Sept. 12, Brad Paisley on Sept. 30 and the Doobie Brothers on Oct. 14. livenation.com
4. Punch Line Sacramento Comedy fans can finally laugh again with a schedule that includes "The Daily Show with Trevor Noah" correspondent Roy Wood Jr. Oct. 1-2. punchlinesac.com
5. The Center for the Arts The Grass Valley venue's fall season includes singer Amy Grant on Oct. 19 and humorist David Sedaris on Nov. 3. thecenterforthearts.org
6. Sacramento Theatre Company The company's main season launches Oct. 6 with "Gloria: A Life," which runs until Oct. 24 and explores the life and legacy of activist Gloria Steinem. sactheatre.org
7. Harlow's Restaurant & Nightclub The Midtown Sacramento venue calendar includes Th' Losin Streaks on Sept. 4 and La Luz on Nov. 15. harlows.com
8. Sutter Street Theatre The Folsom theater company's upcoming Off Broadway Series includes "Into the Woods" Sept. 4-Oct. 3 and "Evil Dead The Musical" Oct. 8-31. sutterstreettheatre.com
9. Woodland Opera House The historic venue launches its fall season with "Singin' in the Rain" Sept. 17-Oct. 10. Other highlights include "Elf the Musical" Nov. 19-Dec. 12 and "Disney's Frozen Jr." Jan. 7-16, 2022. woodlandoperahouse.org
10. Celebration Arts The Sacramento nonprofit arts organization's fall calendar includes Dominique Morisseau's "Pipeline" Sept. 24-Oct. 10 and Anna Deavere Smith's "Fires in the Mirror" Sept. 29-30. celebrationarts.net
— Rachel Leibrock
Not Rushing to Normal
The Mondavi Center, scheduled to reopen Oct. 14 with a performance of "Fandango at the Wall" by Arturo O'Farrill and the Afro Latin Jazz Orchestra, is among the venues making permanent changes. During quarantine, the center switched to virtual artist chats and performances, including a Wynton Marsalis concert filmed at the Lincoln Center in New York. It also brought performers to the Mondavi in a different capacity, outfitting the space with an updated technology to film concerts by artists such as the Alexander String Quartet.
"We became movie producers with a small team that was able to work socially distanced and with masks in our building," Roth says. He expects Mondavi will keep many coronavirus-era practices, including ongoing pre-show virtual artist discussions. "Live performances are what we do best, but there are definitely some things worth continuing," he says.
Not everyone is rushing to return to the normal of crowded concerts, sporting arenas and venues. The Sacramento Ballet, for example, has delayed its usual fall schedule, opting instead to offer two months of classes for its dancers. "They haven't been (practicing), so we want to give them the chance to get back in shape," says Anthony Krutzkamp, the ballet's artistic and executive director.
The pandemic impacted the ballet with force. Not only did the company cancel its 2020-21 season, it also laid off Artistic Director Amy Seiwert, citing revenue concerns amid the economic impact of lost ticket sales. The ballet moved its classes online but held no performances, virtual or otherwise.
Now, the season, which usually starts in October, will not launch until Dec. 11 with the annual performance of "Nutcracker" at the SAFE Credit Union Performing Arts Center. Then, in February, the company will debut "Catalyst," at The Sofia; the neoclassical program includes the debut mainstage piece from dancer-choreographer Julia Feldman.
For now, the ballet, which operates out of the CLARA, the E. Claire Raley Studios for the Performing Arts in Midtown Sacramento and performs in various locations, will require masks for all indoor events. The ballet has also updated the building's air filtration and added sanitization stations. Public health concerns will continue to drive logistical decisions, at least for the short term, Krutzkamp says. "We're going to be concentrating on (safety)," he says, "It's going to be brand-new looking backstage, and we have to figure out the flow."
Even with caution and delays, Krutzkamp says he's excited to return. "There's so much hunger between me and the dancers and the staff, (and) the audience is going to go crazy," Krutzkamp says.
"There's so much hunger between me and the dancers and the staff, (and) the audience is going to go crazy."

Anthony Krutzkamp, artistic and executive director, Sacramento Ballet
The Harris Center for the Arts at Folsom Lake College, which remained closed for the duration of the shutdown, is likewise planning a slow return. Kathleen Leavitt, member services specialist, says the venue will ease into a soft reopening. In August, the center held an outdoor fundraiser with Las Vegas mainstay Bucky Heard, but its fall schedule remains limited.
Folsom Lake College's Falcon's Eye Theatre will use the main stage for "A Midsummer Night's Dream" in November, and there are plans to partner with various outlets including the Folsom Lake Symphony, Placer Pops Chorale, the El Dorado Musical Theatre, the Pamela Hayes Classical Ballet, Folsom Concert Association, Ballet Folklorico de Sacramento, and the Folsom Rotary. Each company will be responsible for selling tickets and marketing.
A full reboot is not a fast process, Leavitt says. "Everything takes time: We have to do inspections and make sure it's safe — things get dusty," she says. "When you're shut down for 15 months, it takes a while to come back ready."
For some, the shelter-in-place mandate demonstrated a need to evolve. Jerry Montoya, executive producer at the B Street Theatre, quickly realized he needed to pivot and grow. "We jumped right into online (performances) and learned how to stream," Montoya says. The company purchased equipment to stage six free virtual shows every week and rented its venue, The Sofia, to groups such as the United States Air Force Band, which recorded a documentary in the space.
The B Street, which returned this summer with live music, will resume in-person theater this month with a goal to remain inclusive. "We've all learned what it means to not have arts accessible, so we're (examining) how to keep accessibility through streaming available," Montoya says.
During quarantine, he explains, one longtime subscriber, a wheelchair-bound woman, tuned in to watch nearly every streamed performance. "She's a big fan, and when she attends (in-person) performances, we clear out space for her in the theater," he says. "She would be at every show if she could, so what if she could add $10 (to her subscription) for a streaming option that she could watch whenever she wants?"
The theater will also employ various COVID-19 protocols mandated by the Actors' Equity Association. This will include continued masking and requiring guests to show proof of vaccination. "We think it's the safest way to go forward," Montoya says.
Over at the California Stage in Sacramento, Ray Tatar is making plans to reopen the nonprofit theater company for inside performances but will continue with the outside shows. "When COVID first happened, we closed but then decided to (reopen outside)," says Tatar, the company's producing artistic director.
The company's R25 Arts Complex in Midtown is home to several organizations, including the Sacramento Poetry Center, Resurrection Theatre, Black Point Theatre and the Actors Workshop of Sacramento. Tatar had already been studying how he could add an outdoor space to the complex's courtyard, and so the Social Distance Theater was born, playing host to live music, dance troupes and art exhibits.
This month, California Stage will resume its popular radio drama program Sept. 11 with "The Egyptian Amulet" and "the Black Cat," a two-act show about a tough female detective. Then, in January 2022, the theater will launch what Tatar calls a "powerhouse season" inside the Wilkerson Theater with "City of Shame," a play about investigative journalists Ida Tarbell and longtime Sacramento resident Lincoln Steffens.
Post-quarantine, Tatar says the company is following public health guidelines, and will also continue with temperature checks as well as social distancing. Staff will also frequently sanitize communal spaces such as bathrooms. "It's so patrons feel good about visiting," Tatar says.
The Bands — and Teams — Play On
Live music is also back. The Golden 1 Center in downtown Sacramento, which relaunched its events calendar in August with professional bull riding and a monster truck rally, will host several concerts beginning in September, including the Eagles and Andrea Bocelli, both in October.
According to John Rinehart, president of business operations for the Sacramento Kings, which plays its home games at the arena, Golden 1 is back to full capacity with no limitations on attendance, although attendees will be required to prove either they've been fully vaccinated or received a negative COVID-19 test within 72 hours prior to the event. Guardians of children over 2 years of age will need to attest to a negative COVID-19 test as well.
In the sporting world, the Golden 1 reopened in August with the California Classic, a two-day basketball event that included the Sacramento Kings. The event is a boon for the area. In 2019, it drew about 50,000 people to Downtown Commons, the retail space surrounding the arena. The Kings, which like all NBA teams, played a truncated 2020-21 season, are expected to resume their normal schedule in October, Rinehart says.
The region's other sporting leagues have already returned to the field. The Sacramento River Cats, the Triple-A affiliate of the San Francisco Giants, which returned with limited capacity games in May, reopened Sutter Health Park to full capacity in June. Likewise, the Sacramento Republic FC, which played without fans last season, returned to Heart Health Park in June with fans in the stands.
"Everyone is excited to be out. There's a lot of pent-up excitement."

Dustin Vicari, chief revenue officer, Sacramento Republic FC
The club will still enforce increased safety measures, says Dustin Vicari, the Republic's chief revenue officer. Such practices include continued social distancing, when possible, and digital ticketing. The organization is also ready for any necessary pandemic-related changes, Vicari says. "We're prepared for what may come next," he says. "We're ready for small-capacity (crowds), no capacity or season postponement."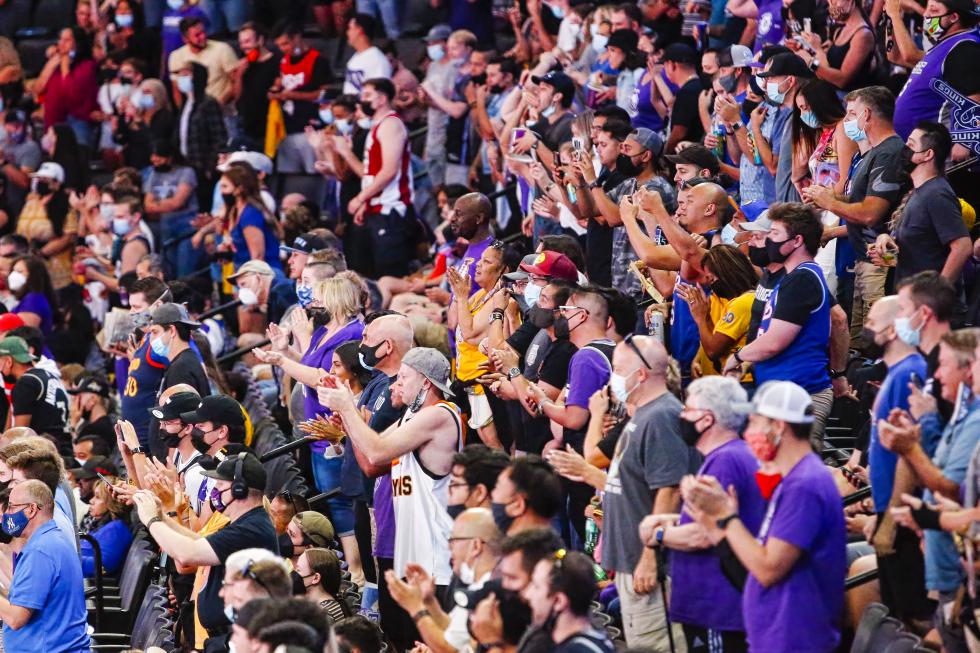 In the meantime, fans are thrilled for the "sense of normalcy" that comes with the full season that runs through October. "Everyone is excited to be out," Vicari says. "There's a lot of pent-up excitement."
–
Stay up to date on business in the Capital Region: Subscribe to the Comstock's newsletter today.