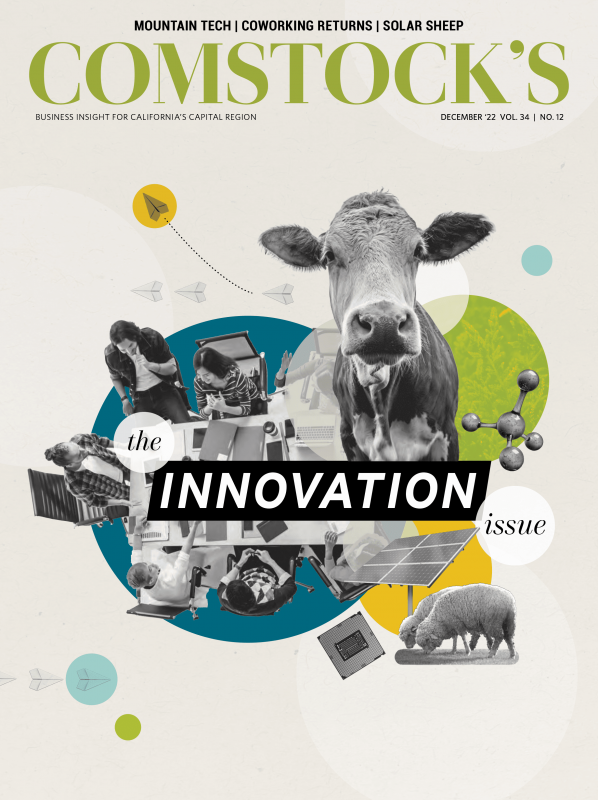 This story is part of our December 2022 Innovation print issue. To subscribe, click here.
For third-generation sheep rancher Ryan Indart, no year was tougher than 2018. After a successful commercial real estate career in the Bay Area, he bought his father's operation in Clovis in 2009. But low wool prices, higher costs and a tidal wave of regulations, plus a drought that made raising wheat and barley uneconomical, meant he was in the red for seven of his first 10 years. By that year he'd exhausted his savings and maxed out the business's line of credit to pay employees. "It was just miserable. I looked at my wife and said, 'I don't know, maybe we should just sell these sheep and I'm going to do something else and move on,'" he says.
Then the idea came. He'd gotten a call from the owner of a solar farm who'd floated the possibility of paying him to graze his sheep there to keep down the vegetation — solar operators pay $100 to as much as $1,000 an acre for mowing, which also generates dust that covers panels. Indart realized that if he could position himself as a lower-cost, green alternative to tractors and weed whackers for seven to nine months of the year, he could get paid to graze his animals instead of the reverse.
So he started Indart Solar Sheep Grazing Services, using his sales skills to make contacts in new markets. He's got a 10-year contract, three three-year contracts, and several subcontracts in place and is working on others, with customers stretching from just north of Los Angeles to Sacramento. "We provide a good value to my clients. I'm customer oriented, I communicate often, and our guys are professional," he says. With the number of utility-scale solar farms nationwide projected to hit record levels in 2022 and with California ground zero for that expansion, his market seems set to grow exponentially.
Combining grazing with large-scale solar is one version of the new field of agrivoltaics, which combines panels with farming and ranching. In another version, growers are experimenting with raising crops under the collectors' shade.
Early research shows solar panels and farming might be symbiotic: Extreme heat negatively affects photovoltaic arrays, so they generate more energy when the space around them is cooler — as when they're planted with crops or grass. The soil under their shade retains more water, meaning the plants need less irrigation. And solar companies save on landscaping, their biggest maintenance line item. Advocates say it could help farmers adapt to the state's driest weather in 1,200 years while making space for the thousands more panels needed to hit California's ambitious zero-carbon targets.
Farms and farmland at risk
Cindy Fake, a horticulture and small farms advisor with UC Cooperative Extension, is watching area farmers get slammed by changing weather. Wider temperature fluctuations and higher winds blowing almost every day are drying up crops. Hailstorms are wiping out citrus. "A lot of growers are really discouraged with the environmental impact of climate change at this point," she says. "We're looking at all the options that we have to mitigate the extreme heat stress, sunburn and so forth."
"A lot of growers are really discouraged with the environmental impact of climate change at this point. We're looking at all the options that we have to mitigate the extreme heat stress, sunburn, and so forth."

Cindy Fake, horticulture and small farms advisor, UC Cooperative Extension
Meanwhile, lots of farmland is lying fallow because of the lack of rain. "Drive up Interstate 5, you don't see any of the rice fields growing anything right now, which is the first time I've ever seen that," says Morgan Doran, UC Cooperative Extension advisor for livestock and natural resources. A July UC Davis study projected that the drought's impact on farm production will cause a loss of more than 14,000 jobs and an economic loss of about $1.3 billion in the Sacramento Valley.
All that puts farms at risk. Each year the state already loses an average of 50,000 acres of ag land to urban development, according to the Farmland Mapping and Monitoring Program at the California Department of Conservation.
The push for more solar on prime farmland further increases the pressure. The state's 2018 clean-energy law sets a goal that all retail electricity will be produced from non-carbon sources like solar and wind by 2045. A third to a half of all solar installations are likely to be sited on crop or pastureland, according to a June 2019 report from The Nature Conservancy.
Sheep could help
The land pressures mean those looking to build large-scale solar have been up against increasing pushback. In 2019 for example, San Bernardino County supervisors enacted a ban on future construction of large solar and wind farms on more than a million acres of private land. Resistance like that could limit options for utilities like the Sacramento Municipal Utility District, which has the most ambitious goal of any large utility in the country: zero carbon emissions by 2030.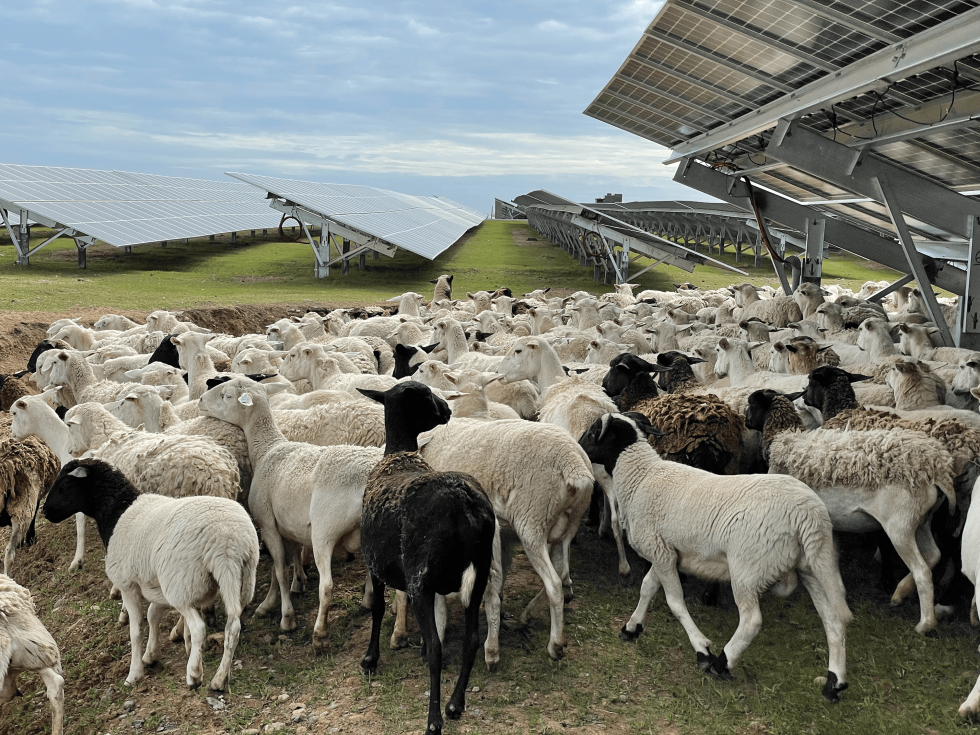 SMUD thinks one way to get there is agrivoltaics. About two years ago, it started contracting with a rancher to graze sheep at its Rancho Seco II solar farm in the southeast corner of the county. Now it's planning two more large-scale installations — the Coyote Creek Agrivoltaic Ranch and the Country Acres Solar Project — that will rely on grazing for maintenance, says SMUD project development manager Rusty Sage. For SMUD, it's a way to partner with ag supporters instead of being in competition with them.
Solar sheep, sometimes known as electric sheep, offer all sorts of benefits over tractors. At $120 to $150 per acre, mowing a 600-acre facility twice a year runs at least $150,000, says Sage. It's 10 to 50 percent cheaper with sheep. Plus sheep don't start fires, unlike what can happen when a mower hits a rock and throws a spark during a dry August, Sage says. They're also smaller than cattle — which like to scratch their backs on structures – so they don't cause damage, meaning the panels don't need to be as high. Goats could work, but they like to climb, says Doran, and glass and caprine hooves aren't an ideal mix.
The sheep do well too. Phil Esnoz, whose sheep ranch is north of Bakersfield, has been solar grazing since 2017. A third-generation rancher, he contacted a developer who was installing a solar project in an environmentally sensitive area called the California Flats. Now he turns out 1,500 to 2,000 sheep on roughly 1,700 acres there from April to September. The logistics of moving sheep isn't easy; he has to haul water to the site at least every other day and keep it in movable troughs. But the sheep like the panels' shade, which cuts how much they drink. And the site, like most solar farms, is fenced in, offering protection from predators.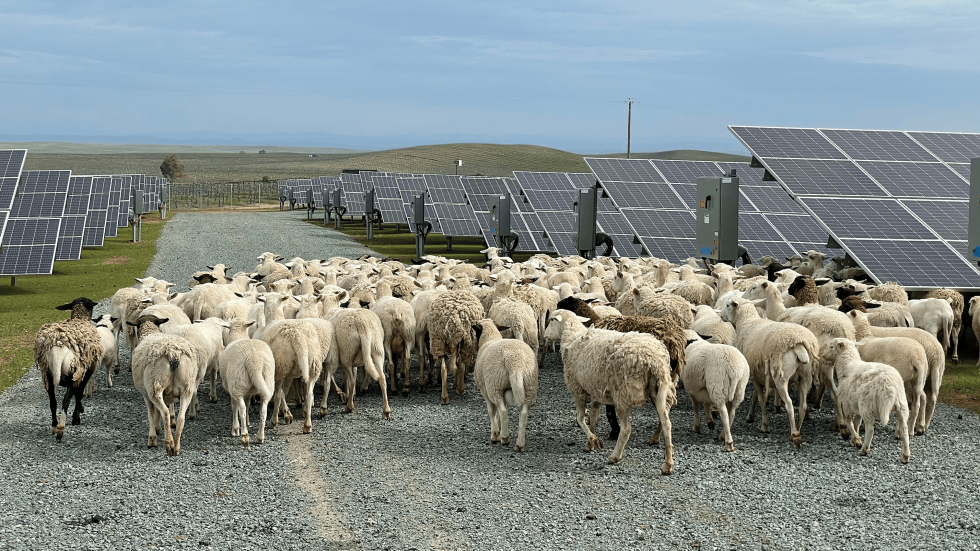 Ideally those building solar farms would plan for sheep before the project starts, says Ryan Kelliher, program manager of the American Solar Grazing Association, which has about 500 members in 42 states. Drilling a well before the panels go in keeps ranchers from having to haul water and adds only about $5,000 to the cost once the construction equipment is onsite. Setting up areas for sheep trailers to turn around and planting a recommended seed mix also helps.
Kelliher wants more consumers to know that solar grazing makes sheep the most sustainable choice. He's working on a food labeling program to let shoppers know when they're buying solar-farmed lamb or wool. "We still import half our lamb meat from Australia and New Zealand," he says. "But if we could put sheep on 25 percent of just the solar fields that already exist, we would have a sheep industry much bigger than it was in the 1850s, the highest point for sheep ranching in American history."
Crops and solar farms: 'A whole new science'
There's another direction for agrivoltaics too — growing crops under the collectors. In this version, the panels get raised six to 20 feet — to grow high-value products like citrus, berries, vegetables and flowers, says Fake.
The idea of putting crops under panels started in about 2010 in France and has since spread to Germany, Africa and Japan, says UC Davis associate professor of soil biophysics Majdi Abou Najm. In the United States, experimental agrivoltaics farms are up and running in Colorado and Illinois. Crops and solar have their own symbiosis: Many plants do better under panels' shade, and panels are more efficient if the temperature around them stays lower than 75 degrees, meaning they perform better above greenery than gravel.
Najm is leading an effort to take crop agrivoltaics into its next generation by doing more fine-tuned research on how different crops do under different types of panels in a range of climates. So he's on an urgent mission to launch demonstration sites around the state, some in the Sacramento region.
Crop agrivoltaics 2.0 means testing how to get more out of the available sunlight by experimenting with different types of panels. Parts of the light spectrum have more lower-energy photons that are better for the production of food; other parts have higher-energy photons that are better for solar panels. So Najm is running the first of many experiments in Davis, putting red and blue filters above half an acre of tomatoes and checking the yields.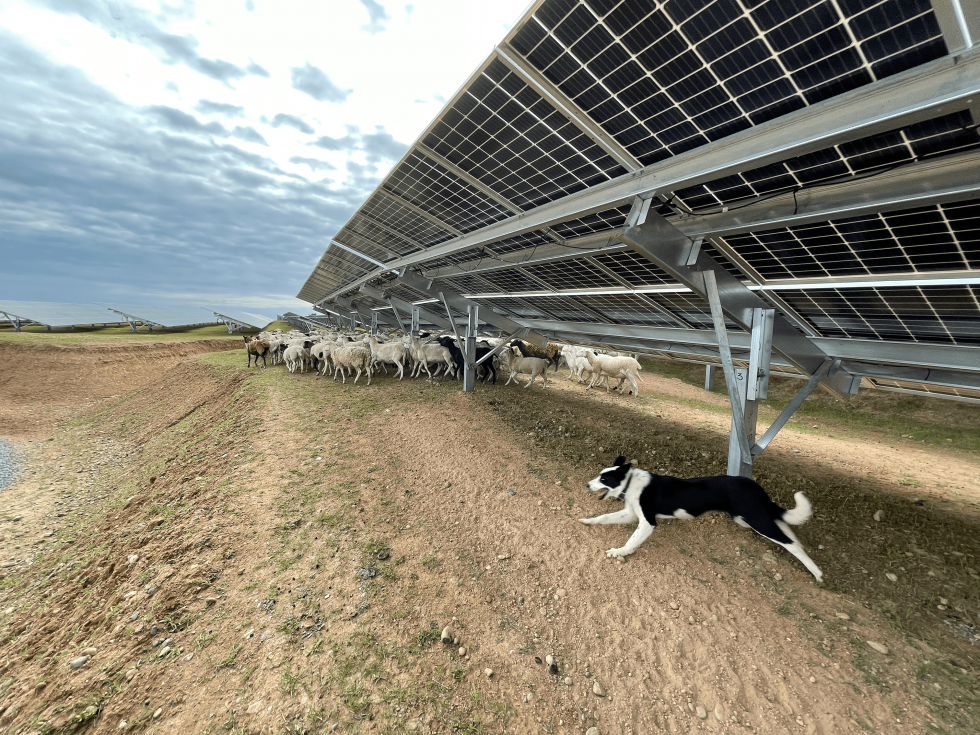 For crops under solar, "We need to revise our equations and the entire science that we use for agronomy, crop analysis, agriculture, engineering and hydrology," he says. "We're developing a whole new science."
The biggest barrier is capital — the tens of thousands required to launch a dual-use project. Banks won't lend unless they know it can work. So Najm aims to start three to five demonstration pilots in various climates around the state to test how, say, blueberries fare under panels in Placer County, grapes and other crops do in Yolo County, and avocados do under panels somewhere further south.
Now they're looking for funding: grants through the U.S. Departments of Energy and Agriculture or state grants for specialty growers, says Fake. About a dozen growers in Placer County have said they'll participate in an initial demonstration, using panels specially designed by the UC Davis team, that should start by the end of next year, she says.
For all that, defenders of ag land and sensitive habitats may not buy agrivoltaic farming as a solution. "The Solano County Farm Bureau supports solar projects so long as they are not on prime ag land, even if the panels are in conjunction with livestock or crops," wrote executive director Lisa Shipley by email. And four Sacramento-area environmental groups wrote a letter to SMUD and Sacramento County in February objecting to the location of one of SMUD's planned agrivoltaic farms, citing imperiled blue oak woodland habitat.
One of Kelliher's priorities is convincing farmland preservation groups that dual-use projects don't take away ag land. He argues the opposite: When solar farms are put up on non-ag acreage, planted in pasture, and then grazed with sheep, they actually add to the farmland stock.
And he says the market for sheep ranchers is limitless. "The Inflation Reduction Act (signed by President Biden in August) is going to supercharge everything," he says. "It's going to be a massive opportunity. Hundreds of thousands of acres. I talk to people every day who are saying, 'Where do I get sheep? I need to get into this.'"
If so, Indart is well placed. Not only does his operation now run with no debt, but he's just expanded his herd by a thousand head of sheep — 25 percent larger than before.
"We started this thing five years ago, and it's been gangbusters ever since," he says. "It's great to be able to fit a niche like this and help graze the same lands that we've been grazing for several generations that now have solar panels on top of them and help the whole sustainable renewable energy industry. I never thought in a million years that I would be doing this. Here I am."
–
Stay up to date on business in the Capital Region: Subscribe to the Comstock's newsletter today.