Innovation cannot occur within a vacuum. While it's nice to have an office door that shuts the world out, successful entrepreneurs understand that the best ideas are molded through collaboration.
That's why successful coworking spaces like Sacramento's own Urban Hive and Hacker Lab double as "collision points." They are collaborative areas where startups and entrepreneurs can mingle with investors or established business leaders from a variety of industries. These interactions stimulate creative problem-solving and outside-the-box thinking. It's this collision of thought across the spectrum of development that leads to a convergence of talent and opportunity.
Sacramento will soon have a new player on this scene in the form of I/O Labs. The entrepreneurial incubator and accelerator program, and California Innovation Hub host (slated to open in early 2017), has a founding team headed by Brandon Weber and his wife, Molly, and is a natural extension of Weber's thriving, Midtown-based Urban Hive. Visitors to this new venture at the corner of 7th and J streets will enter into a multi-leveled, powerful whirlpool of support. As you go from floor to floor, you might encounter anyone from a well-heeled venture capitalist to a plucky startup entrepreneur. And, they both ask, would you like to join them in a quick brainstorming session?
I/O Labs is not the first to attempt the pre-meditated collision of minds in our technology economy. In fact, I/O is taking some of its cues from a similar enterprise — the Sacramento Regional Technology Alliance. But SARTA's many successes were ultimately overshadowed by its demise in late 2015: It was a venture that took on too much, had too little support and leaves too many questions — the most thought-provoking being what a new cast of players can bring to the same show.
The Curtain Rises
SARTA, a nonprofit organization designed to encourage and champion technology ventures in the Capital Region, launched in 2001. After almost a decade of forward momentum, in 2010 it became one of California's first six iHubs. Sponsored by the Governor's Office of Business and Economic Development, the iHub program was meant to foster innovation and trade regionally, through locally-designated innovation hubs. iHubs are overseen by a local economic partnership, either already functioning or started specifically to host the program.
In Sacramento, a few miles away from the Capitol building where the iHub idea was conceived, SARTA's then-CEO Meg Arnold applied to host the program. But over the next four years, things shifted dramatically for both SARTA and its surrounding ecosystem. Arnold stepped down as CEO in late 2014. Her replacement lasted around six months, before 20-year tech veteran Howard Bubb entered the scene. However, Bubb wasn't able to rejuvenate the floundering organization and in August 2015, SARTA splintered. Amidst the rubble were its four big programs: AgStart, CleanStart, MedStart, TechStart and a fifth — a mentorship and education program called VentureStart. The rumors around why SARTA shut its doors vary: increased competition for funding, an overly-broad scope of work and the lack of a specific target demographic are a few. However Bubb, a former member of the Comstock's editorial board, simply says, "growth caught up with it."
As the city grew, Bubb says the organization simply wasn't serving startups and clients the way they wanted to be served. "[SARTA] was the right thing when we had less entrepreneurial commitments," he says, later adding, "Sacramento has gotten to the point where it is better served by those who are better attuned to its needs."
Exit SARTA, Enter I/O Labs
The Sacramento iHub transferred its title to I/O Labs in mid-2016. To be clear, however: I/O is not iHub, and iHub is not I/O, though the two can and will benefit from being housed under the same roof and under guidance from the same people. I/O is inextricably linked to iHub as its host organization, but partners in the Sacramento iHub are not necessarily partners in I/O Labs, Weber says.
Weber also leads the I/O Labs Foundation, the nonprofit arm of the company designed to spur regionwide innovation and entrepreneurial growth through programs, events and workshops. "I/O Labs, on the other hand, is a for-profit entity that will be heading up higher-level programmatic aspects — including our application-based accelerator, which includes direct investment into startups and isn't a great fit for a nonprofit," says I/O Labs board member and investor, Jan Roos. The I/O Labs Foundation has taken on the iHub designation under the I/O Labs umbrella.
GO-Biz's deputy director of innovation and entrepreneurship, Louis Stewart, says he wants Sacramento to be the flagship iHub for the state, and he believes the foundation will be worthy of the designation. Of course, no matter the difference in programming, the nonprofit's success hinges on the success of the for-profit.
Weber says their model focuses on five goals: gather, learn, build, grow and fund, with iHub in the "gather" category. "Although not much had been done with the designation in this region in the past, we saw an opportunity to bring our region's stakeholders together to collaborate and leverage each others' strengths for mutual benefit and for the benefit of the city," Weber says. "And the governor's office saw it as an opportunity to be a showpiece for what an iHub can be."
All 28 directors of SARTA voted to transition its assets to I/O Labs. Legally, SARTA is now registered with the California Secretary of State's office under Jan Roos' name, and is doing business as the I/O Labs Foundation. I/O's founding team is not shy about admitting their mission is similar to what SARTA tried to accomplish. According to Roos, there were many conversations in I/O's early days about how to best make use of SARTA's loose ends. He says that many of SARTA's programs will continue, either independently or through I/O, with a renewed focus and additional resources. "Some may not, particularly if they overlap with other programs we're already planning for." Roos chose not to elaborate on which specific elements would stay or go.
When I/O Labs launched their foundation in April 2016, they announced that "the foundation will continue managing SARTA's federal grants and build upon its mentor network. A key element of the transition is assuming its responsibilities as the state-designated iHub for the region."
SARTA's AgStart has since moved into its own office in Woodland at the end of 2015 and MedStart will remain at its current location with Sacramento-based Social Interest Solutions, though Weber says they have expressed interest in joining I/O Labs.
"The whole reason for our existence is that we believe that what has come before has not been adequate to support the kind of growth that we believe our ecosystem is capable of. Something new is needed." Brandon Weber, Founding Partner and CEO, I/O Labs
CleanStart, which focuses on bio-tech innovation, will move a block away to Impact Venture's entrepreneur campus at 801 K St. Both CleanStart and Impact Venture were, at one time, listed as "anchor partners" in the new Sacramento iHub, according to a now-defunct webpage on the GO-Biz website. (It is currently unavailable, still under construction from a revamp of the site, Stewart says.) No entities had signed memorandums of understanding with the new Sacramento iHub as of press time though, Weber says, so it's hard to know exactly what pieces of SARTA's remains the team at I/O Labs intends to carry on. For now, it's safe to say that the four, main programs have continued, and while they may play a role in the iHub, they remain independent nonprofits currently unconnected with I/O Labs.
And while Weber supports the work already accomplished by SARTA, he says his vision is even bigger. "Our strategy and execution plan is completely new and quite different, including our programming," he says. "The whole reason for our existence is that we believe that what has come before has not been adequate to support the kind of growth that we believe our ecosystem is capable of. Something new is needed."
Right for the Part
The team at I/O Labs is adamant that they are starting with more than what SARTA had; they say they can and will build on what SARTA started. In August, Weber said that I/O Labs would take the concept of the wildly successful Urban Hive (the waiting list for an office there is more than a year) — and redesign it to target a level of entrepreneur not currently being catered to in the Sacramento region: those who are making less than $10 million a year but have graduated beyond the beginning stages of building a company because "there's been very little funding for early-stage startups."
However, as of November, Weber wrote in an email that focus has shifted to "startups with less than $500K in revenue. Many will be pre-revenue. Our educations programs will focus on all levels, but will more likely attract those who are very serious about starting a company." He clarified that companies in the beginning stages of growth were welcome at I/O Labs too.
SARTA planned and implemented numerous event series during its tenure — ranging from smaller roundtables, speaker seminars and monthly meetups, to large-scale conferences like the annual TechEdge conference that drew 600 participants from throughout the Capital Region and Bay Area. And while SARTA reported helping 277 active members in 2014 alone, the bulk of the efforts seemed to be focused on putting the right players in a room — for an hour, or maybe a day — and hoping for magic to happen.
I/O Labs will live in a massive, multi-level complex in downtown Sacramento, just across from the new Golden 1 Center. It will have office space on multiple floors, for everyone from startups to leading tech giants and venture capitalists, and an entire floor will be dedicated to event space and educational programming. I/O Labs offers an opportunity for everyone to come together, literally under one roof.
According to Weber, that's a key element to the new strategy: "The most obvious benefit of such a space is a work space, but the much more powerful benefit is working side-by-side with other entrepreneurs and startups sharing the same struggles, sharing their lessons learned, finding their cofounders, and sharing space with not only other startups, but venture capitalists and post-exit entrepreneurs," Weber says. "We already have multiple venture capital firms, serial entrepreneurs with exits of tens of millions of dollars, entrepreneurs with little more than an idea, to tech companies worth tens of billions of dollars taking permanent space in the building. We cannot wait to see the results of the conversations that take place next to the beer tap."
I/O Labs has also put a lot of energy into crafting a focused accelerator program and brings with it the Urban Hive's reputation for helping startups and solopreneurs grow their businesses. The program will oversee the dispersal of at least $85,000 in seed money to each of the 20 companies in the program, yearly, with additional opportunities for add-on investments. The majority of that backing comes from Moneta Ventures, which will also help choose and mentor the program participants. Moneta was also involved with SARTA as a "platinum sponsor" in 2015, the nonprofit's last year, funding them anywhere from $10,000 to $30,000. Lokesh Sikaria, general manager of Moneta Ventures, declined to give an exact number.
Sikaria does say that while SARTA did educational programming very well, he sees better evidence of I/O Labs' long-term sustainability in their efforts toward instituting a viable accelerator program. "If I rated SARTA, I'd give it an A," Sikaria says, "but I/O Labs takes it a step further." Though, Sikaria admits, it's yet to be seen if I/O Labs' educational programming will be on par with SARTA's.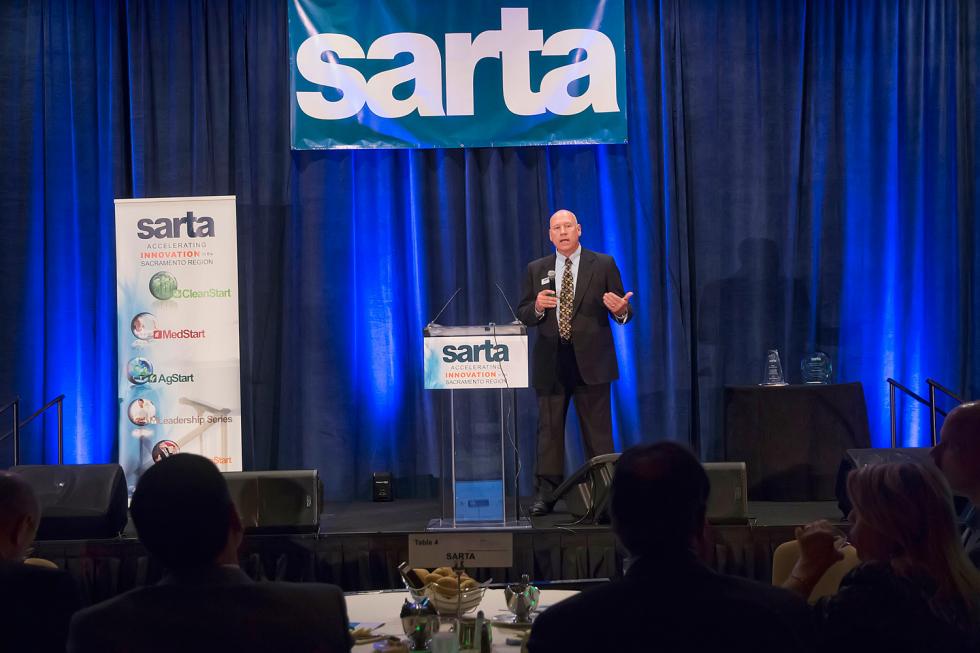 Weber says that SARTA's event and educational strategy offers a good road map, but, he adds, I/O will also be "dedicated to developing internal, accredited, undergraduate and graduate level educational programming [and] provide them space to build their products and companies, through coworking and office space, and access to our I/O prototyping lab." The best startups, he says, will be able to enter the intensive accelerator program and receive the funding they require, all while led by a team with experience.
Recasting the Role
The iHub program has changed since SARTA bore the title. I/O Labs' version will focus less on conformity among the innovation hubs and more about what defines success within our own region, Stewart says. In actuality, iHub is really more of a designation than a program: No funding comes with the title, and initially, iHubs were required to report back to not only their own investors but also the state — two parties who don't always have the same goals.
"[In 2010,] the program was truly, truly in its infancy and it was very top-down — with the state explicitly telling the iHubs that they had to create jobs, that they had to create an incubator, that they had to do all these things," Stewart says. Now, whatever the Sacramento iHub wants to report on will generally be what their report to GO-Biz is about, he says. "It's not us telling them how to use their money, it's the Sacramento innovation hub telling us how the money is being used," Stewart says. "We're not establishing quotas, we're letting the innovation hubs be a true partner in what gets reported." He says Roos has been meeting with partners across the region to discuss what numbers should be tracked and what they feel ultimately defines the I/O Labs Foundation's success as an iHub. "Some iHubs have been able to thrive just by having the designation because the community has rallied around the iHub," Stewart continues. "[In] Sacramento, that wasn't necessarily the case."
Monique Brown, who will be the iHub director at I/O, says that "I'm not sure who the point person was [for iHub at SARTA] but it didn't feel like there was a local champion who was able and willing with the resources and time to take it on and really figure out what the benefits were," She says that's what I/O is hoping to address with their incarnation: "We see a broader vision and we see how having this program is going to amplify what's going on in the Sacramento region, throughout the state, county and even internationally."
A Set Change
But according to the team at I/O, Sacramento's climate for entrepreneurialism is in a better place than it was 15 years ago when SARTA began, or even six years ago, when the iHub program was first installed in the city. Data gained from the Greater Sacramento Area Economic Council reports that Sacramento is the No. 2 choice for people leaving the Bay Area (behind the greater Los Angeles area) and nearly one-fifth of job applicants for Sacramento technology positions are currently living there. Office rent rates in Sacramento are a staggering 56 percent to 154 percent lower than those in Los Angeles, San Francisco or San Jose. The new Mayor's Office for Innovation and Entrepreneurship will oversee $10 million put toward strengthening the city's startup sector and includes a grant program that will put $1 million annually into training programs, coworking spaces and other assets. I/O Labs was the recent recipient of $250,000 of that $1 million grant.
"I think SARTA historically did too much because that ecosystem didn't exist, and it could not make the transition because it didn't have the funds," Bubb says. "Unfortunately, it just didn't make it possible for SARTA to make the transition. Sometimes you have to close the chapter, and that's OK if it's good for Sacramento."
That SARTA's endeavours, such as the Start programs, still exist and are operating independently is good for I/O. It means I/O Labs is launching from within a richer ecosystem and can expand upon what SARTA put in place. "We are ultimately trying to build an unprecedented large innovation ecosystem on the grid in this new building and that's something that right off the bat SARTA did not have the opportunity to do," Roos says.
The now-defunct Sacramento iHub page on the GO-Biz website once cited the city's "natural competitive advantages in agro-sciences, medical services, clean energy and government technology." They also listed the Golden 1 Center, the forthcoming Railyards Innovation District, the Greater Sacramento Area Economic Council and proximity to various colleges and universities as evidence of a changed "ecosystem."
But those are all either "advantages" that were already here, or one of which we are not yet able to gauge the outcome. SARTA was already working with UC Davis, the World Food Center and with Sacramento State. GSAEC came on the scene just as SARTA left and took over much of its economic development goals — and was rumored to have taken on some of its funding, though no one involved will officially confirm or deny it. The Golden 1 Center has only just opened, and the Railyards Innovation Center hasn't even been built yet, much less acted as an influencer in the local economy or entrepreneurial ecosystem.
Weber calls SARTA "the most-influential organization in Sacramento innovation, for sure" and says that the city would "be nowhere near where we are if they hadn't existed." And if I/O Labs aims to be the city's prime collision point, that may be more lucrative in a city that simply has more of them now than a decade ago. "The goal is to essentially fill in the gaps in the ecosystem, and connect the dots that are already there," Weber says. He adds that he thinks Sacramento used to be a "donut city" with everything spread out into the suburbs. Now it's more of a cluster, with much more happening in Midtown and downtown than in previous decades. That's partially why the I/O Labs team chose a central, downtown location. "The energy that's now coming back to the center of the city, I don't think that's something that [would have worked] 10 years ago, but it does work now."