As an investment management consultant, James Diepenbrock navigates the daily swells of the stock market. But when he wants to escape the stress of decisions involving millions of his clients' dollars, Diepenbrock steers a real boat through actual waves.
In 2007, he spent 46 weekends sailing and boating up and down the West Coast, culminating with a victory in the 2007 Transpacific Yacht Race. By the end of the 12-day Transpac voyage from Long Beach to Honolulu, Diepenbrock says he was hallucinating from lack of sleep. It took him a month to physically recover.
Yet he can't wait to get back to the ocean again.
"There are a lot of things that will get you out of the office," Diepenbrock says from his desk in his Campus Commons workspace. "But there are very few things that get you mentally out of the office. "You better not be thinking of the office when you're out on the ocean."
Kraig Clark needed a mental break, too. In the late 1990s, when he was starting up the mortgage risk-assessment company that eventually became CoreLogic Systems Inc., his workdays routinely pushed the 18-hour mark. Clark started taking long runs during his lunch hour.
"Running kept me from getting buried in the office," Clark says. "It energized me for the second part of the day."
As CoreLogic grew and was purchased by First American Real Estate Solutions for $100 million, Clark's noon runs led to his eventual completion of an Ironman triathlon — a 2.4-mile swim and 112-mile bicycle ride followed by a marathon.
While some business people are perfectly content golfing or playing tennis in their time off, others apply their competitive spirit to more extreme pursuits.
Joe LeRoy, the CEO and owner of Sacramento Container Corp., has climbed the highest peaks on five of the world's seven continents. Doug Eberhardt, president of the Bank of Stockton, hunts big game around the globe. Reco Prianto, a project manager in the Rancho Cordova office of Kimley-Horn and Associates Inc., kite surfs, and Leigh Rutledge, a Sacramento real estate agent, has completed 12 marathons.
"I don't understand how people can deal with a high-stakes life and not do something active, something that really gets your blood flowing," Rutledge says.
These high achievers share several characteristics: They search far and wide for challenges, they're competitive, they have uncommon amounts of energy and they have the financial means to travel, whether to climb Russia's Mount Elbrus, kite surf in Brazil or hunt rare black impala in South Africa.
Kim Elsbach, a management professor in the UC Davis Graduate School of Management, understands where these folks are coming from. Elsbach swam at the University of Iowa, still competes nationally in masters-level competitions and competed again in the Boston Marathon last month. Her husband is an emergency room physician who completed the Ironman Hawaii.
If these varied pursuits sound exhausting, they're also liberating, Elsbach says. "Competitive, Type A people always want a challenge," she says. "Most extreme sports are individual sports, and I think there's a reason for that. They have complete control over the outcome, which they don't always have at work. Plus, sports give you concrete feedback about your performance."
The climber
When he trained for the New York Marathon in 1997, LeRoy's main objective was simple — keep his weight in check. But the tenacity that enabled the native New Yorker to increase his corrugated container company's revenues from $2 million in 1992 to an expected $60 million this year led to a more ambitious goal.
He stumbled upon "Seven Summits," a book about a pair of successful businessmen who decided on a whim to climb the tallest mountains on each of the seven continents. "I said, 'Geez, if they can do it, I can do it,'" LeRoy says.
LeRoy started by climbing Tanzania's Mount Kilimanjaro in 1998. The following year, he made it to the top of Denali, the highest peak in North America at 20,322 feet. In 2001, LeRoy scaled Mount Vinson, the highest point in Antarctica.
Mount Everest, the world's highest mountain at 29,028 feet, beckoned in 2002. The trip took two months, factoring in weeks of acclimatization before the actual ascent.
"I'm interesting at parties. There are some bragging rights associated with it."

Joe LeRoy, CEO and owner, Sacramento Container Corp.
LeRoy nearly lost two toes due to frostbite, but he made it to the top. "My attitude was, 'I'm going to summit Everest,'" he says. "I made up my mind that every time my Sherpa guide took a step, I'd take a step. I did that for 15 hours, taking five or six steps a minute. Quitting was not an option."
With nowhere to go but down, LeRoy took a six-year hiatus before taking a stab at Russia's Mount Elbrus (18,510 feet) in August 2008 with his son, Michael, now age 23.
"Elbrus was the most physically demanding climb because I hadn't trained properly," LeRoy says. "Believe me; I wanted to quit. I cried at the summit; I was so exhausted."
He needs two more summits to reach magic No. 7 — South America's Aconcagua, a tall order at 22,841 feet, and Australia's Kosciuszko, a walk in the park at 7,310 feet.
Trim at age 59, LeRoy sees time as running short. He plans to climb Aconcagua this December. "There are a lot of reasons why we climb mountains," he says. "I want to challenge myself physically to a point where I quit. I want to see if I ever get to that point.
"Another reason is: I'm interesting at parties. There are some bragging rights associated with it."
The sailor
Having done both sports, Diepenbrock sees parallels between sailing and mountain climbing.
"They're fairly similar," Diepenbrock says. "It's about using your mental capacity to do unreasonable things. What appeals to me is pushing myself. I find it amazing to find out how hard you can push yourself."
Diepenbrock began sailing on Folsom Lake when he was 5. Once he was old enough to drive, the Jesuit High School student headed to the Bay Area each weekend to crew in sailboat races.
Jim and his brother, Michael, teamed up in the 2007 Transpac, along with Michael's 15-year-old son, John, and five other crew members. They reached port in Honolulu on Michael's 45-foot Swan, Rancho Deluxe.
"All boats have a host family, and when we arrived at 3:30 in the morning, ours had a full breakfast and Mai Tai bar waiting," Diepenbrock says. "That first Mai Tai goes down really well. It's the second one that's dangerous."
The victory was particularly special in light of their late father's unfulfilled dream of sailing in the Transpac.
"That made it very emotional," Diepenbrock says. "I'd been in worse weather before, but the Transpac was our Mount Everest. A race like that is as extreme as any sport you could come up with."
Diepenbrock, age 50, has three children and doesn't spend as much time at sea as he used to, but he is planning several trips to Mexico this year. He's also planning a 2010 trip that will take him from San Francisco to the Caribbean via the Panama Canal. He estimates that he has sailed more than 100,000 miles.
"I like the complexity of it," he says. "It's very rewarding to pilot a boat on the ocean."
The ironman
When they were attending Sacramento State, Clark and Steve Schroeder talked about blazing their own entrepreneurial trail. The college roommates went their separate ways before reuniting and starting their own company, C&S Marketing, in 1998.
CoreLogic, as the company became known, provided fraud detection software for the mortgage banking community. CoreLogic eventually served more than 90 percent of the country's top lenders and earned $70 million annually.
Clark's noon runs segued into marathons, which morphed into triathlons. In December 2007, he finished the Ironman Western Australia in 12 hours and 16 minutes. His Australian wife, Louise, was happy to go along, and her family provided him with water along the route. This month, Clark turns 41 and is gearing up for next month's Ironman France.
Since leaving CoreLogic, Clark has been focused on building a new community center in his hometown of Ione. The center opened in December, and now Clark is planning another business venture that provides sales support to startups.
"Sports give you concrete feedback about your performance."

Kim Elsbach, management professor, UC Davis Graduate School of Management
"This goal mechanism is part of my personality," he says. "There's a correlation between the triathlon and starting a business — setting goals, trying to hit them."
Plus, the endless hours of training give him ample time to plot his next move. "When I'm training, I think about different strategies and solutions. It really clears your head. You kind of lose yourself and gain different perspectives."
Clark and Schroeder recently went skydiving for a friend's 40th birthday celebration. Clark was the first to roll out of the plane. "It was incredible — might have to try that again," he says.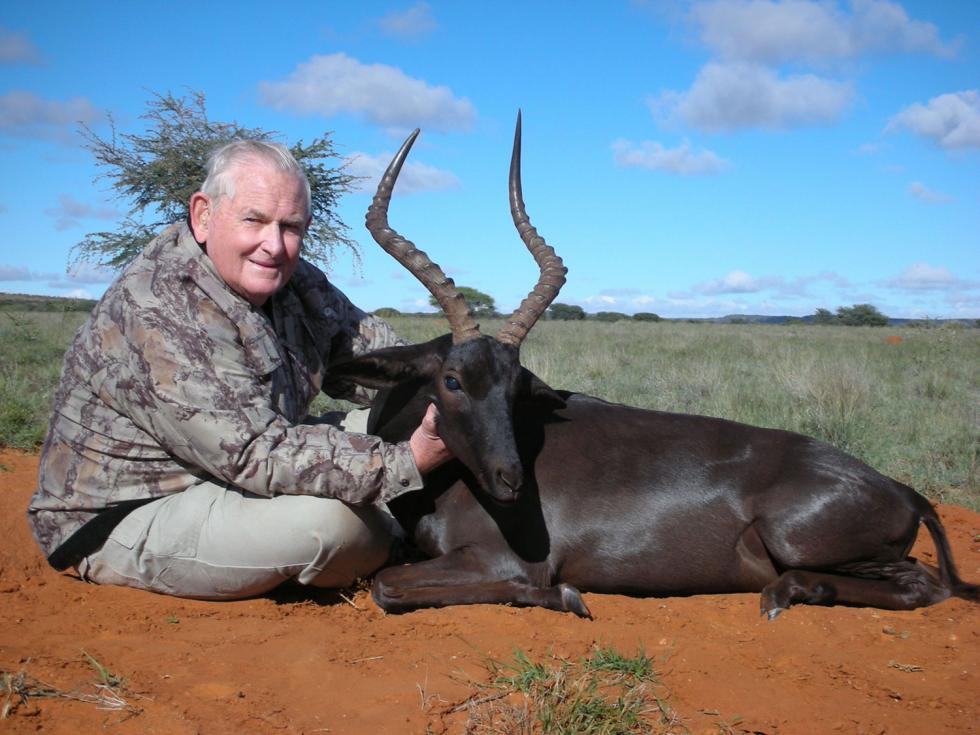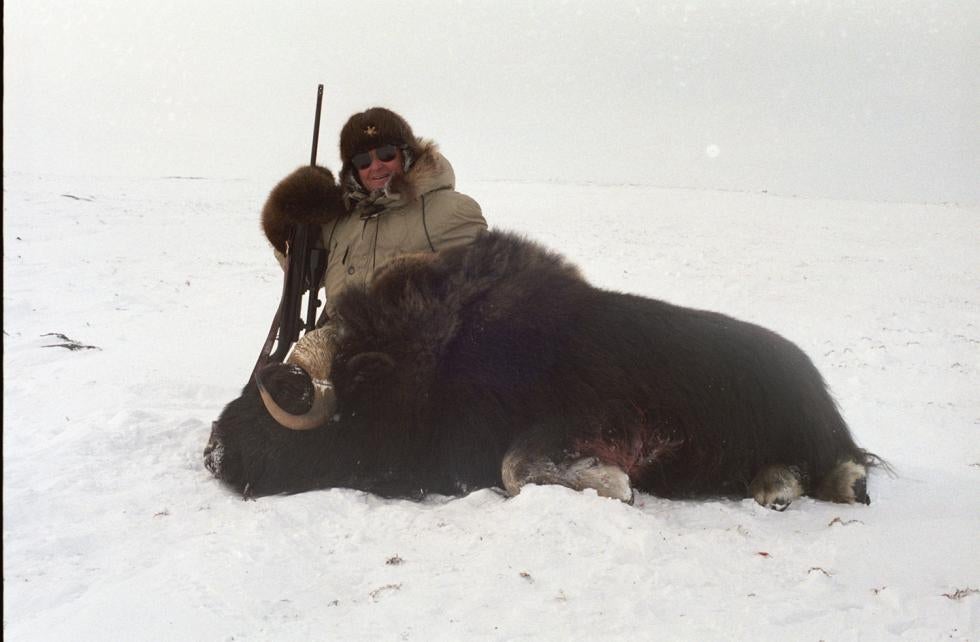 The hunter
As president of the Bank of Stockton, Eberhardt is following in the footsteps of his father and brother. The Eberhardts have served as presidents of California's oldest bank since 1949.
Banking might be in his blood, but it shares space with hunting and fishing. Eberhardt remembers pushing his father's boat into the water as a young boy. R.L. "Ebe" Eberhardt lost his leg at Flanders in World War I but didn't let that keep him from sharing his love of the outdoors with his family.
"I hunt every available moment," Doug Eberhardt says. "I'll take a satellite phone with me if I have to."
He isn't choosy about what he hunts — Cape buffalo, ducks, impala, deer, Arctic musk ox. He leads the Stockton chapter of Ducks Unlimited and was named 2008 Sportsman of the Year by the Mzuri Wildlife Foundation, a San Francisco-based group that supports wildlife and conservation efforts.
"I'm a conservationist and have been all my life," Eberhardt says. "I believe in fair chase. I'm culling for the betterment of the animals."
Eberhardt was named Stocktonian of the Year in 2007, the third Eberhardt to be so honored. His brother, Robert, received the same award in 1975.
Robert Eberhardt died suddenly in 1994 while on a hunting trip with Doug in Hungary. Doug succeeded his brother as bank president. "We're not the largest bank, but we're the oldest," Eberhardt says. "We've been able to survive."
For each of the past 18 years, Eberhardt, 71, has taken his family to Baja California for a scuba diving trip. "Swimming with sharks with my family," he says longingly. "Things you'll never forget."
The kite surfer
Prianto describes kite surfing, or kite boarding, as a "semi-extreme" sport. On second thought, he drops the "semi."
"I guess I'd consider it extreme because there's not a lot of room for error," Prianto says. "If it can pick you up 60 feet in the air and drop you down over water, it can do the same on land."
Kite surfers use kites hooked into harnesses to glide through the water and air. It's expensive at the beginning, requiring equipment purchases of about $2,500, but Prianto can leave the office in Rancho Cordova and be surfing the delta that afternoon. "I can get up 20 to 25 feet on a good day," Prianto says. "It's a huge adrenaline rush to have such raw power hooked into you."
Prianto skied when he was growing up outside Durango, Colo. After graduating from Colorado School of Mines, he moved to the Bay Area for work. Some friends turned him on to kite surfing.
"It's kind of addictive," Prianto says. "Once you're in, you're in. The kite boarding community is so much fun to be around. You meet a lot of really creative people — entrepreneurs [and] CEOs."
Prianto, who turned 31 last month, works as a civil engineer for Kimley-Horn and Associates. He's currently involved in the Sacramento railyard project, but later this year, he'll be kite surfing in Costa Rica and Brazil.
"Work has a lot of deadlines, and as a consultant you get pulled in a lot of different directions," Prianto says. "When I get stressed out professionally, I like to zone out and enjoy the moment. A lot of people golf, and I do, too, but it's not the same rush."
The marathoner
Even sitting in a conference room, away from her phone, Rutledge oozes pent-up energy. It's a good trait for a real estate broker to have — and she's one of Sacramento's best — but it can also take a toll.
"I'm a very Type A personality," she says. "Sometimes I think running is the only way I stay sane."
Rutledge, 53, began running as a way to stay in shape for skiing. She completed her first marathon in 1988 and has finished 11 others, including Boston, New York and Chicago.
Rutledge's husband, Bill Hambrick, is a fellow runner and real estate agent. He's the more accomplished runner, breaking just three hours for a marathon and completing the Western States 100. Leigh's best marathon time is 3:54:54.
"I am not a gifted runner," says Rutledge, who serves on the California International Marathon's board of directors. "I have to really train to get ready for a marathon. My husband can just go out and run one, but not me."
They bought a home in Carmichael in large part because it was located near the American River bike trail. It's their sanctuary from the strain of selling homes for a living.
"When I run with other people, we talk all the time, solving the world's problems," Rutledge says. "But now I enjoy the solitude more. I can't believe the things I work through in my head while running."
She and her husband ran in the London Marathon last month and made a mini-vacation out of the trip. "Marathons are fun," Rutledge says. "Think about it — 26 miles with no traffic!"
During the past few weeks, many of us have been touched by the tributes to Nelson Mandela, the former South African president who died in early December at the age of 95. He was a remarkable leader, with the ability to inspire people and move them toward a common goal.
Consider the annual physical and why both doctors and America's work force find them frustrating: The worker has to carve out time to take all the exams and tests, often in different locations and on different days, and doctors lament the lack of time to discuss the results with patients.