What more can your storage cabinets do for you? How can your placemats become conversation pieces? What if sitting down to read a magazine felt a little bit like being at the carnival?
These are some of the questions local designers are asking themselves as they blend form and function, taking the mundane and making it sing. The best designs don't just fit seamlessly into our lifestyles; they surprise us, are cause for pause and imbue our day-to-day routines with a bit of whimsy and excitement. Here, we hope you'll find a combination of familiar and fresh faces, all of whom are contributing their innovation and art to the Capital Region's creative landscape.
Live-edge woodwork by Steve Tiller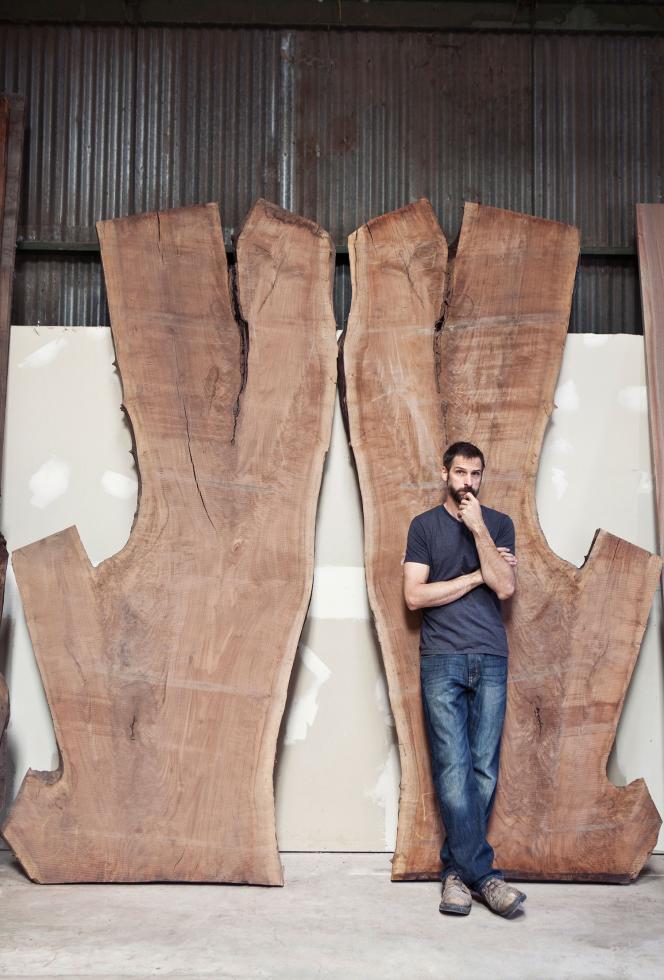 Steve Tiller's studio in Alkali Flat is strewn with slabs of wood in various states of development. The first piece of furniture he worked on was a '60s-style drafting desk he reconstructed with his father as a child. Now, his tables are featured in some of Sacramento's hottest eateries, such as Block Butcher Bar and Hock Farm Craft & Provisions.
Tiller is self-taught, and much of his process involves following the lines of the lumber, a technique called live edge, where the bark is stripped and the natural contours of the wood dictate the shape of the design. Aside from that, the rest is rooted in trial and error. His home is filled with test projects, he says, crafted from scrap lumber that allows him to work out processes, joints or different styles before implementing them with higher-quality wood.
"I just really kind of put my heart into all of it, every piece. I try to make the best I can make, and as the years go by I get better and better." Steven Tiller
"If it works, I can take that and put it into a repetitive design I can sell to a customer or client, made out of nice material rather than discarded plywood."
The "nice material," while sometimes new, is primarily reclaimed lumber (beams, siding or fence wood pulled from construction sites) or what is called urban harvest — storm-damaged or disease-ridden trees that need to come down.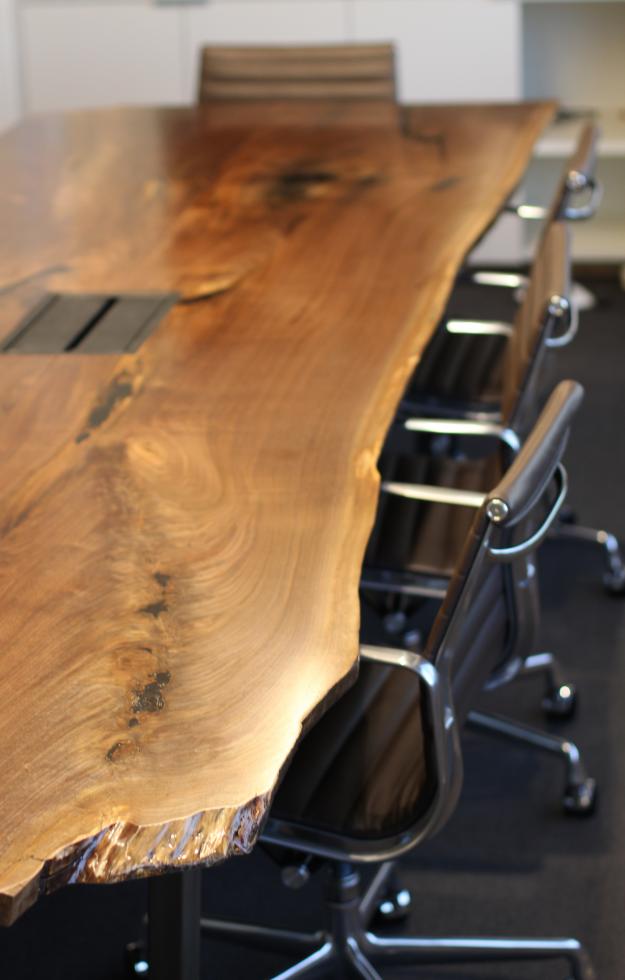 Instead of getting tossed into a chipper for landscaping or sent to a landfill, the wood is molded into beautiful pieces for pleasure and profit. Tiller typically works on five or six projects at a time, some of which can take up to 100 hours, and he sells his work from Seattle to New York. With that sort of workload, there's no time to get attached.
"It's a ton of work when the project is going, and you're proud of it when it's done," he says. And with a wave of his hand, "Then it's gone and you move on to the next one."
To see more of Tiller's work, check out his website for RECLAMATION Art + Furniture.
Avante garde urban fabrication by Casey Marshall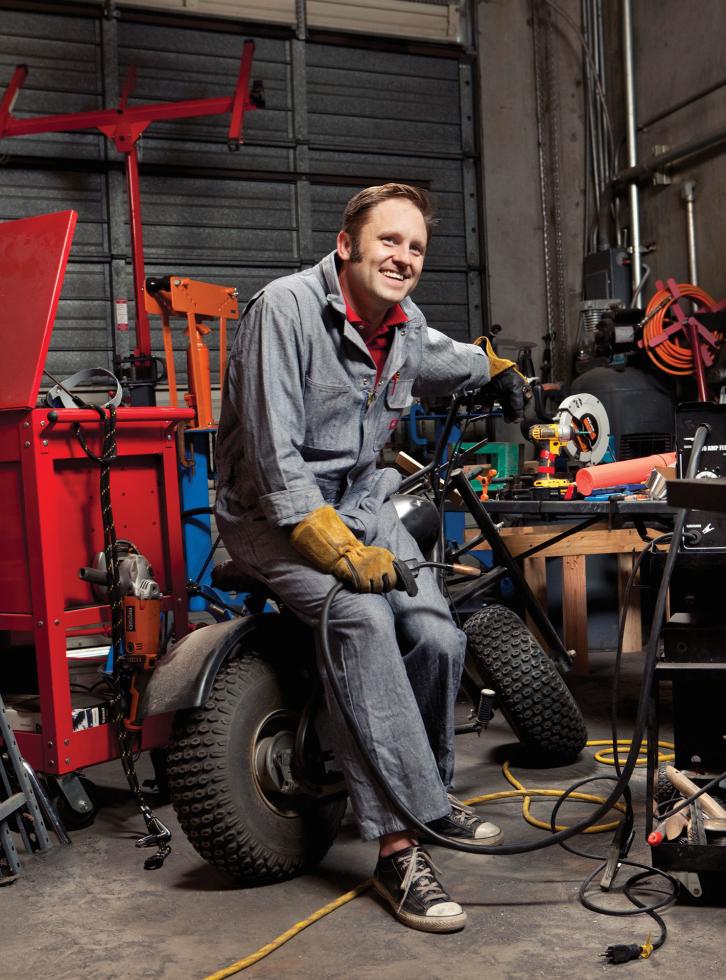 Casey Marshall is an inventor, equal parts designer and manufacturer, with a dash of mad scientist. Touring his new workspace off Richards Boulevard, where he does everything from prototyping to welding, is like exploring a funhouse. … Here's his robot collection, there's his array of Styrofoam mannequin heads, next to a childhood Halloween costume …
When you consider the products Marshall creates through his one-man company, Fabritype, it's fitting that they come from a laboratory that is as much of a mechanics shop as a toy store. He created a giant mobile media center for VSP's The Shop that he calls "The Monitaur," and he's currently working on a magazine rack that looks like a ferris wheel for periodicals.
"I'm applying new processes to make things that people aren't traditionally used to using." Casey Marshall
Not all of his work is so over the top (he shows us a couple fishing-rod holders for his neighbor and renderings of office furniture), but it's the fun stuff that allows Marshall's personality to shine through. He stops to point out a small motorbike and explains how the mechanics and speed of the bike are perfect for a mobile polyart rhinoceros he's building. It's a personal project.
"That's a good example of the kinds of things that I like to do: new, weird and a little toyish," Marshall says. "I like to incorporate that kind of happiness into my work."
Think of it as avant garde urban fabrication. Marshall says he does his best thinking with his hands and lights up while explaining how things work. He offers no specific line of products, because everything that comes out of Fabritype is one of a kind. And as he builds his business (he's only been in the space for a little over a month), that's important for him to convey.
"I think people know that I am a different thing," he says. "If a client wants to do something a little crazier, they know they can ask me to help them out. If they come into me knowing that, it makes it a lot easier. It means they are a client that is appropriate for me."

Find Fabritype online here.
Off-the-wall artistic linens by Maren Conrad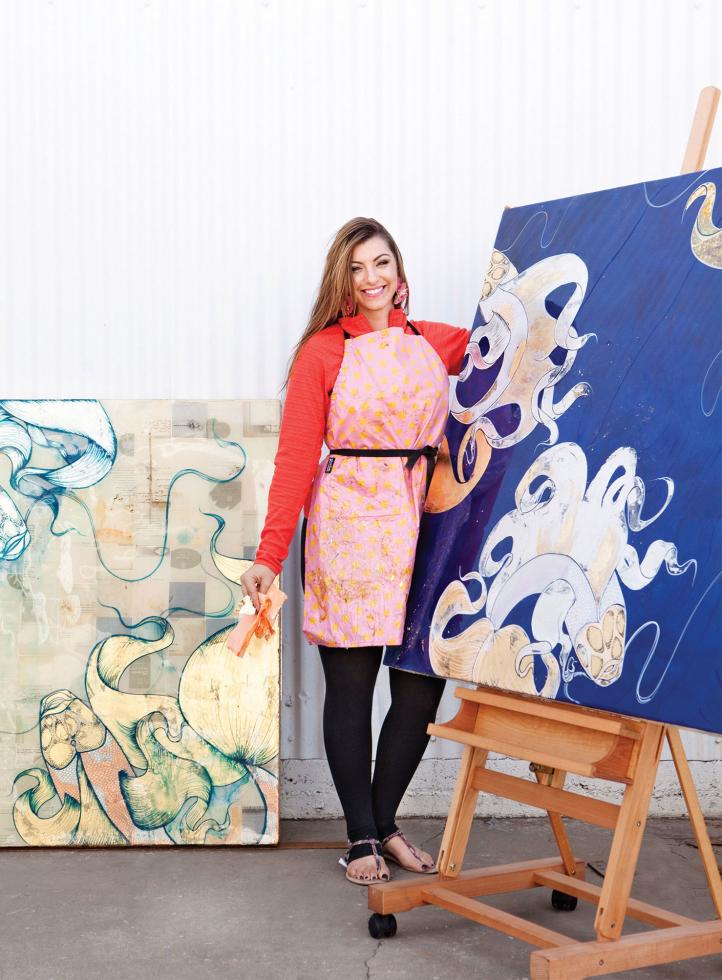 Maren Conrad is a fine artist at heart, but the struggle to efficiently finish projects while promoting her work and seeking out the next commission wasn't sustainable — it's not for a lot of artists. That exhausting cycle coupled with Conrad's entrepreneurialism birthed an entirely new medium for her work.
Conrad and her business partner Elizabeth Wood launched Prosper Design Studio and its accompanying 2014 linen line last July. The throw pillows, wine totes, napkins, placemats and table runners are inspired by Conrad's artwork: They're made of a canvas cloth, and the designs are created with oil-based ink and metal foil — all elements of her paintings.
"It's about an intentional way of living: treating people the right way, sponsoring artists, promoting things that are handmade and doing things in an earth-conscious way." Maren Conrad
Less than six months after launching, her products are available locally in Sacramento at Tea Cozy, Parkside Pharmacy, Design Alchemy and soon William Glen. Parkside Pharmacy, the first brick-and-mortar establishment to sell her wares, has reordered five times and on one occasion sold out of her pillows just 10 minutes after delivery.
"So, that doesn't suck," says Conrad, laughing.
She describes the manufacturing process as one that is wholly sustainable, from labor wages to the materials used and the dye disposal process.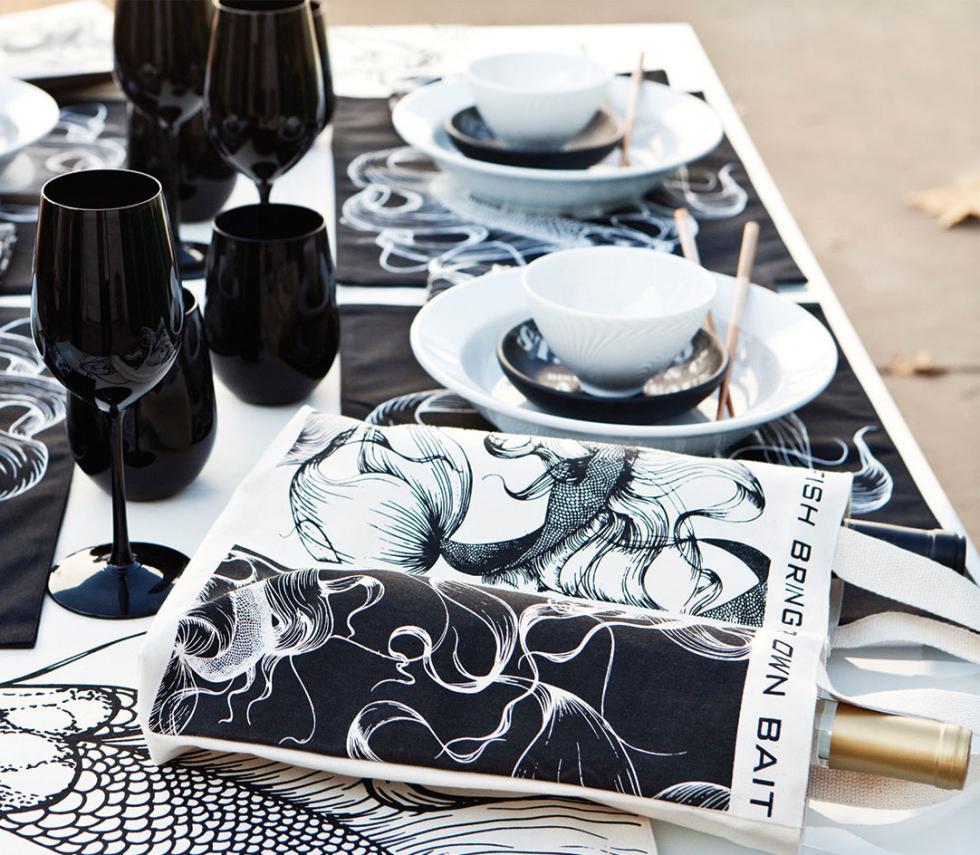 Prosper Design Studio's 2015 line will feature Conrad and seven other local creatives. The featured artists embrace everything from sculpture to ceramic art and graphic novels, and the line will be sold as a box set. Intended as conversation starters, each item in the set is imprinted with a representation of the artists' work as well as a brief artist statement and a link to their website. The idea is to help artists affordably market their work and to make art as accessible as looking down at the napkin on your lap.
"We're not charging the artists," she says. "Instead, we're paying them — and we'll do their advertising."
Linens by Prosper Design Studio can be purchased or rented online.
Human-centered design by Matt Lechowick
Designer Matt Lechowick works out of his home — not an easy task while managing in-house renovations and tending to his rambunctious 4-year-old, Noah. But Lechowick, calm and cool by nature, reflexively filters out clutter and separates noise from its meaning. He can carry on a conversation seamlessly, not missing a beat while bending to wipe a nose, direct a plumber or confiscate a whistle from between eager lips.
"You're trying to solve spatial problems for people, and that can ultimately have emotional results in a negative or positive way." Matt Lechowick
It's not surprising to find that, in addition to studying design, art history and architecture, Lechowick also has a bit of a background in psychology. He credits his environmental psychology professor at UC Davis, Dr. Richard Coss, for his interest in how a person's surroundings can impact their demeanor.
"I empathize with the client, try to get into their head and figure out what they really need," Lechowick says over coffee while Noah counts M&Ms. "I think it's almost therapeutic, in a sense."
His storage cubicles, which can be positioned as coffee tables, nested together as seating or stacked as cabinets, speak to this human-centered approach to design. The modular, hidden media centers he designs, available at Design Fix in San Francisco's Mission District, follow the same geometric aesthetic as his cabinets.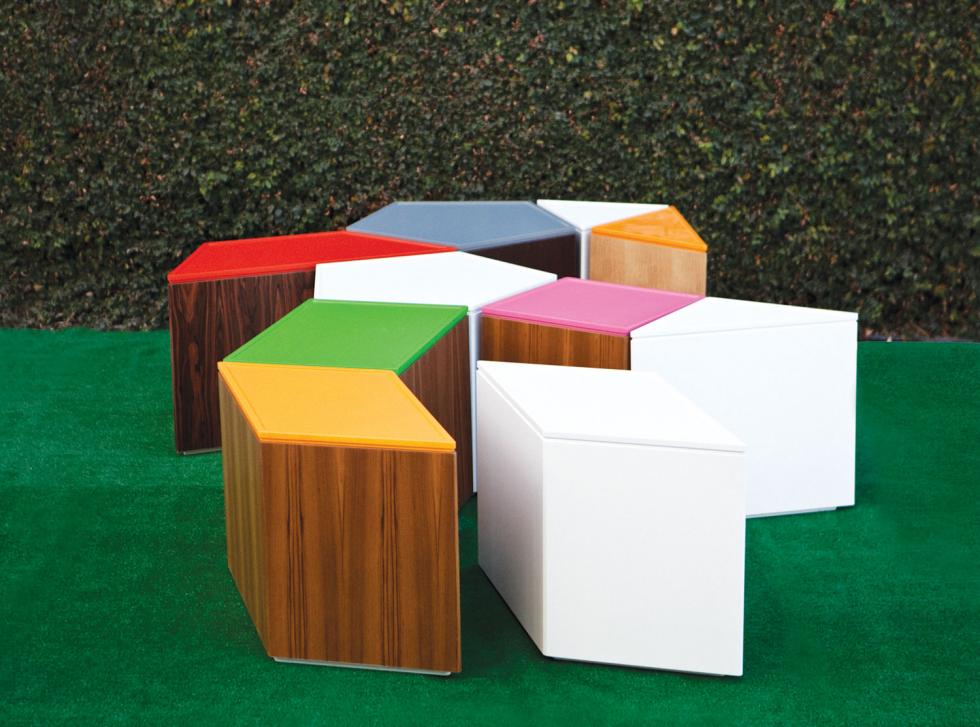 He is a designer of products and interiors. Lechowick is working with Orchid Thai on the interior of their soon-to-open spot in the 16 Powerhouse building in midtown. And while designing a cabinet might be different than designing a dining room, his overall process rests on getting inside of a thing — whether a client's mind or a consumer market — to fill a niche.
"I think things are coming along," he says of Sacramento's design climate. "It's just about to break into something more creative, and I think it's exciting to be on the ground floor. It's cool to be able to work in your own backyard."
Learn more about Matt Lechowick's work on his website.
Glass with Class by Shannon Morgan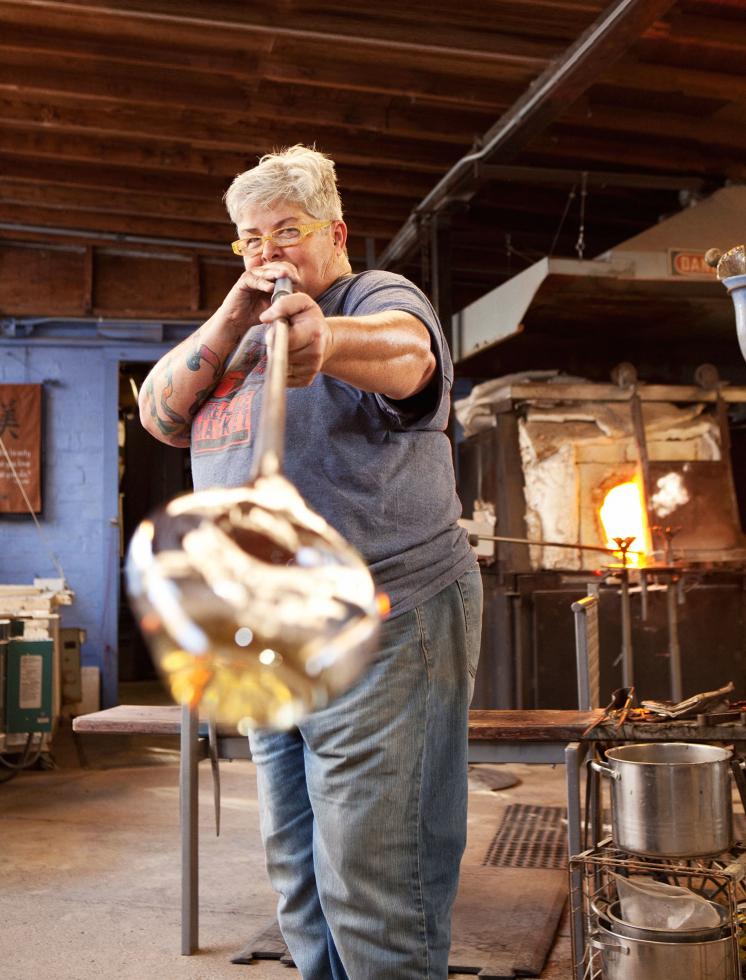 When Shannon Morgan first got into glass blowing, she was working with floor scraps. She would scavenge colored shards of glass from the floor of the studio where she worked, wash them off and reuse them in her own designs.
Morgan cleary no longer needs to scavenge: The backyard between her home and the Girl Glass studio is littered with haphazardly placed bursts of color — a pink decanter nestled inside a potted plant, clustered paperweights beside a blowtorch on the patio table. And she sold over $100,000 in glass in four hours at a recent tradeshow.
"There's a synchronicity to blowing glass, this underlying flow of timing — a turn and or movement — it's very syncopated and dance-like."

Shannon Morgan
When at work, Morgan wields a metal punty, with an orb of glass at its tip, like some sort of sword-fighting dancer — swinging up, dipping down, rolling the end in a bit of frit (colored glass), before pushing it back into the furnace. She'll sit to roll the hot orb along her hand with nothing but a wad of damp newspaper between her palm and the 1,700-degree glass.
"It's about the physical movement," Morgan says of how her work takes shape. "You're always moving. Sometimes it's big movements, sometimes small. Sometimes it's hot. And hard."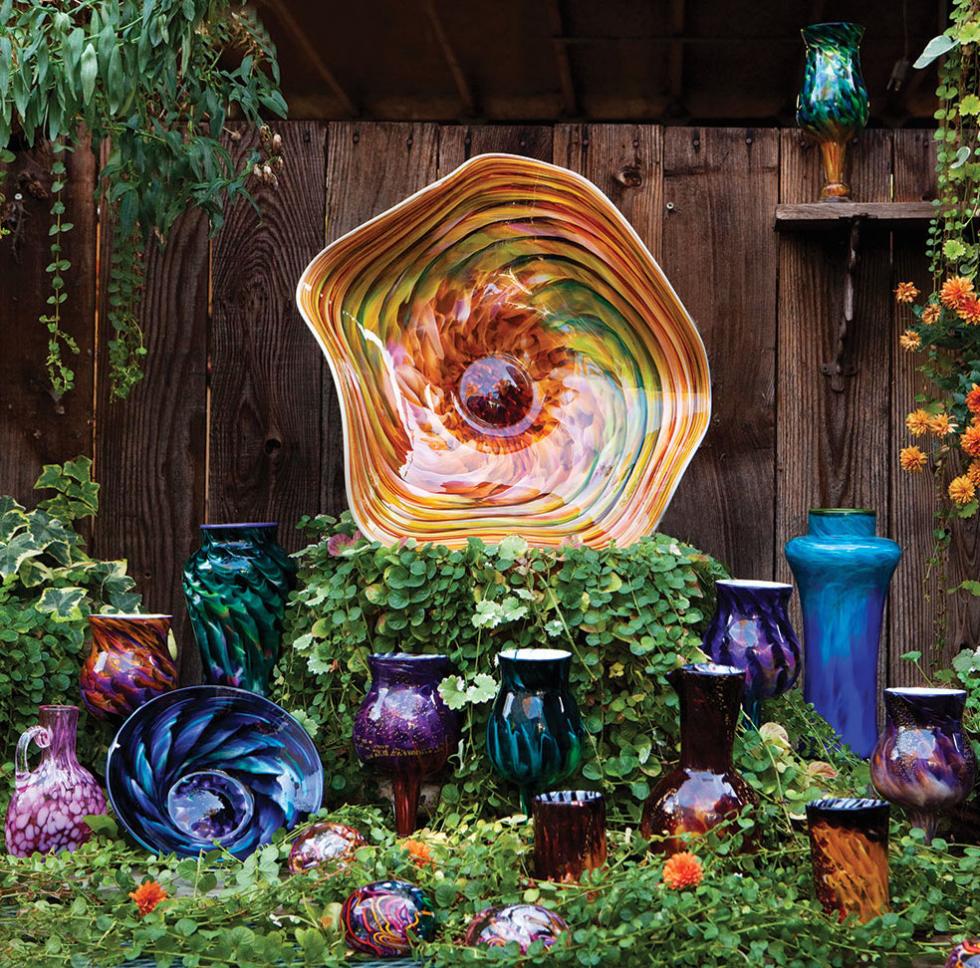 To create the dynamic patterns she is known for is a different matter. During the creation phase, the color of Morgan's glass "is hot," she says. The temperature of the glass keeps it a molten orange, which means the patterns are created from memory — knowing in what order she rolled in a variety of colors — the end coloring is determined by layering both the size and color of the frit, and remembering how things turned out the last time.
"It's like being a painter," she says. "But you have to apply it to 2,000-degree glass."
Information on Girl Glass Studio's artwork and glass-blowing workshops is available on their website.
Did we miss one of your favorite designers? Let us know in the comments!