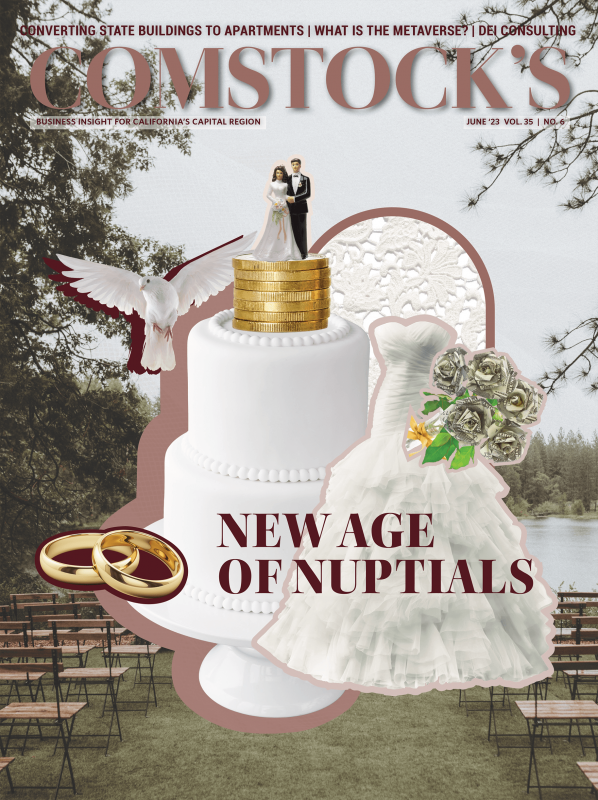 This story is part of our June 2023 print issue. To subscribe, click here.
California's homeless population continues to rise faster than solutions. As of 2022, 30 percent of the U.S. homeless population resided in California, including half of all unsheltered people (the sheltered homeless reside in emergency shelters or supportive housing, while the unsheltered homeless reside in places not meant for human habitation, such as cars, parks and abandoned buildings). The pandemic did not help, exacerbating an already major and complex situation.
The Sacramento region has been particularly hard hit, recording a dramatic 67 percent increase in homelessness since 2019. Based on the 2022 Sacramento County point-in-time report, that equates to 9,278 individuals in the region currently experiencing homelessness. The main driver, according to the report: the high cost of housing.
To help solve the crisis, Gov. Gavin Newsom issued an executive order in 2019 for the Department of General Services and the Department of Housing and Community Development to identify excess state-owned property that could be converted into affordable housing. Sustainable, adaptive reuse is the priority, with demolition as a backup. Few local examples exist, leaving architects and developers to wonder if they are financially feasible and what, if any, kinds of funding are available.
Visionary Home Builders of California, a Stockton nonprofit developer that advocates for the development of affordable housing, was one of the first in the region to be awarded an excess site from the state. The site — a vacant parcel on Miner Avenue in downtown Stockton — is slated for a four-story residential complex with 94 one, two and three-bedroom units geared towards seniors and families. VHB is working with local architect Lee-Jagoe Architecture to design the project, known as La Passeggiata.
The original intention was to utilize a modular system, but the idea was quickly abandoned when it proved too costly. A low-cost, long-term ground lease was offered by the state. "We were able to essentially take the cost of the land out of the pro forma, which made the project more feasible to do," says Carol Ornelas, CEO of Visionary Home Builders.
A pro forma is used to forecast the actual and estimated costs of a project. The developer is using state Infrastructure Infill Grant and Multifamily Housing Program funding, as well as city dollars and tax credits. The total cost is estimated at $60 million (plus $2 million in state mitigation costs) and will break ground in January 2024.
In 2020, the same developer successfully converted an office building to residential through the City of Stockton's neighborhood stabilization program. VHB purchased a foreclosed commercial building in downtown Stockton during the Great Recession. The building permits and school fees had already been paid on the former office complex. "Those are huge pluses," says Ornelas. The developer encountered a number of challenges with the project, including bringing utilities into each unit, and putting in elevators that meet current building codes.
"There were some days that I honestly wished we had knocked the building down, and other days I liked it, which is typical with construction," she laughs. "But once we figured out how to handle a certain challenge, we overcame it. The building looks lovely in the neighborhood, we leased it to the people we wanted to lease it to and it functions very well."
The 74-unit Liberty Square affordable housing complex was completed in December 2021. Residents include low-income families and veterans meeting a 30-60 percent area median income. Catholic Charities occupies the commercial space to offer support services to residents; a Head Start child care center is also on-site. The project was completed for $34 million. "It was good to take an obsolete building and convert it for a better use," says Ornelas. "If it wasn't going to happen with office space, housing is another good alternative."
Visionary Home Builders has also submitted its qualifications for conversion of the Employment Development Department building, one of the recently released state-owned excess sites in downtown Sacramento.
Adaptively Reusing State Office Buildings
In January 2023, DGS released a request for qualifications, known as an RFQ, from developers and architects for three state-owned excess sites in downtown Sacramento for conversion to affordable housing. The state office buildings are clustered around Sacramento's Capitol Mall and include the EDD headquarters building, the Solar building and the State Personnel Board building.
According to DGS Director Ana Lasso, interest in the RFQ was robust, and the project briefing was well attended. "We do know that a lot of developers are keeping tabs on our projects," she says. "It isn't like a blank canvas, where you can, for all intents and purposes, create your own vision. You've got to work around what you have in the existing structure."
All the options are on the table. Adaptive reuse is the priority, but DGS is leaving room for developers to demolish and rebuild if that yields a more cost-effective, interesting structure and increases the total number of units. The department is projecting that approximately 500 units could come from the three structures. Early on, DGS commissioned national architect Perkins & Will to conduct a feasibility study on the project type. "Our initial project studies indicate that it's viable to reuse or readapt these buildings," says Lasso. "And we have a proof of concept for other state buildings, as well as in the industry."
A January 2023 industry report released by the Urban Land Institute and the National Multifamily Housing Council, titled "Behind the Facade," profiles the feasibility of converting commercial real estate to multifamily housing in the U.S. Report contributor Anita Kramer, senior vice president of the ULI Center for Real Estate Economics and Capital Markets, explained that the pandemic has really focused attention on the potential for older buildings that don't have the bright future they once had, but each one varies. "Every building is particular in its location and its needs. What a developer puts into a conversion is very much dictated by the market it's in, and the target market."
Kramer spoke with a number of developers and architects who completed various conversion projects. "The fairly universal experience I heard from the examples that we had in the report was that your team has to be so nimble — your design team, your engineers — because you don't know what you are going to get until you strip everything down to the cement. People that have figured this out and have kind of developed this nimbleness are going to be more successful," she says.
While reports indicate the projects can be done, they are not without challenges. A structure like the Sacramento EDD building isn't a rectangular box with the same floorplates, but is tiered. "There are some limits, but sometimes those limits really become opportunities for developers. I find adaptive reuse projects less of a challenge and more of a visioning exercise of what you can do for communities," says Lasso.
For the projects to be economically feasible, DGS is utilizing its authority to offer low, long-term ground leases on the three state-owned surplus properties of $1 per year for 99 years. There are various state Housing and Community Development funding programs that teams can also apply for that are eligible for adaptive reuse projects, such as MHP, IIG, Infill Infrastructure Grant Catalytic and Excess Sites Local Government Matching Grant.
The wins for Lasso on this endeavor are a responsible reuse of state property, proof of concept and much-needed housing in the region. "Having a sustainable lens on the projects, if developers are able to adaptively reuse the building, that's where the entrepreneurship and ingenuity and innovation will come through to see what their return on investment is going to be," she says.
Sacramento City Councilmember Katie Valenzuela is a big proponent of affordable housing that invigorates the downtown. "We've been really making the case that if you are going to make this investment anywhere, it should be Sacramento," she says. "We do believe we are being a little disproportionately impacted because of the number of workers that are downtown. A lot of folks aren't going to be in the office every day, so DGS has been projecting forward and assuming that model for these buildings." DGS has estimated that the workers who currently occupy the three state-owned buildings would be relocated to new properties by 2025.
The state has given developers lots of leeway to propose what they believe will work, though at least 20 percent of the housing units must be available to low-income households (80 percent area median income or below), of which at least 10 percent must be available to very low-income households (50 percent AMI or below).
Not everyone is convinced this is the best solution. Chief among them is Dan Dunmoyer, president and CEO of the California Building Industry Association and a veteran of California's public policy issues. "Taking an existing structure from commercial to residential requires changing the electrical and plumbing, and if it's really old, retrofitting for seismic and environmental codes. That's where the expense is really astronomical," he says. "All of my counterparts have the same conclusion I do, in that this will be a very useful tool to build really nice, kind of funky fun, expensive housing."
Dunmoyer agrees that more housing is needed. Since 2008, California has built an average of 100,000 units per year; last year was a banner year at 128,000. By contrast, in 1963, 331,000 units were erected. Dunmoyer notes a few differences: In 1963, two people making minimum wage could buy a modest home in an affordable area. Now there are fewer and fewer people who can afford to buy. Impact fees have also become exorbitant. On average in California, developers are paying $120,000 per home just for the right to build. He does acknowledge that the City of Sacramento has streamlined the permitting process and reduced fees, but says it's still higher than in most states.
Dunmoyer doesn't see this project type working for affordable housing. "It doesn't pencil that way," he explains. He provides an example: "If we build 100 units and 20 percent must be affordable, then you have to add 10 percent of affordability, or $100,000 per door. So, if you are planning for 20 percent to be affordable and it's 100 units, you have to add $200,000 per door in increased cost for the people that buy the other 80 units. So it can be done, but it's super high end. And you have to be in a city where people can afford that. That's how it pencils."
Dunmoyer cites municipalities like San Jose, San Francisco, Los Angeles and parts of downtown San Diego as more feasible locales. Many of the mainstream builders that Dunmoyer works with are also staying on the sidelines for now. "They don't feel they have the expertise and don't have the customer base," he says. "My bottom-line point is look at your community, look at what your people can afford and then build for it."
Funding is Key
Bridge Housing, a nonprofit developer of affordable housing, teamed up with Sacramento-based architect LPAS and Rocklin general contractor TriCorp Group in fall 2020 to win the right to develop an excess site on Arden Way in Sacramento. The site is just over an acre with a former armory building and structurally unsound library. While adaptive reuse was considered, the developers determined that demolition of the existing buildings was more prudent. The intent is to construct a five-story, mixed use development with 124 units at 25-60 percent AMI.
Twenty-five percent, or 31 of the units, will be reserved for permanent supportive housing for formerly homeless or those at risk of becoming homeless. Bridge Housing is working with Lutheran Social Services of Northern California to provide the right mix of onsite support services and a commercial child care center in the building. The developer is currently seeking its final funding.
"Right now, our world is governed by how well you can compete for very highly sought-after state and federal resources, so now we are going after our final gap financing and hoping we can start construction in June 2024, at the earliest, and complete it by April 2026," says Jon McCall, senior project manager for Bridge Housing. The total all-in cost is estimated to be $83 million.
Peter Ragsdale, executive director for the Housing Authority of the County of San Joaquin, is also seeking funding to develop an excess site — 100 acres of the San Joaquin County Fairgrounds — into a mixed-income, mixed-use community. "We've contemplated a community where we have different housing types, shared community amenities and commercial and educational infrastructure," says Ragsdale. HACSJ is modeling about 40 percent of the anticipated 1,300 units to be deeply affordable. HACSJ has applied for infrastructure funds through HCD and is also competing for IIGC funds.
"Infrastructure is a requirement to build any housing, so needless to say there isn't sufficient infrastructure to build much of anything at the fairgrounds at the moment, so it is a threshold issue to get support from the state on the infrastructure." HACSJ has been successful in partnering with San Joaquin County Behavioral Health to convert two former office buildings to affordable supportive housing for behavioral health clients. It is also converting a former Motel 6 in Stockton to 69 one-bedroom units for those experiencing homelessness.
The Sacramento office of Page & Turnbull is exploring converting a state office building into housing. The award-winning restoration and preservation architect is partnering with a confidential developer. With its experience in adaptive reuse, Page & Turnbull feels it is uniquely qualified to consider the project type. Melisa Gaudreau, associate principal with Page & Turnbull, acknowledges the challenges with the project type, pointing to the existing configuration of the floorplates and windows, incorporating new systems for kitchens and bathrooms and determining if the building can accommodate residential-type amenities like rooftop spaces, balconies and courtyards.
"The most important thing before embarking on these types of projects is to do an honest, feasible study to see what the viable options are," she says. "It could be adaptive reuse, which we prefer, because that's our bailiwick, but we don't want to come in with rose-colored glasses. We need to conduct an honest assessment."
Councilmember Valenzuela understands the challenges and scale of the undertaking, particularly with architects and developers adding a big asterisk over all the ideas until they see what they are working with. But she believes with some creativity, it can be a practicable option.
"Downtown only thrives when everybody can thrive down here. And we are not going to be successful if the people that keep our downtown running are moving further and further out, or are paying higher and higher prices for housing. That's just not sustainable. And I just don't know how we get there without the state as a partner, and not just because they own the property, but because they have the ability to make policy and provide the resources that we might need to make this vision a reality."
Stay up to date on business in the Capital Region: Subscribe to the Comstock's newsletter today.
We invited the managers of some of the most successful shopping centers in our region for insight on how they managed during the pandemic, but more importantly how they stay relevant in a digital world.
DEI generally has three components that work jointly. "Diversity is looking at the makeup of the organization. Equity is giving people what they need to be successful. Inclusion comes after getting diversity and equity, and that ensures people are contributing to that environment," says Dr. Colette Harris-Mathews, principal consultant at Harris Mathews Consulting in Sacramento.
COVID-19 exposed the stark realities of the precarious economic state of the theater industry, but even regular theatergoers may not look past the glamour and drama of live theater to the grit, sweat and dollars that go into it.