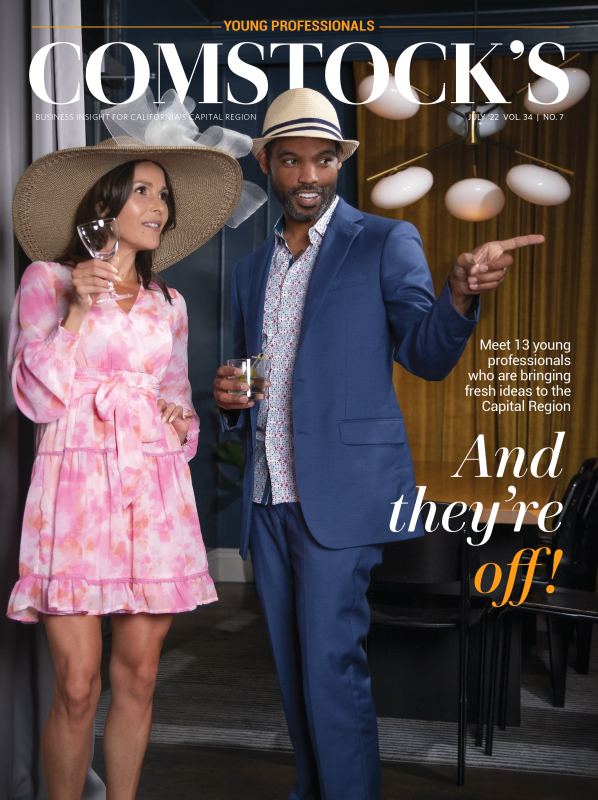 This story is part of our July 2022 Young Professionals print issue. To subscribe, click here.
Even if many older people are slower to edge out of the workforce, it's inevitable that newer generations are edging in. Of course, it's as ageless a natural cycle of renewal for business and the economy as new blossoms in spring. Boomers are making way for younger generations.
It's not surprising that younger generations have entered the workforce with different points of view about work than the boomers they are following. They grew up in the digital age and see technology as a tool to improve their productivity — working remotely and making sales calls on Zoom — while enabling them to better balance work with life outside of the job.
Surveys by Forbes and others show that younger generations value that balance between work and home life but are willing to work just as hard as the generations that have come before them, even if their style is different. Younger workers, the surveys show, are more independent. They want to be part of decision making, are prone to look for innovative solutions to solve problems, and want to be judged by the results they produce.
But what I find most promising in all of these surveys is what millennials and other generations have in common with the rest of us. They feel the same enthusiasm for the future as my generation did when we were younger. The surveys show they are just as ambitious and motivated to make a difference in the world and they have the energy to do it. It's that combination of vitality and vision — and working until the job is done — that we all need to keep our economy growing and to create dynamic organizations. It is what makes an entrepreneur willing to risk it all to start a new business, an inventor to develop new products or an executive to steer a company in a new direction.
This issue of Comstock's is our annual Young Professionals issue and we are introducing you to 13 young professionals we believe have great promise as tomorrow's leaders. They come from many fields, including construction, finance, government, law, tech, sports and nonprofits. With all the nominations we received, we wish we had space to share even more — there's a lot of young talent in our region, to be sure. We hope you find their stories as inspiring as we did.
Inspiration alone will not be enough for these young people and others to reach their full potential. Just as no person is an island, no generation can succeed on its own without the help of the people who hire them. This generation may produce leaders for tomorrow, but we need to take care of their needs as citizens and workers today.
It's important to recognize what they need to succeed every day, whether that includes accommodating a different style of working, the need to share decision-making, providing specialized training … or mentorship.
And that brings me to another important story in this issue. All of us who've been successful in life can likely point to someone who was especially important in helping us at a critical moment in our career — like a mentor. It can be as formal as a coach or counselor available to give advice or a less structured environment. Studies show that mentorship benefits both sides — employees learn new skills and take on more responsibility that makes their organizations more efficient or profitable, and executives tell us that being a mentor improves their communication skills and their ability to relate to a wider range of people. In this fast-moving digital age, where technology and cultural fads change quickly, mentors say they can learn from their younger staff, too. Anyone who still thinks TikTok is the sound their clocks make can relate to that.
Mentorship also benefits the bottom line. A UPS survey showed that entrepreneurs who had a mentor to help them run their business survived twice as long as those who did not. In larger companies, employees with mentors are loyal and happy, reducing costly turnover. I believe you'll benefit from reading the article in this issue on mentorship starting on page 68. This article can and should be circulated to as wide an audience as possible. It's instructive, insightful, informative and definitely recommended reading.
This month marks the 33rd anniversary of Comstock's magazine. It began with an "all-in, no-guarantees" risk and has grown over these years with the help of way too many people to list here. We've grown and survived by staying true to our original vision of providing insightful news to the business and professional community through both a print and a digital product; of being actively engaged in Capital Region business, community and nonprofit events; and through the dedication and talent of our staff, our writers, our editorial advisory board members and the many friends I've had the privilege of knowing through the years who've shared wise counsel and a willing ear.
We were just honored by the California News Publishers Association with 20 awards, including five first-place and six second-place (see adjacent page for our first-place wins). It's acknowledgements like this, team members like we have, and a special sense of joy and accomplishment that inspires us to keep going … hopefully for many years to come.

Winnie Comstock-Carlson
President and Publisher
–
Stay up to date on business in the Capital Region: Subscribe to the Comstock's newsletter today.