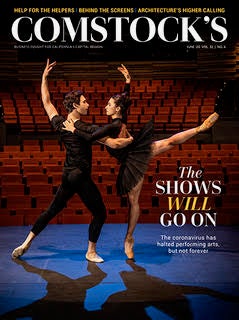 This story is part of our June 2020 print issue. To subscribe, click here.
One interesting adjustment has been by Giggle & Riot, a Sacramento-based photo booth company launched in 2013 by Caroline Winata and Josh Daniels. As freelancer Vanessa Labi wrote for our website in late April, Winata and Daniels were providing photo booths for up to 400 events a year, but with events canceled, their clientele immediately vanished. So they came up with Giggle & Riot Fun, which includes activity kits for children and adults and the Curbside Crawl, which promotes local businesses.
"We aren't making money out of the Curbside Crawls," Winata says. "It's something to do for the community," says Daniels. Winata and Daniels say they launched the crawls to stay connected to the community and businesses with which they've done business.
Three crawls are offered — Midtown Sacramento, Downtown Sacramento and Oak Park — with two more planned, so I set out on a Friday morning in late April on the Curbside Crawl – Midtown for what is essentially a scavenger hunt, from the safety of my car, armed with a face mask and gloves.
Comstock's Honored by CNPA
Comstock's was awarded first place for general excellence by the California News Publishers Association in its 2019 California Journalism Awards for our August ("Bring It") and September ("We Hate Meetings") print editions. The judges comments included: "Comstock's magazine is beautifully designed throughout, both ad and news pages. This is one gorgeous magazine." We also received a first-place honor for photo illustration in the print contest ("We Hate Meetings," a collaboration between former art director Kelly Barr and freelance photographer Mike Graff) and a second place for front page layout and design. Our website also received a fourth place in the general excellence category. We also placed in the top five in 11 other categories, including in-depth reporting, coverage of local government, agriculture reporting, land-use reporting, overall layout and design, and special section cover design.
My first stop, at Tea Cozy and Rumpelstiltskin Yarn at the Arthouse on R Street, was a bust, because the main doors for the building that houses both (and more than 20 artists) were chained and locked due to the edict against nonessential businesses (and posted by the Sacramento Police Department). I failed to read the fine print on the Giggle & Riot website that Tea Cozy has curbside pickup on Saturdays only, and Rumpelstiltskin is only selling online.
The next stops included murals along R Street at Warehouse Artist Lofts and the Ice Blocks, which gave me a good reason to get out of the car, walk around the neighborhood and check out some of the art in the city. I accepted the challenge and discovered Brian Barneclo's 200-foot-long "Sound & Vision" mural.
Another stop, Milk Money doughnut shop in the Ice Blocks, wasn't yet set up for online ordering and curbside pickup, but it's definitely on my list for a visit in the future. Next up were Sun & Soil Juice Company on P Street (which was busy that day) and Allie's Paw Spa & Sitting (which sells homemade treats for dogs), but I was craving something different for lunch, so I ordered ahead online from Old Soul Co. The Alley.
I grabbed my fancy grilled cheese (cheddar, Swiss, brie, spinach and tomato on ciabatta), had a quick catch-up with co-owner Jason Griest, then hunkered down next to my car to take in the view of two impressive murals while enjoying my lunch. But my quiet was interrupted by protesters headed to the Capitol, demanding an end to Gov. Gavin Newsom's shelter-in-place order. The standstill traffic kept me from the rest of the crawl, missing stops with curbside pickup such as Ginger Elizabeth Chocolates; Aioli la Bodega, the corner-market version of restaurant Aioli Bodega Española (it transformed into a market in response to the pandemic); Revolution Wines; and Pushkin's Bakery.
Though there were some hiccups — Saturday would have been better, and I didn't expect the protesters — Winata and Daniels' adaptation of their business is a smart way to stay relevant during these unprecedented times, and it was a fun couple of hours. Here's hoping that these types of planned crawls continue when businesses can fully and safely reopen.
–
Stay up to date on the effects of the coronavirus on people and business in the Capital Region: Subscribe to the Comstock's newsletter today.