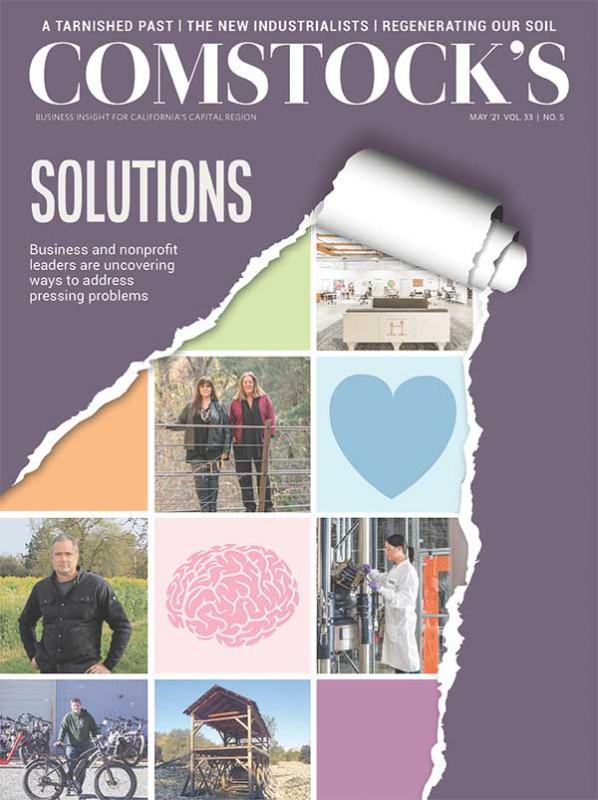 This story is part of our May 2021 issue. To subscribe, click here.
Where do we go from here? It seems that as the number of COVID-19 vaccinations increase, it's lifting a fog of uncertainty that we all have been living with for more than a year. It gives us a chance to move from making short-term decisions based on a changing rainbow of restrictions to taking a look at the bigger picture.
As that fog lifts, it is gradually revealing a business environment different than it was a year ago. Even as we start getting back on our collective feet, there are challenges. Restaurants and hotels, a big segment of the Capital Region's economy, are finding it almost as difficult to fully reopen as it was to shut down. They are scrambling to find enough qualified workers after many fled the hospitality industry.
People who were fortunate enough to work remotely may or may not return to their offices — or their companies — or even to the same city where they once worked. I think it shows that the disruptions of the last year caused many people to question where they were living and how they were working. And many of them were on the move to find something better.
In March, we had the opportunity to snag Jim Wunderman, president and CEO of the Bay Area Council, to be a guest speaker at the Comstock's Editorial Advisory Board meeting. It's his job to stay on top of what's going on in the broader regional business world, and he tells us that some of the big-picture trends he sees "are troubling."
California lost 1.5 million jobs during the pandemic, Wunderman says. Last year, there were fewer people living in California than the year before. Most troubling, he says, are the number of companies developing contingency plans to leave California, which suggests there is an undercurrent of dissatisfaction deeper than has been reported up to now.
Like the first rumblings of an earthquake, decisions made by the more than 325 large companies Wunderman represents can eventually shake up the world of small businesses that support the companies, such as law firms, dry cleaners and restaurants, that are part of every local economy.
Some of the reasons he gives for companies wanting to leave are not new. High taxes and heavy regulation typically top the list. But issues such as homelessness and the high cost of housing are not far behind. As a result, companies or their workers are looking for options and are on the move.
But Wunderman's comments aren't all gloom and doom. In any fight, there is strength in numbers. And he believes that as the Bay Area grows into an economic megaregion that stretches into the Capital Region, we can turn the economic tide.
Some of that regional growth is happening naturally. Many people leaving the Bay Area are not moving out of California. Taking advantage of working their jobs remotely, Wunderman says many are moving to places like Sacramento, where housing is more affordable.
After his presentation, I started thinking about the advantages the Capital Region can add to this megaregion he envisions. We have a lot to offer. Sacramento State and UC Davis are producing highly skilled workers. UC Davis graduates 63 percent of its students in four years, according to the National Center for Educational Statistics.
And in 2019, Sac State reported that 20.4 percent of its graduates completed their course work in four years, up from 8.8 in 2016, representing a 127 percent increase, the largest leap in the California State University system.
Sac State and SMUD are among the founding partners that created the California Mobility Center, which could attract international investment while it develops futuristic electric transportation technology. UC Davis initiated Aggie Square in Sacramento that will create new jobs in the high-technology world of life science and agriculture research. A community benefits agreement tied to Aggie Square will provide job training and require local hiring.
A program initiated last year by the Greater Sacramento Economic Council and the Greater Sacramento Urban League to teach high-tech job skills to disadvantaged youth is poised to expand to all six counties it represents (El Dorado, Placer, Sacramento, Sutter, Yolo and Yuba) after 93 percent of the first class graduated with professional certifications and had jobs waiting for them, according to Barry Broome, GSEC's president and CEO.
The Sacramento region is recovering from the pandemic recession faster than the rest of California, according to GSEC, and that's a positive sign. It doesn't mean our challenges are behind us, but it shows we are on the right road.
We still need better transportation systems to connect to the Bay Area. But a small step in that connection — those many Bay Area workers now living in the more affordable Capital Region — can give their companies another reason to stay put instead of leaving the state.

Winnie Comstock-Carlson
President and Publisher
–
Stay up to date on business in the Capital Region: Subscribe to the Comstock's newsletter today.