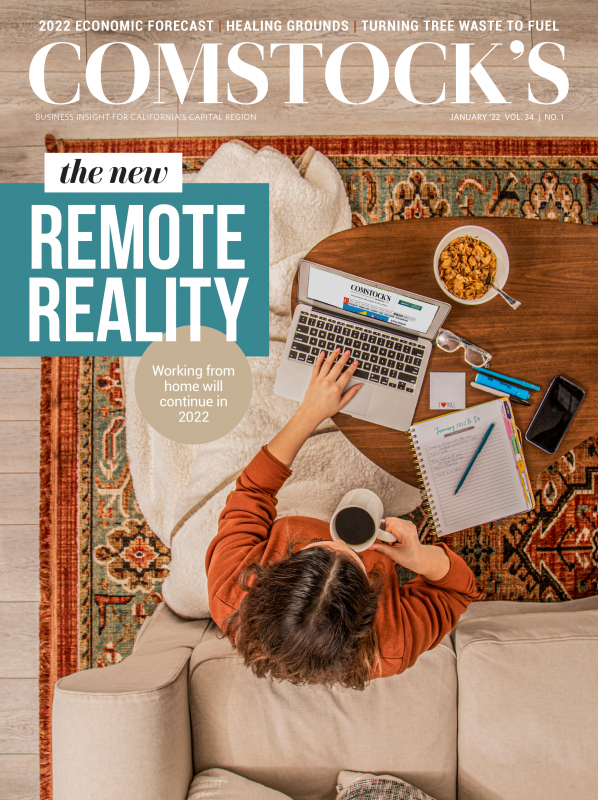 This story is part of our January 2022 print issue. To subscribe, click here.
If you run a large company and you're looking for new headquarters, there's a good chance you'll land on the radar of Barry Broome. As the head of the Greater Sacramento Economic Council (a public-private partnership with a leadership team of over 45 CEOs and 20 community leaders), Broome's mission in life is to convince companies to do business in the Capital Region.
During his tenure as president and CEO of GSEC since its founding in 2015, Broome has helped attract more than 75 businesses to the region, including health care company Centene's Western headquarters with 2,700 jobs. This is how he gets it done.
5:15AM - Wakes, and immediately gets ready for …
6AM – Hot yoga at Purely Hot Yoga studio in Sacramento. "My agreeability and functionality drops dramatically if I don't go to a 6 a.m. yoga class," says Broome, who is strict about doing either the hot 26 & 2 yoga class or vinyasa four days a week. He mixes in biking, weights or swimming on off days.
7:30AM - Quick email catch-up.
7:45AM – Checks Bloomberg and The Wall Street Journal. Broome says that "38 percent of all the companies looking at our community are now from international markets."
8AM – A mix of Zoom and in-person meetings. Broome gives between 15 to 30 one-hour presentations every week (he targets 750 per year) on why Sacramento is a good home for business. Part of his pitch: "California is the most productive and profitable economy in the U.S. It's a difficult market to get into because of the regulations … but you're still going to be in the most powerful economy in America, and pound for pound, the most powerful economy in the world."
10AM – More meetings! When Amazon searched for a second headquarters in 2017, Amazon hired "site selection consultants." That firm had 200 other clients, so Broome targeted those consultants. Sacramento didn't get Amazon, but Broome and his team lured HCL Technologies (and its 663 new jobs over four years) to Sacramento.
12PM – Normally lunch at his desk, but today he breaks bread with a business owner who's considering Sacramento as its headquarters. GSEC is actively speaking with 290 companies who are mulling a move, and Broome prioritizes a shortlist of 15-20 "ready to close" firms that are finalizing their decision. They get extra attention.
1PM - More meetings, and they're usually "back-to-back-to-back." Some of these are what Broome calls "front door presentations" and introductions to the Capital Region. "We do presentations on gut technology at UC Davis. We do presentations on milk technology at UC Davis. We do presentations on the engineering programs at Sac State."
3PM – More meetings, more pitches. "Monday through Thursday is a blur," but on Friday, Broome does the actual work and analysis of pulling these presentations together.
6PM – Leaves the office, and most nights heads to a networking social activity (like a dinner or reception), as "personal relationships are really important in Sacramento." The pandemic slowed this down. "It was depressing," he says. "I didn't realize that that was an important part of my psychological energy."
8PM - Broome's wind-down routine includes "mindfulness training," which can be as simple as sitting on the porch of his Midtown home for 30 minutes while breathing deeply, glass of wine in hand.
8:30PM – Relaxes with his wife, Beth, and their dog. (His three children are grown and no longer live at home.) Maybe some reading. He devours at least one book a week, often with an economic or regulation bent, such as Jan van Dijk's textbook "The Digital Divide" about how to address inequal access to internet technology. Or he'll watch some TV, like documentaries or "Ted Lasso" and "30 Rock."
11:30PM – Sleep. "I'm not a big sleeper," says Broome, who targets six hours of shut-eye each night.
Trick for staying focused:
"I don't watch commercial news," says Broome, meaning no CNN, FOX or local news. He primarily stays abreast of local and business trends through his team's research and analysis — not from typical news outlets.
To-do list system:
"I still, tragically, use a binder with paper and a pen," he says, as "my digital skills are laughable by modern standards."
The one activity that's vital to his day:
"Making sure my team feels supported, motivated and inspired."
Editor's note: This story was updated to remove the phrase Bikram yoga, which Purely Hot Yoga no longer uses.
–
Stay up to date on business in the Capital Region: Subscribe to the Comstock's newsletter today.
In The Way We Work, we track the routines of local executives. Here's how Kelley Cowan oversees multiple construction projects.
In The Way We Work, we track the routines of local executives. Here's how UC Davis Chancellor Gary S. May runs a campus of 39,000 students.
We tracked the routines of six business executives and paired that data with organizational management insights. Here's how they tame the chaos.