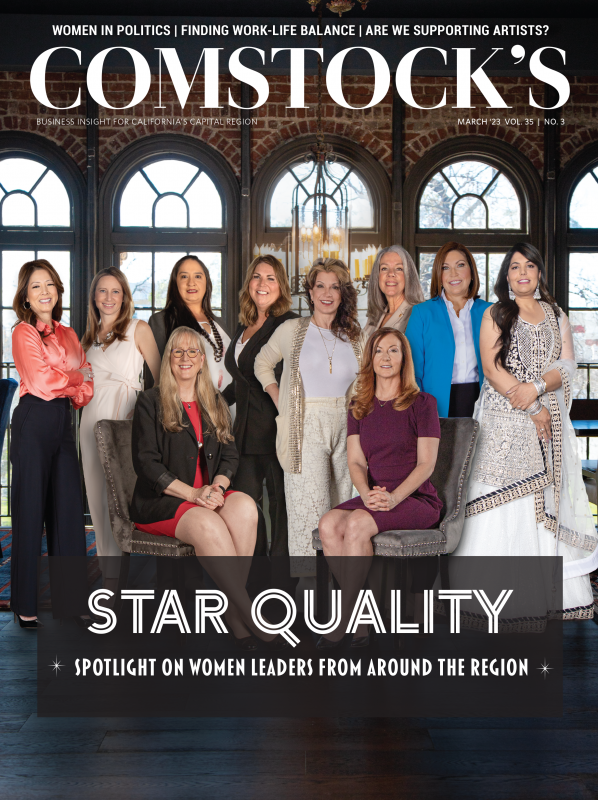 This story is part of our March 2023 print issue. To subscribe, click here.
"Wow, you can't even tell this is vegan!" is a refrain you might hear after an omnivore takes a satisfied bite of a "cheezburger" or some other plant-based food misspelled to hint at its masquerade. It's not uncommon for a crispy "chick'n" sandwich or "goatless" Greek salad to elicit the same pleasant surprise. Vegan chefs are skilled at transforming plant-based ingredients to mimic the rich, umami flavors of dairy and meat.
The menus of vegan eateries have evolved since they garnered a niche following in the 1970s during the counterculture-inspired food revolution. In the hippie era's health cafe, sprouts reigned supreme and nuts offered heft to everything from salads to desserts. Though you'll still find plenty of spiced "nutmeat" served at the popular Sunflower Drive-In in Fair Oaks, established 1978, many vegan restaurants in the area have moved on to second-generation, more technologically advanced meat alternatives.
Just as meat alternatives have expanded, so have the eating patterns of people interested in plant-based food. A diverse set of diners are embracing plant-based restaurants, thanks to the proliferation of less restrictive plant-based diets like VB6 — vegan before 6 p.m. — and lifestyles like "social omnivore" — plant-based at home, flexitarian while socializing. "Our clientele is 75 to 80 percent meat eaters," says Robert Betz, who co-owns Plant Power in downtown Sacramento with his wife Bonnie Miller. "They'll come in even though they might have had a barbecue the night before, eating an animal," he says.
The gradual adoption of vegan fast food
While restaurants like The Sunflower and the Vietnamese restaurant Andy Nguyen's (established 1984) have been meatless mainstays for decades, vegan convenience is a relatively new element to the landscape. Plant Power, which has a dozen, mostly Southern California locations, is one of a handful of vegan chains to bring modern takeout options to the Capital Region. Burger Patch, a chain with four locations including Midtown Sacramento and Davis, serves burgers and cashew-almond-soy shakes; and Amy's Drive Thru, a Northern California chain with a location in Roseville, serves organic chili, pizza and smoothies. A robust multicultural menu is served at Elk Grove's Loving Hut, which has branches in the Bay Area and across Asia.
Betz, Plant Power's Sacramento franchisee, moved to Sacramento three years ago from Los Angeles, where "the competition's a lot rougher" since "every corner, there's a vegan restaurant." With 552 listings, Los Angeles has California's highest number of vegan restaurants, according to California View. Sacramento doesn't rank among the site's top five cities, but according to a search on Happy Cow, an online guide for plant-based eaters, the capital city has around 170 restaurants with vegan offerings.
"You can still walk into some Sacramento restaurants and they don't have a vegan option yet," says Betz. "But they're getting there." The owner attributes his own veganism to the 2008 documentary "Forks Over Knives"; the film prompted him to go "cold tofurkey" with his eating habits and to go on to associate produce the 2017 documentary "What the Health."
Plant Power's Sacramento space has the bright minimalism of an In-N-Out and the self-checkout screens of next-gen chains like Shake Shack. White bubble chairs and a fluorescent three-leaf logo convey playfulness, while arugula-green trays and a living wall of potted plants suggest the presence of salad. While you will find Caesar and superfood salads on the menu, the focus is on chickpea-based burgers and items like "chicken" tenders, made from non-GMO soy and wheat. Six vegan sauces are available for dipping.
Betz emphasizes the chain might not offer health food per se (nothing's as healthy as a homemade salad, he says), but is rather "a healthier version of fast food" for people who want to decrease their meat consumption. He considers Plant Power's meatless items healthier alternatives in part because they're free of cholesterol, trans fat and saturated fat. Whether or not they taste like meat, Betz says, isn't as crucial to Plant Power fans as you'd think. Some people do consider mimesis to be the barometer for a satisfying vegan meal, but others prefer meat substitutes not try so hard to be something they're not. They just want something that tastes good.
More than meets the tongue
When it comes to texture, few other foods are under as intense scrutiny as plant-based meats. In a 2020 explainer for the New York Times, Chef Kenji López-Alt wrote, "To put it simply, plants are crunchy, and meat is chewy. … The other major factor in beef's texture is animal fat, which provides mouth-coating richness and juiciness."
Pure Soul Plant-Based Eats owner Jamie Cavanaugh is mindful of the importance of texture, and thus she chooses her meat and dairy substitutes carefully. Fat is essential to her comfort food dishes at her Sacramento food business, which previously had a brick-and-mortar in East Sacramento and now operates out of The Line ghost kitchen near Sacramento State. She serves indulgent staples like burgers, fried "chick'n" sandwiches and a rotation of special dishes like bibimbap.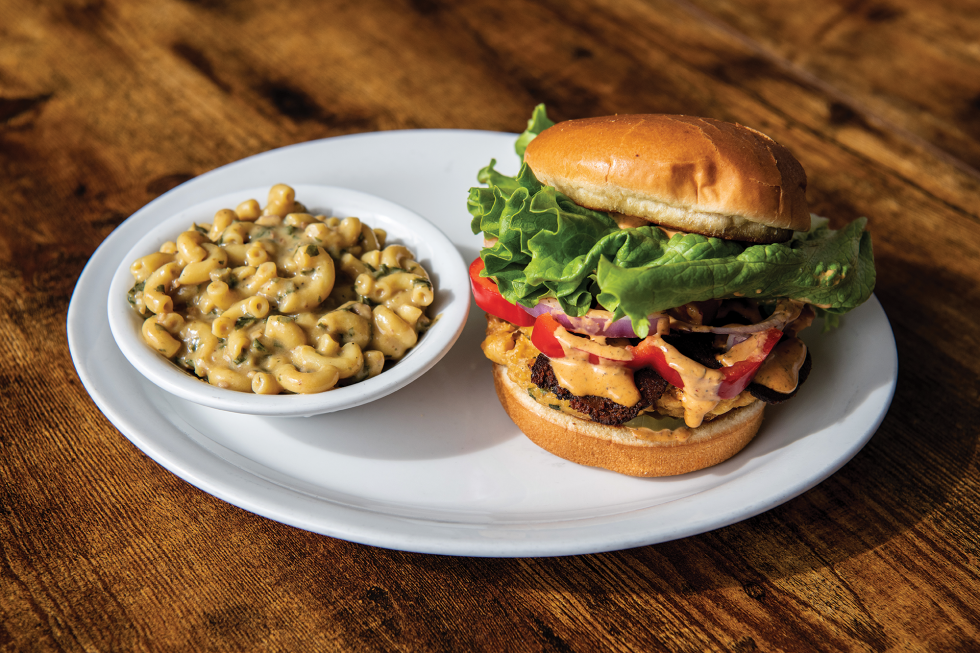 Cavanaugh tested many vegan chicken brands before becoming loyal to Atlas Munroe, which won a national fried chicken competition as the only vegan entry. A handful of menu favorites use the brand, like the Creamy Buffalo and Nashville Hottie sandwiches and a special twist on the buffalo sandwich that uses a recipe from cookbook author Charity Morgan. Cavanaugh uses other plant-based products such as Sweet Earth bacon on baked potatoes, Impossible Foods burgers and Violife cheese for her "very creamy" mac and cheese. "It now being almost five years since we opened, the vegan industry has grown a lot," she says. "There are products galore to try."
Cavanaugh delights in the praise she receives from her carnivorous customers. "A guy (at a pop-up) came up to us and he was like, 'Look, I just have to tell you … that was the best burger I've ever had.'" She also loves fooling family members with barbacoa and carnitas tacos made from roasted jackfruit. "It's awesome because it will take on the texture of pulled pork or shredded beef," she says, adding it's also a chameleon when it comes to seasoning.
All part of the process
Another perk of jackfruit — it's natural. "There's no processing done to it, it's not filled with a bunch of additives," says Cavanaugh. Vegan meat has been criticized for being overly processed, making some doubt how healthy the food really is. "Processed" products can simply refer to any food that's been prepared, like baked or frozen. But usually the bias is against the use of refined oils, gums and modified food starches, as well as the inclusion of canned or dried ingredients. A U.S. News 2023 food trend report predicted "complaints of hyper-processing" would lead consumers away from plant-based meat alternatives which, until 2021, enjoyed years of explosive growth.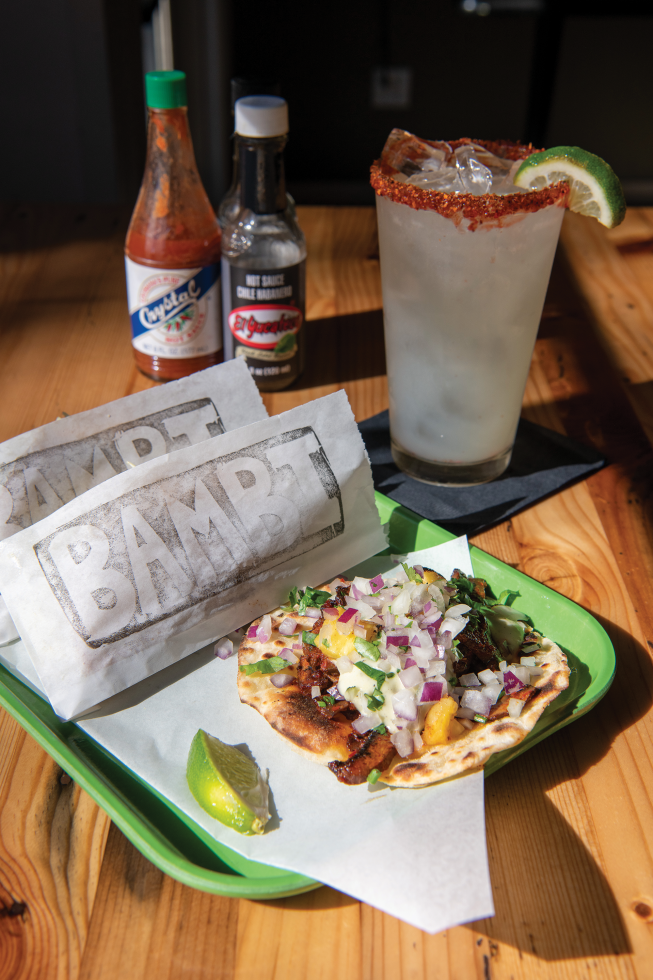 For the owners of Bambi Vegan Tacos, avoiding processed food is vital to their vision, which co-owner and chef Chad Novick describes as "an elevated, scratch-made fast food kind of concept." Making fillings like their housemade chorizo and Bambi crimini beef is "a labor intensive process," says co-owner Lizz Gibb. "A lot of our time is spent just breaking down huge mountains of vegetables and putting them into tacos," Novick adds.
Plant Power's Betz hopes the word "processed" doesn't prevent people from eating plant-based foods. "There's no plant-based burger that grows on a tree, and so you have to manipulate the proteins in a plant to create a burger patty. … But I still think it's way healthier than what everyone else is eating."
Everyone interviewed for this story agreed on one thing: their desire to serve and include all diners. "We would like to appeal to everybody that wants to reduce their meat intake, anyone that wants to come for any reason, to enjoy, like, really good vegetable-based tacos," says Novick.
Gibb wonders if a shift in language would convey more of an open door at Bambi. "We've recently been thinking about not advertising ourselves so much as a vegan restaurant, but just as a restaurant that has really good food that just happens to be vegan."
–
Stay up to date on business in the Capital Region: Subscribe to the Comstock's newsletter today.