When Leo Hickman returned in 2003 from an eight-month tour in Kuwait as a combat engineer in the U.S. Air Force, he wanted a way to spread peace. With no idea how, he set out on a journey of self-discovery and backpacked through 27 countries.
"What I found is the only way I know how to break cultural barriers is sitting down over food, breaking bread," says Hickman, owner of Classy Hippie Tea Co. in Sacramento. But he found that quality food was expensive and didn't allow everyone a seat at the table. That's when he discovered tea.
TEA SPOTS IN THE CAPITAL REGION

Classy Hippie Tea Co.

3226 Broadway, Suite A Sacramento

Tea Xotics

4356 Town Center Blvd. #112 El Dorado Hills

Nautilus Tea Company

11771 Fair Oaks Blvd. Fair Oaks

Tea Cozy

1021 R St. Sacramento

Temple Kukuri

10723 Fair Oaks Blvd. Fair Oaks

Jade Valley Tea Arts

236 Commercial St. Nevada City

Sokiku Nakatani Tea Room & Garden

Sacramento State Lower level, University Library 2000 State University Dr. East Sacramento
During his travels in Guatemala, Hickman visited a bar where he met former members of the Israeli army. "Now all of us were in this separate country looking for peace, and we were drinking tea," he says.
Classy Hippie Tea, which launched in 2013 and is now based in Oak Park, joins the ranks of a growing industry in the Capital Region. Tea shops Nautilus Tea Company in Fair Oaks and Tea Xotics in El Dorado Hills also opened their doors in recent years. These newer shops, along with older ones like Tea Cozy in Sacramento, have all made a concerted effort to grow their business through consumer education on the health and social benefits of high-quality tea — which comes at a steeper price than the average consumer is used to paying for commercially- produced tea.
The history of tea dates back 5,000 years ago in China, which became an economic power when it monopolized the industry of growing the tea plant, Camellia sinensis, from which all tea originates. Today, the tea industry dominates the world of beverages, ranking second in global consumption only to water. In the U.S., the market rose from under $2 billion in 1990 to $12.5 billion in 2017, according to the Tea Association of the USA. While the national market continues to grow, it still trails far behind the coffee industry, which raked in $225 billion in 2015, according to the National Coffee Association.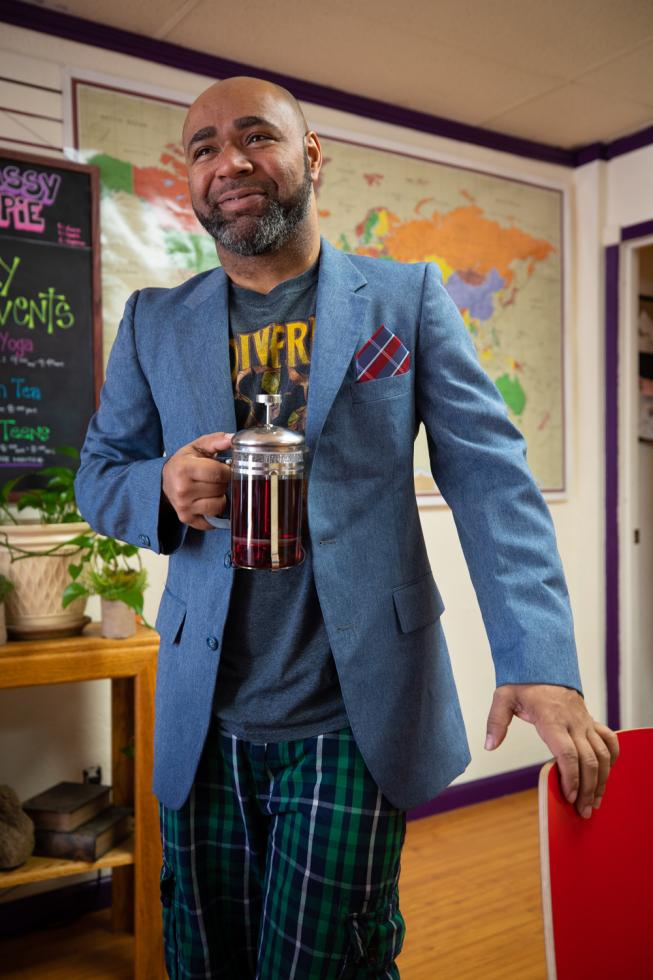 Katharine Burnett is the director of the UC Davis Global Tea Initiative, which launched in 2016 to study all aspects of tea and to serve as a global hub of expertise for the industry. She says, traditionally, consumers have purchased tea at a low price without knowing where teas came from or what was involved to make them.
That makes it hard for people to understand why they should pay more for certain loose-leaf teas. This is where the specialty industry — which aims to produce a higher-quality tea that comes from hand-crafted production — is trying to figure out how to better educate the consumer, Burnett adds. For example: What regions consistently produce a good tea, how was the tea produced, what food pairings might be satisfying, and what might one prefer to drink in the morning, afternoon or evening?
This focus on education is central to specialty tea shops like Tea Xotics, which launched as a wholesaler in 2010 and opened its retail shop in El Dorado Hills in 2016. While it wholesales to high-end restaurants such as Milestone Restaurant in El Dorado Hills and Sutter Street Steakhouse in Folsom, as well as to a customer in Saudi Arabia that sells 75 of Tea Xotics' blends, business is booming in its inviting tea shop.
Tea Xotics' owners — Hannah Planje, her mom Renée Planje and Hannah's sister-in-law Lesley Planje — say sales are growing each month, tripling since they opened their retail store. And while made-to-order tea drinks are the shop's biggest profit margins (the shop also sells tea accessories, vinegars and olive oils, and bath, beauty and culinary gifts), it's the loose-leaf tea that's the biggest seller. Tea Xotics' custom blend Matcha Coconut Grass Skirt is its most popular product. Renee says that's because they've educated their customers on the health benefits of matcha, which according to several studies has significantly more antioxidants than green tea.
The co-owners purchase about 40 percent of their loose-leaf teas direct from tea farmers they know and trust. They have traveled to India and Japan to learn about the customs and culture of tea, and how it's grown, processed and prepared. They share their knowledge with customers — the products' origins and why loose-leaf tea is better quality and more environmentally friendly than commercially-produced tea, and how it supports the livelihood of regional tea farmers. The goal is to unravel the mystery of tea and make it more accessible, Hannah says.
"One of the universal aspects of tea — regardless of the culture — is it tends to encourage people to come together, be calm together and share conviviality."

Katharine Burnett, director, UC Davis Global Tea Initiative
"That's how we can do this with passion, because of all the places we've been to, because we've experienced it there," Renée says.
Nami Thompson has been selling loose-leaf tea from around the world at her retail shop, Tea Cozy, in Sacramento for 20 years. She expanded her classic tea line as customer demand for variety increased, and now sells to companies such as Coffee Works and Bottle and Barlow (a cocktail/barbershop) in Sacramento. Bottle and Barlow owner Jayson Wilde consults with Thompson on flavor profiles to craft his seasonal tea-infused cocktails such as an earl grey vodka or a lemon rooibos scotch. "It creates another layer of cocktails you can't get anywhere else and it's relatively cost-effective," Wilde says.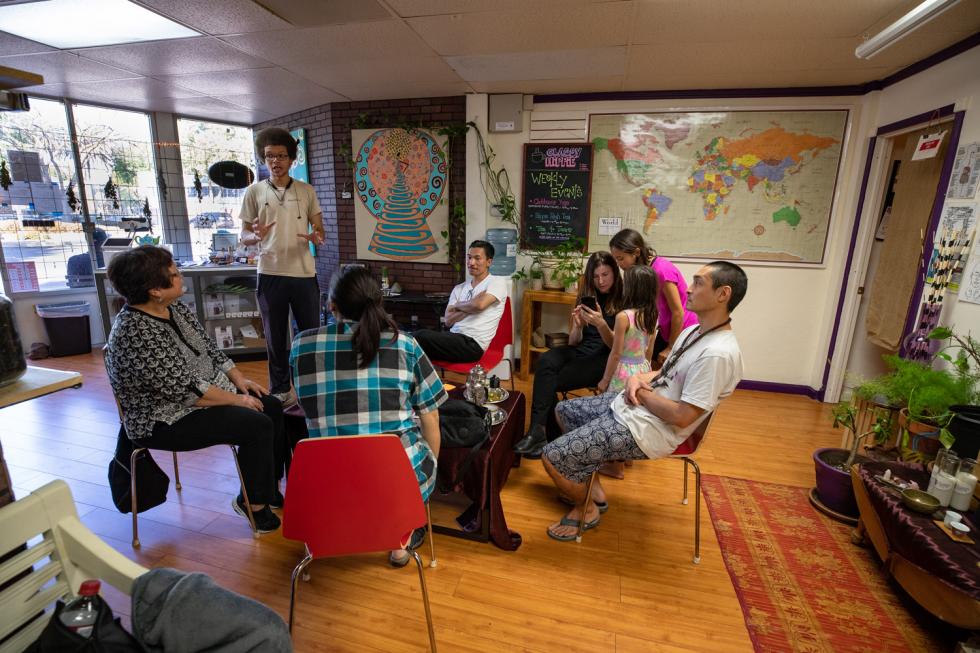 Together, Thompson and the Planjes are organizing Sacramento's first tea festival in 2019 or 2020, which will feature classes, samples and demonstrations, Thompson says. "We just want to expose tea and let people know there's places to have tea in Sacramento."
Beyond demanding high-quality and sustainably-sourced teas, today's consumers are also interested in the traditional aspect of tea as a beverage to enjoy in the company of others, says Burnett, of UC Davis. "One of the universal aspects of tea — regardless of the culture — is it tends to encourage people to come together, be calm together and share conviviality."
It's that community aspect of tea that compelled Hickman to open Classy Hippie Tea. Hickman, who in addition to serving in the Air Force is also a former biomedical engineer, had a lot to learn when it came to tea — specifically, the business aspect of it. Classy Hippie failed at five different locations in Sacramento before moving to its current spot in 2017. An early subscription service, in which Hickman would ship products directly to his customers, proved unsustainable. So he decided to double-down on tea's community vibe by launching a membership program last January, in the hopes that members would visit the shop consistently, becoming invested in the mission of the company rather than only in the product.
For $10 a month, members receive discounts on classes and events at the tea lounge, like Tea and Meditation, and a free daily cup of tea and pastry. He envisions offering members domestic and international trips to tea houses and plantations at subsidized rates to immerse patrons in the culture of tea; he hopes to travel to Sri Lanka's tea regions this October with 10 Classy Hippie members.
Since the launch, more than 125 members have joined the program, and while it may be too soon to tell how this membership model will pan out over the long-term, Hickman says his business is profitable and that not a single member takes advantage of the daily food and drink offer — but that the model lets members know they are always welcome there.
In July, Classy Hippie will host a party for its members at Camp Pollack, bringing together members and the community through tea, with holistic vendors and a focus on health and wellness — particularly meditation, exercise, diet and sleep. "They all fall within what I provide to the community under that $10 price point," Hickman says. "So now I can educate the community back to wellness for pennies on the dollar."
Fan of tea shops? Tweet us your favorite spots @comstocksmag.