It's a rainy Wednesday, and Chef Michael Warring is mulling over the night's menu in his eponymous restaurant, enjoying a moment of calm before seating begins in an elegantly appointed dining room that gives nary a hint of its former life as an ice cream parlor.
He's got Burgundian truffles, sourced by his "truffles and mushroom lady." There are pea tendrils from a produce scout who cruises in a pickup truck, looking for the best that farm-rich Solano County and its neighbors have to offer. His fish purveyor has come up with cured amberjack roe from Japan, and there's California-raised beef in the cooler for the meat course.
The cheese course … now that might be a problem. Warring's plans hinge on a same-day delivery from a Central Coast dairy, and the cheese hasn't yet made it up the rain-slicked highways. Dinner hour approaches.
The tables are set, the candles lit, the doors open. Warring and his sole assistant, significant other Ali Gulczynski, are about to put on their usual tour-de-force of upscale, seasonal gastronomy.
And they're doing it not in a fancy high-rise in San Francisco or even a rustic converted cottage in the Napa Valley, but in a suburban subdivision on the outskirts of Vallejo.
Why? Warring and Gulczynski laugh. They get that question a lot. The couple met while studying at the Culinary Institute of America in upstate New York. Warring went on to work at Napa Valley's Auberge du Soleil and Bouchon Beverly Hills, Gulcynski at Thomas Keller's Ad Hoc restaurant in Yountville. But Warring wanted to run his own kitchen, so the couple started looking for a place of their own.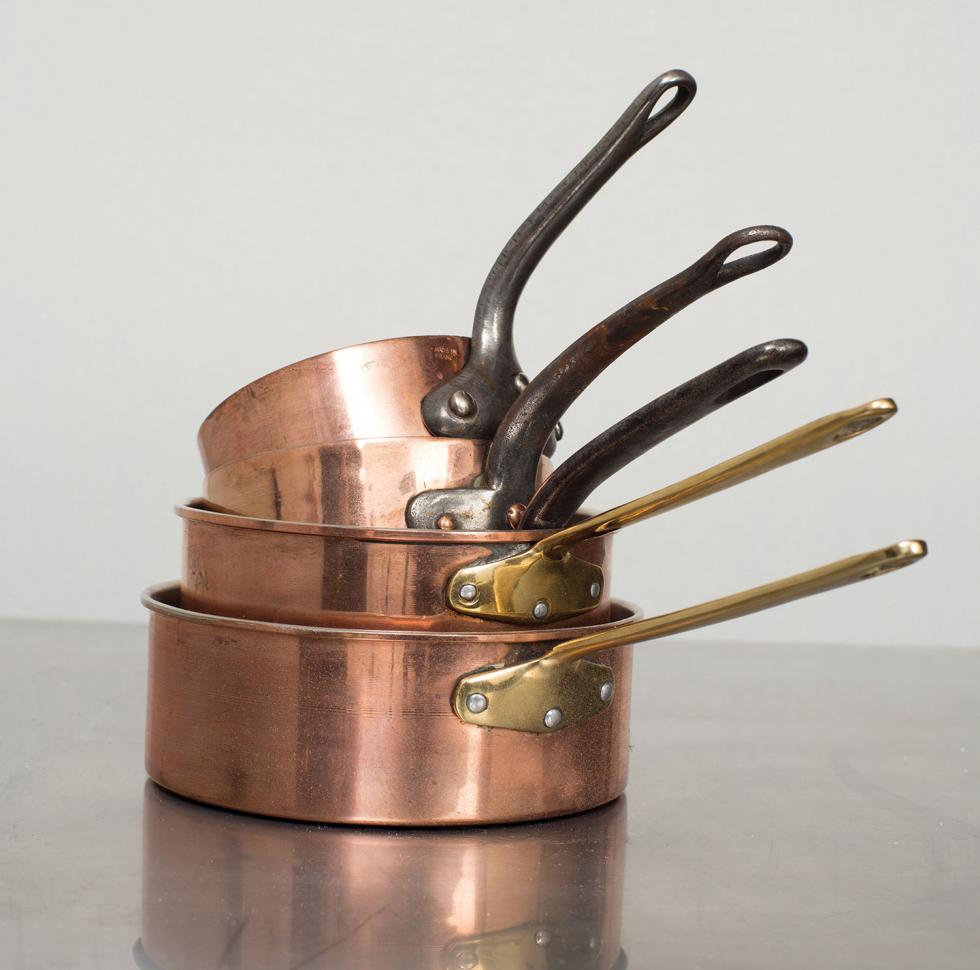 This spot, a former ice cream shop in the golf course community of Hiddenbrooke, not far from Warring's hometown, fit their budget. And it's conveniently located — just off Interstate 80, about 45 minutes from San Francisco, an hour or so from Sacramento and 30 minutes from Napa.
Backed by a modest line of credit, they signed a short lease. Converting the place didn't require a great deal of effort. They painted over the sunny yellow with a quieter shade of gray, left the stone-embossed walls alone and installed a counter and a stove with the help of Warring's brother and brother-in-law, who both work in construction. Michael Warring opened officially in May of 2012.
The 7-seat counter, which offers a ringside view of Warring's efforts, along with a cluster of tables, allow the pair to feed up to 20 diners nightly, serving a prix fixe, 5-course meal that changes with the seasons. The current menu is $69 per person plus $33 for the wine pairing or $21 for a beer pairing.
The restaurant launched with a series of soft openings and seats filled by friends of Warring's mother, a Realtor with a large network. The couple didn't do much in the way of marketing, although they do have a Facebook page. But over time, word began to spread about a different dining experience tucked away in Hiddenbrooke. Michael Warring received some warm reviews on sites such as Chowhound, and in September 2013 got a rave review from the influential Wine Spectator magazine.
That's all it took. The restaurant, which is open Wednesday through Sunday, is full most nights, Gulcynski says.
Warring does most of the cooking; Gulcynski is three places at once, pouring water, explaining the dishes, plating food.
On this particular stormy Wednesday, they put on an almost balletic display of virtuosity and charm, orchestrating a dining experience that is part theater, part cozy neighborhood diner.
The first course of fermented apple, pea tendrils, dill pollen and mesquite goes out. As diners watch, Warring assembles the salad in lidded jars and then, with Gulczynski's assistance, burns mesquite and infuses the salad with smoke. The dish comes to the table, the lids are lifted and aromatic wisps uncoil from the jar.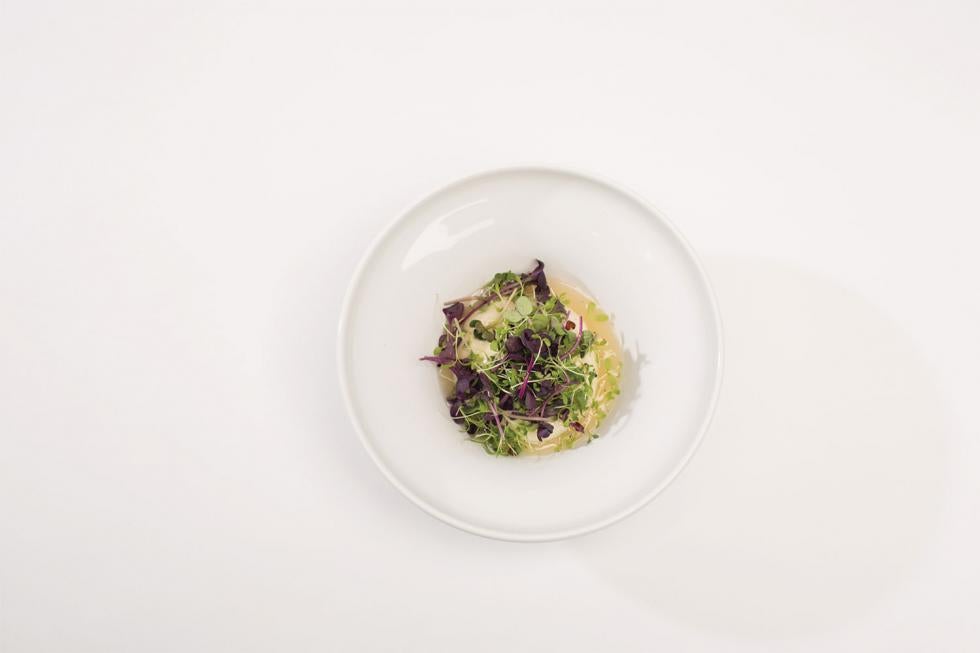 Incorporating aromatic elements is one of Warring's signature techniques, as is the strategic use of pickles and jams. And he tries to make sure the first course, always produce-based, is out of the ordinary. "It's important because it sets the tone," he explains. "I always try to put a lot of emphasis on giving something unique."
The mesquite isn't the only showstopper of the night. There's the amberjack roe served with crunchy trout skin chicharon and a dusting of coffee and cardamom, followed by a pasta dish unctuously sauced with egg yolk and redolent of truffles. Patrons can always anticipate truffles on the third course. Unless they're just not available, in which case, "I've got my grumpy pants on for a few months," says Warring with a smile.
The protein course is cryo-fried beef cooked in the sous vide method (sealed in plastic and bathed in hot water) and then briefly frozen in liquid nitrogen to keep the inside from overcooking before, finally, being fried in hot oil.
The couple explains the technique to diners, who marvel over how
pretty the dish is, garnished with mushrooms and artistically strewn greenery. They make appreciative sounds as they bite into the meat, tender on the inside, crisp on the outside and bursting with flavor.
The service never seems rushed, but neither Warring or Gulczynski ever stop moving. They've got this tag-team routine down to an art. As one course goes out, Warring is busy setting up the next, keeping the timeline smooth.
"When you come in, it's for the evening," Gulczynski says. "We don't turn the tables. People are here to enjoy themselves, and it's almost like they're coming into our house. We want them to feel comfortable."
Even the recalcitrant cheese course gets with the schedule. Well before the cheese cart is due to go out, the door opens and a gust of cold air announces the arrival of a delivery man.
Then comes dessert, pain perdu with citrus curds and aerated crème Anglaise that Warring puts together with a flourish of dry ice. Small, beautiful chocolates finish the meal, and replete diners spill out into the damp night.
Warring and Gulczynski plan on sticking around for a while; they've just renewed their 3-year lease. Eventually they plan to move on — both feel this is just the first stop on their culinary journey — although they aren't sure where or when they may go next.
But on this night they know exactly what their immediate future holds: the dishes.