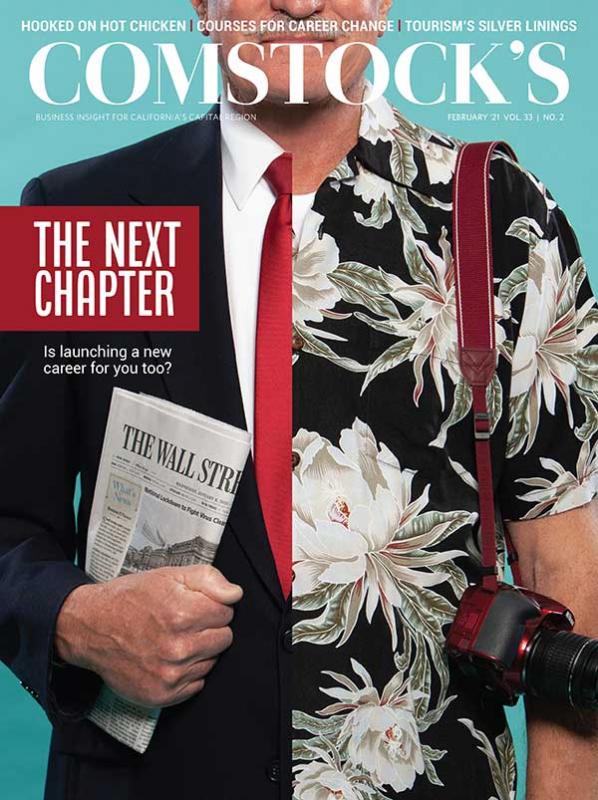 This story is part of our February 2021 issue. To subscribe, click here.
Greg Vaughn played Major League Baseball for 15 seasons in five cities, but he knew he would always continue to make Sacramento his home — and give back to his community, both as a business owner and a philanthropist.
His business interests include the development of the Starr Vaughn Equestrian center (named after his daughter, Genay Starr Vaughn) in Elk Grove in 1998, a minority ownership stake in Sacramento Republic FC, and the opening of a Restore Hyper Wellness + Cryotherapy franchise in Sacramento in 2020. He also runs Vaughn's Valley Foundation, which he launched in 2000 to help raise awareness of Type 1 diabetes and support organizations that fund breakthroughs to prevent, treat and cure the illness.
"It was a dream of mine to be able to own something in my hometown," Vaughn, 55, says of investing in Republic FC, the United Soccer League team that is scheduled to join Major League Soccer in 2023. "I'm 916 for life. I'm a kid from Meadowview," he says. "To be successful as a businessman, to be able to own part of a major league franchise in my hometown … and people of color are able to be a part of that is big. It showed other kids from our area anything is possible."
Vaughn, who was raised in that south Sacramento neighborhood, was a standout athlete at John F. Kennedy High School, from which he graduated in 1983. He played baseball at Sacramento City College and the University of Miami, and signed his first professional baseball contract with the Milwaukee Brewers. After three seasons toiling in the minor leagues in Helena, Montana; Beloit, Wisconsin; and El Paso, Texas, he made his big-league debut with the Brewers in 1989 at age 23. In 15 seasons playing for the Brewers, San Diego Padres, Cincinnati Reds, Tampa Bay Rays and Colorado Rockies, Vaughn hit 355 home runs. His best season was 1998 with the Padres, when he hit 50 home runs and finished fourth in voting for the National League Most Valuable Player and helped lead San Diego to the World Series. He also played in four All-Star Games.
"It was a dream of mine to be able to own something in my hometown … to be able to own part of a major league franchise in my hometown. … It showed other kids from our area anything is possible."
He and his former wife, Michele Vaughn, have three children: Cory Vaughn, who is training to become a firefighter; Genay, a competitive equestrian who operates Starr Vaughn Equestrian with her mother; and Greg Vaughn Jr., who is pursuing a professional baseball career. The 72-acre equestrian center includes a 3,000-square-foot home, an indoor arena, six outdoor arenas, 80 permanent stalls and 116 portable stalls.
Vaughn's Valley Foundation was launched 20 years ago after Cory was diagnosed with Type 1 diabetes. "I tried my best to go out and raise money," Vaughn says. "It got so hard, I just started writing the checks myself. I have a hard time asking people for money."
Vaughn's Valley Foundation, affiliated with Players Philanthropy Fund, a Maryland-based charitable trust, has expanded to support other causes, including the Sacramento-based Center for Fathers and Families as well as ReImagine Mack Road Foundation. Vaughn's Valley Foundation has received support from a handful of Sacramento-area companies, including Buzz Oates, Mikuni, Beach Hut Deli and Adkins Family Vineyards.
Vaughn also says he mentors young athletes through baseball camps and training programs. He donated the funds needed to build Greg Vaughn Field at Bradshaw Christian School in Sacramento. "Since donating the field, (the school) is getting and keeping players," Vaughn says. "It's not just about baseball, it's about life lessons. Take baseball as far as you can to advance your education."
Vaughn's latest business venture is a local branch of the Austin, Texas-based wellness chain Restore Hyper Wellness + Cryotherapy. He opened his first store in September 2020 with plans to launch additional locations in Chico and Las Vegas. He's also developed an interest in wine and is pursuing opportunities in that industry.
"I like to venture into a lot of different things," Vaughn says. "I like to keep my mind working competitively. Baseball paved the way for what I have been able to do."
–
Stay up to date on the effects of the coronavirus on people and business in the Capital Region: Subscribe to the Comstock's newsletter today.