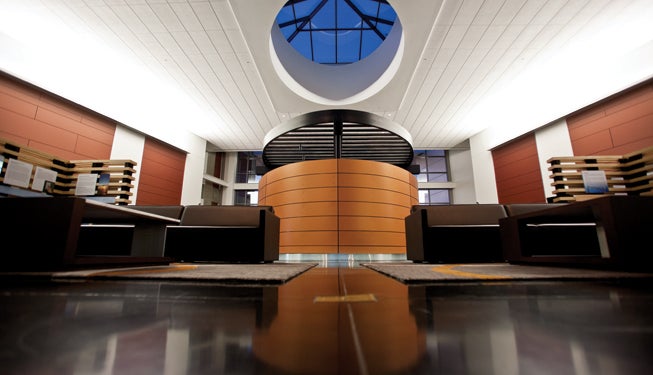 Tenant: California Independent System Operator
Designer: Dreyfuss & Blackford Architects
The nonprofit California ISO wanted a secure, innovative and energy-efficient Folsom headquarters that would enhance the work environment for its engineering and technical staff, which manage the state's electrical grid. "They are in the energy business, and it was very important that they be able to showcase what they do while being good stewards of public resources," says project manager Gus Fischer. The 277,000-square-foot complex is sixty percent larger than the facility the organization was previously leasing, yet it's energy costs are notably less, partially because nearly 20 percent of the building's annual power is supplied by on-site photovoltaic arrays. The project earned a Platinum rating for Leadership in Energy and Environmental Design from the U.S. Green Building Council. The campus also won more than a half dozen awards, including "Best Sustainable Design" from the Structural Engineers Association of Central California and "Best Office Project" from the Engineering News-Record. Inside, nearly every employee sits within 40 feet of windows, reducing the demand for electrical light. "They have a large number of technology professionals, so we wanted the building to have a high-tech look but we didn't cover it with a lot of expensive finishes," Fisher says. The buildings have concrete structural frames with exposed columns and floors to create a loft-like aesthetic with tall ceilings, and the designers let elements like furniture and accent walls provide pops of color.
---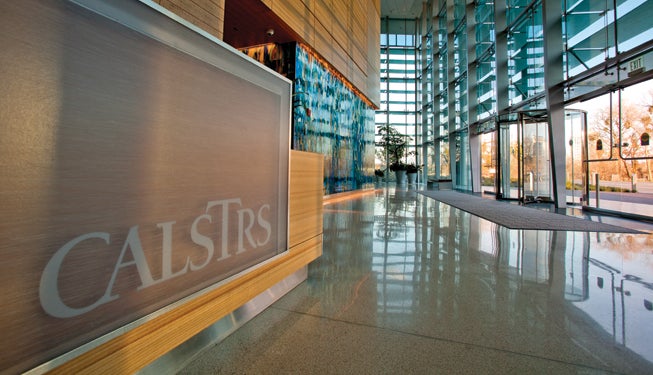 Tenant: CalSTRS
Designer: HOK
Cost-efficient, sustainable design was top of mind for the development of the California Teachers' Retirement System headquarters in West Sacramento. The decision to employ state-of-the-art, green materials to control future expenses reflects the organization's mission to maintain its members' trust and confidence that their financial futures are secure. In addition, "We talked about the retirement system as a type of vessel carrying teachers into retirement," says Design Partner Paul Woolford, a senior vice president and director of design at HOK architects in San Francisco. "We took that thesis and made it into a metaphor." The exterior structure, positioned on a former shipbuilding site at the confluence of the Sacramento and American rivers, evokes a large, glass sail. Inside, the building is set apart by its 8,000-square-foot, glass lobby overlooking the riverfront. Coined "the river room," the lobby is anchored by a massive wall of hand-blown glass tiles commissioned by Rhode Island artist Paul Housberg. The 13-story building incorporates features and systems designed to require 12 percent less energy and nearly 40 percent less water than comparable traditional structures.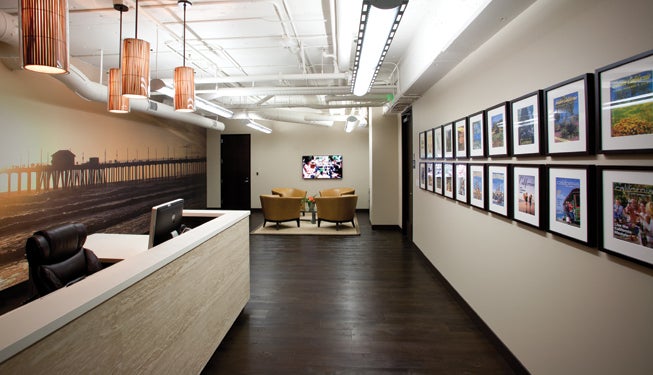 Tenant: Visit California
Designer: Lionakis
Visit California, formerly the California Travel & Tourism Commission, envisioned a headquarters that offers guests and employees alike a taste of California's many flavors. Built by HMH Builders, the new Sacramento office juxtaposes an urban, loft aesthetic against rustic, woody and coastal elements inspired by the state itself. "It was very much about layering their brand into the space," says project manager Valerie Hoffman, a principal at Lionakis. The goal was accomplished by integrating furniture from stores including West Elm and Pottery Barn, which offer a welcoming, homelike feeling; vibrant photography; and a neutral, earthy color palette invoking the outdoors and the Golden State's spectacular sand and sunsets.
Fine art collections serve as on-site museums for some of Sacramento's culture-loving companies.