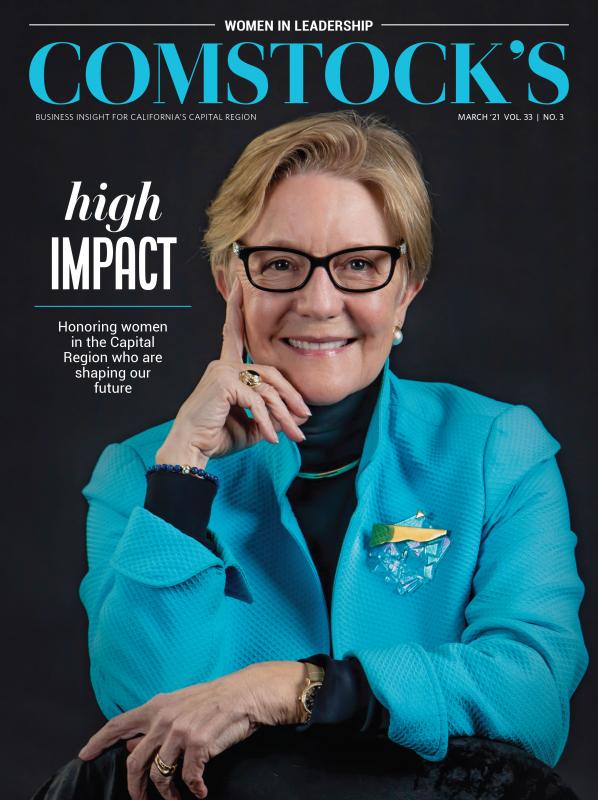 This story is part of our March 2021 Women in Leadership issue. To subscribe, click here.
Customers face a problem when they enter Tess' Kitchen & Culinary, one that grows more challenging as they explore the three-level, 6,000-square-foot store in Grass Valley's historic district. But it's a good problem to have: What to discover next?
There are racks of preserves and vinegars, dipping oils and honeys. Elsewhere are banana slicers and ceramic graters, Fiestaware and ice buckets. In between is a display of OXO Good Grips kitchen tools, next to glass cases of knives from Germany, Switzerland and Japan. There are pots and pans, plates and glasses, and a large commercial kitchen. Upstairs are bakeware and dish towels, teapots and bread makers.
There are plenty of eccentric items, like a green frog wearing a gold crown: a hand-painted cast-iron Prince Charming bottle opener — one of many touches of whimsy owner Alice "Penny" Short has brought to the table since becoming owner in January 2020, not long before the coronavirus pandemic upended the economy.
With more than 125,000 items supplied by about 400 vendors, arranged on shelves and tables, in cabinets and on ladders, the array could be overwhelming if it weren't so well-organized. Still, a visit is more of an outing than a drop-in, with a vibe far more homey than at corporate giants such as Sur La Table and Williams Sonoma.
"We stock not only basics but kitchenware you didn't know was out there," Short says. "I add a component of humor, so you'll always see a dog or cat something, and rooster and cow creamers, because they're part of people's pasts."
The effects of the pandemic on the retail supply chain and small businesses has been brutal. The National Federation of Independent Businesses reports national sales levels are half or less than pre-COVID for about one in five retailers. The U.S. Bureau of Labor Statistics is still tabulating the number of permanent small-business closures related to the pandemic.
"The pandemic forced small businesses to change the way they operate and find new ways to service their customers while keeping everyone safe," says Miryam Mora Barajas, communications director for the U.S. Small Business Administration Region IX, which covers California, Nevada, Arizona, Hawaii, Guam and American Samoa.
The scenario has been grim, yet small businesses continue to open, and some longtimers — like Tess' Kitchen & Culinary — have found ways to thrive under new owners.
The Latest Incarnation
Short is the ninth owner of Tess', which Tess Hawkins opened in the 1930s as a card and gift shop. The store has changed sites in downtown Grass Valley three times. Short's incarnation is a savvy one, given her background of 40 years in retail and wholesale, representing A-list manufacturers on both coasts, and overseeing their multistate sales regions.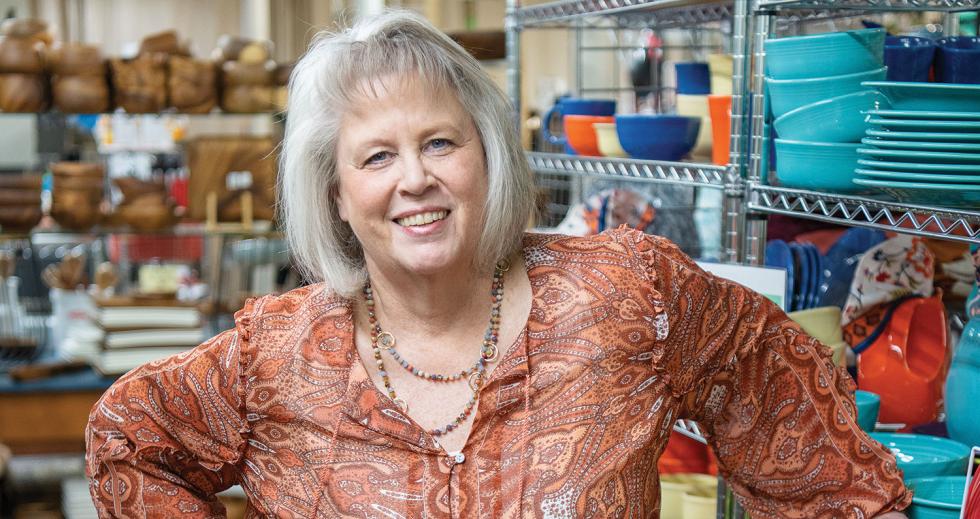 In high school, Short worked in a shoe store in Truckee, where she grew up. Eventually, she was recruited by a Connecticut shoe company "and my career went boom, boom, boom." Short segued from shoes to gift and tabletop items, then to home products, creating a national network of vendors and suppliers that she calls on in her new role as business owner.
Prior to buying Tess' Kitchen & Culinary, Short's last job was as the California-Nevada rep for OneCoast, a higher-end wholesaler in the home-products space. Tess' Kitchen Store (as it was called then) was one of her clients. When she learned the owner wanted to sell, "I had a loan in my pocket, if the model made sense," says Short, who was living in Sacramento at the time. "I looked at the store's numbers, and they needed work, which is why I came onboard (as general manager) in April 2019 and said, 'This is what we need to do.'"
Short became owner in January 2020 and has moved to Penn Valley, which is near Grass Valley. "My career had led me to this, and I put everything I had into the purchase," she says. "Our grand opening was planned for March 28, but we had to close March 19 because of COVID. We were devastated but immediately jumped to, 'What do we need to do, and how do we do it?'" She secured SBA Disaster Loan Assistance, "but I haven't had to break open that egg."
"COVID has forced everybody to stay home. They don't need new clothes or shoes, but they do have to eat, and they're upping their cooking game." Alice "Penny" Short, ownerTess' Kitchen & Culinary
Tess' Kitchen & Culinary reopened to in-store customers last May. "We are officially ahead of last year, and there aren't a lot of retailers who can say that right now," Short says, referring to sales through the end of October. "Our clientele is 80 percent locals, 20 percent visitors, and there's an influx of people moving into Nevada County.
"My world has flipped, the pandemic changed everything. At one point, I sold out of Dutch ovens, and my most popular line of measuring cups was discontinued. I'm getting our online business up and running, so at least we'll have that to fall back on."
Short's biggest problems are dependable delivery and obtaining product from suppliers that are cutting back production as their wholesale and retail clients continue to close, she says. "They're waiting to see what happens next," she says. "We're constantly chasing vendors and trying to find product, always looking to see who has what."
A Solo Journey
As small retailers throughout the country have attempted to figure out how to pivot or innovate to survive over the past year, the SBA offers "a variety of resources (including loans) and counseling to assist customers (about) solutions to today's challenges, whether in person, on the phone or through webinars," Barajas says.
More than ever, entrepreneurs and small-business owners are looking for help. Jim Kaspari, business coach and owner of PEAK Business Coaching in Folsom, has some advice: "Identify the most frustrating problems your customers have. If you can solve those, your marketing becomes 10 times more effective," he says. Also, "No matter what you're selling, get a delivery system in place."
Another key is being open to ideas other than your own. "You're wise to talk with someone to bounce ideas off of," Kaspari says. "It's the synergy of two brains working."
Other than her untouched SBA assistance, Short has been largely on a solo journey. "COVID has forced everybody to stay home. They don't need new clothes or shoes, but they do have to eat, and they're upping their cooking game," she says.
With restaurant dining hit-and-miss, as restrictions regarding indoor and outdoor dining have been in constant flux, "we had few options other than to prepare most of our meals at home," writes David Portalatin of the retail-analysis firm NPD Group. One indicator is the increased sales of cookbooks, especially in the bread-baking niche: 200,000 more bread cookbooks were sold during 2020 than in 2019, according to the NPD Group.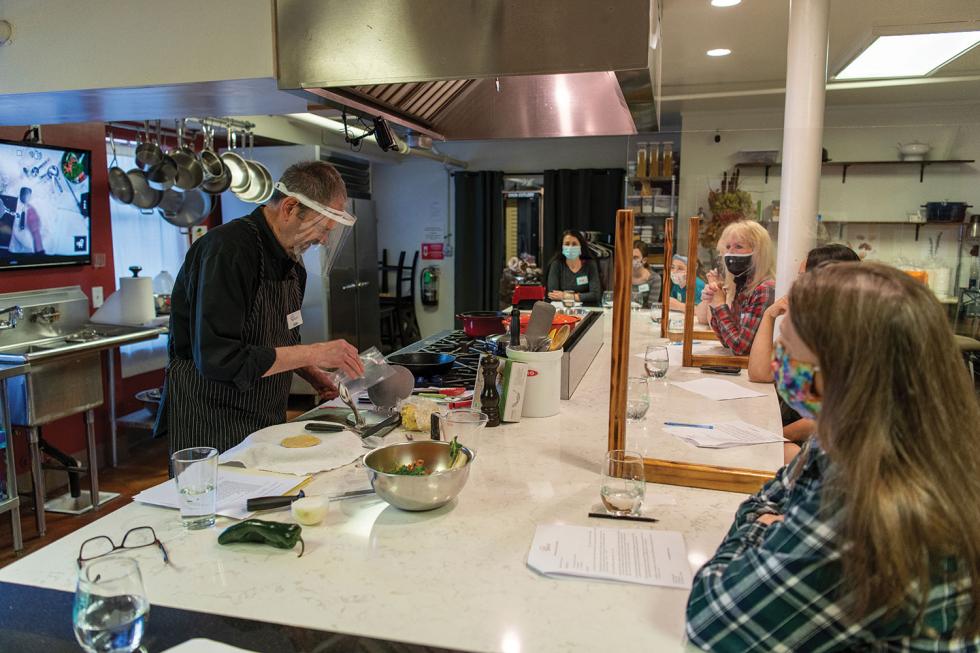 Cookware dominates at Tess', but the other piece is its Chef's Table program, a series of multicourse demonstration dinners, along with demonstration cooking classes. The 12-guest dinners — which moved from indoors to outdoors last spring — are on hiatus until April. The 12-guest indoor cooking classes are ongoing, though with strict pandemic protocols in place. For instance, the classes are no longer hands-on, but guests leave with the six-course meal that was prepared in front of them. Both programs are orchestrated by in-house chef Alan Tangren, who was previously a chef at Chez Panisse in Berkeley for 22 years. (He now lives on a farm near Grass Valley.)
In a pivot, Short and Tangren sold a seven-course Valentine's Day takeaway meal and 50 six-course prepared dinners for New Year's Eve. Also, Short rents the kitchen to local producers of salsa and honey. She has launched a new website and is still working to set up e-commerce.
Cruising the seemingly never-ending aisles of kitchenware, the question arises: What are some of Short's best-selling items? "This business is built on 'smalls' (smallware such as utensils), and they're all around you," she says. "One of my top sellers in 2019 was an oven rack pull with the head of a Muppet-like character at one end. I put two of them by the cash register and sold 144 in 60 days."
The top stocking stuffer last December was The General's Hot Sauce, made by a company founded by military veterans. The draw? The six flavors are packaged in glass jars fashioned to look like hand grenades.
–
Get all the stories in our annual salute to women in leadership delivered to your inbox: Subscribe to the Comstock's newsletter today.