Melissa Granville
Principal, Capitol Impact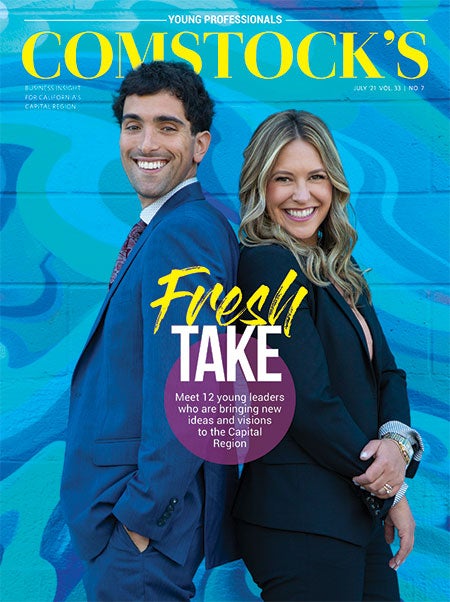 This story is part of our July 2021 Young Professionals issue. To subscribe, click here.
Melissa Granville's professional efforts have all been pointed toward making a positive social impact in her community, and Sacramento has been the ideal place for achieving this goal. "I think in bigger cities, (there) are many degrees of separation between the people who actually make the decisions in the city and the people that are doing the community-driven work," she says.
But in Sacramento, she says, someone can only be one degree of separation away from those in positions of power: "That feels both empowering and comes with great responsibility. If I have a seat at the table, I always ask myself, how can I use my power for good?"
A native of Sacramento, Granville left in 2005 to study strategic communications and play Division I volleyball at Wichita State University in Kansas. After earning both her undergraduate and graduate degrees there, she returned to her hometown in hopes of finding a job in the social impact sector. But the city was still reeling from the effects of the Great Recession and opportunities were sparse. "My professional network at that point was in Kansas, so I basically started from scratch and had to develop a professional network in a recession," she says.
"If I have a seat at the table, I always ask myself, how can I use my power for good?"
Granville worked in ticketing operations with the Sacramento River Cats and then spent a year with AmeriCorps in community outreach before landing a position at the nonprofit Food Literacy Center. She wore several hats — outreach coordinator, community relations officer and community partnerships director — but was ultimately looking for a role that mixed philanthropy and advocacy work in the policymaking space. "The hardest part of my professional career was just taking that step forward and not really knowing where I would land," she says. "But I learned something from every single experience, regardless of whether I thought it was a career job or not, and that has led me to where I am now."
Granville is now a firm principal at Capitol Impact, a consulting firm that provides management and advising to the social sector. She handles strategic communications, program management, and public policy and philanthropy advising for major government and nonprofit clients, including managing the day-to-day operations of the James Irvine Foundation Leadership Awards, an annual grant program that recognizes individuals who are advancing solutions for California's critical issues.
Outside work, Granville joined the Sacramento hub of the Global Shapers Community, a World Economic Forum-launched network of young people who want to impact the dialogue around policymaking. She is particularly proud of the bid her chapter won to host the 2018 Shape North America global conference in Sacramento.
The multiday event brought together more than 200 thought leaders from around the world to discuss important issues and introduce them to Sacramento. As one of the lead planners, Granville helped secure more than $90,000 in financial and in-kind support for the conference. The group pulled out all the stops, inviting political, community and business leaders, as well as offering highlights of the region's food, arts and culture communities. "It was a really immersive Sacramento experience for all of these folks from all over the world that I was really proud of," she says. "Ultimately, it ended up being a very powerful couple of days."
–
Get all the profiles in our Young Professionals issue delivered to your inbox: Subscribe to the Comstock's newsletter today!