The final stages of construction at a trend-setting apartment project in San Francisco's SoMa neighborhood, known by its address at 38 Harriett St., largely resembled a life-sized game of Tetris. Each of the 300-square-foot apartments showed up at the work site on the back of a truck and were lifted into place with a crane.
Once the ground-level units were up, construction crews stacked the remaining three levels on top, like containers on a loading dock. Workers finished putting all 23 apartments in place in just a week. Crews completed the entire project, from the first shovel of dirt to opening the doors, in just six months.
The costs saved in labor, material and time were a mighty advantage in an industry digging itself out of economic malaise amid increasing regulations. The use of modular construction is gaining interest and support and is spreading from advanced urban centers like San Francisco to second-tier cities like Sacramento, which is preparing to construct its first "building-in-a-box" apartment complex. Thirty-eight Harriett St. and The Warren, a modular apartment building in the ground-breaking stage at Sacramento's intersection of 16th and N streets, are prime examples of how the modular industry has stepped up quality and energy-efficiency standards.
Mention "pre-fab" and many contractors think creaky floors, leaky windows and cheap materials that easily become storm-strewn debris on the evening news. But new processes, materials and technologies mean modular construction is gaining some competitive advantages against traditional construction.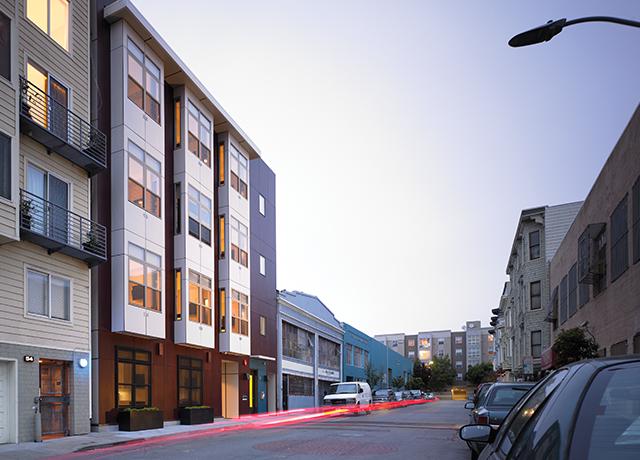 "The quality was very good, one of the best projects we've ever done," says Cara Houser, vice-president for development at Panoramic Interests, which built 38 Harriett St., one of San Francisco's first modular, affordable housing projects. The company specializes in infill construction and has built more than 500 living units in San Francisco and the East Bay.
Hauser's experience comes as no surprise to Bill Talbott, vice president of manufacturing for Zeta Communities, which built Panoramic's micro-units at an assembly plant in McClellan Park.
"They are built to the same standards as stick-built," says Talbott, who believes standardizing construction on an assembly line improves overall quality. "If you were buying a car, you'd want one that was built on an assembly line instead of in someone's backyard, wouldn't you?"
One of the advantages of modular construction is the amount of design work that can be finished before construction even begins. "The design has to be 100-percent coordinated and fleshed out in advance, because there's no room for mistakes," Houser says. That means everything that fits inside the box, from appliances and plumbing to HVAC and wiring, has to be locked in before construction kicks off. That also solidifies costs by mitigating time-consuming and expensive change orders.
The assembly line Talbott oversees builds apartments much the same way automobile companies build cars. The floor units are assembled at the front end. Various sub-assemblies, such as walls, insulation, windows and plumbing are added further down the line. The most critical step, adding the roof, is done last. "Once we set the ceiling, then it's a strong box and will stay that way forever," says Talbott.
Working conditions on an assembly line at McClellan are less demanding than on a construction site. Plus, the manufacturing ensures each unit is made to exactly the same specifications and is more than 90-percent complete when it leaves the facility.
The cost per square foot for modular construction is about the same as for conventional buildings, but the units can be assembled while the site is being prepared for construction, saving a tremendous amount of time and money. In April, Talbott hired nearly 150 electricians, carpenters and plumbers to start building apartment units for The Warren while bulldozers were tearing up an asphalt parking lot on the apartment's future site. When the foundation and podium of the building are completed, the housing units will be delivered on-site so construction crews can stack them in what one project manager calls a "plug-and-play system."
"You can press the build cycle," contends Talbott, which can cut the final construction stage by more than half. "As soon as the concrete cures on the foundation, we can start setting units down."
Saving time saves carrying costs, too, Hauser says. Construction schedules can be reduced by 50 percent, so investors don't have their money tied up for as long as they would have with a traditional project. Opening doors to renters sooner means revenue generated earlier, too.
Beyond cost reduction, builders are also looking at pre-fab as an efficient way to meet California's environmental mandates. Under new California Energy Commission's standards in effect this month, new residential buildings must meet a net-zero energy standard by 2020, essentially generating more energy than the unit would consume in a year. New commercial construction must meet the same standard by 2030.
Modular construction's comprehensive design strategy produces buildings with built-in eco-friendly features. "Conventional construction can meet those standards, but energy codes make modular more attractive over stick-built," says Ray Nalagan, a senior architect with SMUD. An air-tight box built on an assembly line gives architects the flexibility to incorporate features buyers want, such as larger windows, while achieving maximum performance from energy saving features, such as insulation.
"Cities are requiring more LEED [Leadership in Energy and Environmental Design] standards and going modular helps you get further down that road," says Houser, whose micro-unit project incorporates air-tight construction, solar water heating, a rain harvesting system and other eco-amenities that earned it a Gold Certification by the U.S. Green Building
Council.
Still, location is a key factor for maximizing the sustainability of modular construction, which is generally considered most suitable for low- or mid-rise infill projects. "If it's near transit and in an urban setting, those are the things that cities are looking for," she added.
That makes the corner of 16th and O streets a prime site for Sacramento's first pre-fab infill project. The Warren is a $35.6 million, 6-story complex of 1- and 2-bedroom condominiums expected to open in one year. While the foundation and site work are being done, Talbott's crew will turn out four or five apartments a day on the assembly line and store them in a warehouse until they are needed.
While modular construction isn't the solution to every project, it's especially suited to this site, says Faye Paulsen, project manager for UrbanCore, the developer. "It very much simplifies the construction," which she estimates could take a year longer with traditional methods.
Additionally, because the modules are delivered by truck, fewer workers are needed on the crowded construction site.
Based on similar projects she has seen in the Bay Area, Paulsen is convinced pre-fab construction will continue to grow in popularity and demand. "This type of housing is not lesser quality," she says. "It's simply constructed offsite."
Houser also notes that banks and lenders are increasingly interested in modular projects, "and as they get more comfortable with them, they will be more willing to invest."
Sick of missing out? Sign up for our weekly newsletter highlighting our most popular content. Or take it a step further and become a print subscriber — it's both glossy and affordable!