It's the weekend before Christmas, and the lunch rush is just thinning out at La Placita in Orangevale. A man and woman in their late 20s walk through the door and scan the room before approaching an older couple sitting along the wall in a booth underneath a painting of a rustic Spanish courtyard. The gray-haired woman doesn't notice until the duo is within arm's reach, but when she sees them she shrieks so loud the low din from the restaurant's lingering tables goes silent. She yells an apology to the room as she begins to weep, standing to pull the two young folks in for an embrace. The hum of the room returns easily as the holiday reunion ensues, as though this may not be an infrequent occurrence at the establishment.
"Opening up the doors to our business was like opening up the doors to our home," remembers Carlos Hernandez, general manager, whose parents own La Placita.
Formerly from Southern California, Jesse and Angie Hernandez moved north in search of a slower pace of life, and Orangevale in the 1980s offered just the type of tight-knit community where they hoped to raise their two children. It was a pioneer of Mexican cuisine in Orangevale at the time. The menu originated with recipes passed down through Angie's family, with adjustments made throughout the years. (The current offerings feature no-frills breakfast, lunch and dinner items, including chorizo, machaca, menudo, pozole, enchiladas, tacos and burritos.)
Carlos, their eldest, was 13 years old when the restaurant opened; his sister Eileen was eight. He says the original staff consisted mostly of family, with two aunts and two uncles who helped out while he washed the dishes. He remembers his family pouring everything they had into the restaurant. Today, Carlos has taken over the restaurant's operations while Eileen handles the finances.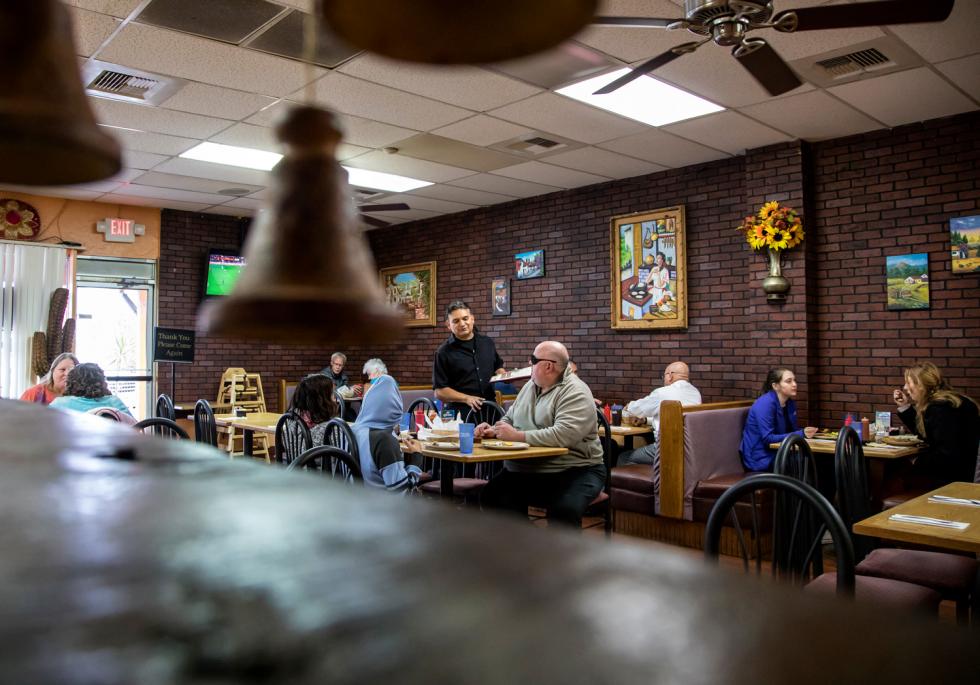 La Placita's very first customer through the doors was its mailman, who became a regular and has watched Carlos and Eileen grow up and take over their parents' duties at the restaurant. He still visits the restaurant regularly. In fact, there are a couple dozen regulars who have been patronizing the restaurant for decades, getting to know the family through the years.
"It's been wonderful to see the generations of ownership," says Carol Hoge, a regular at La Placita for nearly 25 years. "They have been an anchor in the community. It gives me a sense of, not just stability, but this lovely feeling knowing that you can count on La Placita to be the same year after year." A sentiment that is also echoed by Marci Fruits, a 15-year customer who calls the establishment, "a home away from home."
Carlos says that creating a sense of community has been a tenet of the business since it first opened 30 years ago. From sponsoring youth soccer teams to hosting the Orangevale Chamber of Commerce luncheons, engaging with local organizations is a high priority. And while the unassuming strip mall that La Placita anchors has remained largely the same over the years, with the same neighbors now as on opening day, Carlos notes how the community surrounding it has changed compared to 15 years ago.
"People who live in Orangevale are very proud that they are from Orangevale," Carlos says. "Compared to the outlying areas, Orangevale is a bit smaller and feels more tight knit. Everyone here feels like family."
Already a 30-year-old pebble preserved against a stream of development, La Placita's neighborhood is likely to keep evolving if efforts from its engaged residents and local business owners come to fruition.
Back in 2008, the representatives from the Orangevale Chamber of Commerce joined forces with Sacramento County to tackle the decades of blight left in the wake of declining Aerojet, which had fueled a boom of growth in Orangevale in the 1950s. From this partnership emerged a community-based group of volunteers that goes by the name of GLOVE (Greenback Lane Orangevale Envisions), made up of businesses, residents, property owners and other interested parties. Ultimately the group's vision is to, with organizational insight from the County, put together enough grant funding to transform Greenback Lane into more than just a transportation thoroughfare by curating palm-lined streetscapes, enhanced pedestrian promenades and bikeways, and public art through murals and custom neon signs branding the downtown area.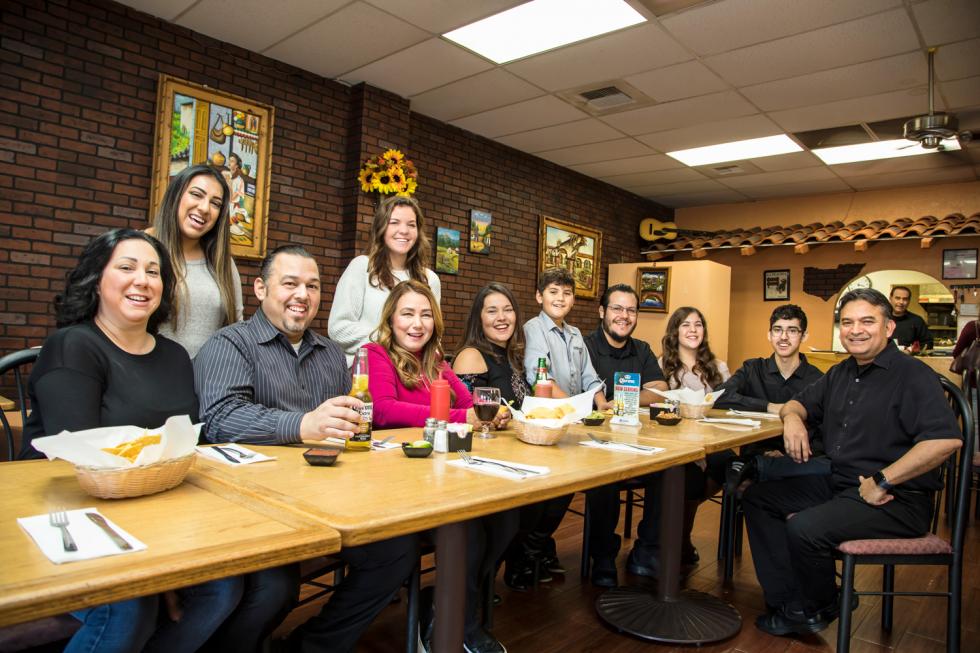 That planning process chugged along as GLOVE put together a distinct vision for the district, which was finalized in 2011. By 2016 the group's planning also included commercial design guidelines, a streetscape master plan and a special planning area amendment to the zoning code, allowing for underground utilities and other hallmarks of the vision. That same year the group completed its first project, erecting a "Downtown Orangevale" sign featuring a giant orange, hailing to the town's origins as a citrus grove, that sits a stone's throw from La Placita on the median of Greenback Lane at Chestnut Ave. GLOVE ultimately hopes to see Orangevale effectively branded in a way that offers tribute to its "rural" roots while highlighting its 1950s heyday with Atomic era architectural elements.
"We want people to feel like they are walking back into the '50s," says District 4 County Supervisor Sue Frost, who is also a patron of the restaurant. "La Placita is right in the middle of the area being revitalized. We're aggressively going after any money we can find to light this area up."
The total estimated cost for Downtown Orangevale improvements along Greenback Lane, which are concentrated on less than one mile along the corridor, is $9.5 million. While visible progress has been slow thus far, Frost and others are hopeful that the initiative's trajectory will ramp up in the next three years. Sacramento County will apply for a grant to fund the project this spring. Carlos sees a potential boon for the already bustling La Placita, which he says has lines out the door starting at 5:30 every evening.
"There's been a lot more businesses coming in to Orangevale," says Carlos. "Right now it still has the 'old town' feel, which is good. It's not like going to downtown Sacramento where it's super crowded and businesses are right on top of each other. It still feels like a little town, with more people. It's not overcrowded. I think it's grown at a good pace."
La Placita operated a second location close by in Citrus Heights for nearly 19 years before being unable to renew the lease forced its closure. The family is currently scouting a new location, which they plan on opening in 2018.
Three generations of the family, along with 25 other employees, have been involved with the operations at La Placita through the years. Jesse and Angie are now retired and visit the restaurant occasionally, while Carlos and Eileen manage the business. Eileen's two teenagers, Hailie and Maria, are putting in time at the restaurant, while Carlos plans on putting his 16-year old son Vincent to work within the year, following in the footsteps of Carlos' 20-year old daughter, Frances.
With a third generation learning the ropes and continued development on the horizon, Carlos feels optimistic about how the economic development will impact his family's time-tested business. The community is positioned for dramatic transformation, but some things may never change.
"One thing my parents always told us was to treat people coming into the restaurant as you would guests coming into your house," Carlos says. "Make them feel welcome."
What's your go-to eatery off the beaten path? TWEET US YOUR FAVORITE @COMSTOCKSMAG.