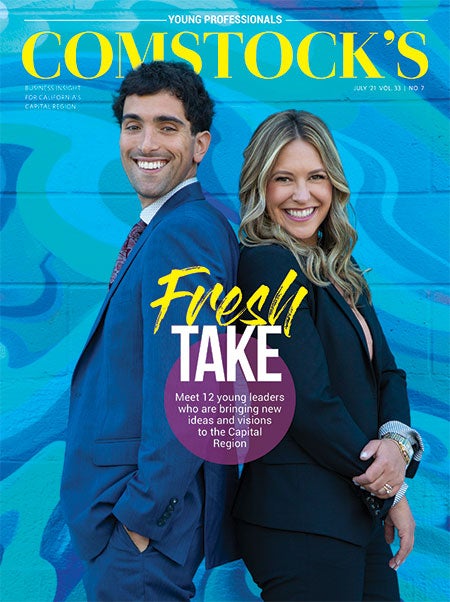 This story is part of our July 2021 Young Professionals issue. To subscribe, click here.
The Capital Region has long been recognized as one of the most racially diverse in the country — Stockton and Sacramento were named No. 1 and No. 3, respectively, in 2020 by U.S. News & World Report — and that diversity is reflected in the makeup of its small-business owners.
More than 20,000 businesses in San Joaquin County and 43,000 businesses in Sacramento County are owned by minorities, playing a significant role in the health and vitality of the Capital Region's economy. About $68 of every $100 spent at a local establishment stays in the community, compared to $43 per every $100 spent at a national chain.
For many of us, the COVID-19 pandemic has impacted our daily lives, but for some minority small-business owners, the impact has been even more significant. Large corporations were the first to apply and receive Paycheck Protection Program loans from the Small Business Administration or to secure an Economic Injury Disaster Loan in an expeditious time frame.
Place yourself in the shoes of some of these thousands of small-business owners, which includes immigrants and people of color who are trying to support their families and achieve the American dream, but are running into systemic inequities.
Business owners who were able to complete the necessary paperwork were able to access state and local forgivable programs as soon as they came out. But for some small-business owners in the region who speak English as a second language, finding someone to help translate the application and pull together the required information was an obstacle that prevented them from getting financial assistance.
Place yourself in the shoes of some of these thousands of small-business owners, which includes immigrants and people of color who are trying to support their families and achieve the American dream, but are running into systemic inequities. For some, language skills, their ethnicity or lack of connections in the community put them at a disadvantage, and the additional strain of the pandemic has created further hardships in keeping their business doors open.
Some of these entrepreneurs have no financial safety net and worry that their business will become a target for crime solely because of their race: Hate crimes against the Asian American and Pacific Islander communities have skyrocketed during the pandemic, with some of these crimes being committed against AAPI-owned businesses, leading to additional expenses and heartbreak.
The pandemic has changed the way we do business, the way we view our relationships and how we conduct our lives on a daily basis, but even consumers can step up to be leaders during this time to help small-business owners. Here are some ways you can make a positive impact on the region.
Buy Local
Almost anything you need can be purchased locally at a small business. It may not always be as convenient as shopping online or at a big-box store, but it has a much more significant effect for the community. When looking to buy tile, for example, the Franklin Boulevard and Power Inn corridors in southeastern Sacramento have many locally owned home-improvement stores.
Instead of purchasing gifts on Amazon, try shops such as the African Market Place, ShopSmart and Kulture in Sacramento, which are home to dozens of microbusinesses and artisans offering unique items. And you get to support an entrepreneur's dream.
Get Involved in a Chamber
Join a minority chamber of commerce, such as the Sacramento Asian Pacific Chamber of Commerce, Sacramento Black Chamber of Commerce, Sacramento Hispanic Chamber of Commerce or Slavic American Chamber of Commerce, just to name a few. These organizations work to help as many small-business owners as they can. Even a small investment allows them to continue to do this work of providing much-needed assistance.
Donate Time or Money
Underwrite a minority-focused event through sponsorship and attendance. For example, the Sacramento Black Book Fair is an excellent event to support and attend in September.
Contribute to a local nonprofit supporting our underinvested corridors such as the ReImagine Mack Road Foundation, which has served more than 25,000 children through its homework lab, chess club, dance class and mobile bicycle repair program. Its program, Sacramento Saturday Night Lights, has touched more than 50,000 residents by providing a safe place for families to gather Thursday through Saturday nights during the summer. Families receive free dinners, activities, and gang intervention information. Another option is the Florin Road Partnership Foundation, which supports local K-12 enrichment programs and distributes a scholarship program that has donated over $140,000 to graduating seniors from Luther Burbank High School.
Volunteer for a nonprofit such as Hacker Lab, which works with minority small-business owners to pivot their businesses to an online presence, a skill desperately needed by many of our minority small-business owners.
Make a Call to Action
Ask your jurisdiction how it is supporting small businesses during the pandemic. Is it investing its Coronavirus Aid, Relief, and Economic Security Act or American Rescue Plan funds into the business sector? If not, make a call to action to your mayor, city council members, board of supervisors or all of the above. It is the time when many jurisdictions are now making decisions on where to invest the federal economic stimulus money, so educate yourself by better understanding what resources are being allocated to help small-business owners, ensuring they are a priority.
If we allow our minority small businesses to fail, we all fail. They are an integral part in what makes the Capital Region a diverse, cultural hub. Their success is the region's success.
–
Stay up to date on business in the Capital Region: Subscribe to the Comstock's newsletter today.