It's a beautiful, cool evening in rural Winters. Charming Main Street is trimmed with festive globe lights and alive with people on a weekday night. After all, it's tri-tip Tuesday at the Buckhorn Steakhouse, the historic brick hotel-turned-restaurant that attracts people from all around with 28-60 day aged tri-tip made popular by owner and former cowboy and butcher John Pickerel.
On this night, Pickerel walks past the smoker grilling in the street and runs to his car to grab a knife and cutting board. Flames from the burning almond wood shoot up as he opens the hood of the cooker, stabs a hunk of tri-tip and carves up pieces for a guest. There on the street in the dark, Pickerel, his wife, Melanie, and the guest eat Buckhorn's signature charred, marinated and seasoned meat with their fingers.
This is the pride and devotion that goes into the famed Buckhorn empire of 12 restaurants from the Bay Area and the Capital Region to New York City. Now celebrating its 40th year, Buckhorn is renowned by the meat industry for taking tri-tip, a lesser cut of the cow, flavoring and grilling it just right to become a much desired staple for diners looking for tasty barbecue. "We started selling our really tender, really flavorful tri-tip that was medium rare in sandwiches in 1999," Pickerel says, calling them beef in a bun. "There were just big long lines."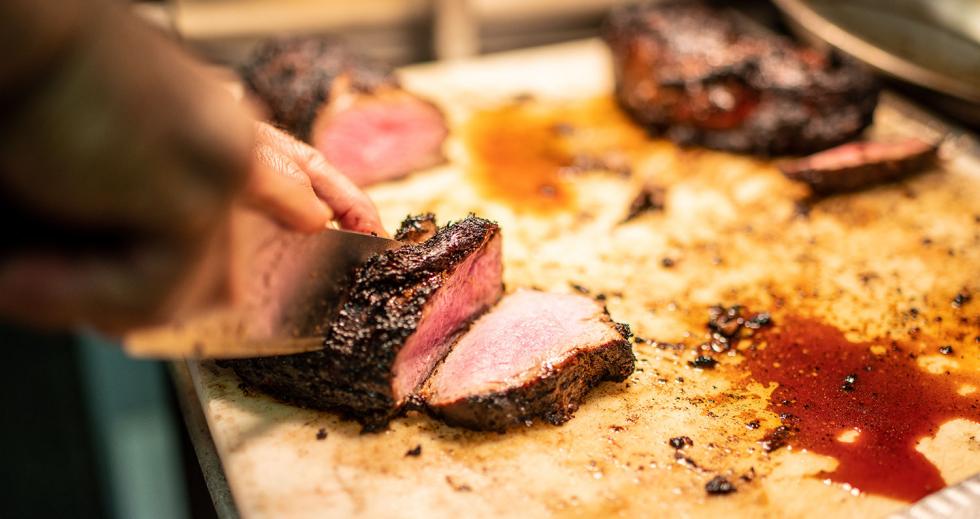 Buckhorn buys about 1 million pounds of certified Angus beef a year for its restaurants. Pickerel looks for the age, marbling and breed that makes their meat tender, juicy and flavorful. Buckhorn was honored last year with the prestigious Legendary Steakhouse award by the Certified Angus Beef Board of Directors. "Every part of the cow has a different flavor profile, flavor notes — like coffee or chocolate or wine," Pickerel says.
Pickerel, 67, has been in the meat business nearly all his life, and now is looking to spend more time with family. Born in Idaho to a father who was a rodeo cowboy, he began riding horses when he was 6 years old, competed in competitions at 12 and started playing polo at 13. A mentor, Pete Gillham, coaxed him to come to California at 21 to help him with his new restaurant, Cattlemens in Dixon, in 1974.
Pickerel learned how to prepare and butcher meat and rose through the ranks to become manager. Another friend then asked him to help start a restaurant in Winters. Pickerel had no idea where that was but was captivated once he visited. "I was fascinated by Winters," he says. "It was like a village that got lost in time. It looked like it was forgotten."
Winters was settled in 1842 by John Reid Wolfskill, a farmer who planted fruit and nut orchards. Pickerel heard about the historic DeVilbiss Hotel — a sprawling, ornate two-story brick building built in 1889 on a corner lot — during a card game and bought it. Pickerel opened the Buckhorn Steakhouse there in 1980. "Once he bought it, it continued to grow, and that reputation spread (and) brought a lot of people to town," says Winters Mayor Bill Biasi. "They saw how nice it was and came back more often."

One night 30 years ago, a dark-haired woman seated at the bar caught his eye, and Pickerel soon married his second wife, Melanie — a single mother working as a midwife who sold cheesecakes on the side. Melanie decorated the steakhouse, keeping the mounted deer and elk heads on the walls. (Melanie's daughter, Emarie VanGalio, is now Buckhorn's marketing manager.)

To promote Buckhorn, the Pickerels sold tri-tip sandwiches at carnivals, in Old Sacramento, at Sutter's Fort and the Davis Farmers Market. One day, Melanie saw a flyer in the trash can in their office. It was about a new farmers market opening in Napa.

"I said to John, 'I think this is something we should do.' He said, 'No, we're not doing that,'" Melanie says. She did it anyway with the help of her father. It was a huge success. Pickerel came onboard, and soon they were selling more than 500 grilled tri-tip sandwiches a day. They knew they hit on a winning formula. After a board meeting with the head of Sony Corporation where the Pickerels served tri-tip sandwiches, they opened a second restaurant at the then Sony-owned Metreon in San Francisco in 1999. The Buckhorn chain was off and growing.

Over the next 20 years, the Pickerels opened 10 more restaurants in both rural and urban settings. Some started simple in food courts, but the Pickerels realized other locations had to be more upscale so they added attractive glass bars, cocktails and a higher level of decor.

Through his restaurants, Pickerel helped increase the popularity of tri-tip nationwide. Discovered by a butcher in Santa Maria in Southern California, this triangular cut of the bottom sirloin was traditionally ground into hamburger meat until the butcher found it could be tenderized and flavored like a steak. "I've got to believe John Pickerel's emphasis on how he makes sure that everyone on staff knows about beef and how it's cooked and aged and marbled and cut — that pasture-to-plate understanding — helps inform customers," says Annette Kassis, spokeswoman for the California Beef Council.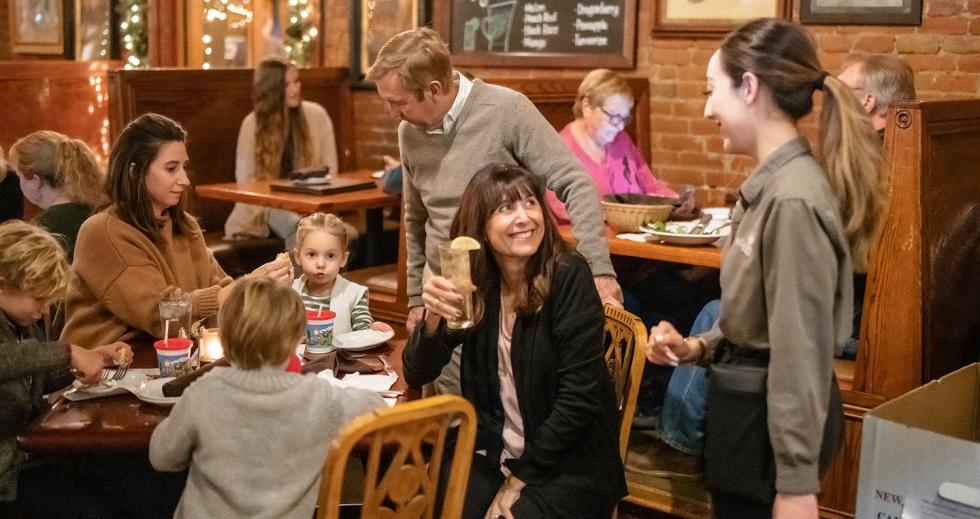 In recent years, the Pickerels have modified their offerings to reflect the movement to plant-based eating. They serve heaping, healthy salads loaded with vegetables at all their restaurants in addition to chicken and fish dishes. And, it turns out, popular diets of today — including ketogenic, paleo and Whole30 — may be having a positive impact on the meat industry, with consumption tying a record in 2018 for Americans eating an average of 219 pounds that year, according to the U.S. Department of Agriculture.
Pickerel has bigger concerns with the rapidly changing food industry. More and more customers use DoorDash, Postmates and other food-delivery apps, removing the experience of dining out. (Buckhorn Steakhouse is a dinner-only restaurant. Other Buckhorn locations also serve lunch.) He says this pressures restaurateurs to provide not only a good meal, but an experience to entice consumers to come in. "We're a little nervous," he says. "But when somebody gets a 60-day aged sirloin, it's amazing. That's our stock and trade."
After more than 40 years in the restaurant and meat industry, Pickerel is considering selling some of his restaurants. He says the day-to-day grind and constantly changing restaurant dynamics and innovations are exhausting and it's time to get some help operating the Buckhorn chain. He's in discussions with an investment group interested in Buckhorn Grills in Roseville, Folsom Palladio, Midtown Sacramento, Sacramento's University Village and Vacaville but no deal has been finalized.
Pickerel wants to spend more time with his eight grandchildren. "I've given way too much of myself to the business," he says. "I'd like to salvage some of me for my family. Life is short."
—
Get this and other stories delivered to your inbox weekly: Sign up for our free email newsletters by tapping here.
After taking over the historic Steady Eddy's in 2013, owners Jamell and Carla Wroten are focused on expanding the wholesale business.
Tucked in a quiet corner of western Yolo County, Winters embraces the soul of small-town living. Centered around a historic downtown complete with white gazebo and an oversized main street clock, this tiny farm town (population 6,624) is on the cusp of a burgeoning new food scene.
On hot summer weekends, a 20-barrel brewery west of Winters overflows with patrons. They flood the taproom and crowd around shaded picnic tables, sipping beer while soaking in live music. A few kids play baseball in the gravel lot. Others pull wooden blocks from an oversized Jenga set by the food truck. Some are locals, but many come from Davis, Sacramento and beyond to get a taste of whatever Berryessa Brewing Co. has on tap for the week.