Peter Rozakis, co-owner of family-owned GR Trucking, is sharp, outgoing and quick to make a connection, solving problems on the fly. He sees challenges as opportunities, and it's easy to see how he's leveraged the skill to aid him in business. "When development was booming in Sacramento and others were saying no, we were saying yes," Rozakis says. He and his partner would take calls 24 hours a day and were not above borrowing trucks from other outfits to get the job done. "We completely shook up the mentality of our competitors who had gotten a bit soft," he says.
Rozakis and I are speaking on a Monday morning (mid-morning for me, evening for him) about the materials transport business he co-owns with brother-in-law Tony Maragakis. He's vacationing on the island of Crete. We are separated by a 10-hour time difference, but you wouldn't know it; our connection is crystal clear. "I have a system set up so I can take business and personal calls using a local number, even when I'm here," says Rozakis, who travels between his family home in Granite Bay and his vacation oasis on Crete.
Rozakis' story goes back more than a decade, when he started his company with a single truck. Today, GR Trucking is a 60-person, $16 million business with over 100 pieces of equipment. The company has worked on some of the Capital Region's largest construction and development projects and is widely regarded as the top materials transport business in Northern California. In addition to its transport arm, GR offers concrete crushing and recycling services, the only trucking company in Sacramento to do both.
It Started with a Truck
"The transportation business is in my blood," says Rozakis. The family lore credits his grandfather, Greek-born Panagiotes Rozakis, with developing the first Crete bus system in 1932. The line was expanded to six buses before World War II broke out and, as legend has it, the vehicles were commandeered and shipped to Albania for the war effort. The buses were the family's first foray into the transportation business. His son and Peter Rozakis' father, Demetrios Rozakis, followed in his footsteps.
For nearly 40 years, Demetrios Rozakis supported his wife and five children with a single truck, creating the foundation and inspiration for what is now GR Trucking.
A handsome man, Demetrios caught the eye of Mary Baladakis, an American-born Cretan who had seen a photo of Demetrios from his sister and brother-in-law. Baladakis traveled back to Crete with her daughter Koula, whom she intended to see married to Demetrios. Her plan worked, and Demetrios and Koula were married in Crete on July 27, 1959, two weeks after they met. Koula's hastily-packed prom dress served as her wedding gown.
The next day, the couple left for the U.S. and settled in San Francisco, where Demetrios took work in a factory. He found factory work too confining and after three months, purchased a 1957 White Western, 10-wheeler dump truck for transport jobs. Demetrios gained a reputation as a hard-working and reliable operator, working as a subcontractor on a number of Bay Area projects, including the Foster City Infrastructure Installation and the BART tunnels. For nearly 40 years, he supported his wife and five children with a single truck, creating the foundation and inspiration for what is now GR Trucking.
While Demetrios was content to make a good living with just one piece of equipment, his son encouraged him to think bigger. "We would often disagree about expanding the business," Rozakis says of his relationship with his father. "I was constantly telling him that he should get more trucks and grow the company, but he would just say, 'Why would I want all those headaches?'" Rather than have his children work in the family business, Demetrios encouraged them to pursue higher education. But after two years of studying physical therapy and sports medicine at the College of San Mateo, Rozakis dropped out, bought a truck and started his own business.
In 1985, brother-in-law Tony Maragakis joined Rozakis' fledgling company, where the two primarily worked as hired guns, contracting out services to local companies. Both were driving, dispatching, selling, repairing equipment and handling customer service. After four years, Demetrios and Maragakis missed their native country and returned to Greece, but Rozakis stayed in the States. In 2000, he used his existing trucks, including the ones he purchased with his father, to work for Rogers Trucking in south San Francisco. "During that time, I was able to really learn about the business side of running a company," he says. "I learned how to bid a job and service customers."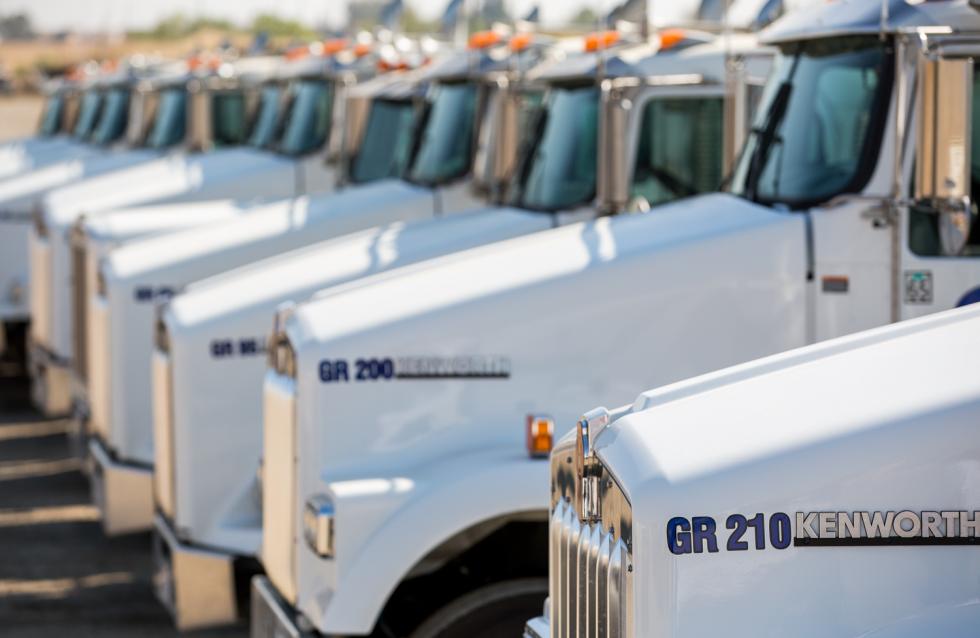 After a decade in Greece, Maragakis rejoined Rozakis in California and in mid-2003, the duo made the decision to move their business to Sacramento. "We love the people, the weather and the friendly environment, and we could see the tremendous growth," Rozakis says. In their first year, they laboriously drove back and forth to the Bay Area for work while trying to establish their business. "That was a really difficult time," Maragakis says, "but we did what we had to do to get things going." Developer and family friend, Angelo Tsakopoulos, hooked GR up with its first big Sacramento project — a housing development in Rancho Cordova named Anatolia, which included 5,000 new homes. Rozakis and Maragakis were hired to transport aggregates from local quarries for utility and roadway projects on the site. "We were introduced to the right people, but the rest was up to us," Rozakis says.
As business picked up, the pair leased a 104-acre parcel in Rancho Cordova, which allowed them to expand. The sprawling facility on White Rock Road houses GR's corporate offices and most of its considerable fleet of equipment and materials. GR's product line is substantial with trucks that collect, transport, haul and dump. On average, 200 trucks come and go from the facility each day.
Expanding the Business
In 2005, GR launched Crete Crush, a sister company to its trucking operation that includes two concrete and asphalt crushing and recycling centers, one at the company's Rancho Cordova headquarters, and another at its 15-acre facility off Bradshaw Road in Sacramento. When the company first started, it was paying someone else to crush the concrete and asphalt that was accumulating from demolition site hauls.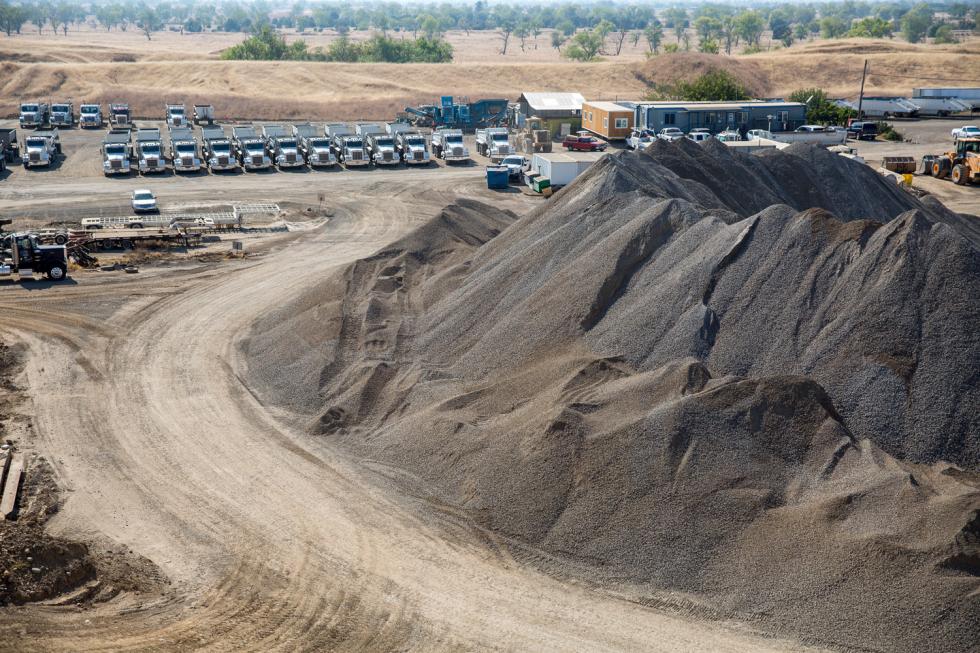 "We decided to buy our own crushers and cut out the middle man," Rozakis says. The material GR collects is fed into the crushers and recycled into AB, or aggregate base and landscape materials, and sold for other jobs.
The expansion allowed the company to increase its services and offer both trucks and materials. "That's unique in the industry and saves us a lot of time and money," says Sean Cook, president of Cook Engineering, a Rancho Cordova site contractor who works with GR on most of its grading, demolition, underground utilities, roadwork and parking lot projects. "We can get everything we need with one phone call."
While several other companies in the region offer trucking services or recycling services — seven offer stand-alone concrete recycling operations and two quarry operators provide recycling services — GR is one of the few that offers both. "We fill a niche that other companies can't match," Rozakis says.
Since its inception, GR has recycled over 5 million tons of concrete and asphalt.
The Downtown Plaza demolition took three months, with an average of 25 trucks and a crew working 17 hours per day.
Shaping the Region
Because of its capacity and longevity, GR Trucking has been involved in most of the region's big construction and demolition projects, including the demolition removal from Sacramento's old Downtown Plaza, the Sacramento International Airport expansion, major highway projects, the PG&E canals in Gold Country, projects at UC Davis and the demolition of the old Sutter hospital on 53rd and F streets in Sacramento.
For the Downtown Plaza demolition (now the Golden 1 Center), GR worked with contractor Two Rivers Demolition to haul away the old rubble. "We were fortunate they have as much space as they do," says Rodd Palon, president of Two Rivers Demolition. "That project generated a lot of debris (125,000 tons overall) and they have the local space to haul it to, which was our saving grace."
The job took three months, with an average of 25 trucks and a crew working 17 hours per day. "I tell people we moved Capitol Mall to our Bradshaw location — just not in one piece," Rozakis says.
According to Palon, GR has more rolling assets than anyone in Northern California. "When the market is saturated with work, like it is right now, we can always rely on GR when others are busy," he says. "They somehow have the ability to pull trucks out of thin air."
Managing Growth
Managing a business that has grown from $100,000 in annual gross revenue to nearly $16 million in the last 13 years has not been without its challenges. "We never expected to be running a large business like this, but we were both determined to make it work," Maragakis says. During the economic downturn, GR relied on jobs that were already on the books, plus took public works projects and infrastructure projects to keep them going. "We were fortunate that even during the recession, we still did pretty well."
Between them, Rozakis and Maragakis have five daughters; two are currently working in the business. Rozakis' daughter, 29-year-old Kiriaki V. Rozakis Kokologiannakis (nicknamed Koula after her grandmother) has been with the company the longest, joining GR in early 2012 as its human resources administrator. Initially, her role didn't exist. "In the beginning, I would spend my days with a notebook in hand, going from desk to desk to ask employees about their jobs and their processes," Kokologiannakis says. The owners could see that there was a real need for an HR position and asked her to help define it.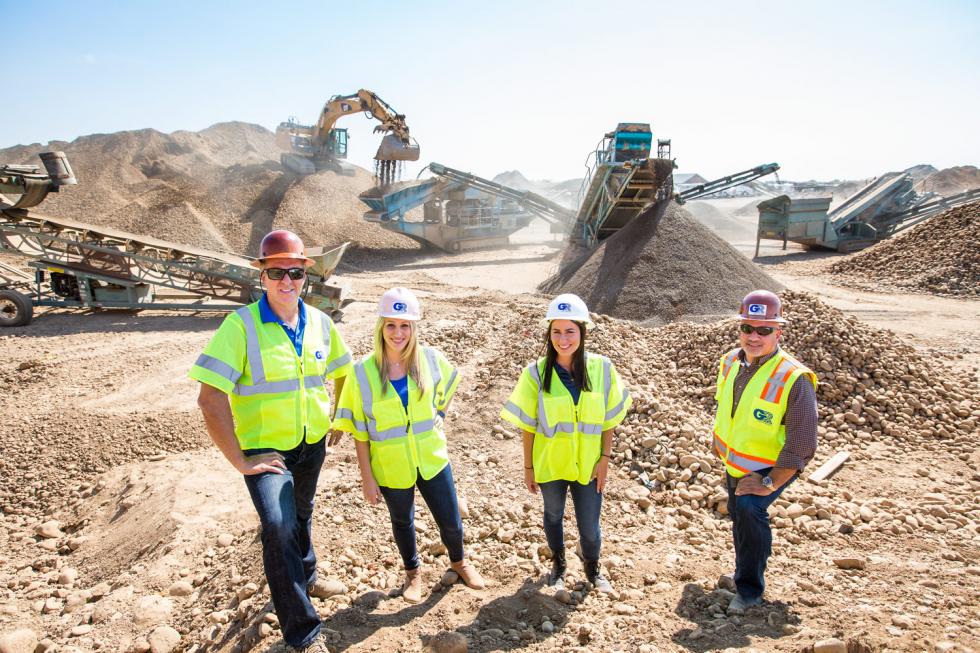 In the office, Kokologiannakis does her best to separate her professional life from her personal life, but admits it can be tough. "I never use familiar names like 'dad' or 'uncle' at work. I call them Peter and Tony to keep things more professional," she says. It can also be hard to leave work at the office. "I tell my colleagues that at the end of the day, their job ends," she says. "Mine often extends to dinner table conversation. It's a fine line to walk."
Maragakis' daughter Elizabeth Kyriaki Angelakis joined the family business three years after Kokologiannakis. She oversees the company's safety program, which currently boasts a zero work loss rate. Another family member, Maragakis' sister and the company's controller, Vaso Jones, has been with the pair from the beginning.
The Future
At this point, neither owner is ready to retire — Rozakis is 55 and Maragakis is 53 — nor have there been any discussions of a succession plan. "We are both pretty young and the company is lucrative, so we are not in that kind of mindset at the moment," Rozakis says. Maragakis echoes that sentiment. "In the next 10 years we may look at slowing down, but not right now." Kokologiannakis has expressed an interest in taking on more of a leadership role in the future, but says it's up to Rozakis and Maragakis to define what that looks like.
"We have different perspectives on how things should be run sometimes," Rozakis says, "but in the end we are family and we respect each other. We have done very well with our business and consider ourselves incredibly blessed."