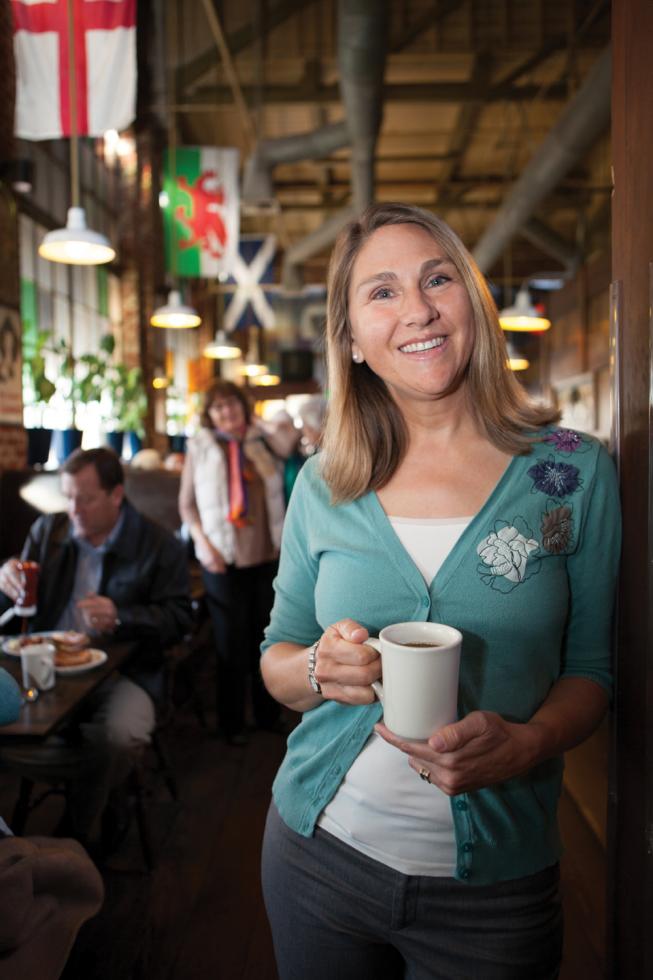 I've long believed that just about the worst way to begin a workweek is scheduling an in-office staff meeting. Employees start dreading it by mid-day Sunday. The gatherings usually get off to a late start, drag on and are deemed worthless by most participants.
Enter the breakfast meeting. A one-on-one or small group meeting with co-workers or potential clients at one of the region's daily breakfast destinations can be an attractive, productive and even motivational way to launch any workday.
If you eliminate diners and chain coffee shops, the high-quality, work-week options for breakfast powwows are few and far between. But there are a choice few that offer a variety of ambience, menus and business–friendly amenities.
An anchor for more than 28 years in the suddenly burgeoning R Street corridor near downtown Sacramento, the Fox & Goose Pub & Restaurant was never intended to be a morning meeting locale. According to its owner, Allyson Dalton, the morning crowd just sort of evolved.
"Back in the '70s and '80s when my father first opened the place, there was a lot more smoking and drinking lunch meetings going on. Over time, laws, regulations and lifestyles changed," she says. "Fortunately, we recognized this mood swing and adjusted accordingly."
The English pub setting makes for a casual, informal feel, but at the same time a number of booths and a highly sought after corner table offers just enough privacy for those who want to be seen but not heard. There is also a new spacious private meeting room, the Chartwell, named for Winston Churchill's home and featuring dark, wood-paneled walls and leather chairs. It can seat up to 35 or a standing group of 55 persons.
"This is my baby. It's eclectic but not formal," Dalton says.
Dalton says her mother, a vegetarian, is the creative force behind the breakfast menu. A number of meatless and vegan dishes are featured, including a tofu scramble with options like pesto, curry, roasted red peppers and fresh spinach. But there's plenty for meat lovers as well, including bangers, an assortment of sausages and bacons, as well as steak, chicken and smoked Atlantic herring.
Across town, on a stretch of Fair Oaks Boulevard once dubbed "Gourmet Gulch," Ettore's European Bakery & Restaurant offers a different twist on sunrise business fare. Opened in 1985 by Swiss-trained pastry chef Ettore Ravazzolo, the restaurant added breakfast to its pastry, lunch, dinner and catering business eight years ago. According to Ettore's wife Meggan, who serves as vice president and manager, this move followed client demand.
"We were doing a brisk morning catering business, delivering pastries and coffee to offices throughout our Arden-Arcade business district," she says. "Our regulars loved our food and our European café setting. They wanted to start their workday here, so we complied. It's been great."
To fully meet the needs of their morning regulars — some of whom come in as often as five days a week — Ettore's offers free WiFi. The café tables are cluttered with laptop and tablet devices, and patrons are free to linger and refill their coffee mugs.
Ettore's also has a private room, the Stammtisch. Referred to as "the Stomp," the room is free of charge as long as you book ahead of time. It comfortably seats about 12.
"Ettore's has long been known for providing the best in locally prepared and baked pastry goods," Meggan says. "So when we moved into the business of breakfast, we wanted to be sure to transfer that quality to our breakfast food. While some people would say eggs are eggs, we are committed to buying the highest-grade of eggs, bacon, ham, turkey and vegetables."
For those seeking a morning meeting spot closer to the Capitol, downtown offices, the Convention Center and the courthouse, Grange Restaurant & Bar has quickly become a favorite in its four years of existence. Located on the ground floor of the Citizen Hotel, it is one of the few downtown breakfast options that provides an upscale, sit-down experience.
"The ambience offers just the right blend of open-air casualness and upscale professionalism," says General Manager Frank Carney. "That blend works well with our mix of customers, which includes local legal- and private-sector leaders, elected officials and hotel guests.
"Service is key to this sector of clientele. Our staff knows most of the regulars by name and what their breakfast preferences are. Within a couple of days, most hotel guests feel and are treated like regulars as well."
While the menu offers an array of healthy "breakfast on the go" items, such as organic yogurt, old-fashioned oatmeal and house-made granola, it also has a wide selection of farm-fresh egg choices. According to Carney, a regular favorite is the "Power Poach." It includes two poached eggs, whole-wheat toast, applewood smoked bacon and fresh fruit.
Due to its affiliation with the Citizen Hotel, the Grange has available private meeting rooms in all shapes and sizes, including the politically titled Scandal, Quorum, Nay and Yea rooms.
"Because of our location, quality food and service, we have become a morning institution for legal and political types," Carney says. "In fact, Assembly Speaker John Perez regularly can be seen holding morning court with close staff at our corner window table. When long trials are in session, we have attorneys from out of town that take up long stays in the hotel and have daily confidential meetings in our restaurant."
A common key to business breakfast success seems to be a combination of quality food and service, a professional yet comfortable setting and just the right amount of staff decorum.
"We have a lot of attorneys that regularly meet with partners or clients in the Stomp who don't necessarily want to be seen by everyone," says Meggan Ravazzolo at Ettore's. "So we allow them to enter through a side door."
And at Fox & Goose, Dalton says it's as much about seeing as being seen.
"When Schwarzenegger was in office, he enjoyed being visible. He had more than his share of groupies here," she says. "When (Rep.) Doris Matsui is in town, our regulars know she'll likely make a beeline to the Fox & Goose for breakfast — and usually Mayor Kevin Johnson is not far behind her."
And like Speaker Perez holding court up to three times a week at the corner table at the Grange, Senate Pro Tem Darrell Steinberg often does the same at the highly coveted corner booth at the Fox & Goose.
"It's all about being aware and accommodating accordingly," Dalton says.
It took a year of arduous twists and turns, but Matt Sin and Krissy White finally got what they wanted. The business partners and co-owners of the just-opened Foundation Restaurant & Bar at Fourth and L streets in downtown Sacramento have an eatery of their own. It's a sweet relief to be sure, because the story behind it is rather unsavory.
If the words "corporate retreat" conjure up visions of falling backward into a trust catch, fervently hoping that Bob and Sally from accounting step up to prevent your impending head trauma, you're a little behind the times.