If you're trying to prepare for a tsunami, emergency assistance groups will advise you to make ready in three ways: Know your evacuation routes, put together an emergency kit, develop a family communication plan. But if you're trying to prepare for the silver tsunami, the wave of retirement-age workers eyeing the office exit, well, that's a huge difference.
Retirement communities are facing the challenges that come with catering to seniors in the 21st century. These consumers — and there are a lot of them — are demanding greater access to technology, life-long learning programs and attention to overall wellness. Fewer bingo cards and early-bird buffets; more iPads, ebooks and yoga pants. Five key trends in particular have emerged at the forefront of this senior-living shift, according to Accent on Seniors, a California-based housing consultant. These trends point to an aging population that wants to be more active and interactive, and senior communities are making adjustments to keep up.
But is the River City ready for the boomer boom? There are many senior housing options available in the Capital Region, but no new major construction taking place for skilled nursing facilities, according to Deborah Pacyna, director of public affairs for the California Association of Health Facilities.
According to Chris Miller, president of senior housing developer FCM Capital Partners, "Even if there were one [senior housing facility] built every day in California, we probably still couldn't meet the need." But that's not stopping his 
Roseville-based company from taking a swing.
In November, FCM launched its new senior-living brand, SummerPlace Living, aiming to develop 25 communities in California and Nevada in the next four years, part of a pipeline of assisted living and memory care units worth $880 million.
"If we can meet the needs of our 
 clients, create jobs and get a fair return on investment dollars," Miller says, "we hit a homerun."
With the incoming flood of retirees, many senior communities in the Sacramento region are bolstering their wellness programs, educational offerings and physical activities.
Let's dive into the top five senior living trends and the communities making waves:
Body Guarding
The seniors of today and tomorrow are living longer, more active lives than ever before. A big part of this change comes from health and wellness programs that promote body maintenance. In senior living communities, this includes a broader range of dining options, from ethnic cuisine to local and organic ingredients, non-dairy and gluten-free choices, plus culinary classes and well-equipped kitchens. Several communities also offer lap pools and fitness centers where residents can participate in various classes, from coached swimming to Zumba.
Silver Star: Oakmont of Roseville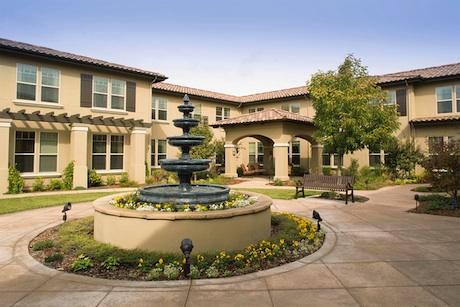 In addition to yoga, tai chi and a host of other fitness options, Oakmont recently started a concierge physician program featuring a dedicated wellness room for a visiting clinician. The community also started offering a diabetic wellness program available 16 hours a day. It's a critical service because there remains a lack of assisted-living communities with licensed nurses that can provide injections, according to Jamie Escoubas, Oakmont Management Group's vice president of resident services.
"The way we offer care with our à la carte system, you can really tailor to the needs of individual residents," Escoubas says. "We're finding ways for them to be actively involved in their wellness, so they can make healthy choices without someone having to choose for them."
Learn, Baby, Learn
But what's a fit body without an active mind? Lifelong learning programs have allowed retirees to continue their education through the golden years. With the rise of Wi-Fi hotspots and computer labs, residents can take virtual classes, pursue online degrees, read e-books on their iPads and pick up a brand new skill, all from the comfort of their retirement community.
Silver Star: O'Connor Woods in Stockton
Each Monday, 40 to 60 seniors fill the auditorium at O'Connor Woods for class. They listen to lectures from college professors with topics like, "The Japanese Experience in World War II," Louis Armstrong, the River Delta and "The Indianization of Lewis and Clark." This university-level instruction has emerged from a 9-year partnership between O'Connor Woods and the University of the Pacific's Osher Lifelong Learning Institute.
"The best part is it really is intellectually stimulating," says Scot Sinclair, executive director of O'Connor Woods. "Dealing with these subjects helps keep the mind young."
When it comes to learning, Sinclair has noticed that recent retirees tend to prefer group programming, whether through book clubs or technology courses.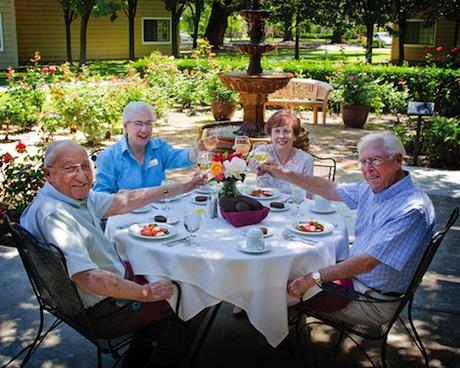 "With the World War II generation, discussion groups and opening up was not a big cultural norm," he says. "But as we get to a younger generation, people are more interested in groups. I think it's a factor of generational change."
Silver and Green
These days, health-conscious living extends to the surrounding environment. Sustainability is the word. More and more Americans of all ages appreciate energy-efficient designs in their communities, such as natural light, EnergyStar-certified appliances and natural energy sources that help reduce greenhouse gas emissions.
Silver Star: McAuley Meadows, Auburn
For low-income housing, building green makes perfect sense. By integrating energy-efficient features into the community, utility expenses go down, lowering overall housing costs.
That was the idea behind Mercy Housing's McAuley Meadows, an independent, affordable housing community for seniors, which opened in January. On the Sisters of Mercy of Auburn campus, the three-story, 60-unit building features an array of eco-friendly amenities. Not just 
EnergyStar appliances, but also motion sensors for indoor lights and bathroom fans, low-flow plumbing fixtures, additional insulation on doors and windows and a centralized boiler. The building's photovoltaic panels also help cut down on electricity costs.
With new technologies emerging seemingly every second, seniors can have a completely customized experience, depending on their level of need. Popular high-tech tools include devices to monitor heart health and blood sugar levels, arm bands to detect falls and health alert signals that notify staff members of emergencies. Oh, and be on the lookout for service robots.
Tech Support
With new technologies emerging seemingly every second, seniors can have a completely customized experience, depending on their level of need. Popular high-tech tools include devices to monitor heart health and blood sugar levels, arm bands to detect falls and health alert signals that notify staff members of emergencies. Oh, and be on the lookout for service robots.
Silver Star: Eskaton Monroe Lodge, Sacramento
Falls are the leading cause of 
injury-related deaths for seniors, so it was only a matter of time before the emergency pull-cord system became obsolete. Research shows that residents are able to reach a pull cord or press a pendent only 1 in 5 times when an emergency occurs, according to Sheri Peifer, chief strategy officer at Eskaton, a nonprofit senior service organization. This means most people will not receive help fast enough.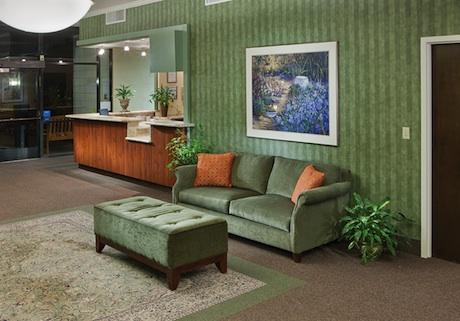 Late last year, Eskaton completed a full deployment of the QuietCare smart sensor system in more than 750 independent, assisted and 
memory-care apartments in the greater Sacramento region. These motion sensors — integrated into bathrooms, kitchens and living spaces — track the routine activity of a resident for 14 days. Once a pattern has been established, any deviation will trigger an alert to a staff member, who then visits the resident to see if they need assistance or if there are emerging concerns to address.
"The person living in the environment becomes unaware of the sensors after a few days," Peifer says. "It's keeping people's dignity and privacy intact. If we see an emerging trend, we can talk to a physician right away."
Memory Gains
For Alzheimer's and dementia patients, the best memory care programs use a 3-pronged approach: 1) Assist with daily living (errands, chores, medication reminders), 2) focus on cognitive and physical therapy through art and music and 3) create a cozy, familiar environment that makes residents feel at home.
Silver Star: Atria Covell Gardens, Davis
Memory care at Atria Covell 
Gardens revolves around a person's life story. Through observations, interviews with a resident's family and 
a detailed history and preference form, caregivers create a customized care plan based on needs and strengths.
"If one of our residents is remembering their life as it was in their 
60s, we want to know what they 
did, what their career was, what their families did, so we can join them wherever they are," says Ryenn Austin-Brown, director of the memory care program at Covell Gardens, one of 
the 81 active Life Guidance Neighborhoods by Atria, a national provider of senior housing.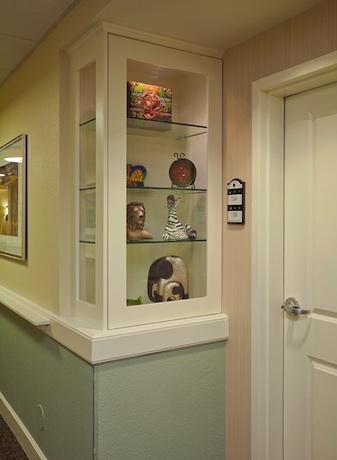 Other program features include vibrant walls, colorful Fiestaware dishes and personalized memory boxes outside each apartment to help familiarize residents with their rooms.
"We don't want to be looked at as just a memory-care unit," Austin-Brown says, "but as a community 
that helps guide our residents to 
meaningful lives, where they can 
thrive and have success even with 
their disease."
It started with a girl. She had played tennis in college. Desperate to impress her, I challenged her to a match. Sure, I had never played, but I could hold my own.
As her father's dementia deepened, so did Tonya Roemer's anxiety. Daily visits, a stint with a live-in companion and an experiment with expensive, 24-hour care didn't curb Ray's aggressive behavior as the 81-year-old lost the ability to walk and feed himself.