At first blush, Backbone Café in downtown Sacramento seems patterned after the virtuous vegetarian restaurants that have become ubiquitous in Northern California. The communal bookshelf by the entrance displays titles such as "Cabin Porn" and "Art of Burning Man." Tibetan prayer flags mark the pathway to restrooms. A mural of leaves, vines and mushrooms swirls across the length of one wall.
A glance at the offerings, however, reveals that Backbone is no garden-variety plant cafe. Both grilled cauliflower steaks and roasted bone marrow appear among the appetizers. The curry can come with vegetables and hemp seeds or with grass-fed beef. Drink options include a golden turmeric latte, rich with nut milk, or bone broth extracted from beef or chicken. "We are strong believers that no one diet suits everyone," the menu explains.
Backbone Café is part of a rising tide of restaurants that structure their menus to appeal equally to vegans, meat-eaters and the full spectrum in between. These equal-opportunity eateries reflect new modes of consumption that are less dogmatic, such as flexitarianism, which allows occasional meat alongside primarily plant-based fare. Their diverse offerings allow them to adapt to shifting diet trends, environmental concerns and new developments in the science of nutrition.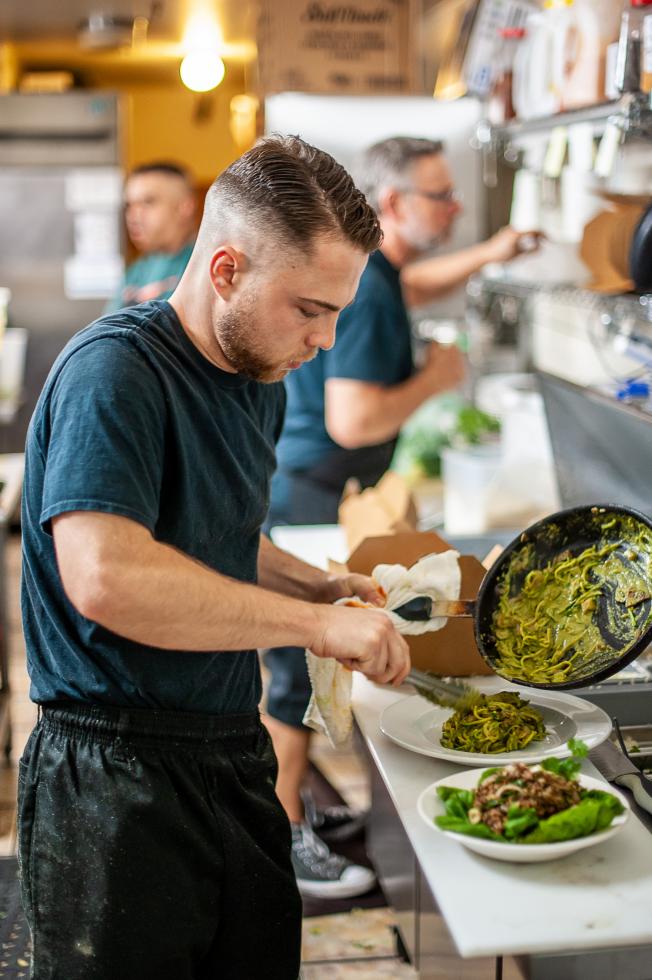 "Every month there's going to be a new faddy diet that everyone jumps on like it's the answer to good health," says Backbone chef and co-owner Joey Woolston. When he opened the cafe with his parents and brother in December 2017, he had no interest in constraining his menu to any one trend.
Woolston, who was a lifelong athlete before sustaining a serious back injury at Burning Man 2016, spent years testing the effects of food on his health and performance. He concluded that "there's no way to pick one diet that's going to work for every person," he says. "Here, you can choose whether you want to eat meat or vegetables, and rest assured that everything is the absolute top quality that you could be putting into your body."
Backbone Café's vegetables come from local organic farms, such as Del Rio Botanical in West Sacramento, and its meat from the certified organic Marin Sun Farms in Petaluma. Woolston crisps his fries in tallow rendered from Marin Sun Farms' grass-fed beef — or, for vegetarians, in organic cold-pressed avocado oil.
Backbone's eclectic offerings have earned it an equally heterogeneous blend of accolades. The online magazine PureWow listed Backbone among "The 22 Most Keto-Friendly Restaurants in America," while Eater included the cafe on its summer 2018 roundup of "essential Sacramento restaurants," noting that "grain- and gluten-free folks rejoiced" when Backbone opened. To serve the new clientele the PureWow article attracted, Woolston began offering medium-chain triglyceride oil, also known as MCT. It's a coconut derivative that keto dieters, who follow a high-fat, low-carb regimen, believe improves brain function.
"We want to make sure that you can find something for whatever diet you're looking for," Woolston says. "Everyone should be able to come here and get a full meal."
A similar philosophy underpins Beast & Bounty, which opened in Midtown Sacramento in August. Under owner Michael Hargis and executive chef Brock Macdonald (who also helm the bratwurst-and-beer hall LowBrau and charcuterie-centric Block Butcher Bar), Beast & Bounty eschews the crunchy, patchouli-scented ambience stereotypically associated with vegetable-forward restaurants. Instead, the space is sparse and sleek, with brass accents — light fixtures, beer taps, even long-stemmed cocktail spoons — against bare brick walls.
Beast & Bounty is both the name of the restaurant and the format of its concise menu. The "Beast" section covers carnivorous cuts — aged steaks, pork chops, fish and poultry — while creative applications of vegetables such as elote-inspired blistered shishitos and miso-charred broccoli fall under "Bounty." All-day options, including ramen, pizza and burgers, are available in either meatless or meat-heavy variations.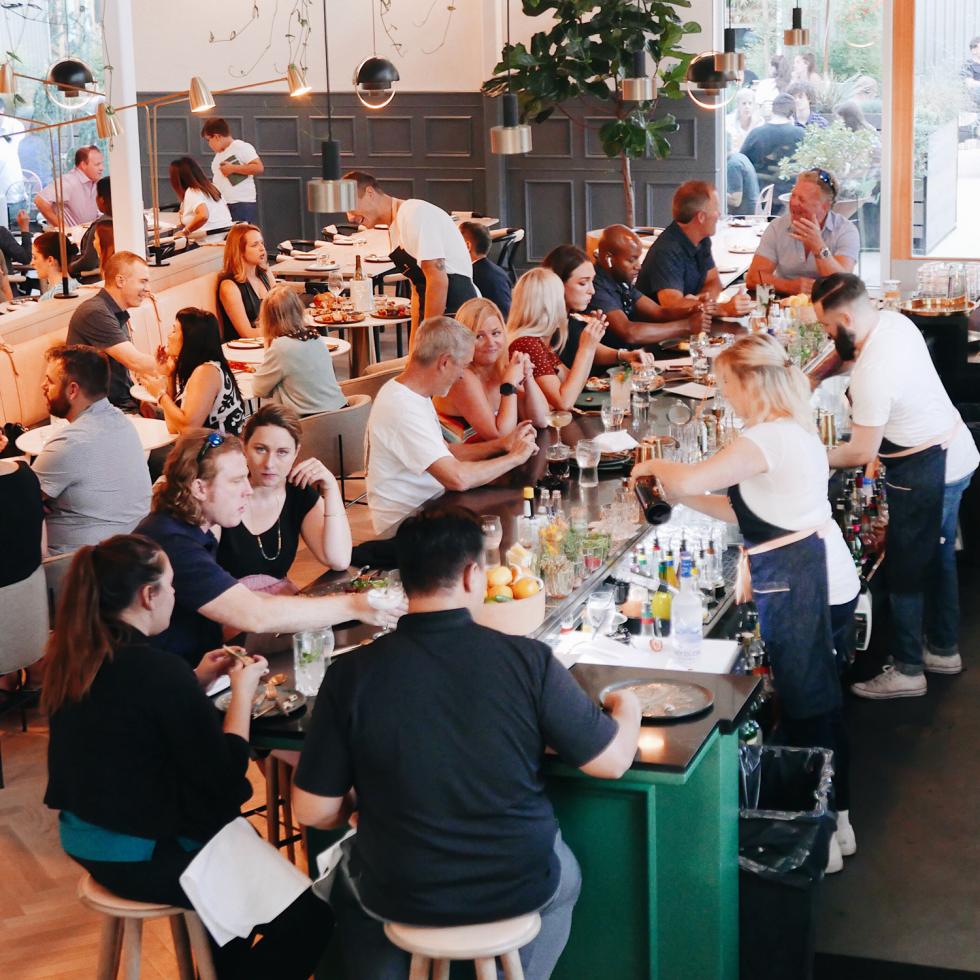 Like Woolston, Hargis disavows any interest in pushing diners toward vegetarianism. "At LowBrau and Block Butcher Bar, I'm encouraging people to eat more meat," he says. "But there's a group of people that eat meat and a group of people that eat vegetables; why are we keeping them separated? This place is about bringing people together."
Among the influences Hargis credits for his concept, including the iconic Los Angeles restaurant Gjelina, his own daily eating habits rank foremost. After running into health issues in his 20s, Hargis shifted his diet toward vegetables, but without abandoning his love of meat. "I wouldn't necessarily categorize it — it's just about eating things that make my body feel good," Hargis says. "I think flexitarianism might be more people understanding that you don't have to be completely animal-protein free to be healthy."
Molly Spencer, a postdoctoral fellow at Monell Chemical Senses Center in Philadelphia who researched flexitarianism while completing her Ph.D. at UC Davis, defines this burgeoning food movement in two parts. "You can have the flexibility of having mostly vegetarian meals and then sometimes having the traditional, meat-centric meal, or you can practice flexitarianism by reducing the meat and increasing the plant-based ingredients within a meal," she says. Spencer sees restaurants like Backbone Café and Beast & Bounty as places for people to find plant-based options without committing to a meatless diet.
"There are a lot of consumers who want to reduce their meat impact, but a lot of them don't want to give up the flavor and texture of meat entirely," she says. "That's an interesting opportunity for restaurants." By staying abreast of opportunities, trends and innovations on either side of the meat-eating fence, restaurants can remain relevant in a rapidly changing food culture.
Woolston, a born insider of the local restaurant scene (his parents own Matteo's Pizza & Bistro in Carmichael and the catering company Supper Club) sees Backbone as especially relevant in Sacramento, where he has a hard time finding food that meets his standards for health and ethics. "I'm not vegan at all, but I think it's insane that anyone's supporting factory farming anymore," he says. "I just tried to make a place for my people."
During a recent weekday lunch rush, "his people" included office workers in rolled-up shirtsleeves eating tacos and beef-laden rice bowls; a table of young women sharing salads and avocado toast; a man at his laptop sipping a vegan golden latte through a full beard.
"For a restaurant that doesn't advertise, I think we're getting a good amount of attention," Woolston muses. "We're doing something no one else does, and we do things right."