A record 76,810 fans turned out to watch the star-studded American Century Championship celebrity golf tournament at South Lake Tahoe July 14-16 — and not only to escape the blistering 109-degree heat in Sacramento. Fans enjoyed a close and entertaining battle between Golden State Warriors' shooting star Steph Curry and former pro tennis player Mardy Fish. The four-time NBA champ and two-time league MVP Curry won the three-day match in the final minutes on the 18th hole, sinking an eagle. The day before, he hit his second-ever hole-in-one.
"I don't do this for a living, so it's something you dream about." Four-time Golden State Warriors NBA champ Steph Curry on winning his first golf tournament.
The ACC tournament has been held at Edgewood Tahoe Golf Course for the past 34 years, making a stunning backdrop with sparkling Lake Tahoe in the background. This year, visitors and viewers could also see some snow on the mountains, left over from last winter's record snowfall. It was one of the rare times you could still see snow in Tahoe in July. The event pumped an estimated $30 million into South Lake Tahoe's economy, says Jenn Boyd Lemming of Weidinger Public Relations.
"It's definitely one of the top three largest events we have in South Lake Tahoe — Fourth of July and possibly Christmas week — New Year's Eve draw more crowds," Lemming says.
Visitors on foot and in boats lined the course, adding to the festivities by tossing footballs to each other and cheering on the celebrity golfers who included Super Bowl-winning Kansas City Chiefs quarterback Patrick Mahomes and tight end Travis Kelce, Buffalo Bills quarterback Josh Allen, new New York Jets quarterback Aaron Rodgers, TV announcer Charles Barkley, former pro golfer Annika Sorenstam and actor Miles Teller from "Top Gun: Maverick."
But it was Curry who entertained the most. When he hit his hole-in-one on Saturday on the 7th hole, viewers were treated to an extended celebration of the 3-point champ running down the fairway, tossing his cap and golf glove and jumping joyously in the air before tapping the flag on the hole. That performance was capped by Curry winning the tournament at the last possible minute by sinking an eagle putt worth 6 points on the final, 18th tee to win. Sportscasters compared the winning shot to one of Steph's buzzer beaters on the basketball court. "I don't do this for a living, so it's something you dream about," Curry said. He became the first active pro athlete, not retired, since 2000 to win the tournament.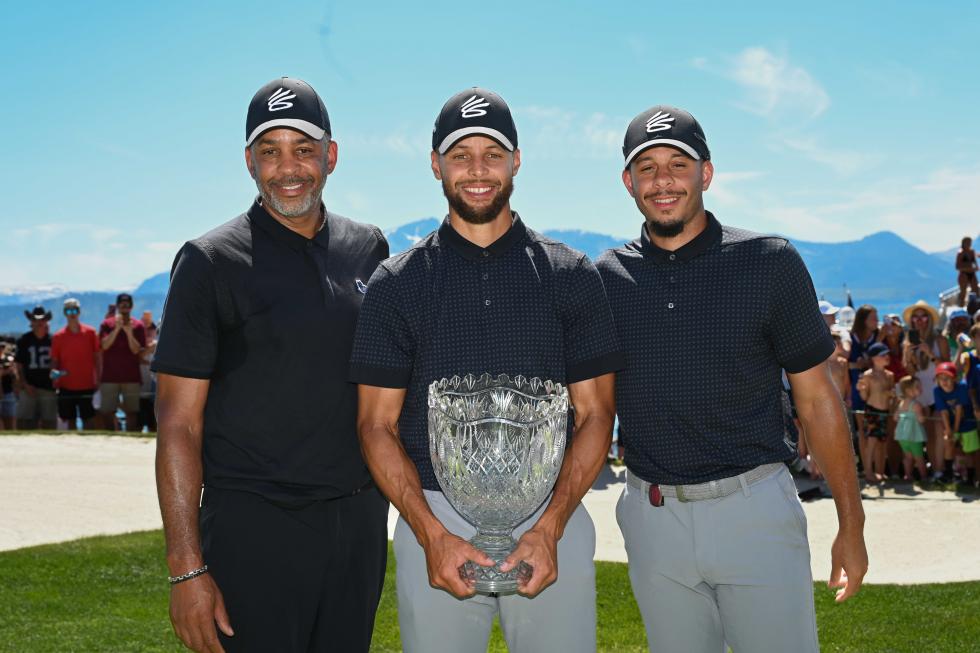 The tournament was made even more special for Curry because he got to partner with his father, Dell, and his brother, Seth, also an NBA player. The trio wore coordinated outfits on Friday of white polos with royal blue golf pants belonging to Curry Brand, the sportswear company made by Steph's sponsor Under Armour. They all wore matching black polos and pants for the winning round.
"It's got to become a tradition — essentially all three of us in the last three years," Curry told Comstock's. "It's fun for us to have those experiences. We get a lot of hilarious comments from fans as we're walking down the fairway."
While the celebrities take their play seriously, they also have fun along the way — shooting hoops on the 17th hole, Curry pouring sips of his bourbon, "Gentleman's Cut," for spectators and Rodgers autographing the pregnant bare belly of an onlooker. There's also the occasional dance party that breaks out, such as Teller and actor Chace Crawford shimmying to Bad Bunny.
NBC Sports reported its most-watched final round in nearly 20 years, averaging 1.4 million viewers. Last week, ACC officials announced they were renewing their contract with NBC, guaranteeing six more years of this annual summer postcard of Lake Tahoe for television viewers around the U.S.
Curry donated his $125,000 winning share to local charities.
Stay up to date on business in the Capital Region: Subscribe to the Comstock's newsletter today.