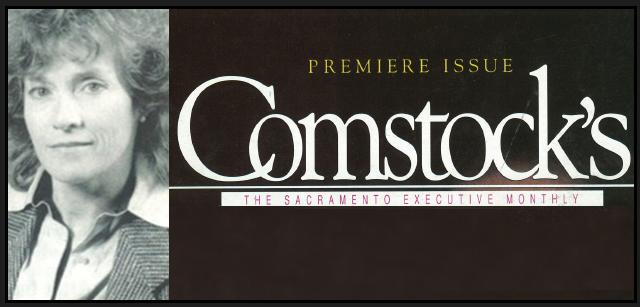 Welcome to the premiere issue of Sacramento's newest publication, Comstock's.
Why Comstock's? Regional business publications flourish in many markets across the country because of their ability to provide interesting, insightful and valuable information about local business trends, people and events, to a target audience of influential individuals. Sacramento clearly merits such a publication. It is one of the 10 fastest growing metropolitan areas in the nation in terms of population, and ranks fifth in economic growth. It is the capital of a nation-state with the world's sixth largest economy. Newsweek featured Sacramento in a cover story as the most desirable place to live*. Spread out around the confluence of the Sacramento and American Rivers is a four-county metropolitan area that is rich, diverse, vibrant and robust. It has been the center of trade and transportation since the mid- 1800's and today is the economic hub of interior Northern California. Sacramento is filled with the promise of an exciting future and great opportunity.
Comstock's was designed with the business community in mind. Our pages will be a positive reflection of Sacramento's quality of business, quality of growth and quality of life. We address ourselves to you – one of the community's leaders – one of the people who influence change, are interested in Sacramento's well-being and have a stake in its future, from both business and personal standpoints.
Comstock's commitment is to provide you with timely, insightful information that will help you check the pulse of the business community. We will profile those who are making important contributions to their companies, to their industries and to the community. We will examine noteworthy businesses and share with you the secrets of their success. We will present industry overviews to inform you of the latest trends and innovations available to businesses. And we will take you behind the scenes for a taste of the lifestyles and interests of your peers.
Comstock's offers itself as a forum for your opinions. We encourage you to share your thoughts on subjects about which you care passionately with 15,000 other business and professional leaders, public officials and others of influence on the Sacramento scene.
Comstock's team is highly motivated, energetic and enthusiastic. Our goal is to bring you each month the best Sacramento has to offer in business journalism. We want to hear from you, we want to learn from you and we invite you to be part of what we promise will be a dynamic publication that is worthy of its community and its readers.
Again, welcome to Comstock's.
–
*From Newsweek (America's Hot Cities: The Gold Rush by Sutter's Mill, Lynda Wright, Feb. 1989):
For years, Californians defined Sacramento by what it was not — it was not picturesque like San Francisco, not glamorous like Los Angeles. Today the differences have become Sacramento's strongest selling point: the state capital isn't overpriced and overcrowded like the bigger, more famous cities to the south…"It doesn't fire you up," says land developer Phil Angelides, who was born and raised in Sacramento. "It seduces you." … As long as Sacramento remains wary of the dangers of becoming too big league, it should hold on to the qualities that make it one of the West Coast's last unspoiled gems.