Deer Creek Farm, a retail boutique in Rocklin that offers unique gifts, home decor and a working garden, is not your typical shop. The shop employs aged-out foster youth (18 and older) and at-risk teens as part of a mentoring program with Compassion Planet, a Rocklin-based nonprofit organization that works to bring stability into the lives of young people by equipping them for future success.
Compassion Planet was co-founded in 2011 by Scott and Jacquie Flanagan, and aims to help meet the immediate needs of housing, meals and clothing for aged-out foster youth and at-risk teens, along with future needs for employment and life.
"My wife and I both have a heart for young people," says Scott Flanagan, who, along with wife Jacquie, has decades of leadership experience working in nonprofits. Before they started their own family, they brought an aged-out foster youth into their home. "He had nowhere to go," Flanagan says. "He was going to live on the streets."
Data from the Adoption and Foster Care Analysis and Reporting System shows one in five former foster youth will become homeless after aging out of the system. Former foster youth are also twice as likely as their peers to drop out of school, have mental health problems and become involved with substance abuse or the criminal justice system. Compassion Planet aims to change those statistics.
The organization's mentoring program lasts for one year, and accepts up to 25 trainees who are taught basic life and job skills. To help fund its mission, Compassion Planet opened two retail shops — Deer Creek Farm and the Compassion Planet Thrift Store, also in Rocklin. "We provide an environment of employment for our young people through our retail stores," Flanagan says. "One hundred percent of our profits go back to the organization."
Trainees learn about pricing, merchandising, teamwork, customer service and time management. They also have the opportunity to learn organic gardening and how to make healthy meals from their harvest.
Conni Lenhart, a retired business owner and entrepreneur, started as a volunteer with Compassion Planet. "I came in to help merchandise Deer Creek Farm for Christmas and fell in love with the purpose and the cause of the store," she says. With her retail and merchandising experience, she was asked to stay on as manager. That was more than three years ago. "I never left," she laughs.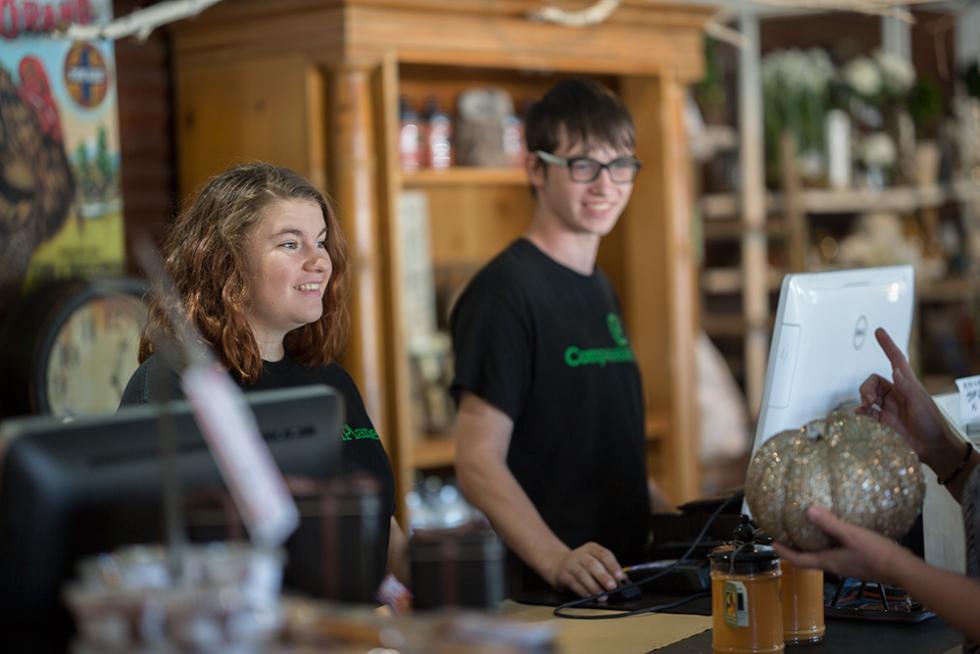 Lenhart views her role as much more than just a store manager. "Every day, I learn something new about the reality and the struggles these young people face. I have the ability to be a stable person in their lives." She attends training classes with the organization's social workers to better understand how to respond to some of the issues the young people are dealing with. "These young people come to us with a pretty raw story," Lenhart says. "We have a chance to help them rewrite it."
That's what happened with Kaydee White. Consumed with a debilitating drug and alcohol addiction, White struggled to make good choices as a teenager. She dropped out of high school as a freshman and couldn't get a job to support herself. She was repeatedly turned away from employers because of her lack of experience and the absence of a diploma.
Seeking a program that could help, White learned about Compassion Planet. "I was beginning to lose hope, but the Compassion Planet program was exactly what I was looking for," she says. "It helped me in ways I wasn't even expecting."
Through the training, White learned how to create a resume. She also participated in monthly cooking classes and was taught how to plant an organic garden. "We got a lot of the basic life skills that none of us really received growing up," she says. "But the biggest part for me, on top of everything we learned, is that we were surrounded by a really good community of people."
Compassion Planet connects its trainees with caring and supportive adults, including, volunteers, business people and social workers. The social workers are not case managers, but work from a more therapeutic, holistic standpoint, offering direct services that are proactive.
Compassion Planet clinical social worker, Jessica Wertz, says the program looks at young people as "a whole person, to help them improve their skills and become employable." Every Friday, the trainees participate in "group process," similar to group therapy, where staff and volunteers offer skills assessments and training. "Our goal is to provide a lifetime of connectivity and support to prepare them for success," Wertz says.
After White completed the program, she moved out of state to help care for a family member. When she returned, she fell back into her old habits. Then she got an offer from Lenhart to help out at Deer Creek during the 2016 holiday season. She says she jumped at the chance: "Being back here feels like home," says White, who has stayed on past the holidays. She has plans to enroll in community college and pursue a career in pathology.
Compassion Planet was also able to help Jahmar Sexton make the right connections to change his future. Sexton and his nine siblings were removed from their family home and placed in foster care when he was very young. Sexton had a number of different placements and was challenged with basic life skills. "I heard about Compassion Planet from my brother's adopted mom," he says. "She told me it would be a good program to help me get a job and go to college."
Sexton attended the resume workshop, which led to jobs at Krispy Kreme and Rocklin Pest Control. He also learned how to shop and cook for himself. A class on banking helped him understand how to open a checking and savings account and save for retirement. Set to graduate from Sierra College in June, Sexton has accepted a football scholarship to Southeastern Louisiana University.
"The people at Compassion Planet taught me how to be better prepared for life," he says, "and now I am ready to start the next chapter."