Born in Manila, Philippines and raised in the Bay Area, Franceska Gamez made a home in Sacramento after receiving her degree in fine arts from Sacramento State. Most recently known for her work with M5's Art Hotel and Art Street, Gamez has left her mark as a muralist from coast to coast. Her latest mixed media sculptures are as impactful as they are intricate and thought-provoking. In addition to her work as a member of M5 Arts Collective, Franceska is currently the co-director of Sacramento's 1810 Gallery on 12th Street — a must-see for the city's art lovers.
Franceska sat down with Comstock's in between sledgehammer swings deconstructing Art Street to talk about her early influences, creative messages and deserted islands.
What was your path to becoming an artist and who were your earliest influences?
I've always wanted to be an artist. I was born the youngest of eight kids. My mother and father made painful sacrifices for my family to be where they are. I watched my family go through hardships, so growing up to be an artist wasn't a viable option. I made it to college and realized that the sacrifices of my parents, grandparents and everyone before me had led me to that point. I could decide what I wanted to do with my life, as long as I held up my end of the bargain and worked hard to pursue my dreams. I started as a business major and switched over to art my sophomore year and I've been rolling with the punches since.
As business-minded and incredibly pragmatic as my family is, my family is oozing with creativity. From music, painting, photography and sculpture, my family was definitely the first to introduce me to the arts, especially my mother. You gotta be creative if you're a single mom of eight kids.
What overall message do you hope to convey with your art?
I prefer my work to be received open-ended. My process is intuitive and playful. Each piece is channeled to my mood, current thoughts or troubles. I'm happy to disclose the meaning of any of my work with anyone. I also find that it informs me to ask others what they see. The overall feeling I try to convey with my work is feeling infinite, limitless, boundless and free.
How do you feel about the current state of the arts in Sacramento?
I'm excited. The community is growing and inspiring each other. We're seeing support from the city, people are being heard and more opportunities are arising. I've always said that Sacramento is fertile ground. I'm rooting for the folks who planted their seeds.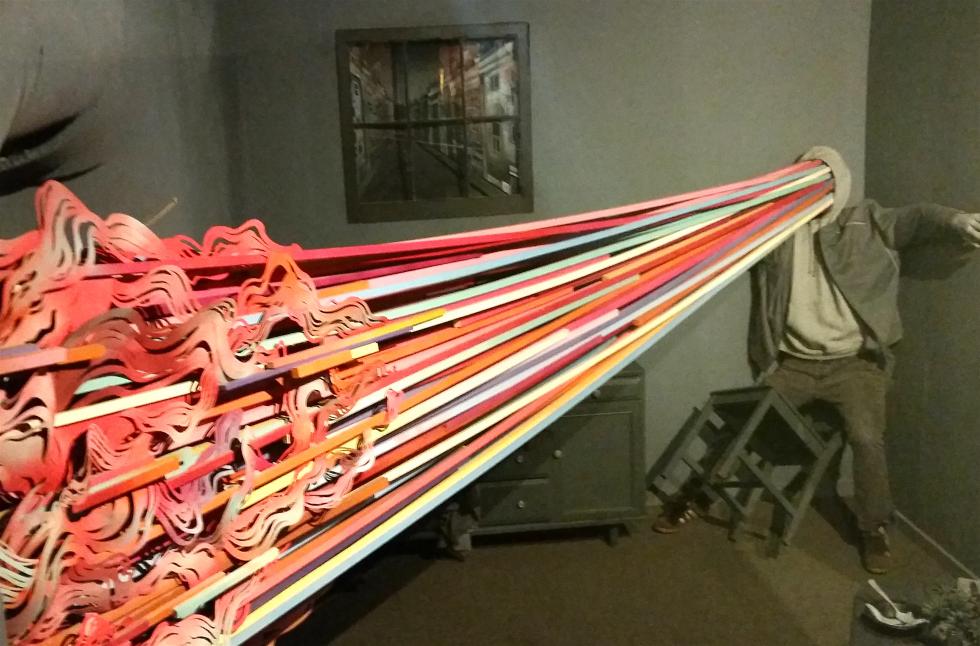 What are the biggest contributions you think Art Hotel and Art Street have made to the city?
I may be a little biased, but I'm still processing and unraveling what we accomplished. Both Art Hotel and Art Street were platforms for artists to have their work be seen by thousands of eyes. Along with that comes an opportunity for education — not only for the public in regards to the cultural value of art, but also education for the city by providing concrete evidence of the tremendous socioeconomic impact that projects like these possess.
Both projects were free to the public because we wanted to be inclusive and we wanted accessibility. Therefore, they drew in people from all walks of life around the region and beyond, some of which have never experienced art in this capacity. Sacramento being one of the most diverse cities in the nation, there was something relatable for everyone.
Art, in any capacity can be cathartic, educational, a vehicle for communication, even healing for both the artist and viewer. An artist's expressions are more or less influenced by their surroundings, their environment, even the current political climate of their cities. By highlighting the talent we have in our own city, we build community. We do the same on a global scale by bringing in international artists. Somehow with Art Hotel and Art Street, we managed to package all of these things together in a very off-tune, disruptive, unpredictable and playful way. I hope we inspired some folks.
We did private tours for schools on weekdays in the morning before we opened to the public. If one of those kids grows up to change the world on a massive scale, and they end up attributing some of their life choices to what they remember seeing at Art Hotel and Art Street that would be it for me.
If you weren't a professional artist what would you be doing?
I would probably be a less-professional artist.
If you had to be stuck on a deserted island with three other artists from Art Street, who would you want them to be and why?
Shaun Burner because he's one of the best problem-solvers and builders on this planet. Seumas Coutts, he seems like he would've been a hunter in a past life and he has medical experience. Raymond Sanchez (aka Welsed). He would prevent all of us from eating each other. All of these guys are brilliant. We were practically stuck in a warehouse for two months together and an icebox called Art Hotel the year before. Together we would all find a way home or build Art Island and get everyone to rescue us.
Have an artist you want us to feature in our monthly Q&A? Tweet us @comstocksmag with the hashtag #ArtExposed.