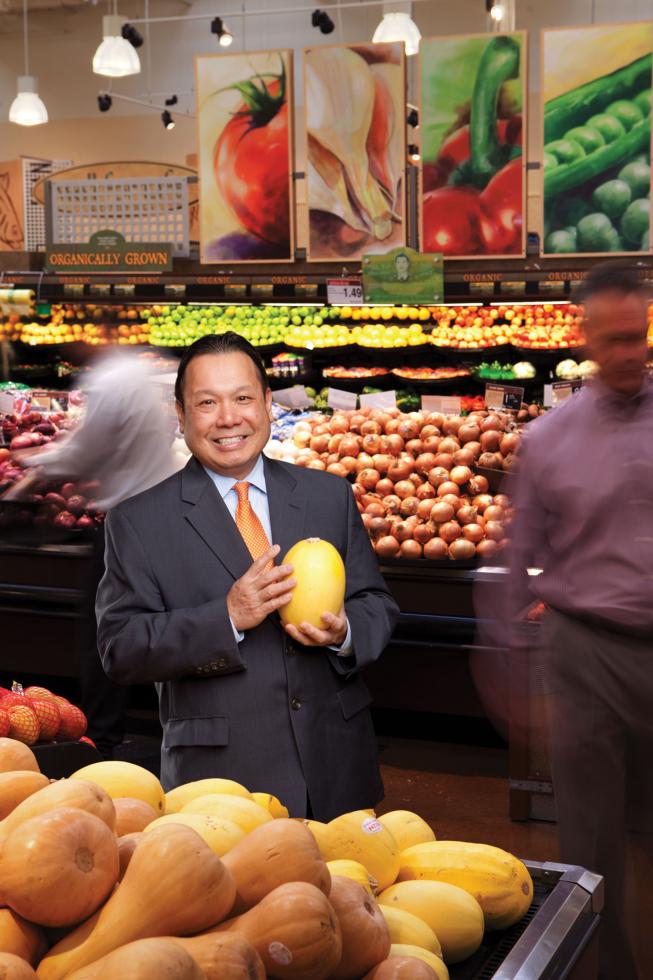 Ronald Fong, 52, has served as president and CEO of the California Growers Association since 2008. The CGA is a nonprofit, statewide trade association representing more than 500 retail members operating 6,000 food stores and 200 supply companies in California and Nevada.
"At the age of six, my sisters and I began bagging groceries while standing on milk cartons at the family grocery store. My grandfather launched Carmichael Supermarkets in 1941. It was family run for 50 years."
"When I graduated from law school my dad said, 'I've been waiting for you to do something like that.' He said the presence of a super-discount warehouse outlet a block away was just too much competition for a small family business."
"Grocery stores were much more like community centers back in the day. Neighbors hung out there; the store was the connector. My dad was part butcher, part banker. This was long before ATMs. He cashed checks and provided lines of credit until pay day."
"While large, super-box chains have entered the market, 80 percent of our membership is comprised of family-owned independents. Independents are loosely defined because they include multi-store chains, like Raley's (Family of Fine Stores) and Nugget Markets, but also single outlet stores, like Rainbow Market in Lincoln. We also have several small Hispanic outlets in Southern California."
"Small independents like Raley's can survive. There is room in the marketplace for different banners, different styles. The key is whether they can rise to the top within their specialty. Independents that don't offer anything different from their competitor down the street are less likely to succeed than an operation constantly adapting and changing to the customer wants and needs."
"Grocery stores feel the daily pain of the consumer much more than other industries. Our customers are the underemployed teachers and construction workers as well as the unemployed. Stores that are doing very well have adapted to that marketplace. So you sell different cuts of meat. You sell more economical packages of consumer-priced goods."
"It used to be customers were very loyal to their grocery store. Today it's much more about price point. We're seeing more people going to different stores for different items. They'll go to Whole Foods (Market) for organic produce, to Costco for large, packaged meat and maybe to Corti Brothers for wine. In today's economy, consumers will drive a few extra blocks to save 20 cents a pound on something."
"Back in the '50s up through the '90s, a career in the grocery business was a very good one. There still is a career here, but the economy has changed everything. Our world has become much more educated. I'm a classic example of the next generation. My career isn't in grocery operations any more because I had the opportunity to go to college and law school."
"[California Grocers Association] is concerned about the sustainability of our workforce. That's why we established our educational foundation. On behalf of our members, we fund scholarships for our grocery employees and their children. We are using that as an enticement to keep our current employees in the grocery business. We want them to become the educated, technologically advanced professionals that we need to manage the stores of tomorrow. Like any other industry, we are competing to retain and attract the best and the brightest."
"Tomorrow you're going to be able to check out just using your cell phone without ever going through a check stand. Soon after that, you're going to be able to run your entire grocery cart through a tunnel that will scan every item in the cart. You'll simply wheel the cart to your car without using a plastic, paper or reusable bag. So we won't have six checkers at a store, but we may have [a technology] and social media staff of similar size."
"CGA is not involved in labor contract negotiations. Our membership is comprised of both union and nonunion stores. I will tell you that the new players in the marketplace are nonunion. That does cause stress for our union members, especially this year because it's a contract year for union workers."
"California grocers do have many more regulations to deal with than our colleagues in other states. When I tell them that plastic bags are completely banned in some jurisdictions or that alcohol cannot be purchased through a self-assisted check stand they say, 'Are you out of your mind?' But they also know we are on the forefront of so many issues, for the good and the bad. What happens here is likely to happen there within four years."
Coasting through the sweeping fields of California's Central Valley, it's not unusual to spot collections of crouching figures diligently tending crops. These primarily Hispanic immigrants prune, thin, harvest and grow much of California's renowned produce. But over the past decade or so, hundreds of thousands of these indispensable farm workers have vanished.
With a new Vacaville store and six locations poised to open in the Sacramento area, Fresh & Easy Neighborhood Market Inc. is revving up competition in the already-crowded Northern California grocery scene.