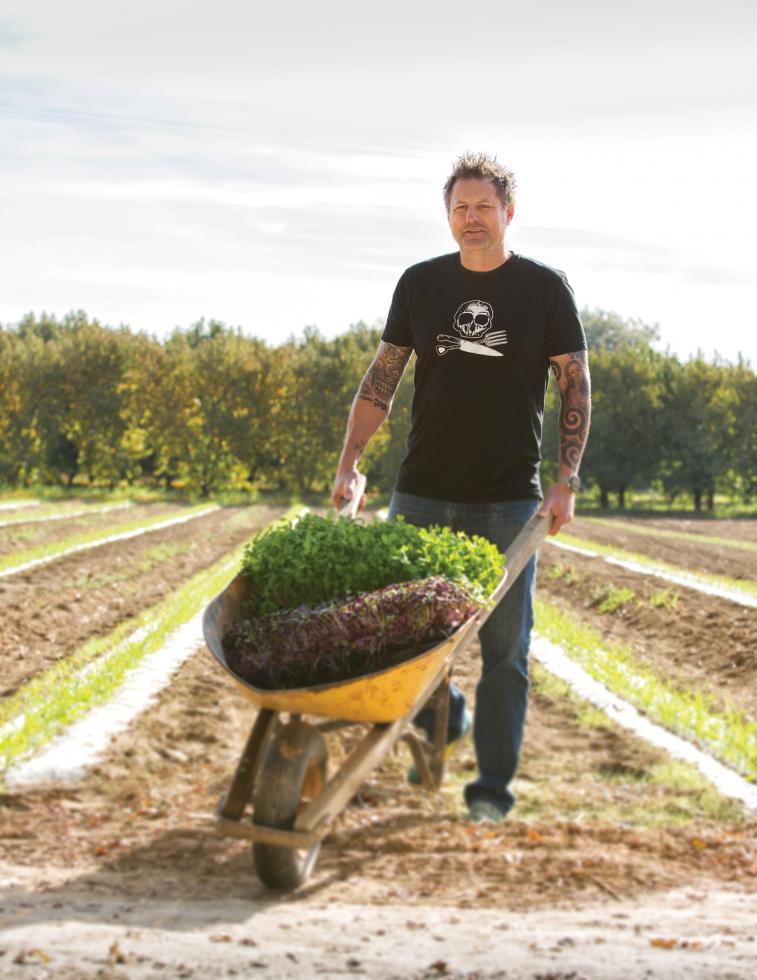 Chris Jarosz is the founder of Broderick Restaurant & Bar and co-owner of the Wicked 'Wich food truck. This year, he also took on the overhaul of midtown's Capital Dime restaurant and its sister eatery, Trick Pony, which have been folded into the Broderick Roadhouse family of restaurants. It's not all glamorous, but it is pretty tasty.
How is it that you went from operating a food truck to diving headlong into the region's farm-to-fork movement?
I grew up in western Pennsylvania, way out in the country. We had a massive garden and would pickle and can everything to get through the winters. We made our own wine and would hunt for food. We butchered our own animals. But I lost that part of my life; I lived in Key West and New York City as a part of the bar and restaurant scene, but I wasn't on the ag side. And then when I got here and saw the resources we had, it just blew me away.
You've voiced some concern about the farm-to-fork movement going "in the right direction." What does that mean to you?
When we did Restaurant Week, some of the restaurateurs and media guys were talking negatively because we let restaurants like Spaghetti Factory participate. They said, "Listen, we're a chain restaurant, we can't buy everything local. But we can at least try to source some local tomatoes and wine to support the movement." But then a few chefs got mad and said they needed to be "more farm to fork" to be a part of Restaurant Week. It frustrated me, and it frustrated Patrick (Mulvaney of Mulvaney's B&L) and it frustrated Josh Nelson (from The Selland Group), because anytime somebody goes out and buys something local or supports a small farm or any time they educate their employees or consumers about what's going on locally, it's a win for Sacramento.
What are some of the other difficult issues facing Sacramento's restaurant scene?
The big challenge now is going to be more competition, especially as we build the arena. I lived in Denver for three or four years when they had just built Coors Field. There was all this hype, so all these restaurateurs built all these great restaurants. But come game day, baseball fans aren't going to Ella-style restaurants for lunch. People go to games to eat food at the game and drink beer at the game. My biggest worry is that we don't have the saturation of people to support tons of new restaurants downtown.
As president of the California Restaurant Association's Sacramento Chapter, you went to Washington this year to lobby Congress. What were you there to discuss?
Minimum wage. I don't think people realize how difficult it is for a restaurant. The average restaurant has a 5- to 7-percent margin, so if you take your minimum wage and raise it 12 percent at a restaurant running at 30- to 35-percent payroll, it affects you across the board. It's like a 3- to 4-percent increase in your overhead, but you're only making a 5- to 7-percent margin. Now they also want paid sick leave. Have you worked in the restaurant business? If someone wants to go to a concert this weekend, they call in sick. But it's not like you work without that employee; you call another person in. So you're paying double for those hours.
How does the nonprofit sector's need for charitable support impact your bottom line?
It's tough. People always feel like their charity is the most important. It's such a great cause, why wouldn't someone want to support us? And we do want to, but we find ourselves cooking constantly somewhere else or trying to find ways to make donations, and there are only so many times you can hit up your beer company or your supplier and say, 'Hey can you kick in some produce for this?' I don't know how many times we've done an event where they ask for 3,000 appetizers. If we were going to sell them for what we would normally sell them for on the catering menu, for like three bucks a piece, that's a $9,000 donation. We don't even make that a lot of days and nights. For me, I would rather go cook for somebody at a 12-person dinner. But we all keep doing it because we want to continue to be involved.
You've taken on a number of projects in the past year, and you've got more up your sleeve. What's on the horizon?
I want to do seafood really bad. I used to love going to Blackbird when it first opened up; they would toss an octopus salad in front of me, and I loved it. But a lot of people don't; you really have to ease them into it. Having a surf-and-turf-style restaurant that has some seafood that's approachable for people but that also has a little flare is what it's going to take. I have a concept that I would really like to roll out in the next year.