In September 2018, TSI Semiconductors CEO Bruce Gray received an email from its largest customer directing the Roseville factory to stop all the customer's shipments. TSI had recently received positive feedback from the customer — which, due to a nondisclosure agreement, Gray can only refer to as "Customer R" — about its work, so the news of this relationship ending blindsided him.
"That was relatively catastrophic," says Gray, who joined TSI in January 2016. "We ended up having to adjust, which was tough. It affected a lot of folks, about half of our employees." The company went from about 500 employees to 240. The layoffs, he says, "was not a fault of their own in any manner, shape or fashion. … It was a situation that basically happened on the other side of the world." Today, walking through the sprawling 45-acre site on Foothills Boulevard, Gray knows every colleague by name, calling out hellos and jokes as they pass in the hallways. There are a lot of empty cubicles.
There is also, significantly, 170,000 square feet of "clean rooms," an environment kept ultra pristine for the production of electronic components. TSI operates one of the last remaining microchip plants in California and the last one in Northern California, making products for the automotive, aerospace, medical, wireless communications, military markets and more.
In its 36-year history, the manufacturing plant has changed hands multiple times and dealt with many challenges, some potentially dire. One of those companies dealt with lawsuits against two former executives alleged to have defrauded the company, and TSI faced its make-or-break moment with the loss of Customer R. But unlike many other manufacturers throughout the Capital Region, TSI has managed to survive. Over the past year, the company has been forced to drastically shift its business strategy; yet, in doing so, it is supporting innovation in California by bringing startups' proof of concept from prototype to production.
Forced to Pivot
In 1984, Japanese technology company NEC Electronics began operating its new plant on Foothills Boulevard in Roseville during a period of major transition for the city. Its population grew sharply over the next two decades, and the high-tech and health care industries flourished, moving the community beyond its railroad roots (in 1979, Hewlett-Packard had opened its campus on its 500-acre site, also on Foothills Boulevard; HP sold that campus in 2017). NEC's launch in Roseville represented an initial investment of $100 million.
In 2010, NEC Electronics merged with Japan-based Renesas Technology Corporation and became Renesas Electronics America. In 2011, Telefunken Semiconductors International purchased the plant; Renesas became a customer following the sale. In 2012, Telefunken settled lawsuits against its former CEO and president, whom the company alleged had "illegally transferred $23 million in company funds to a semiconductor company they control in Germany," according to a story in The Sacramento Bee. The company laid off some of its 600 employees and postponed an expansion as a result, according to the story. In 2013, Telefunken's name changed to TSI Semiconductors, and a new management team was put in place by the company's current owner, Wafra Capital Partners.
Through the years, TSI has benefited from its proximity to a qualified workforce — often a struggle for other manufacturers — hiring many graduates from UC Davis and Sacramento State and students from Sierra College's mechatronics program. The average tenure of a TSI employee is more than 15 years.
"This is a very different manufacturing system than you can imagine with things like automobiles, (where) there's an assembly line, and your job is to tighten nut No. 12 on the wheel, and you do that 200,000 times a day, and you're done," Gray says. He attributes the lengthy tenure of employees to the intellectually stimulating work. "Here people are expected to have multiple skill sets. The job is interesting, it's technically challenging and it's a unique area, so it's kind of a nifty thing to do."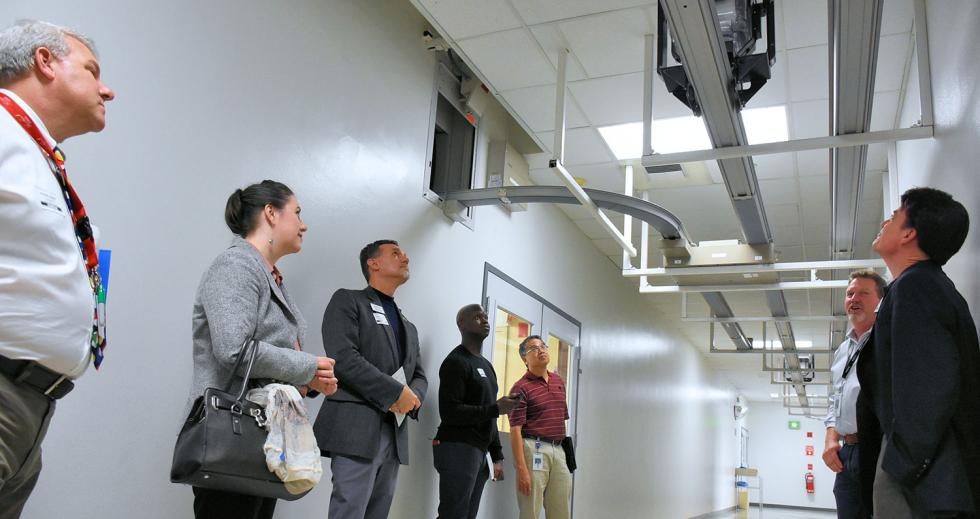 Gray's first couple of years as CEO was a time of growth for TSI. The company expanded its Technology Development & Commercialization Services business by 200 percent, working with outside companies who need assistance in designing and fabricating custom chips. TSI has something other companies want — experts, clean rooms and equipment to manufacture microchips. Gray estimates that TSI has about 350 tools, each costing between $5 million and $8 million.
Then came the news that Customer R was leaving, and the downsizing commenced. Laura Matteoli, economic development director for the City of Roseville, says the city provided job relocation services for affected workers. "We reached out to other businesses that had a need of software engineers, and, in turn, there were quite a few that got a job and stayed local. … That was our goal, to keep the workforce in Roseville and the South Placer region," Matteoli says.
Downsizing forced the company to diversify its customer base. Since the departure of Customer R, TSI has focused even more on growing its Technology Development & Commercialization Services, helping startups and smaller companies scale up production. A startup may achieve proof of concept, but "the kiss of death is if it's successful," Gray says. "(The customer asks), 'How soon can you get me 10 million?' Your answer shouldn't be, 'I'll get back to you.'"
TSI is also actively pursuing more government work. In 2015, TSI received accreditation as a Category 1A Trusted Foundry by the Department of Defense to make microelectronics for the federal government and accreditation to manufacture products under International Traffic in Arms Regulations, which control the export and import of defense-related products, services and technology, and include 21 categories such as firearms, rockets, aircraft, ground vehicles, spacecraft, gas turbine engines and more. TSI manufactures "military electronics" under Article 11.
Gray declined to comment on how the departure of Customer R affected revenue but notes that previously about 70 percent of TSI's products were exported; now it's less than 5 percent. "I had not planned or assumed that our largest customer would be here forever," he says. "It's a difficult situation that we were planning on. We just were planning on a soft landing, not a precipitous drop."
"We need to really start valuing manufacturing in the sense that it's the engine that makes things possible. It sounds so simple. And it is." Bruce Gray, CEO TSI Semiconductors
Growing Manufacturing
The TSI plant operates 24 hours a day, seven days a week and 365 days a year. This means any hiccup in the manufacturing process costs the company a lot of money — and it makes reliable electricity critical to success. "If there's a blip, their equipment is so sensitive that it can shut them down, and if they have to shut down for a power outage, they lose days of production," says Michelle Bertolino, director of the city-owned Roseville Electric. After an ongoing issue a couple years ago, the utility brought in an outside expert to diagnose and work with TSI on fixing the problem.
Gray says this effort cut TSI's losses from electrical blips from about $1 million a year to almost nothing. The affordable and reliable power from Roseville Electric is "second to none," he says. Roseville Electric's rates are comparable to SMUD's, both of which are about 35 percent lower than PG&E. "One of the reasons they've been successful here is, first of all, our rates are lower, but also our reliability is really, really, really good," Bertolino says, adding that the utility is "very aggressive with our maintenance and our inspections and our vegetation management."
Matteoli, the economic development director, says high-quality utilities are a major reason businesses choose to locate in Roseville. "It extends, not only to our electric, but also our water, our wastewater and solid waste," she says. "We have a low cost of utility, which is an ongoing cost for all businesses and homeowners, and it's a huge draw to the city of Roseville, not only why they come here, but why they stay. And TSI is no different."
Although Gray says TSI's relationship with Roseville is "incredibly positive," that has not always been the case with Placer County. TSI and the county's Assessor's Office have been embroiled in a legal dispute over property taxes. Supervisor Bonnie Gore, whose district includes Roseville, declined to comment on the lawsuits but says, "As the economy has changed and as manufacturing has moved overseas, the fact that we still have a manufacturing facility like TSI in our community is terrific. We want to make sure they are able to continue to be successful."
Manufacturing, Gore says, has grown more challenging in the United States, and California in particular. "But there are companies that want to stay in California, and there are companies that need to grow in California," Gore says. "In Placer County, Roseville as well, we have sites that would be great locations if they want to move out of the Bay Area or out of the Los Angeles area where it's more expensive of a place where you've got land to build and, along with it, a quality of life."
Placer County supervisors recently approved the environmental impact report for the Sunset Area Plan, which Gore says will get the ball rolling on bringing in infrastructure — water, sewer, power lines — to that land, which encompasses 8,497 acres between Rocklin, Roseville and Lincoln and is intended for light industrial, commercial, residential and open space. The plan also calls for a 301-acre satellite campus of Sacramento State. A public university (if approved by the California State University board of trustees) could help provide the qualified workforce needed for local manufacturing jobs.
"We probably have 3,500-5,000 students a day drive from Placer County to Sac State," Gore says. "That's a lot of students going south, a lot of traffic, a lot of time, and if we can provide a four-year public education here in South Placer, it would be a tremendous benefit to our community."
Lance Hastings, CEO of the California Manufacturers & Technology Association in Sacramento, says it's critical local and state governments remain open to the needs of the manufacturing sector and engage in "productive discussions that can lead to a stronger California economy," he says. "I am a believer that the manufacturing sector is the backbone of the California economy, it always has been. … It does provide a great middle-class opportunity for employees of either early skill level or developing skill level that can provide for the families and communities like no other."
"I am a believer that the manufacturing sector is the backbone of the California economy, it always has been. … It does provide a great middle-class opportunity for employees of either early skill level or developing skill level that can provide for the families and communities like no other." Lance Hastings, CEOCalifornia Manufacturers & Technology Association
But, Hastings says, this sector is threatened in California. A 2012 CMTA survey of 100 manufacturing companies that had either expanded or opened a new facility in the U.S. during the previous year found that California accounted for only 2 percent of these expansions or new sites. Eighty-two percent of the companies did not even consider California. The reasons "included a costly and complicated tax system, a poor regulatory environment, high labor costs and a lack of incentives and credits," according to the report. It also found that 27 percent of the companies were planning to expand again within the next two years. The authors concluded that California needed to undertake serious reform to become a competitive place for a manufacturing company.
Gray, who graduated from the Massachusetts Institute of Technology, has worked in the semiconductor industry for nearly 30 years, beginning in Silicon Valley. "When I first came to California … I would say half of the semiconductors on the planet were made (in Silicon Valley), 50 percent, something like that. Do you know how much is made there today?" He holds up his hand in the shape of a zero.
Reasons to Stay
The loss of semiconductor plants in California happened over time because of several hundred billion dollars of capital investment "made by people in Taiwan or people in Singapore or in Europe — people in other places" to build factories and attract manufacturers, Gray says. "Imagine another half a trillion dollars of investment in California and how many jobs and what that would have done for our economy?" These other countries found companies willing to relocate as the cost of doing business increased in California, and there were no incentives to attract them or keep them here.
Unlike, say, New York, which is providing $500 million worth of tax credits and other incentives to help North Carolina-based company Cree expand its operations by building a plant outside Utica to manufacturer chips for electric vehicles and 5G wireless equipment. "You have to be aggressive. … That doesn't mean the companies looking for manufacturing are looking for a free ride," Gray says. Cree will spend $1 billion to create the facility and eventually employ an estimated 600 people.
California's manufacturing job growth lags behind the rest of the U.S., having increased 5.6 percent between 2010 and 2018 compared to the national rate of 10.6 percent, according to a CMTA report. But new manufacturing jobs haven't necessarily been going to other states across the country.
For decades, low-tech manufacturing has been leaving the U.S. for Asia, where companies are lured by cheap labor. More recently, advanced manufacturing has been going there too, wooed by lower tax rates among other advantages. Through the years, much of the research and development for American companies had remained here with the production overseas. But Gray points out a glaring loophole in this arrangement.
Gray gives the example of a hypothetical U.S.-based company that transfers a manufacturing process to a factory in China. Inevitably, a problem occurs, like an "excursion," when a process shifts out of specifications. That can't be fixed by the headquarters. So the company trains someone in China to fix these excursions, which also means explaining how the underlying principle works.
Then the finished parts come out, but it's not quite right. The company does a failure analysis, taking the finished product apart to figure out what went wrong — and how to improve it. "(Now) you understand the principles," Gray says, "you understand how to keep it running, you understand how to diagnose what goes wrong, and you understand how to fix it and make it better at the end so you build the next generation. Oh, darn."
This potential loss of American-developed technology and intellectual property over time as U.S.-based companies move operations overseas is in addition to ongoing attempts of economic espionage by countries such as China that already constitute a threat. One "stunning Chinese-backed effort … pilfered as much as $8.75 billion in patented American technology," according to a November 2018 story in the Los Angeles Times. The theft involved "commercial spies, a Chinese-backed company, a Taiwanese chipmaker and employees affiliated with Micron Technology, a U.S.-based microchip behemoth." These types of thefts have increased under the Trump administration as tensions between China and the U.S. have grown.
Gray says the loss of American technology and intellectual property translates into major damage to the nation's long-term economic health. TSI, he says, is a reminder of the importance of manufacturing to both a local community and to the U.S. in the way it creates jobs and supports domestic innovation — and he urges local and state governments to see it as such. "We need to really start valuing manufacturing in the sense that it's the engine that makes things possible," he says. "It sounds so simple. And it is."
—
Get this and other stories delivered to your inbox weekly: Sign up for our free email newsletters by clicking or tapping here.
California remains a top manufacturing center in the U.S. despite local employers grappling with a serious worker shortage. Will state investment in makerspaces help fill the need?
Manufacturing is too important to ignore, and the Capital Region needs to harness this sector for prosperity