Jennifer Siebel Newsom is passionate about several issues, but perhaps none more than the gender wage gap. And she's using her clout as California's first partner and a celebrated documentary filmmaker — whose work and advocacy primarily focus on cultural issues and empowering women — to raise awareness.
Siebel Newsom has produced a number of documentaries, including the award-winning film, "Miss Representation," which explores the underrepresentation of women in positions of power and influence in the United States, and "The Great American Lie," which highlights the underlying cultural causes of inequality in America. "For me," she says, "it's about waking people up to the institutionalization of these hierarchical values where we privilege the few and harm the many, and those that are harmed are often women and women of color."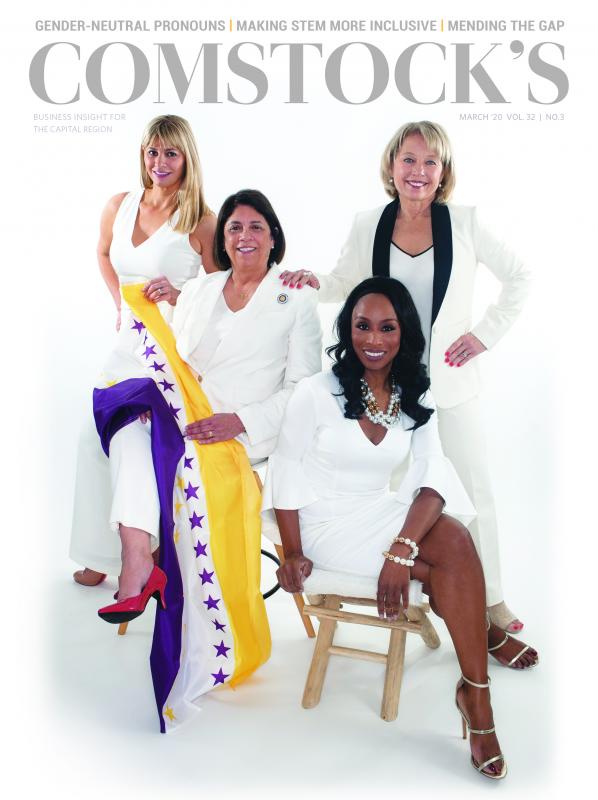 This story is part of our 2020 Women in Leadership issue. To explore the issue, click here.
In partnership with the California Commission on the Status of Women and Girls, Time's Up and the California Department of Labor & Workforce Development Agency, Siebel Newsom launched the #EqualPayCA campaign in April 2019 and is leading the charge to elevate the conversation as part of an effort to achieve pay equity.
Thirteen companies signed the CA Pay Equity Pledge at the start of the campaign, committing to pay equity in the workplace; that number has climbed to 43, with a goal of 100 at the one-year mark. Eighteen of the signers are companies with 10,000-plus employees, such as Salesforce, Apple and Intel. Several small and midsized companies have pledged as well, including a Capital Region nonprofit, Children's Home of Stockton.
All have voluntarily agreed to conduct an annual companywide gender pay analysis, review their hiring and promotion processes to reduce bias and barriers, and identify and promote other practices that will close the gap.
Gap Slowly Closing
Fifty-seven years after the Equal Pay Act was signed into law by President John F. Kennedy, women still earn substantially less than men. The gender wage gap has closed over time but at a glacially slow rate — about half a penny a year in the nearly six decades since the legislation was passed. According to PayScale's "The State of the Gender Pay Gap 2019" report, women earn just 79 cents (74 cents for women of color) for every dollar white men make. The findings are based on the responses of 1.8 million people who took the salary survey. Research estimates that the uncontrolled gender wage gap — which compares the median salary for all men and women, regardless of job type or seniority — will not close nationwide until 2070.
Siebel Newsom has her thoughts on why. "I think it's a combination of a lack of education, awareness and enforcement," she says. "But I would also say the root cause of this, historically, is that we have devalued women and women's work and have relegated their value to the home, where there's unpaid labor."
The uncontrolled gender wage gap numbers are also largely affected by what is characterized as the opportunity gap, where women are less likely to hold higher-level, high-paying jobs compared to men and tend to move up the career ladder much slower. Meryl Press, pay equity specialist with the California Commission on the Status of Women and Girls, calls this the "broken rung."
"Women are trying to jump from entry level to management and from management to the C-suite," Press says, "and in between those roles, there are many more gaps that women experience compared to men."
At midcareer, 40 percent of women hold a position of manager or higher, compared to 47 percent of men. By late career (45 and over), the gap grows — only 41 percent of women reach a position of manager or higher compared to 57 percent of men. Just 3 percent of women rise to an executive post, compared to 8 percent of men. Some of the gender pay gap has been attributed to women's choices, such as job selection or the decision to take time off to raise a family, but those factors do not account for all the disparity, Press says. Discrimination plays a part.
Even when the pay gap controls for factors that are identical between women and men (known as the controlled gender pay gap), like job title, years of experience, industry and location, and the only difference is gender, women still make 2 cents less than men. Over time, that adds up.
Legislation in California is attempting to level the playing field. Senate Bill 358, the California Fair Pay Act, went into effect in January 2016 and amends and strengthens the 1949 California Equal Pay Act by requiring equal pay for employees who perform substantially similar work.
Further amendments added race and ethnicity, in addition to gender, as protected categories. The law also empowers employees to discuss pay without fear of retaliation and prohibits an employer from asking about past compensation. Following its passage, the California Commission on the Status of Women and Girls launched a pay equity task force to facilitate discussion and provide guidance on the legislation.
The #EqualPayCA campaign followed three years later. "It was the perfect convergence of events where the task force tools were ready, and we believed they would go a long way in fulfilling the promise of pay equity," says California Labor Secretary Julie Su, who co-chaired the task force for two years. "And I reached out to the first partner who was so committed to this issue herself, and she was really phenomenal and just took it and ran with it."
Su, appointed labor secretary in January 2019 by Gov. Gavin Newsom, oversees California's Labor and Workforce Development Agency, which, among other things, enforces labor laws that promote wage equity. Su's department primarily relies on voluntary compliance and worker complaints to enforce fair wage practices but also produces educational tools and talking points needed to understand fair pay.
The group also is launching an initiative that educates college students on their rights as they move into the workforce. On average, there is a gap of more than $12,000 between the median starting salary for a 22-year-old woman and her male counterpart. "We recognize that laws can only do so much," Press says. "Those of us behind the laws are putting in the hard work to educate employers and workers and encourage companies to pledge equal pay and increase transparency in their pay equity data."
Su also believes there is a need for systemic change in how wages are set and how employers value different employees. "Employers need to know that pay equity is the law and that there is a consequence to unlawful behavior," Su says. "With California's Fair Pay Act, paying people differently for substantially similar work is a form of wage theft, and it doesn't require proof of discrimination."
Since California's legislation was passed, there has been a significant increase in the number of wage discrimination claims — up from six in 2015 to 184 in 2018. "That's the impact of legislation and education," Su says.
Required Reports Kept Private
Intel, an inaugural signer of the CA Pay Equity Pledge, was heralded for its transparency and precedent-setting action of publicly releasing its compensation data, broken down by gender and race, in December 2019. The federal government requires companies with 100 or more employees to produce salary reports that include the racial or ethnic and gender composition of their workforce by specific job categories, plus the hours worked and pay data. But employers can keep their submissions private. Intel is the only large company so far that has released its data publicly, and the numbers weren't particularly flattering, revealing that white and Asian men predominantly fill the company's top roles. Overall, many have applauded Intel's transparency, while at the same time acknowledging the tech industry still has work to do.
"There's always the risk of releasing this information; there's always potential backlash over the data not being where you want it to be," says Julie Ann Overcash, vice president of human resources and director of global rewards and talent retention for Intel. "But we truly believe that you have to be willing to put yourself out there as a company that can withstand criticism to achieve real progress. And that transparency is the only way to really start the conversation."
Intel has been working on pay equity for the past decade but has taken an even more granular look at its data in the last few years, focusing on what Overcash calls the company's true North Star philosophy, which includes three main pillars: representation, pay equity and inclusion. The company has evolved its methodology to take a more comprehensive approach to analyzing pay data and closing identified gaps by evaluating total compensation, including stock grants, while continuing to account for legitimate business factors — such as performance, time and grade and tenure — that explain differences in pay. As a result, Intel was able to achieve controlled gender pay equity for its more than 107,000 employees in January 2019.
"The next step for us is to address the longer-term challenge of ensuring we have representation at all levels in the company and looking at how to prevent the gaps," Overcash says. "That way we aren't reacting or responding to the gaps but have built in the methodology and practices to resolve the gaps before they happen."
Children's Home of Stockton, a nonprofit that works with high-risk foster youth, signed the CA Pay Equity Pledge in October 2019 and is taking steps to analyze its data and practices, but it is also looking deeper. "Beyond comparing salaries against job descriptions, we are looking at other ways to make sure we are really compensating more appropriately," says CEO Joelle Gomez, who also serves on the board of the California Commission on the Status of Women and Girls. "We are looking at things like special skill sets and language capabilities — however an employee can articulate an edge or a strength, we are putting value to that." Most of Gomez's 160 employees are women — about 80 percent — but the goal is to make sure they are not stagnant. "Even in a small organization like ours, we want to find ways to help women succeed, elevate to the next level and earn more money," she says.
The first partner acknowledges that getting pay equity right is an evolving process and is continuing the educational component, in part by disseminating resources and best practices and hosting awareness-raising events. She praises companies like Intel, who she says is brave and willing to do the work to improve, and hopes people will want to work for companies that have pledged equal pay.
"It may be rocky at first, but in the long run, it's the best thing for a company. It's the best thing for its employees," Siebel Newsom says. "We know this because all the studies indicate the more diversity you have in leadership, the greater the creativity, the productivity and the better the bottom line."
–
Get feature stories like this delivered to your inbox: Subscribe to the Comstock's newsletter today!
We have an opportunity. In 2015, women held less than 24 percent of jobs in science, technology, engineering and math in the United States, despite making up more than 47 percent of our workforce, according to a report from the U.S. Department of Commerce.
We'll be hearing a whole lot of buzz about wage parity this year — in part because groundbreaking research conducted by New York University, University of Pennsylvania and the University of Haifa in Israel identifies flat-out gender bias as the elephant in the room affecting wage parity. This new study, titled "Occupational Feminization and Pay," is the single most comprehensive study on wage parity in the U.S. to date.
When a family member needs more care than you're able to give, you may automatically think they need to be placed in a nursing home. However, that's not always the case, according to Jason Pollock, administrator of Oak Ridge Health Care Center in Roseville.