Pam Rodrigues sits patiently at a café table, waiting for her four children to finish school and join her at Destiny Community Center. She scans her phone, sips an iced coffee and relishes the rare moment of quiet. "This place has opened a lot of doors for my kids," says the preschool teacher and single mother of four, who has been frequenting the center since it opened in March. Her children, 11-year old triplets and an 8-year old daughter, have taken hip-hop, salsa, choir, sewing, received tutoring and taken summer classes through a program called Destiny Performing Arts. "Destiny offers free programs that I normally wouldn't be able to afford," she says.
Professionally designed and architecturally appointed, the 64,000-square-foot Destiny Community Center is owned by Destiny Christian Church and run by nonprofit Destiny Community Services, established by the church in 2014 for the purpose of community outreach. The massive community center includes a variety of multi-functional spaces and activities that can serve up to 1,800 people a day.
Related: How To Get A New Facility
Destiny Christian Church purchased the commercial property, housed in a Rocklin retail space that was distressed due to the economic downturn, in early 2015. "The owners were motivated sellers and the center met our need for size, proximity and existing tenants," says Steve Tyrrell, senior vice president for Kidder Mathews and the agent who brokered the deal. Tyrrell worked with East Coast owner Mission Peak Capital to purchase the entire center, negotiating a $10 million price tag that was 30 percent below the market value of $13.5 million.
With the transaction, Destiny Christian Church inherited existing tenants: American Furniture Galleries and Harbor Freight Tools. The cash flow from these lease agreements helps offset the operating costs of the community center, but a long-term plan is still being formulated to balance the mission for service and the need for revenue. Part of that plan involves demonstrating to residents and local businesses that the center is a much-needed community resource in the hopes they will support its efforts.
Get Built
The idea for the center originated four years ago when Greg Fairrington, senior pastor of Destiny Christian Church, felt the church could do more to impact the community. A 30-year resident of Rocklin where he and his wife Kathy raised two children, Fairrington saw the landscape of the community changing. A rash of recent teen suicides rocked the area and the number of children living in single-parent households had climbed to 23 percent. "We wanted to move outside our church walls to make a difference," Fairrington says, whose church is known for large community outreach events like Celebrate America, an Independence Day extravaganza that draws more than 30,000 people, and a toy and bike drive where 4,000 bikes are given away to children in need. But Fairrington had a vision for impacting the community with its daily, practical needs.
"This center was built for the community by the community."
He turned to local government, schools, business leaders and community members to build a partnership. For two years, he spoke to city council members; chamber staffs from Rocklin, Roseville and Lincoln; school officials and Destiny's congregation about the vision for the center. His message resonated and donations totaling $2.4 million poured in from the congregation and community to help build the facility. "This center was built for the community by the community," Fairrington says.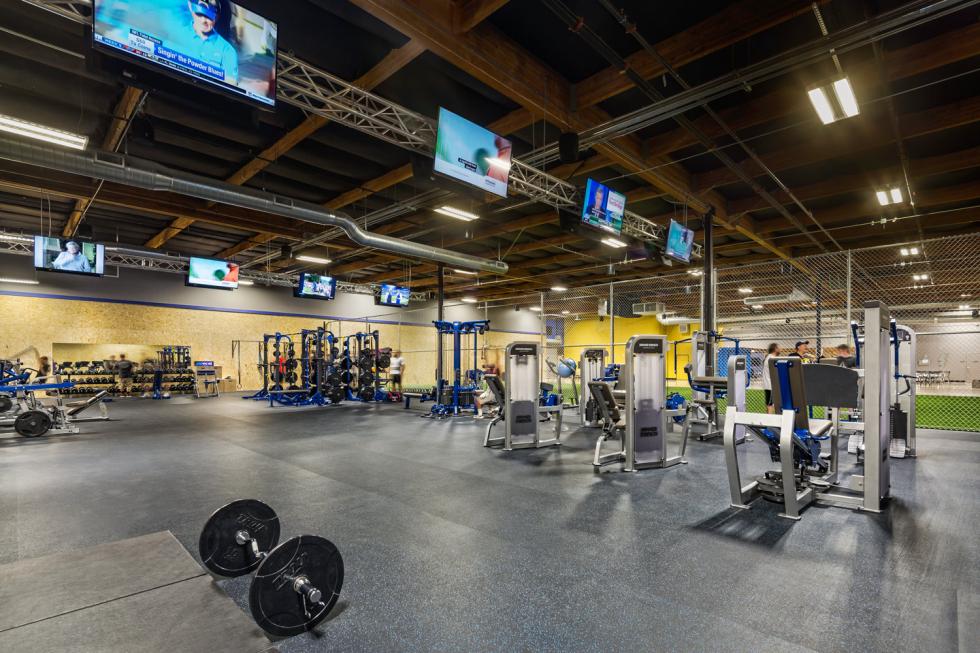 Five Star Plaza, the center where Destiny Christian Center is located, was nearly vacant by 2010. With the recession in full swing, the only tenant to survive was American Furniture Galleries. With the property in distress, Tyrrell cold-called Mission Peak Capital in October 2014 to explore the possibility of making an offer. Prior to the call, Destiny Christian Church had approached its lender, Five Star Bank, about borrowing options and was approved to use its existing property at 6900 Destiny Drive in Rocklin as cross-collateral for the full purchase price of the new property. Tyrrell and Mission Peak Capital went back and forth several times with offers and counters before the two came to an agreement. Since Five Star Plaza was Mission Peak Capital's only West Coast property, the owners were not particularly attached to it. "This property was just another holding for them," Fairrington says. "They still made a profit, but the center was undervalued and they were willing to sell it that way."
Once the property closed, Destiny Community Services immediately got to work. The project required a complete gut of the two buildings that DCS was retrofitting. Hundreds of volunteers descended on the facility to assist with the demo. Other professionals donated significant amounts of time and resources to get the center built, including retired general contractor Grant Carmichael, who volunteered for nine months alongside construction workers and painting contractors, as well as licensed architect Bill Peterson. Peterson donated all of his nearly 2,000 hours of principal time. Peterson's wife, Carolyn, is an interior designer who volunteered her design expertise and 500 hours to shape the look and feel of the center.
"It's not too often you get to work on a project where you have a completely blank slate," says Peterson, president of Auburn-based Wilson Peterson Associates. With no design committee to please — just Fairrington and his wife — Peterson had free reign. "The idea for the space was to create a shopping-mall type of experience with wide pedestrian walkways and fun and creative storefronts to delineate each area," he says. Industrial elements like polished concrete floors, exposed ductwork, garage-style roll-up and glass doors, were also utilized.
Working in tandem, the Petersons chose design elements that are modern, but functional and cost-efficient. Whimsical details and artwork also dot the space. A Route 66 mural, designed by Peterson and painted by his staff, graces an entire wall. A hand-crafted rocket ship — another Peterson-designed element — hangs from the ceiling of the learning center. Brightly colored shipping containers serve as the center's café and teen snack shack, and a collection of musical instruments forms a sculptural display in the café. All the furnishings are white, red, black and orange, with splashes of bright colors on the walls and in the artwork. "We really wanted to create a fun and vibrant space with a lot of energy," Bill says. Construction took about 14 months to complete and cost $2.4 million.
Reaching Teens
Open seven days a week, the community center includes multi-functional meeting and educational rooms, a fitness center, a fully-stocked teen center, a trellis café with indoor seating and oversized flat screen, a KidZone and more. To help generate revenue, Destiny Community Center rents out its auditoriums and meeting rooms — the Rocklin Unified School District has used the space for staff meetings, and the space was also reserved as an SAT testing center.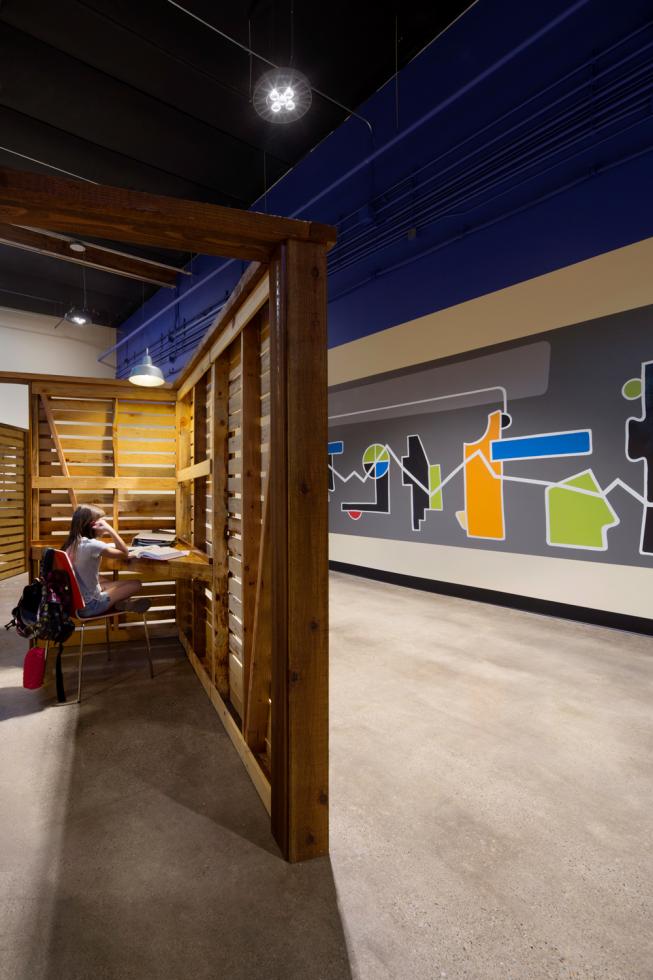 To determine what kinds of classes should be offered, Michelle Coleman, director of marketing, works with community center directors Eric and Tiffany Saathoff to identify needs in the community, and then looks for ways to meet them. "Because of the large population of single parents in the community, we could see a need for more after-school programs," Coleman says. That also uncovered the need for an adult English as a Second Language program, which the center will offer in the fall. The economic downturn exposed a need for job training, resume writing and interviewing skills, something else the center will be offering. Destiny Community Center has partnered with retired school teachers, who it vets and trains, as well as professors from William Jessup University and Sierra College to teach its classes.
The teen center has been a huge draw. The vast warehouse-style space is filled with inviting entertainment options like ping pong, pool, air hockey, individual gaming stations with flat screens, overstuffed couches and a snack shack. "Teens are bored and searching for an identity," says Teen Center Director Ryan Allen, "and many are finding it in unhealthy places like social media, where they encounter bullying or inappropriate content."
With more than 89,000 teenagers in the greater Rocklin, Roseville and Lincoln areas, Allen and Destiny Community Center are partnering with local high schools to impact those teens. In addition to running the teen center, Allen and his staff currently have 267 events scheduled on four high school campuses (Rocklin, Whitney, Adelante and Oakmont) that are meant to draw teens in with entertainment and character-instilling activities, ranging from high school dances, supportive talks at pep rallies and character classes for student athletes. "We have an entire generation of teenagers that no one is reaching," he says. "Instead of asking them to come to us, why not go to them?" Allen travels to the high schools with a bright orange mobile entertainment truck that features music and strobe lights with a "Be the Change" logo splashed across the sides.
While the center is becoming fully operational, Destiny Christian Church is allowing Destiny Community Services to use its facility rent-free, and covering the cost of the center's paid employees. The center takes in revenue from its lease agreements and room rentals, as well as from its gym memberships and café sales. Partnerships with Woodland Motors, the Debra Massie Lyon Real Estate Team, the Sacramento Kings Foundation, Raley's Supermarket and the Marvin "Buzz" Oates Charitable Foundation (Buzz Oates is Kathy Fairrington's father) have generated much needed resources, but DCS is looking for more support.
Currently, the approximate delta between the monthly operating costs and the monthly operating revenue stands at about $50,000, but Development Director Scott Bryditzki believes that with the help of local business, that sum can be made up in the next year. "Right now we are looking to form more partnerships with the business community and organizations, as well as pursuing grant options," he says. "But the most important part is being able to offer as many free services as possible. This center is a gift to the community and we want everyone to feel welcome here."
The Rodrigues children file into the center, a jumble of backpacks and chatter about their just-completed school day. They surround their mom, vying for her attention before they move off in a group toward the KidZone where they will play before starting on homework. A slow smile spreads across Rodriques' face as she rises from her seat and joins her family.