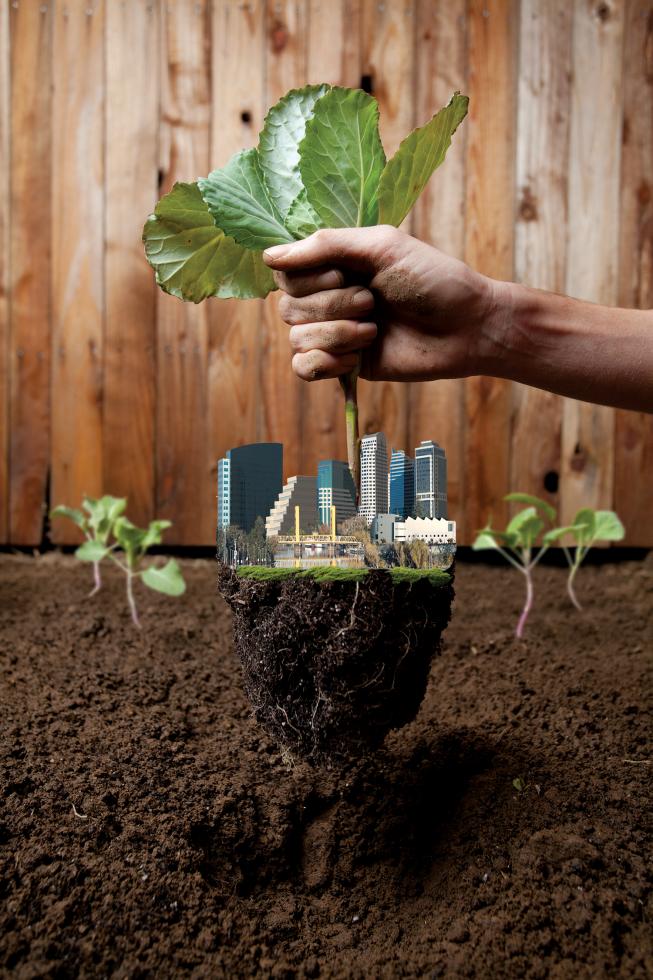 Sacramento loves regional planning.
Take an issue — say, transportation or land use or coordination of local government — and a group will sprout to chart a course. That's how we got Valley Vision, the Metropolitan Transportation Plan for 2035, the Sacramento Area Commerce & Trade Organization, the Metro Chamber's annual Capitol-to-Capitol lobbying trip to Washington, D.C., and the push to make this region a hub for clean technology.
Until now, one issue has been left out of the mix: a regionwide economic development strategy.
Maybe it's because Sacramento managed to get along without one for so long. Individual cities and counties had independent efforts, and through booms and busts, military base closings and construction frenzies, the regional economy seemed to right itself.
This time around, the local economy continues to list dangerously while much of the country gets back on course. Forecasters call for job growth of 1 percent to 1.5 percent in 2012, but that's after four straight years of decline — a loss of 110,000 to 145,000 jobs from the peak in 2007, depending on who's counting.
"Never before has employment been this far below its prior peak this far into a recovery," says a report coauthored by Brian Leu, an investment officer for the California Public Employees Retirement System; and Yang Sun, a professor of business administration at Sacramento State.
The last time the region added 110,000 jobs, it took about 6.5 years, the authors say. And that was during a boom. This time around, the jobs just aren't there, and the openings available don't seem to match the job skills of the local work force.
Some economists predict Sacramento's unemployment will stay in double digits for several more years. The region has the sixth-highest level of foreclosures in the country. Out of 366 metropolitan regions nationwide, Sacramento ranks No. 345 in growth of gross metropolitan product.
With the state facing a $13 billion deficit for its 2012-2013 fiscal year, and with local governments slashing budgets to keep them balanced, the private sector is taking charge.
"We don't know what the future holds, so we want to create our own," says Bill Mueller, CEO of Valley Vision. His organization has joined forces with the Sacramento Metro Chamber, SACTO and the Sacramento Regional Technology Alliance to launch Next Economy, subtitled the "Capital Region Prosperity Plan."
But that plan doesn't quite exist yet.
"We know that we have to make decisions based on data, not what we think our local economy is like," Mueller says. That's where the Center for Strategic Economic Research enters the picture. An arm of SACTO, the center was hired to put together a quick study of the region's strengths and how those might have changed in the recession. The results were unveiled Nov. 15 at a West Sacramento forum that drew about 200 people.
The key was to look at economic clusters rather than individual industries, says Ryan Sharp, the center's director.
"The idea of the cluster is that you are capturing activities across a number of different sectors," Sharp says. A cluster would be the entire ecosystem around an industry, including the suppliers, support businesses and institutions that are related to it.
There's no single measure to rank them. By Sharp's reckoning, a desirable cluster would have strengths in several areas. It would line up with the local work force and have growth potential. It would show significant innovation and play to the Sacramento region's competitive advantages. It would generate a lot of venture capital investment.
Because a cluster includes more than one kind of business, the names get a little vague.
As revealed at the November forum, the most productive clusters in 2010 were information and communications technology, and knowledge-intensive business and financial services. But looking ahead, the life sciences and health services cluster stood out for the best-projected job growth. Advanced manufacturing was productive in 2010 as well and will likely show a lot of production growth through the rest of this decade. But the number of jobs in that area would likely shrink.
Sharp saw no surprises in the results, which suggested that some opportunities keep getting ignored, such as the cluster around agriculture.
"We've never brought it up as an economic development opportunity," Sharp says. In the information and communications technology cluster, there are opportunities beyond the always-favored high-tech manufacturing and information technology.
The second stage of the center's analysis, still under wraps, would look at the economic underpinnings of growth to determine where Sacramento's best opportunities lie. That would include existing economic development programs, foreign trade and investment, and innovation. Feb. 17 has been set as a release date for the research. Stage three would involve laying out strategies to take the region from here to there. Look for those to publish in the spring.
"There are a couple of pieces that we are building into this that typically are not presented in economic information in the Sacramento region," Sharp says. "The primary pieces include how much gross regional product is created as a result of specific activities and looking at productivity trends of certain activities. We are also considering components of export activity. What is generating the most export dollars?"
Specific strategy committees would report ideas to a steering committee, which in turn answers to a six-member leadership group comprised of:
Mark Otero, president and CEO, KlickNation Corp.
Craig McNamara, president and owner, Sierra Orchards
Susan Peters, Sacramento County Supervisor
Martha Lofgren, partner attorney at Brewer Lofgren
Jim Williams, president, Williams + Paddon Architects + Planners Inc.
Brice Harris, chancellor, Los Rios Community College District
Bringing together a group of high-powered individuals and organizations is one thing. Turning their thoughts and research into successful action is a separate proposition, though the grinding recession may be the catalyst.
"I think extreme hardship coalesces us in a way that is almost unimaginable," McNamara says. "We are going to be building bridges in these areas that we never had before. I think we have people who really care about this region."
As a producer of organic walnuts and olive oil in Winters, McNamara likes the idea of making agriculture a big piece of any economic development initiative.
"What really attracted me to Next Economy is the efforts we have pursued in the last several decades to assure that our region grows in a sustainable direction," he says. "This is one of the most productive regions on the globe. Sacramento can be the Emerald Valley known across the nation as the place for a sustainable, healthy food system."
But Williams says he wants to see Sacramento develop in new directions as well.
"There is some fundamental restructuring going on," he says. "I think the key thing we can do is identify those areas of opportunity where we do have competitive advantages. One of the big things is looking at where … we have leakage out of the region."
In the past, Sacramento has built its way out of recession with new houses, stores and offices. Construction employment isn't likely to lead the way this time, especially with a glut of foreclosures on the market and few businesses expanding.
"In economics there is a concept of base industries, ones that bring money into the city and region," Williams says. "We need to focus first on that. The rest will follow." In other words, create jobs first. They will attract people who then need to buy houses and spend money with retailers.
The various committees have just half a year to hammer out a specific plan. "To me that's a good thing," Williams says. "The point is there is an urgency to it. Most people do their best work when they are focused on a tight time frame."
He expresses confidence that they will pull it off.
"We have proven in the past that we have an ability regionwide to collaborate when we see a big enough urgency," he says. "That collaboration has become an advantage when we are competing. We aren't looking to the government for a bailout. We are looking at how we can align ourselves to take advantage of opportunities."
When it comes time to implement strategies, Lofgren is hoping Next Economy will keep a tight focus. "We have to pick one or two of the clusters and make those a priority for year one, so we are not trying to go after five or six business groups," she says.
Agriculture holds a lot of promise, she agrees, but she also wants to think hard about areas that were identified as priorities by the 200 or so people attending the November forum — 47 percent saw life sciences and health services as the cluster with the highest job growth opportunity. The second favorite was information and communications technology.
Lofgren wants tight focus because Next Economy is running on a lean budget. Initial funding has come from the Morgan Family Foundation in Los Altos and local sponsors, including the Sacramento Metropolitan Air Quality Management District, Sutter Health, Five Star Bank, Nehemiah Corp. of America and Wells Fargo.
Implementation will involve a lot of free labor, Lofgren says. She's volunteering her time at the start of 2012.
"Most of the people involved in Next Economy fall into that category. As we get into an implementation phase, I think people will roll up their sleeves and get into it," she says.
Still, there's only so much that can be done by nonprofits and volunteers, says Sanjay Varshney, dean of the College of Business Administration at Sacramento State.
Any good economy needs intellectual capital, risk tolerance and private capital, he says. Nonprofits by nature tend to have a lower risk tolerance, and private capital isn't yet taking a leadership role.
"If they can come up with a real plan, that will be great for the area," Varshney says. "But there are no easy fixes." That means actionable items, measurable goals and a financial strategy.
The research that comes out of Next Economy would also be available for others to use. Lofgren has met with Folsom City Manager Kerry Miller to talk about ways to take advantage of the data, "to look at vacant land and empty buildings, and how could we help Folsom with business expansion and recruitment."
At this stage, Next Economy is largely a collective commitment to turn some research materials into a concrete plan. Though there's no guarantee of results. Mueller of Valley Vision points to the success of a project with a similar focus. Six years ago, 34 major business and civic organizations came together in an effort known as the Partnership for Prosperity. It had four action items: business development, clean energy technology, education and civic amenities. The clean tech focus enjoyed the most visible outcome; the Capital Region has since secured more stimulus funds for clean technology than any other region in California.
In that vein, Sacramento in September was one of only two cities in the country (Miami was the other) picked for a program to upgrade the energy efficiency of commercial buildings. The $100 million in funding comes from a consortium led by British tycoon Richard Branson.
"We have really shown the way that, when we come together as partners and we share resources and have a common purpose, we can be wildly successful," Mueller says.
Partnership for Prosperity fell short on one goal, however. It was going to put together a regional economic development strategy. But first the housing bubble burst, and then came the Great Recession.
"We all got washed over by the economic crisis," says Williams, who was co-chair of that effort.
"What makes this different is the data that underlies it," Lofgren says. "I view that as a very specific launching pad."
Bill Mueller, 47, is CEO and managing partner at Valley Vision. One of four partners in the regional Next Economy initiative, Valley Vision serves as the project manager of the Capital Region's latest economic development effort.
The Next Economy initiative aims to accelerate job creation and new investment in the Capital Region by developing key economic areas, or "clusters," of growth. The critical motivator to these clusters, experts say, is venture capital, a cash investment.
"We need to have a funding mechanism for launching these types of firms within a region in order for the region to be successful," says Curt Rocca, managing partner with DCA Partners, business advisory and private equity firm.