With the mercury already rising, Mike Polis sets out early for his rural Wheatland farm to check on his Dorper sheep and egg-laying hens before heading to the office. After working the lock on the front gate, Polis drives in slowly and greets tenants on his first property. The caretakers live onsite and look after the animals in exchange for a modest rent and free board for their horses and goats. In all, Polis' Pomopolis Farms includes roughly 40 acres on three different parcels.
He checks in with his 19-year-old son Ethan Polis, who along with two college buddies, marks the footprint of a future barn with neon orange spray paint. Currently, Polis only has open shelters that serve as protection against the weather, or as birthing stalls for the expectant ewes. But when one of the lambs gets sick, Polis brings them to his suburban Roseville home to convalesce. His wife has been patient with the ovine guests, but Polis can read between the lines, so he's hired the trio to erect a new barn. He fires up the John Deere utility vehicle and does a perimeter check of the property, inspecting the fences, gathering eggs from the henhouse and checking the condition of the open pastures.
Dressed in navy chinos, a white button-up and casual business lace-ups, Polis is an unlikely farmer. He has stopped by on the way to his day job as a corporate health care lawyer and law professor. But his side hustle — and where he spends an increasing amount of time — is his small but growing family farm.
Polis, who has always had an interest in agriculture, wanted to experiment with raising and selling crops and livestock in a way that engaged his family. His sons, Ethan and Matthew Polis, have been working on the farm since ages 12 and 9, respectively.
Focusing in on niche markets can make small farming more lucrative for part-time farmers. But the trick is finding the sweet spot between passion and profit to make sure a small-time hobby doesn't turn into a big-time headache.
"This is something I have always wanted to do, so when land prices dropped and I had the opportunity, I went for it," Polis says.
In 2010, he bought a small ranch in remote Wheatland. Now, he has more demand than he can manage, especially for his lambs. Polis has tapped into a unique niche market, catering to Muslims and Orthodox Christians for farm-raised lambs that are a staple in many of their religious festivities (Ramadan, Eid al-Fitr, Eid al-Adha, Easter, Christmas and Epiphany) and family celebrations.
Polis is part of a group of enterprising family farmers who are parlaying an agriculture interest into full-fledged businesses, filling niches for specialty livestock that cater to specific customers. Compared with traditional farms, niche farms tend to have more diversified products, fewer acres, lower total-dollar sales and operators who also work off-farm. Focusing in on niche markets can make small farming more lucrative for part-time farmers. But the trick is finding the sweet spot between passion and profit to make sure a small-time hobby doesn't turn into a big-time headache.
Polis purchased his property when the price of land dropped during the Great Recession. "The one thing about farming is that land prices are very, very expensive," he says. "Most small farmers in California either inherit the land or buy at a lower rate. The prices were really depressed in 2008, 2009 and 2010, so I was able to pick up three different parcels for one-third the normal cost." Polis calls farming his passion hobby and says it only continues because his wife is supportive. "I have a really unbelievable wife who knows I love doing it," he says. "She is really, really considerate." But the enterprise has also become a family affair with Ethan, who is studying animal biology at UC Davis, frequently on the farm to manage livestock and construct the new barn. Matthew designed the farm's website, manages the electric fences and assists with input for the lamb database.
Polis started with pomegranate and olive trees since he had some experience with orchards growing up, but the prolonged drought made that unsustainable. He then switched to livestock, purchasing cattle, sheep, yaks and chickens. But he found that the meat from cattle is difficult to sell on a small scale. Yaks are a specialty meat, and the niche demand didn't cover the cost of maintaining supply. He eventually settled on just lambs.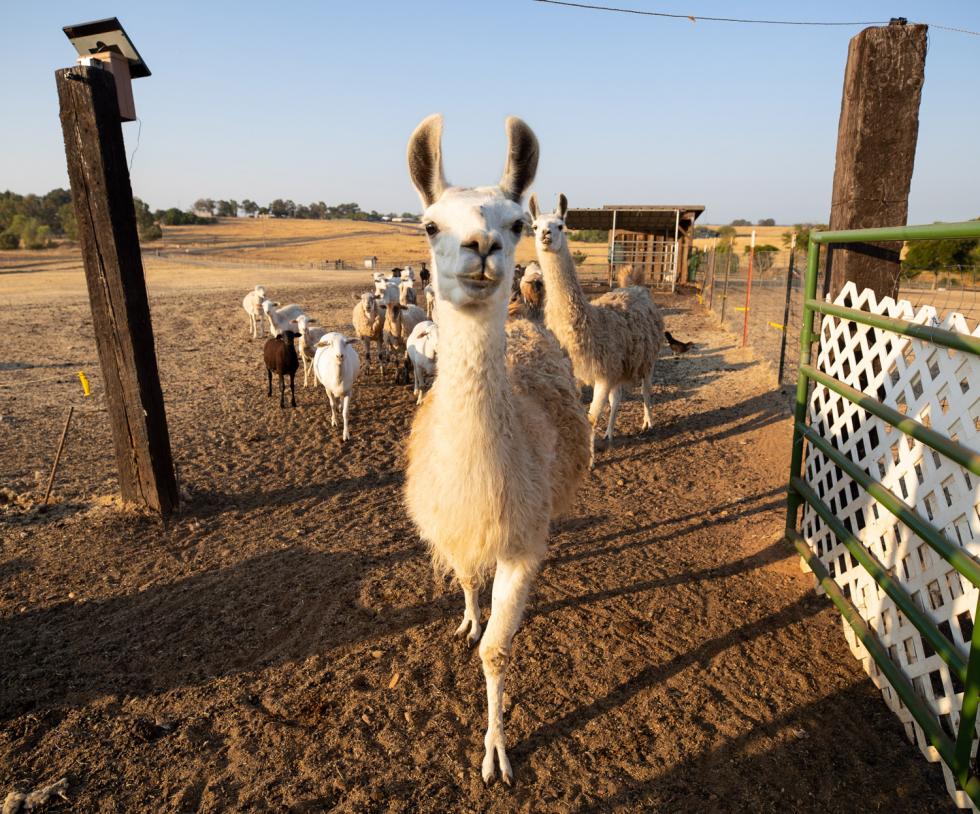 Polis found that the ease of raising lambs made them the best small rancher animal stock and a good fit for his part-time schedule. "On average, most of the lambs are on my property for eight months, and then are ready for market," Polis says. "They have very few vet issues, they eat the grasses down to protect my property from fire danger and are the most profitable." On average, he sells each lamb for between $135 and $225. He also has about 40 free-range, egg-laying hens who yield up to 25 dozen eggs each week. Ethan has a route of regulars to whom he delivers.
To become better versed in raising and breeding lambs, Polis and Ethan took a class on lamb management and reproduction through the University of California Cooperative Extension, a free program that serves as a bridge between the university and farmers, offering a combination of research, extension and outreach. Polis and his son got direct training from the UCCE instructors on banding sheep testicles and docking tails. They also witnessed an ewe giving birth to a breech baby.
To begin breeding sheep, Polis needed to first invest in a quality ram. For that, he reached out to Wes Patton with Glenn Land Farm in Orland, whose breed stock, Polis says, is known as some of the best in the region. Patton recommended Dorper sheep, a South African breed that are ideal for California's warm climate because they grow a thin coat in the winter and shed it in the spring. Polis placed an order for nine Dorper sheep — one ram and eight ewes.
When his first group of sheep were ready for market, Polis placed an ad on Craigslist to attract customers. He got a call from an interested buyer who came out right before Ramadan and bought all his lambs, a preferred meat for evening meals after a day of fasting during the Islamic holy month. He told Polis there was a significant need for lambs that are ethically farm-raised, which means grass-fed, pasture-raised and
antibiotic-free. Polis worms his lambs and gives them vitamins, and his lambs eat only grass and forages. He does not feed them alfalfa or grains to speed up their growth or inject them with antibiotics. "Yes, it is more costly not to use growth hormones and to grass feed rather than pen feed," says Polis, "but I would never change my method of farming. While I raise lambs for profit, I owe them a good life while they are with me." Plus, the niche market he now sells to expects it.
Polis sells direct to his customers, who prefer to visit his farm to choose their animal. Many do their own halal butchering, a specialized form of slaughter as prescribed by Islamic law, or take it to halal-friendly slaughterhouses, like Chuck's Custom Slaughter in Dixon, where Polis often refers his buyers.
With halal slaughter, the animal cannot be stunned before the act, but must be alive and healthy. A blessing in Arabic is prayed over the animal before its throat must be cut by a sharp knife that simultaneously severs the carotid artery, jugular vein and windpipe in a single swipe to render it insensible. The blood must be drained out of the carcass.
After losing eight baby lambs to coyotes this year, Polis added llamas to his herd. "They make great guard animals," he says. He also rotates his sheep around his properties so they don't eat the pastures down to nothing. To prevent too much back breeding, Polis will trade his ram every three years to get some new blood in the mix. "I jump on Craigslist and see who is looking to exchange/sell Dorper rams," Polis says. "If they have an existing herd, the rancher will want to exchange." He also works closely with Lincoln large animal veterinarian Becky Childers, who has a mobile practice, and comes to Pomopolis Farms to provide all the necessary animal care.
Polis has been able to build his business solely through word-of-mouth; he has so much demand, he usually has to turn customers away. He alerts regulars when he has livestock available. One of those customers is Abdul Malek Salih, who buys 10-25 of Polis' male lambs each year. Salih performs his own halal slaughter with his father. "Mike is really great to work with," Salih says. "His farm is very clean, and I like the way he raises his lambs. The meat is also very good."
Polis sells his lambs year-round, with larger numbers sold during special holidays and events, including Muslim and Orthodox Christian holidays, as well as sporting events. Last year, he sold nine lambs over Super Bowl weekend. On average, he sells about 70 each year.
As the sun is setting on the horizon, Polis is back at the farm again, checking in on the animals and dialoguing with Ethan on the progress of the barn. Like his dad, Ethan is on the farm every chance he gets. "Before we got all this going, he was never interested in animal science," says Polis. "Now he is studying to become a vet."
Ethan recounts a particularly memorable moment when one of the guard llamas got a parasite in its eye. He had to remove the parasite and then wrangle the llama down twice a day to administer drops. "I helped save that llama's eye," he says. "I really love that farm. Right now, I run the whole thing when I am not in school. And it's a way cooler job than a lot of my friends have."
Polis is hopeful that Ethan will want to take over the farm operations one day, but both say it is too soon to tell. That doesn't stop Polis from looking to expand the family farm; he already has his eye on another 47 acres off Camp Far West Reservoir. "It's in a beautiful area," he says with a wistful smile.
The sun's crimson glow has nearly faded, but Polis is finishing up some last-minute tasks before he hops in the car to go teach his legal vocabulary class for grad students at UC Davis School of Law. Ethan stays behind, working until the light is completely gone.