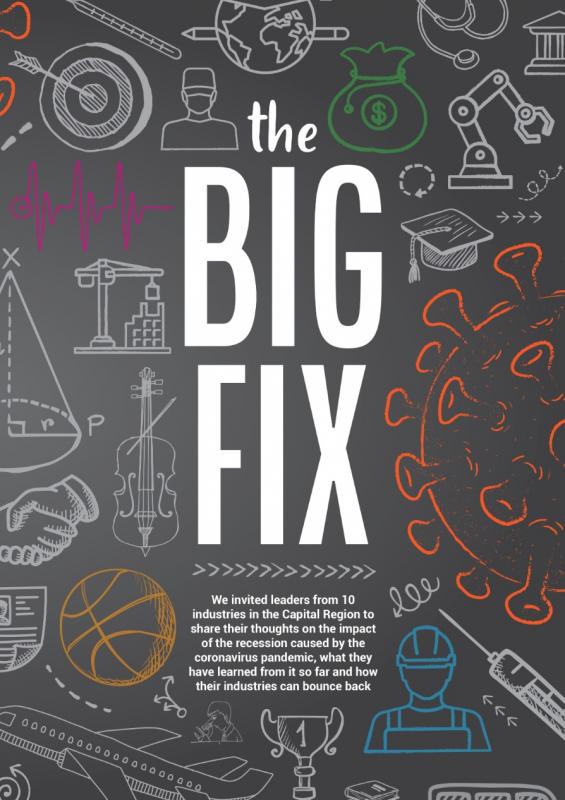 This story is part of our August 2020 Big Fix issue. To subscribe, click here.
In an economy that's been on the downturn since mid-March, not many Sacramento businesses can report a spring of sunny sales numbers. Two cannabis companies that Jeffrey Dillon co-owns — Stillworx Cannabis Refinery and Condorz, a distributor — are among the few.
The COVID-19 pandemic brought more clients to Condorz, which Dillon says he and his business partner started in November 2018 under another name. Tight procedures for maintaining sanitation matter more than ever now, so they're getting requests from other manufacturers for help with distribution. "We've always prided ourselves on having some of the cleanest distribution trucks in the business," he says. Sales across the two companies rose at least 20 percent from mid-March to mid-May. In the third week of May, the company hired two more people. "April was a tremendous month," he says.
He's not alone among local cannabis businesses, which are reporting revenue that held steady amid the biggest economic slide since 1929. Their experience fits a pattern statewide of sales in April and May that mostly kept pace with or outperformed the year-to-date average for 2020 as a whole, according to cannabis industry data firm BDSA. Other BDSA data show even stronger performance: Statewide sales in May were 15 percent higher than those in April and 15 percent higher than May 2019, says BDSA executive chairman and cofounder Roy Bingham. Opinions in the industry vary on whether that will continue as the jobs blowout erodes consumer spending even more. But even if the pessimists are right, Sacramento's marijuana companies may be better positioned to hold steady through this crisis than others around the state and country.
As job losses mount in the Capital Region, industries that can weather downturns will be key to recovery. Their employees will spend money locally as area retail struggles to revive. Their employers will pay state and local taxes as governments dig out of budget deficits. Their shareholders will take less of a hit. And investors looking for a hedge against future economic declines will take notice.
In 2012, CNBC reported certain product sectors came through the 2008 Great Recession relatively unscathed — beer and wine, death services, and health care among them. Will cannabis get added to that list?
Essential but Embattled
Industry supporters cheered Gov. Gavin Newsom's declaration March 20 categorizing licensed cannabis businesses as essential so they could stay open during the lockdown. But at that point it seemed like the only good news for the industry.
Marijuana companies had to make costly changes that raised operating costs. Sacramento dispensary A Therapeutic Alternative invested in enhanced sanitization and new social distancing procedures; added new positions for curbside pickup, online ordering and phone orders; and gave employees a 20-percent hazard pay boost, all of which added about $5,000 a month to expenses. ATA's sales peaked following the governor's announcement — March was its best month ever, says CEO Kimberly Cargile. But in the first week of April, they dropped. Given the company's higher overhead, "We were really worried," she says.
It didn't help that the April 18-19 Cannabis Cup — a music and marijuana festival in Sacramento — had to be canceled. It was a premier event for local cannabis businesses to promote their wares and advertise their presence.
And the industry is whipsawed by federal rules. The federal Families First Coronavirus Response Act, passed March 18, treats cannabis businesses with fewer than 500 employees like any other: They must offer up to 10 days of paid sick leave to employees out for a coronavirus-related absence, including taking care of kids out of school or day care because of the shutdown. But unlike other businesses, they won't likely be reimbursed by the IRS for the costs of covering that leave because their product is illegal under federal law. That also makes them ineligible for any of the several streams of relief from the U.S. Small Business Administration.
Federal rules complicate their ability to keep customers safe. Since the industry is still unbanked, cannabis businesses are forced to handle cash at a time many firms are moving to plastic.
And excise taxes on California cannabis remain sky-high, totaling about 55 percent between state and local levies, according to the state Legislative Analyst's Office. That compares with 25 percent on beer and 12 percent on wine in federal and state taxes. (Cannabis isn't subject to a federal excise tax since it's not legal at the federal level, and beer and wine aren't subject to local taxes, according to the LAO.) Worse, in January, two types of state cannabis taxes increased: the markup rate and the cultivation tax. A bill to cut industry rates died in committee in March, and industry advocates say they have little hope of tax relief at a time when the state is up against its biggest budget deficit ever at an estimated $54 billion.
State license renewals aren't cheap either. Cargile pays $57,000 a year to renew hers, and Keon Houston of Eminent Extracts, a Sacramento-based cannabis manufacturer, says he pays about $30,000.
Sacramento's Resilient Cannabis Market
Some national reports depict many California cannabis businesses as on the brink of collapse. As yet, that hasn't shown up in the statewide numbers — sales for April and May were at or above the year-to-date average for 2020. Sales on the weekend of April 20 — the unofficial cannabis holiday when they normally spike — were slightly above those of 2019 statewide, according to BDSA. Numbers from industry analyst New Frontier Data show that average expenditure per purchase in the Bay Area — in which the Sacramento region is counted — went from about $90 in November 2019 to $120 in April.
One reason sales are staying up is that longer-term statewide demand is growing so fast. BDSA survey data show that the percentage of California adults over age 21 consuming cannabis went from 23 percent in first-quarter 2017 to 37 percent in third-quarter 2019. BDSA projects California sales to grow from $2.9 billion in 2019 to $7.4 billion by 2025. "It's clearly counter-recessionary," says Bingham of the cannabis market. "Whether as much as alcohol was in the last recession is not clear."
All that fits with what some local businesses report. Eric Luchini, director of marketing communications for Kolas, which runs six dispensaries in Sacramento, says its sales were up 40 percent between mid-March and mid-May. Cargile says ATA's sales are now pretty stable. Houston says his sales also were up in May, and prices were higher because greenhouse season hadn't kicked in, so there wasn't as much product on the market.
Robert Baca is executive director of the Sacramento Cannabis Industry Association, which he says represents more than 100 cannabis and cannabis-affiliated companies. Sales across companies are "a little bit of a mixed bag. What I don't think you see or hear is folks who have seen kind of a real steep dropoff," he says. "Nothing like that — if anything, maybe a little bit of an uptick, maybe some business as usual. But somewhere in that range."
Luchini points to new buyers as a main driver in Kolas' sales increase. Some customers told Kolas staff they were looking for a way to cope with stress or boredom. For others, being out of work meant no drug testing, so they didn't worry about consuming cannabis. Existing users were looking for a product to deal with insomnia. Edibles were a big seller, often because customers' kids were home, so buyers couldn't smoke in the house, Luchini says. It also helped that stimulus checks started coming in at the beginning of April, giving people extra money to spend.
Sacramento dispensaries have a built-in advantage in this downturn, says longtime industry consultant Jacqueline McGowan. City dispensaries have more limited competition for area buyers because only two Sacramento County municipalities — Sacramento and tiny Isleton — allow commercial cannabis sales, and sales are forbidden in the unincorporated county. That situation is true in only a few places in the state, such as Santa Clara County, where only the city of San Jose allows dispensaries, she says. She sees California as having "pockets of profitable businesses," with Sacramento being one.
"A lot of the (cannabis investors) who went into (Las Vegas) went to it specifically because the attraction was, 'Oh, my God, look how many visitors show up every year, so let's go big, and let's build these gigantic retail stores.' I think (Sacramento cannabis businesses) are faring better because our demand is organic."

KHURSHID KHOJA FOUNDER, GREENBRIDGE CORPORATE COUNSEL
Sacramento's lack of cannabis tourism also serves as an odd ballast for its weed businesses. In Colorado and Nevada, sales are expected to plunge because of the drop in tourists who go there to try legal pot. "A lot of the (cannabis investors) who went into (Las Vegas) went to it specifically because the attraction was, 'Oh, my God, look how many visitors show up every year, so let's go big, and let's build these gigantic retail stores,'" says Khurshid Khoja, founder of Sacramento-based Greenbridge Corporate Counsel, which advises clients in the cannabis industry. "I think (Sacramento cannabis businesses) are faring better because our demand is organic."
Recession-Proof or Ripe for Collapse?
If the Sacramento marijuana industry has a better chance of riding out the recession, the same may not be true elsewhere in the state. Cargile wonders whether as time goes by and the recession bites deeper, more customers will seek underground sellers to save money. They charge far less since they don't pay taxes or fees and don't have the cost of mandatory quality-control testing. Already in March, BDSA data were showing that lower-priced products under $20 were fueling the sales growth.
There are other warning signs too. Pamela Lopez, managing partner at K Street Consulting, points to major layoffs by large California marijuana firms last fall as evidence that the high taxes threaten the legal industry's survival. (In October and November, three San Francisco-based cannabis companies — Eaze, Pax Labs and Flow Kana — each laid off 20-25 percent of their workers.) Add the recession, and it will be hard to keep solvent all of the players needed to take cannabis from field to store shelf, she says. "We are concerned that this pandemic may end up being that final straw that breaks the camel's back in terms of maintaining the supply chain as a whole."
And McGowan sees a dangerous buildup in accounts receivable among distributors not being paid by retailers. In April, industry publication Marijuana Business Daily reported that a group of California distributors was putting together a "blacklist" of retailers who were behind in paying their suppliers. The head of the state's Cannabis Distribution Association said the total overhang of floating credit could be as high as $100 million. Some distributors have already shut down as a result, according to the Marijuana Business Daily report. Post-recession, McGowan foresees a stronger and more decentralized illegal market as people get desperate for income and turn to selling weed under the table.
In the legal market, the opposite is likely, with more consolidation as many smaller players find it tough to survive. Josh Drayton, communications and outreach director for the California Cannabis Industry Association, says larger operations that can implement the coronavirus-related operational changes are faring far better than smaller ones. Harris Bricken, an international law firm specializing in the cannabis industry, wrote in April that it was being contacted almost every week by a cannabis company looking for a white-knight investor to bail them out. Houston expects to see mergers and acquisitions too but doesn't think that's all bad; friends of his have sold to local cultivation businesses in deals that ended up being good for them, he says.
Back at Stillworx and Condorz, Dillon is one of those looking for chances to grow through those kinds of acquisitions. He and his partner want to buy another distributor in Southern California or a delivery business now that the coronavirus has caused a spike in remote sales. "We know there are a lot of companies looking for funding right now, and if they don't get it, they're not going to make it much longer," he says. "(Opportunities) come across my desk every day."
–
Stay up to date on business in the Capital Region: Subscribe to the Comstock's newsletter today!