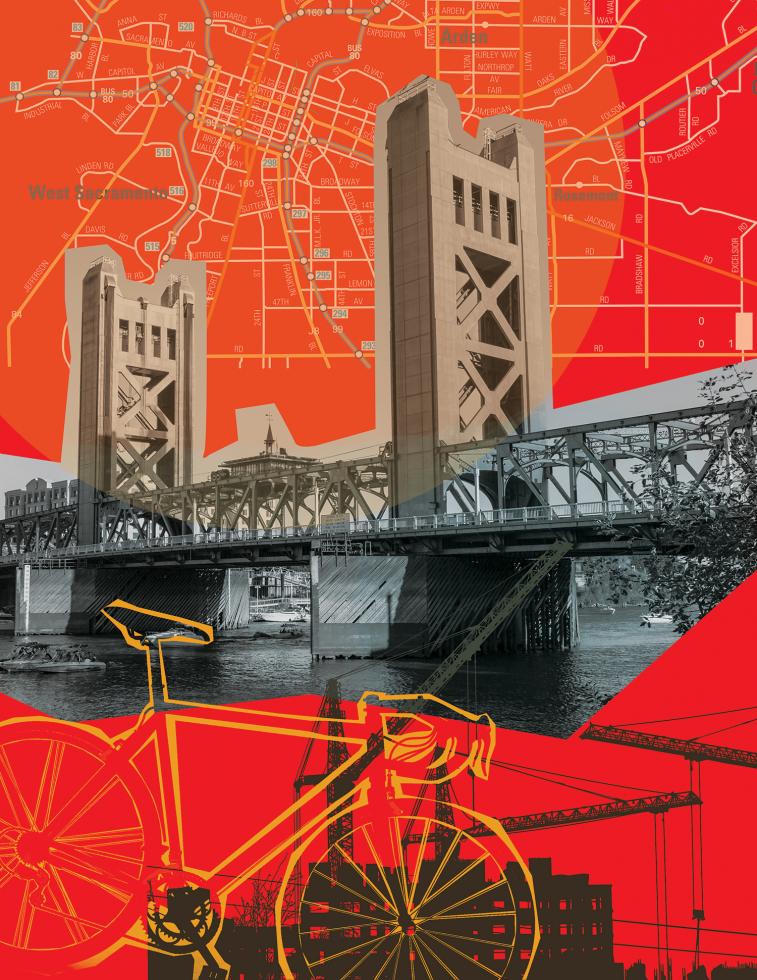 Long regarded as the region's industrial bastion relegated to the other side of the river, today's West Sacramento is barreling out of the past.
After decades of planning and false starts, West Sacramento is on the cusp of a massive metropolitan transportation overhaul. Three new bridges, large-scale commercial and residential development along the riverfront and in the central city, a municipal streetcar and an integrated network of bike and pedestrian roadways make up the key components in the new vision for the city.
Binding these disparate yet interconnected projects together is the concept of active transportation, a focus on bicycle and pedestrian accessibility throughout the city.
West Sacramento Planning Commissioner Bernadette Austin, a project manager at Domus Development, says the city's Bridge District will be home to higher density apartments and office buildings. "If you're going to have all these people living here, we can't all be driving everywhere; it's not possible," she says.
Almost 15 percent of commuters in Yolo County bike, walk or take public transit to get to work, according to the Sacramento Area Council of Government's 2013 regional transportation master plan. That figure is expected to rise as higher population densities in the city manifest over the next decade.
Between the Bridge District, Washington and Pioneer Bluff neighborhoods, construction is underway on more than 10,000 units, including low income and market rate apartments as well as for-sale condominiums, scheduled to rise in the next five years.
From the I Street Bridge to the Southport neighborhood, the city is revamping its waterfront, creating an attractive new district on what had been a desolate post-industrial landscape.
"When I first got involved in city government, one of the first conversations we had was around the proverbial, 'How do you eat an elephant?' Well, one bite at a time. We were able to make use of a redevelopment agency and help these industrial uses find new homes in West Sacramento."

Chris Ledesma, councilman, City of West Sacramento
"[The riverfront] is not just the backside of our buildings and the industrial areas," Austin says. "We're really trying to activate it as a place where people are living and working and recreating."
Austin dodges a woman on a bicycle as she walks along the newly widened Tower Bridge Gateway between two major housing developments under construction adjacent to Raley Field. From where Austin stands on West Capitol Avenue near Garden Street, a portion of West Capitol will be closed off to car traffic and become solely pedestrian and bike accessible. Though seemingly small and innocuous, the road closure is symbolic of the city's attempt to accommodate the pressures of this new concentration of development.
Major infrastructure proposals include the creation of a municipal streetcar line and the construction of three new bridges, two spanning the Sacramento river, and another crossing the deep water channel near the Port of Sacramento to the south.
The proposed streetcar would run from the transit center on West Capitol Avenue across the Tower Bridge into Sacramento's downtown, with another branch running south along Riverfront Street into Southport.
Austin says the streetcar project has secured more than half of its funding through federal and local financing commitments.
Chris Ledesma, a West Sacramento councilman, says the streetcar matches up perfectly with the concept of active transportation.
"You may be able to come in by car and park on the outskirts or take light rail from wherever to get into the city, but then you need to circulate," he says. "And a lot of that will be jumping on the streetcar to get you from one point to another and to get you across the river."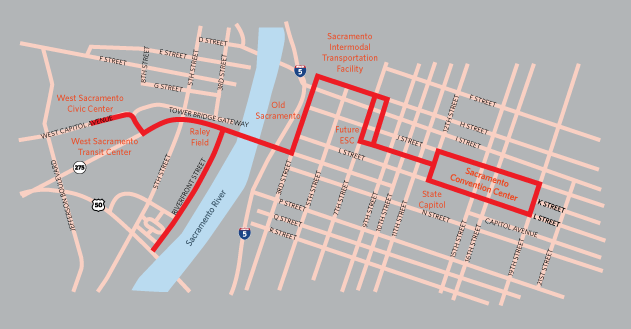 An even more ambitious plan is the construction of the three new bridge projects: A new span just north of the I Street Bridge linking the Sacramento railyards development and West Sacramento's Washington neighborhood should be completed around 2020; a bridge linking Broadway in Sacramento to West Sac's 15th Street; and the Michael McGowan Bridge, already under construction at South River Road across the deep water channel
"What you're seeing is a total transformation of West Sacramento," Ledesma says, "creating the riverfront that both sides of the river wanted. We're working on many different fronts, but they're all connected."
The old I Street Bridge, built in 1911, will continue to be used by trains on its lower deck, with the top deck converted solely to pedestrian and bike access. To the south, the new bridge at Broadway will link the two cities as people settle into new neighborhoods being developed west of the river.
But why are all of these initiatives and plans coming together seemingly all at once?
"It used to be you could just build forever. There was so much farmland you could just go develop, and now that's not the case," Austin says. "We realize what a precious resource land is. We have to use the land we've got [and] have more sustainable land use patterns.
"We don't want to end up like the Bay Area where people work at Google and Apple and live in Stockton. People can't have a 2-hour commute. It's not going to work."
The idea of West Sacramento as a thriving urban and suburban community was what fueled its incorporation as a city in 1987. Since then, there have been numerous obstacles — funding, land ownership, infrastructure — to developing the city as a residential and commercial center.
Aided by grant money and state funding, with 2006's California Proposition 1C in particular infusing billions across the state for housing and smart-growth infrastructure development, the city was able to relocate many of the industrial interests and reapportion the area for residential and commercial development.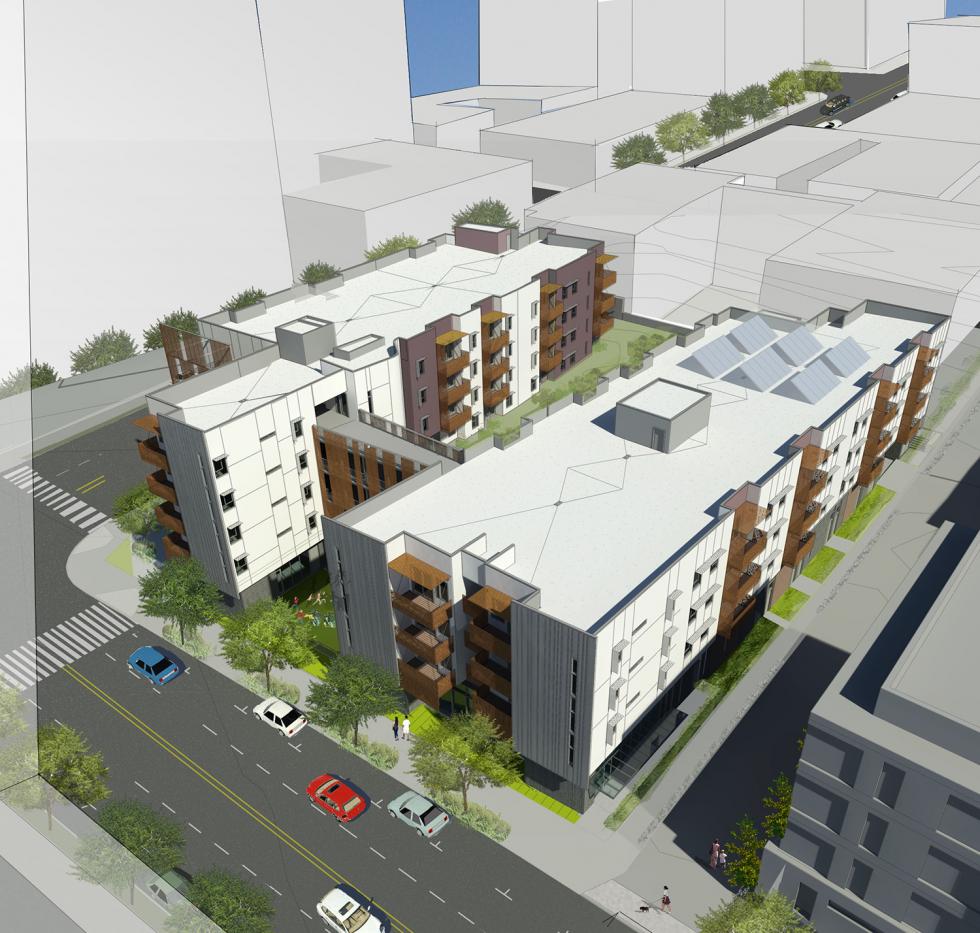 "When I first got involved in city government, one of the first conversations we had was around the proverbial, 'How do you eat an elephant?'" Ledesma says. "Well, one bite at a time. We were able to make use of a redevelopment agency and help these industrial uses find new homes in West Sacramento."
Raley Field, which opened in 2000, demonstrated to potential investors that West Sacramento could become an entertainment destination. Now, with the new Kings arena being built just across the river and the development of the Sacramento railyards project underway (with the prospect of a pro soccer stadium on that site), the connected central city is poised to be a thriving trans-river metropolis.
The city's growth is not solely fueled by high-profile, large-scale projects like those. Smaller ventures are making their home west of the river as well.
Nestled in a parking lot amid mixed-use structures along the aptly named Industrial Boulevard, fast-growing Bike Dog Brewing Co. has made its home.
A.J. Tendick, Bike Dog founder, self-professed beer ambassador and transportation demand manager for the Sacramento Area Council of Governments, says he and his partners feel welcome in West Sacramento and appreciate the room to grow. At the start, Bike Dog intended to brew twice a month, Tendick says. Now they brew two and a half batches per week and have had to purchase additional equipment to keep up with demand.
On a recent Friday night at the brewery, the tiny expanse is packed to capacity with a chattering crowd of bike enthusiasts and people relaxing after work. There's even a few canines. The smoke from a food truck wafts in through the open warehouse door.
Tendick, a West Sac resident and bicycle enthusiast himself, sees the changes underway in his own backyard. This shift is not only tangible in his business, he says, but throughout the city.
"I ride through the Bridge District on a pretty regular basis, so you really get to see and feel the transformation that's just starting to happen there," he says. "You really start to see some noticeable change. It's a total night and day difference from what it has been in the past."