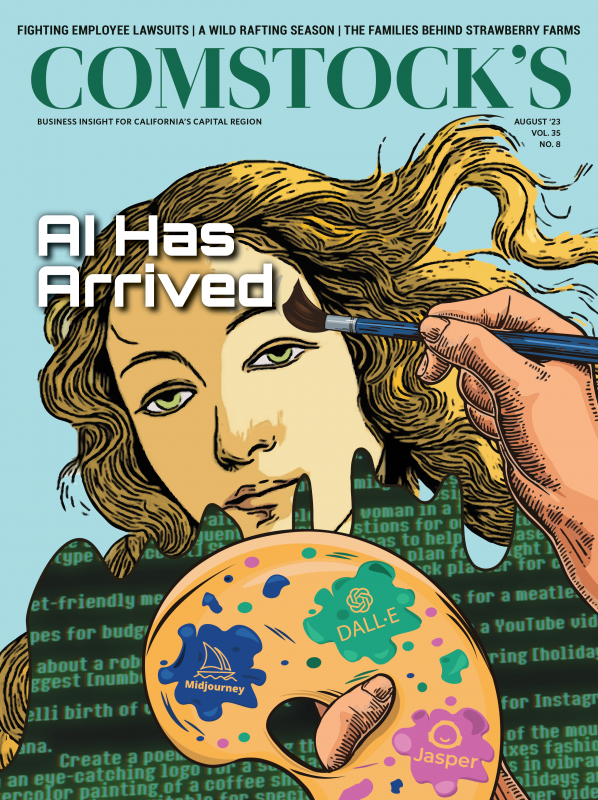 This story is part of our August 2023 print issue. To subscribe, click here.
If you could create an image of anything in the world, what would it be? The house you lived in when you were six? A design for a new wine label? An oil painting of your dog dressed as Napoleon? Generative artificial intelligence has made this a possibility. AI can create images and graphics, edit copy and even provide insightful advice on how to find purpose in life, all in a matter of seconds with just a few prompts from the user.
AI technology is not new. From Face ID to unlock your phone to your customized Amazon and Netflix recommendations, the technology is already widely used in order to create a more personal experience for the user and help humans and machines work together more seamlessly.
But generative AI takes it to the next level. After the user types a description or "prompt" into a search field — whether he or she is looking for an image, artwork, code or video — the results appear within seconds, often with such accuracy and detail it can feel like magic.
The rise of AI over the last year has lawmakers worried about the long-term impact of its rapid acceleration, and legions of photographers, designers, animators, copywriters and more are wondering if they'll soon be out of a job if their work becomes obsolete in the quest for efficiency and the bottom line. As the technology promises to reshape multiple industries, professionals across the region weigh in with their perspectives on how business owners and creatives can prepare for the AI revolution.
A tectonic shift
The news about AI has been coming like wildfire. In April, President Joe Biden convened a group of CEOs from some of the biggest generative AI companies to talk about its potential pitfalls. The writers' and actors' strike had people worried about AI-generated TV shows. ChatGPT founder Sam Altman spoke at a Senate hearing in May about the potential for AI to influence the next presidential election. In June, a new Beatles album was announced that used AI to extract John Lennon's voice from an old demo recording.
Consumer versions of generative AI aren't perfect yet. Anyone who's tried ChatGPT can tell you it sometimes spits out false information, and some image programs generate people that look like the stuff of nightmares. But the technology is getting there, and it's likely to transform automation.
Sacramento City College Design and Digital Media Professor Don Button admits the potential cost-saving benefits and time-saving capabilities would be very tempting for a small creative agency on a shoestring budget. "I can make amazing illustrations and editorial graphics with this," says Button. "This will clearly put a lot of people out of business, and that's really troubling. It's definitely going to cut down on how many artists and photographers you need to hire."
For now, Button has introduced tools like ChatGPT and the image generator Midjourney in his classes as options for non-copywriters to edit text and generate specific images for projects. But the landscape is changing faster than we can keep up with it, he says.
"The writer Steven Marsh said in a podcast that if you're in college and learning how to code right now, you're committing career suicide," says Button. "The next stages are clearly that you'll be able to describe a website you want to build. The styles, the color, the layout. You can describe it to a computer, and it will lay it out for you and generate the code. Or describe a layout for a magazine. That's going to happen. So as a design educator, how are we going to talk about this? What are the jobs even going to be in five years?" Industries change as technology changes, says Button, but this is a tectonic shift.
Over the next few months, Button hopes to gather a variety of perspectives from professionals in the community as well as department staff in order to gauge how to approach AI in their curriculum and in the classroom moving forward.
Tools like digital cameras and calculators all changed the way educators taught within an industry, says Button. "But is this just another tool, or a step that's existentially different?" he asks.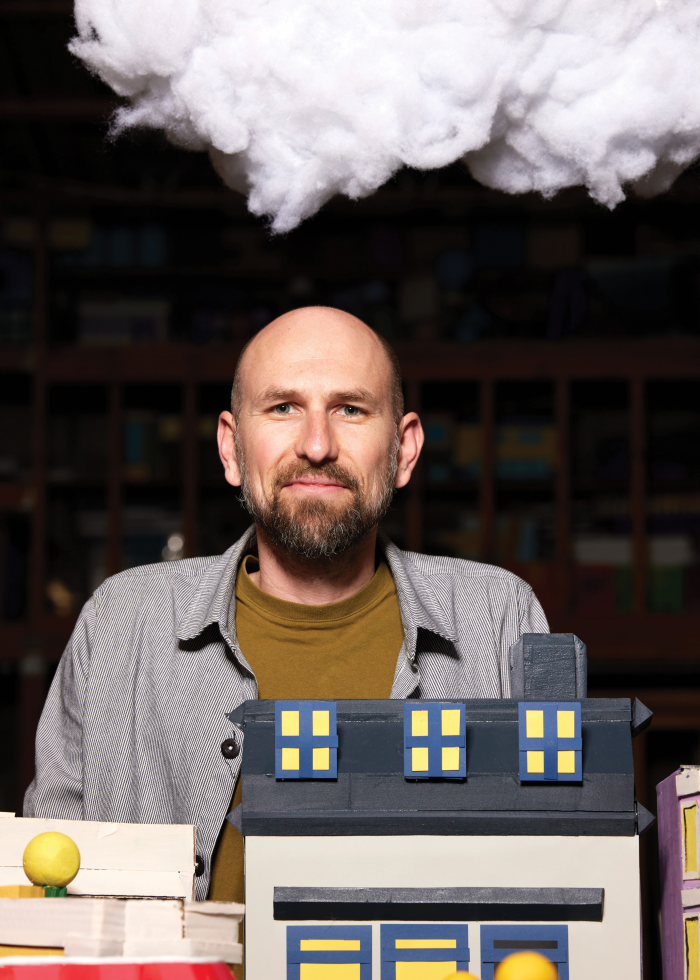 According to the Bureau of Labor Statistics, there are over 30,000 graphic designers in California, more than 20,000 web and digital interface designers, and over 5,000 professional photographers, not counting freelancers, a population that accounts for a big chunk of people working in those industries. BLS projects that over 50 percent of graphic designers and over 80 percent of photographers will be self-employed by 2026.
Kilian McMann is a Sacramento graphic designer and illustrator who has been freelancing for five years and specializes working in the craft beer industry. "There are some amazing benefits to AI but also a lot of detriments," says McMann. When it comes to copyediting and creating quick mockups, AI works well, he says. And speeding up your workflow leaves more room to enjoy life. But when it comes to AI-generated art, he has concerns.
"It's still unregulated to the point where it can reference other professional artists' work on certain sites and steal their style without any repercussions," he explains, so he feels there's still a certain amount of risk until more stringent measures are taken. "Government is slow," he says. "We'll see how it goes."
Despite his misgivings, McMann believes AI signals an important point in history, and it's important for creatives to figure out how to use it to their advantage. "At this point, I think it's more like the difference won't be AI versus designers, it will be designers who utilize AI versus those who refuse to, and those who don't will be left behind."
A springboard for new ideas
Local artist Ruben Briseno Reveles says not to worry. The Sacramento native describes himself as a "futurist" artist who creates mixed media pieces with digital art, sound and acrylics. "I've always been interested in technology and looking forward to what's next," he says. Reveles says he has his own way of doing things and isn't afraid AI is going to take that away. In fact, he's embraced AI as a tool to add more dimension to his work.
Reveles' art reflects his roots in Zacatecas, Mexico and background in electronic music, delving into what he describes as "the spiritual aspect of colors, vibrations and sound." Adding AI to his work is like adding an extra spice to your cooking, he says. "You add movement to it, and it becomes alive." But don't call him an AI artist. "I've been introduced that way, and I'm like, 'No, don't do that. I just use some of the tools for it.'"
Reveles uses a range of text-to-video programs and layers the content that's generated together to create visual soundscapes around topics like mindfulness, culture and connecting with nature.
His art is currently part of a nationwide tour exhibiting at Mexican consulates in Philadelphia, New York, Florida and Los Angeles. For now, his AI work is relegated to his studio "for shows with other artists, poets, and will mainly be moving art in the experimental realm," he says.
"For someone like me, these tools give you time," he says. "And one of the most valuable things in our lives is time. So if I can finish something in a couple of days rather than a couple of weeks, that's perfect."
Time to adopt and adapt
Will Brown, CEO and co-founder of local technology company InterApp, agrees. "We've already been using AI with autocorrect for your emails and things like that," says Brown. "The industries-that-be have been slowly dropping this to us over the course of decades. Now it's just going to a grander scale."
In addition to InterApp, which creates augmented reality experiences for clients, Brown operates a printing company that uses AI to create internal publications for clients. He says companies no longer need graphic designers or artists to create graphics because AI platforms can create that work for you. First the client will provide talking points, he explains. "Then what we'll do is use AI to expound on those talking points to create the content."
Brown acknowledges AI technology could take away jobs but feels the change is unavoidable. "I think you have to start thinking outside the box and figure out ways you can adapt and adopt this technology to benefit you to further your business plan and ideas," he says.
"Would I use it to create entire magazines? Never!" he laughs. "You never know what you're going to end up with!" AI lacks a certain human sensibility, Brown says, so not all the content it generates is perfect. It is a powerful tool, but one that still needs a human touch.
Eric Howard, co-founder of Sacramento digital marketing agency Fathom, agrees. "From our perspective, we find that AI in its current form doesn't end up in our final products," he explains. "We need much more control over our output to meet our clients' needs. The AI tools are most useful for our team in terms of ideation and exploration in a dynamic or customizable context."
Howard believes the industry is at a critical juncture. "AI is resonating with people," he says. So is the possibility of using it "to create some kind of positive change, whether it's acts of expression through creativity and art, or political and economic."
For business owners wondering what the next steps should be, Howard says transparency is a good place to start. If an AI image is the final product, says Howard, list that in the photo credits. And because AI models are trained on millions of images that were created by actual humans, "there is an ethical standard of maybe not even using these tools if you can't verify that it was trained on consented material," he explains. Every platform is different, so reading the terms of service and information on commercial use before proceeding is critical.
In most cases we'll see AI integrated into existing and new products, says Howard, like Adobe lllustrator's new Generative Recolor option or Adobe Photoshop's Generative Fill, which allows users to extend images and quickly add to or replace images with simple text prompts. But for creatives who think no one's going to need their skills again if their work becomes automated, he advises being "multidisciplinary, more strategic and understanding how to edit and curate what comes back from these machines."
For now, he advises business owners to be discerning. "Separate the hype from reality and test as many tools as you think are relevant. There's a lot of entrepreneurs trying to take advantage of this time of uncertainty, which may or may not be in the best interest of people trying to run a company," he says. "So follow the news, but don't let sensationalism get to you."
Stay up to date on business in the Capital Region: Subscribe to the Comstock's newsletter today.